Dies ist mein Beitrag zum wundervollen
kulinarischen Adventskalender
, den Zorra zum wiederholten Mal ausrichtet. Ich bin dieses Jahr das erste Mal dabei und freu mich sehr darüber. Ich bin stolz ein Teil des Ganzen zu sein, vor allem wenn ich mir die bisherigen Beiträge so anschaue.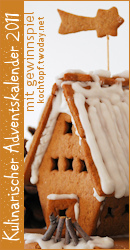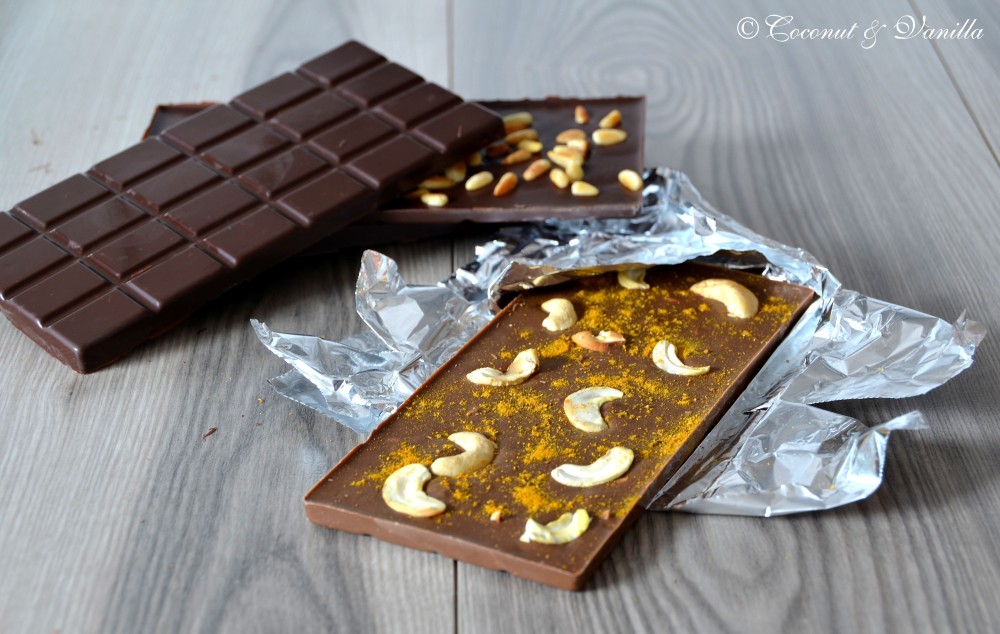 Schon vor 2 Jahren habe ich mir ein
kleines Büchlein samt Form fürs Schokoladentafelngießen
gekauft. Erst als Geschenk gedacht, dann mir selber geschenkt. Wüsste auch nicht wer sowas sonst eigentlich schätzen weiß. Nur, nachdem ich gelesen habe, dass man die Schokolade temperieren muss mit Thermometer und so, da landete das Ganze erst mal bei dem anderen Küchenkram. Aber das temperieren ist wichtig, denn das ergibt den schönen matten Glanz und erhält den richtigen Schmelz.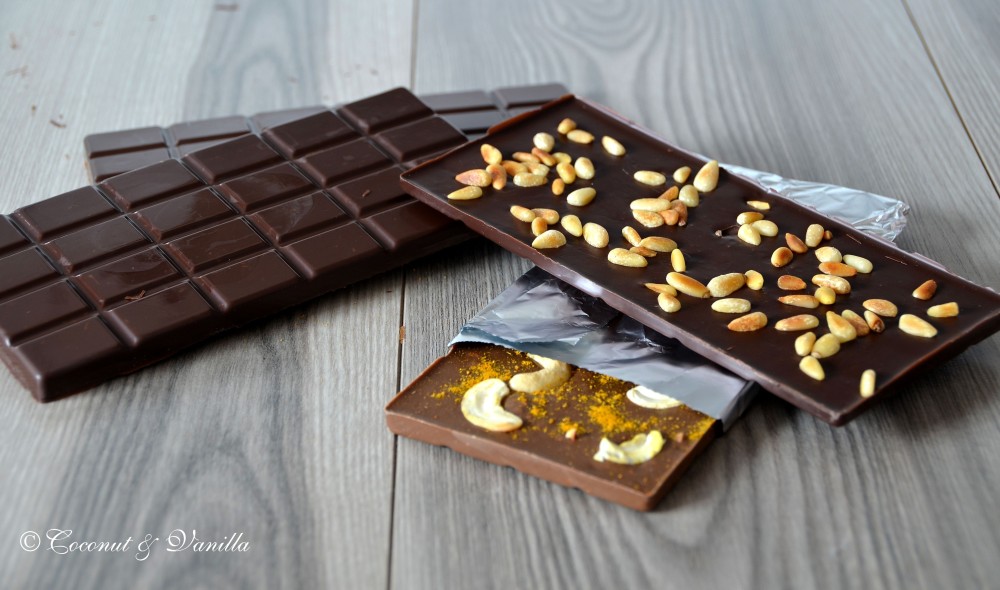 Nun, dieses Jahr hab ich mich rangetraut und es war kein Nachteil! Ganz im Gegenteil. Es ist eine helle Freude wenn man die ersten eigenen Tafeln aus der Form kippt. Und soo schön sind sie, man will sie dann doch nicht mehr verschenken. Denn ein super Geschenk zu Weihnachten sind sie. Man kann jedermanns Wünsche erfüllen und Abneigungen aussparen. Und wenn ihr glutenfreie Kuvertüre (auf Dr. Oetker Kuvertüre sind jedenfalls keine weizenhaltigen Zutaten aufgelistet und enthält auch keine Spuren davon) verwendet, könnt ihr auch glutenfreie Schokolade machen. Das wird Augen zum Leuchten bringen.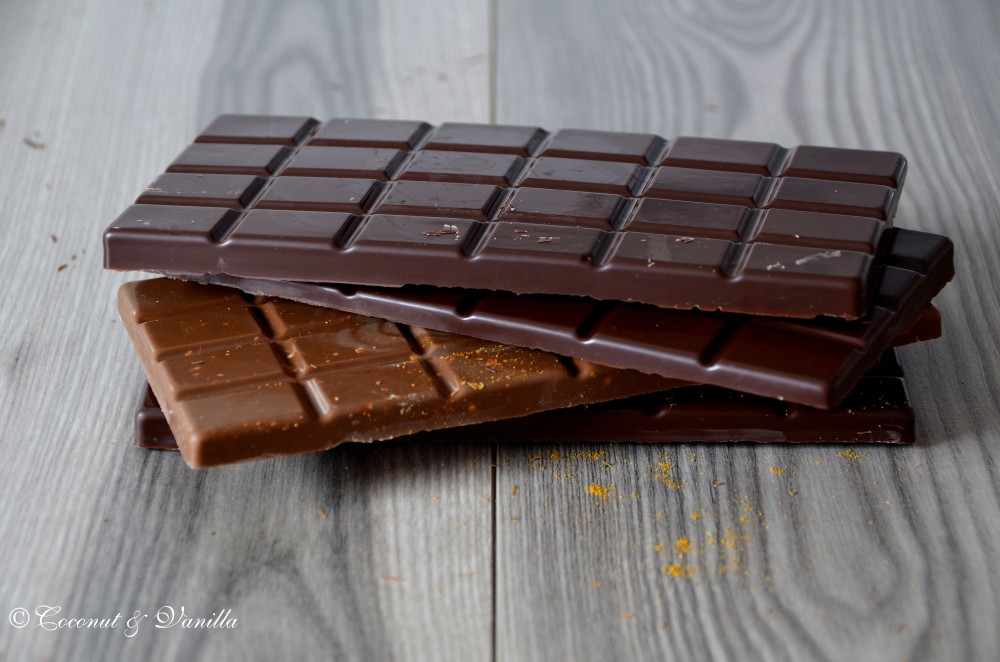 Ausgefallene Vorstellungen? Immer rein damit in die Schokolade. 0815 kann man ja auch kaufen, Cashew mit Currypulver oder Pinienkerne mit Rosmarin nicht. Das waren meine ersten Tafeln, die ihr auch auf den Bildern seht.  Nur bitte keine Schokolade mit Chili. Das ist echt alt und das Zeug sollte wieder vom Markt verschwinden. Ich meine, das war schon vor 10 Jahren ein Trend. Ehrlich, er ist vorbei!
So, nun zurück zur Herstellung. Ihr braucht außer ein wenig Zeit vor allem eins: ein Thermometer. Ein digitales, das eine kurze Reaktionszeit hat ist zu empfehlen (gibt's für ein paar Euronen). Bitte kein Fieberthermometer. Na gut die Tafelform ist auch ein Muss. Äußerst hilfreich ist auch ein Teigspatel.  Kürzlich hab ich gelesen, dass das in österreichisch "Gummihund" heißt. Das finde ich eigentlich viel schöner als Teigspatel. Wenn ich mir das Wort merken könnte würde ich mich umtrainieren.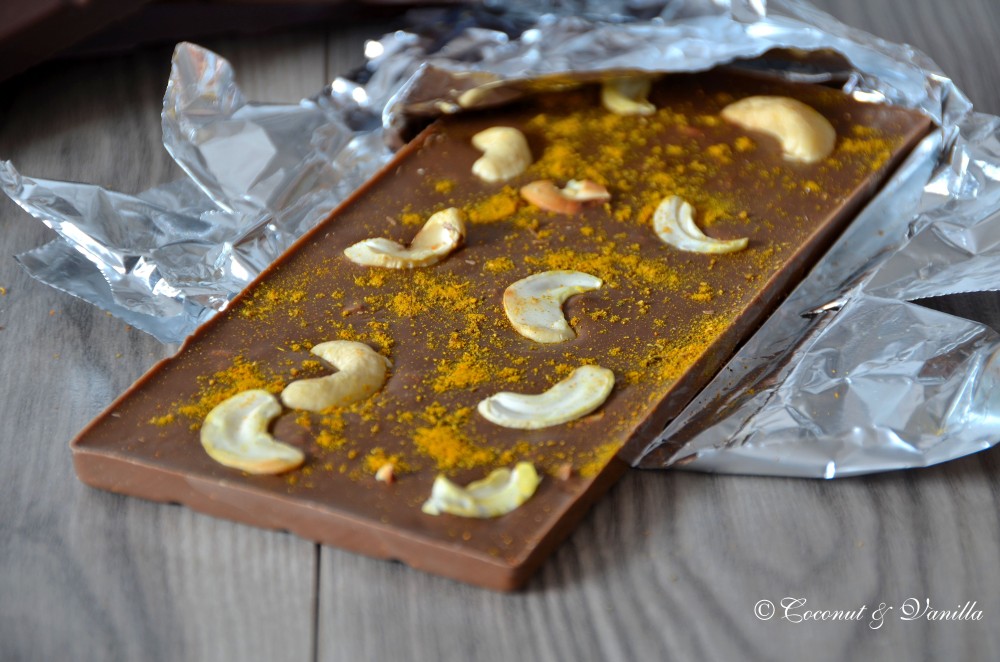 Selbstgemachte Schokoladentafeln
aus Schokoladentafeln selbst gemacht
für 3 Stück, je 100 g
Zutaten:
300 g hochwertige Kuvertüre
Gewürze, Nüsse, Kräuter, Kekse, alles was das Herz begehrt
Die Kuvertüre klein hacken. Umso kleiner, umso schneller und gleichmäßiger schmilzt sie gleich. Ein Wasserbad vorbereiten. Dieses sollte etwa 55° C haben. Darüber die Kuvertüre schmelzen, bis sie 40 – 45° C erreicht hat, dabei immer wieder mit dem Spatel umrühren und die Kuvertüre vom Schüsselrand abkratzen. Und nicht vergessen immer wieder die Temperatur der Kuvertüre zu messen. Nach jedem Messen die Kuvertüre vom Thermometer abwischen. Gemahlene Gewürze und gehackte Kräuter werden bereits jetzt zur Kuvertüre gegeben.
Nebenbei ein kaltes Wasserbad bereitstellen. Ich nehm dafür kaltes Wasser mit ein paar Eiswürfeln drin ( es soll maximal 25° C haben). Nun die Kuvertüre unter Rühren auf die entsprechende Temperatur abkühlen. Bitterkuvertüre auf 28 – 30° C, Vollmilch auf 27 – 28° C und weiße auf 26 – 27 °C.
In der Zwischenzeit das vorherige Wasserbad auf 35° C abkühlen, indem man kaltes Wasser dazukippt. Unter Rühren und Messen die Kuvertüre wieder erwärmen. Die Temperatur sollte 2° C höher sein, als die Temperatur für's Abkühlen. Klein gehackte Nüsse oder andere klein gehackte Zutaten jetzt unter die Kuvertüre rühren.
In die Tafelformen die Kuvertüre geben. Dabei versuchen die Kuvertüre gleichmäßig zu verteilen. Zügig arbeiten, damit keine Fettränder entstehen (ein schnelles Auskratzen mit dem Spatel hat bei mir jedoch keine Nachteile nach sich gezogen, anders als im Buch beschrieben). Nun die Form rütteln, nach oben und unten, bis die Schokolade gleichmäßig in den Formen verteilt ist. Die Form ein paar Mal auf die Arbeitsplatte klopfen, damit die Luftblasen zerplatzen. Größere Zutatenstücke jetzt auf die Oberfläche der noch flüssigen Schokolade legen, eventuell etwas reindrücken. Auch ein Bestreuen mit Gewürzen ist jetzt nochmal möglich.
Wer Platz im Kühlschrank hat kann die Schokolade auf einem Brett für 5 Minuten reinlegen. Die Schokolade darf dabei nicht direkt auf die Fächer des Kühlschranks gelegt werden und auch nicht die Rückwand berühren. Dort ist es zu kalt! Da ich nie Platz im Kühlschrank habe spare ich mir diesen Schritt immer.
Die Schokoladentafeln müssen mindestens 2 Stunden trocknen. Dann mit einem Küchentuch bedecken und die Form umdrehen. Voilá, die schönsten Schokoladentafeln der Welt.
PS: Wenn man zwei Kuvertürensorten mischt beim Temperieren, verwendet man die Temperaturangaben der Kuvertüren die niedriger sind.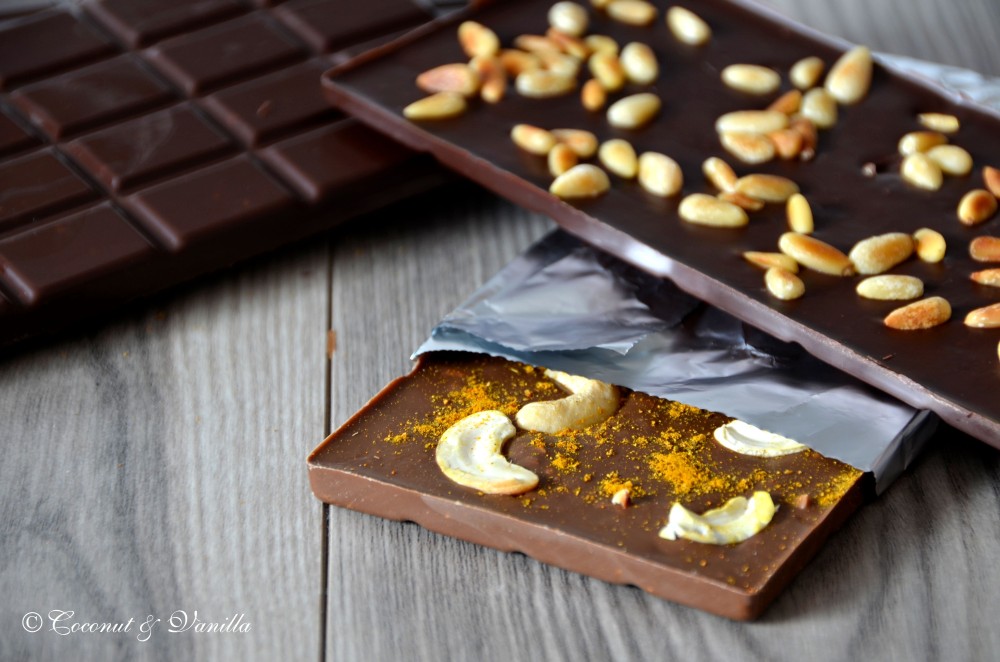 This is my entry to the wonderful
kulinarischen Adventskalender
(culinary advent calendar), which Zorra organizes again. It's the first participation for me and I'm very happy about it. I'm proud to be part of this calendar, especially when I look at the entries made so far.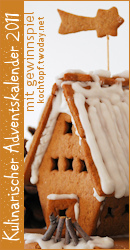 Already two years ago I bought a little book including a chocolate bar mould. First it was meant to be a gift, but then I gifted it to myself. I don't even know who would appreciate it. But after I read that you have to temper the chocolate with a thermometer, it ended up with the other kitchen stuff. But the tempering is important, as it yields the beautiful matt surface und obtains the right melting.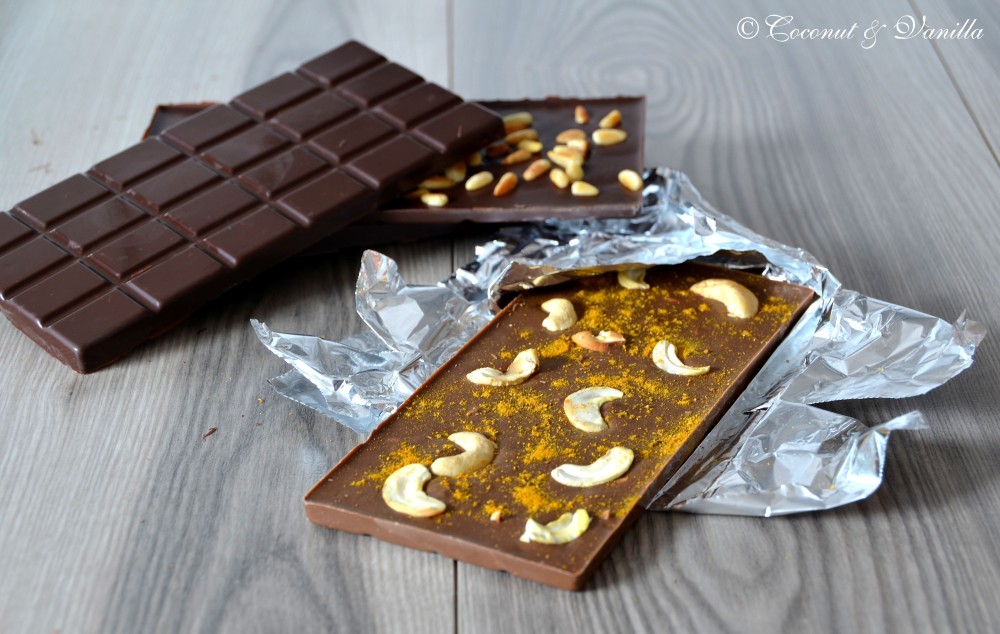 So this year I gave it a try and it wasn't to my disadvantage! Au contraire. It's such a delight, when turning out the first bars from the mould. And they are so pretty, you don't want to give them away as a gift no more. A perfect gift, that's what they are. You can fulfil everyone's wishes and spare the dislikes. And if you are using gluten free chocolate, you can also make gluten free chocolate bars!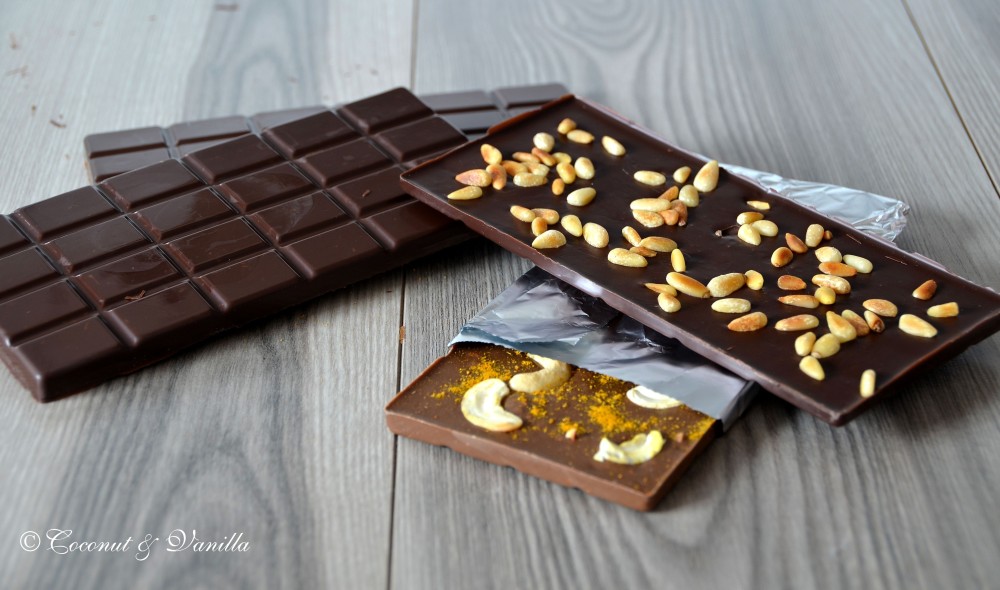 You have fancy ideas? No problem, just put them in the chocolate. Everyone can do ordinary. But not cashew with curry powder or pine nuts with rosemary! That were my first bars, which you also see on the photos. But do not use chili in your bars! Really that's an old obsolete trend, which was trendy ten years ago. Honestly, it's over.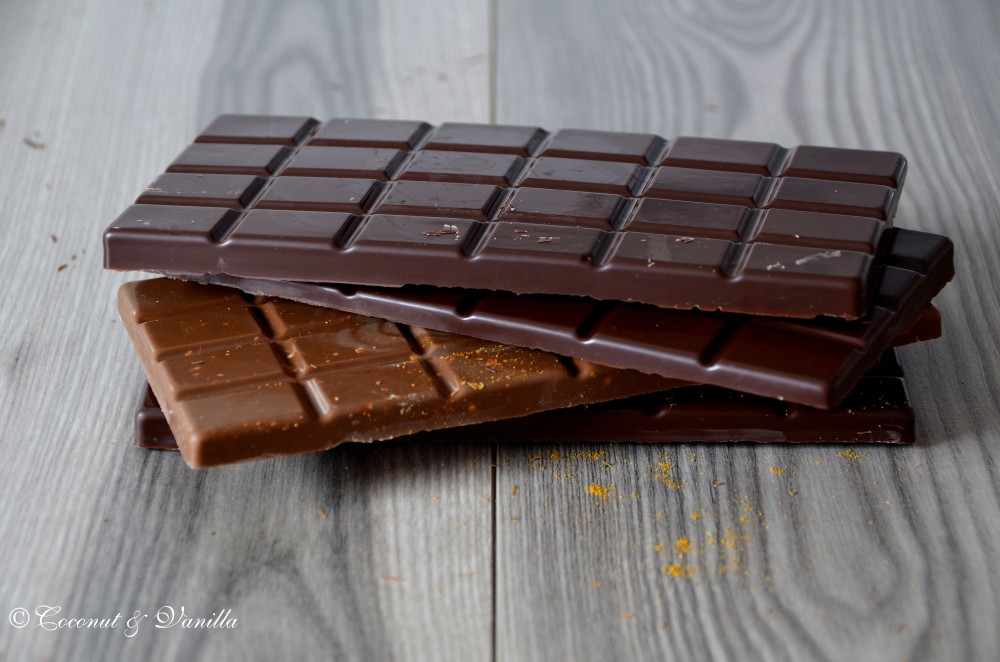 Back to the production. Besides some time you need one thing: a thermometer. A digital one, that has a short response time is recommended (costs just a few bucks). Don't use a clinical thermometer! Well the bars mould is a must, too. And a silicon spatula is very helpful, too. I red recently that in Austria silicon spatula is called "Gummihund", which can be translated as "rubber dog". It's my new favourite word for that tool.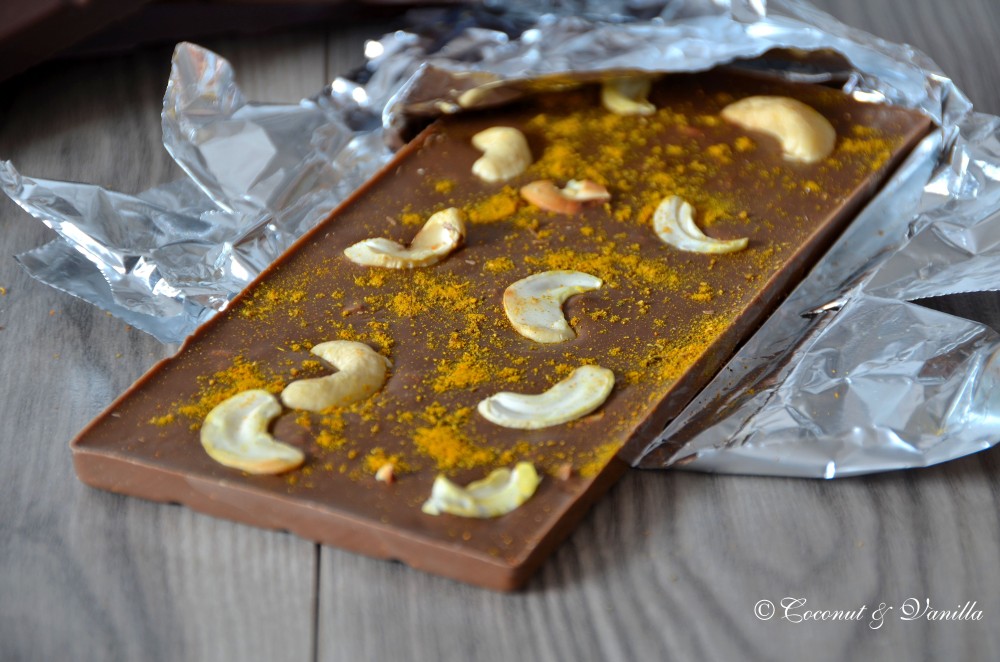 One year ago: Eggnog and Gingerbread
Homemade Chocolate Bars
from Schokoladentafeln selbst gemacht
yields 3 bars á 100 g
Ingredients:
 300 g high quality chocolate
nuts, spices, cookies, herbs, everything you ever wanted to add to chocolate
 Chop the chocolate finely. All the more finer the chocolate is chopped, all the more faster and evenly it will melt. Prepare a double boiler, the water should have 55° C. Melt the chocolate in the double boiler until it has 40 – 45° C. Stir with the spatula and scrape down the chocolate from the sides. Don't forget to measure the temperature and to remove the chocolate from the thermometer after every measurement. Ground spices and finely chopped herbs are already added in this step.
On the side prepare a cold bain-marie. I use cold water with 3 or 4 ice cubes, but essentially it shouldn't have over 25° C. While stirring, cool down the chocolate. Dark chocolate to 28 – 30°C, milk chocolate to 27 – 28° C and white chocolate to 26 – 27° C.
In the meantime cool down the water in the double to 35° C by adding some cold water. Reheat the chocolate, whilst stirring and measuring the temperature. The temperature should be 2° C warmer than the cooling temperature. Finely shopped nuts or cookies can now be added.
Add the tempered chocolate to the moulds and try to share it between the moulds equally. Work quickly to prevent forming grease rims. Now jiggle and joggle up and down to spread the chocolate evenly. Tap the mould on the countertop to prevent air pockets. Now lay the large ingredients on the chocolate and press them in a little bit, eventually. Sprinkle with some ground spices if you like.
If you have some free space in the fridge, lay your mould on a cutting board and let it rest for 5 minutes in the fridge. Never lay the mould directly on the shelves and do not let them touch the rear cover of the fridge, as it is too cold there. As I have never that much space in the fridge, I spare this step.
The bars have to dry at least for 2 hours. Then cover them with a kitchen towel and turn the mould around. Voilá, the most gorgeous chocolate bars in the world!
PS: If you are mixing two different kinds of chocolates for tempering, take the lower temperature advices for it.