Tuesday, 18th October 2011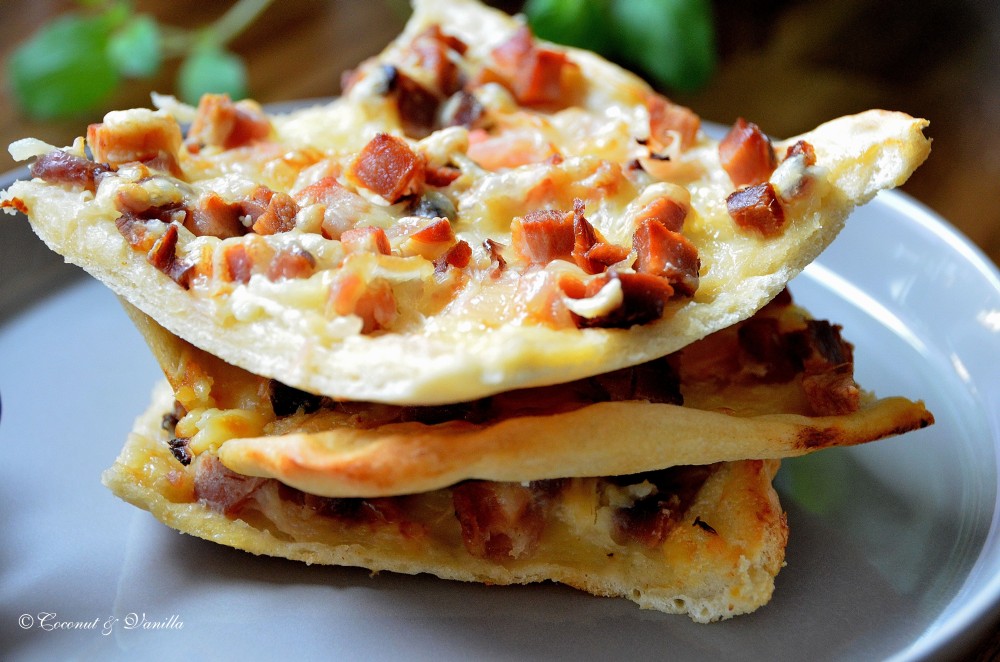 Tarte flambée is on everyone's lips these days. I see it everywhere and everyone longs for it. As I baked mine, the reactions were: " Oh, I want this, too. Now." And there's nothing to be said against it, because it's more than simple.
Probably my tarte flambée shouldn't be called tarte flambée anymore, because I topped it additionally with cheese. That's more than uncommon. And has nothing to do with the tradition of tarte flambée. But what's to say against cheese? Usually food gets even better, when cheese is added (desserts excluded). It's the same as with cream. Or a schnitzel. And for that, I made tarte flambée classic with cheese. The people from Rock the Kitchen were much more creative than me. But theirs will be made next! My pumpkin-cooking-list is long. My pumpkin-baking-list is even longer. Pumpkin desserts in many many variations. Swoon.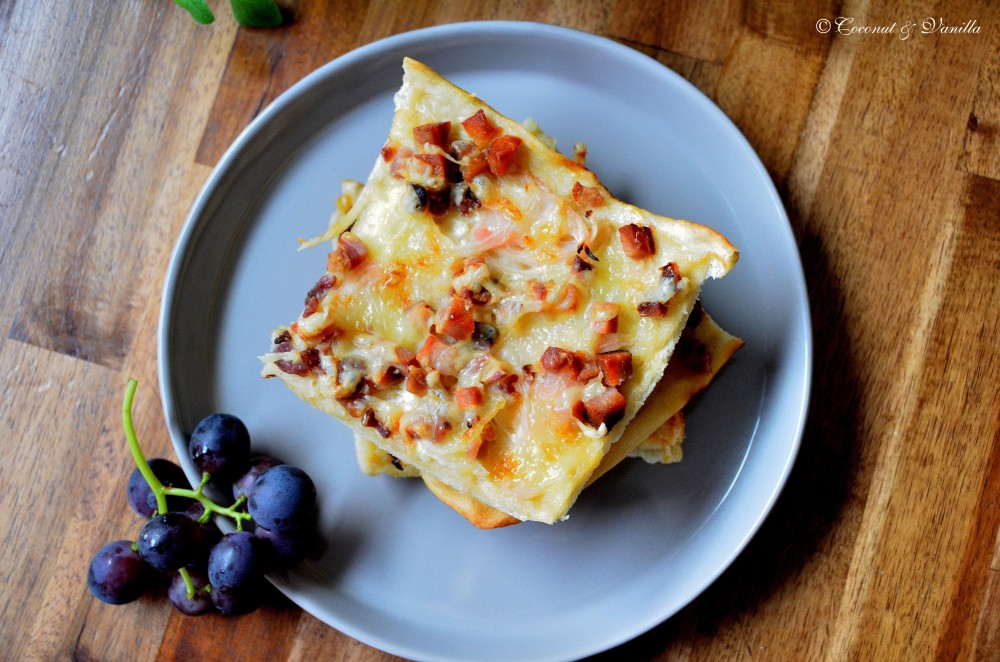 There is just one thing, that is important to me about tarte flambée. It has to be thin and crispy with a thin topping. It reminds me of the Middle Age Christmas market in Esslingen. They sell something better there than tarte flambée (although they also sell tarte flambée): flat breads fresh from the oven with delicious toppings.
Let's start the action!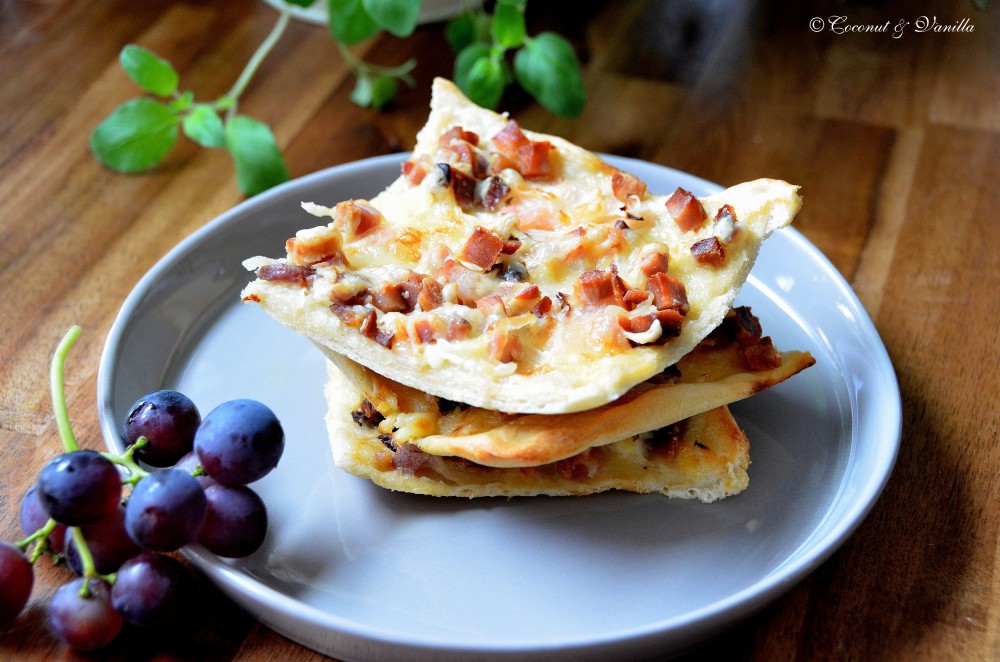 One year ago: Squash-Apple-Soup
Tart flambée classic with cheese
Yield: one baking sheet
Dough:
250g flour (550 Type)

1/2 sachet of instant yeast or 21 g fresh yeast

1 pinch of sugar

1 pinch of salt

125 ml lukewarm water
Topping:
2 large onions

3 heaped Tbsp schmant/heavy sour cream

150 – 200 g cubed bacon

150 g shredded cheese (I used alpine cheese, I recommend a hearty cheese  with a strong flavour)

pepper
Additionally:
butter for the baking sheet
Dissolve the fresh yeast in the water, together with the sugar and salt. Add to the flour. If you are using instant yeast, just combine everything in a bowl. Knead with the dough hook in your stand mixer, until the ingredients have formed a smooth dough. Eventually add a bit more water. Cover with a damp kitchen cloth and let it rise for about an hour, until almost doubled in size.
Peel the onions and slice them on a mandolin or your vegetable grater.
Preheat the oven to 230° C.
Butter the baking sheet.
Roll out the dough on the baking sheet. There's no need to make a rim. Spread the schmant/heavy sour cream on the dough evenly. Spread the onions, as well as the bacon. Season with a bit of pepper (no salt, the salt of the bacon and the cheese is enough!). Add the cheese on top.
Bake it in the upper section of your oven for about 15 minutes, until crispy.
Cut in pieces and enjoy!