Vor kurzem gab es in der deutschen Bloggergemeinschaft die heiße Diskussion über Lebensmittel und wo man diese kauft. Eine klasse Idee, da ich immer auf der Suche bin nach den besten Einkaufsmöglichkeiten, denn auch wir kaufen bevorzugt regional und saisonal. Und gerade, wenn man neu in einer Stadt/Region ist helfen einem diese Tipps sicher weiter, wo man gut einkaufen kann. Und ansonsten lernt man sicher auch das ein oder andere Neue kennen.
Da ich Euch auch endlich mal den tollen Markt hier zeigen wollte, hat es mit meinen Tipps etwas länger gedauert. Ich musste ja erst noch Fotos schießen.
Wir leben im östlichen Teil Stuttgarts, in Bad Cannstatt und da wir über kein Auto verfügen, ist unser Einkaufsradius auf die unmittelbare Gegend beschränkt.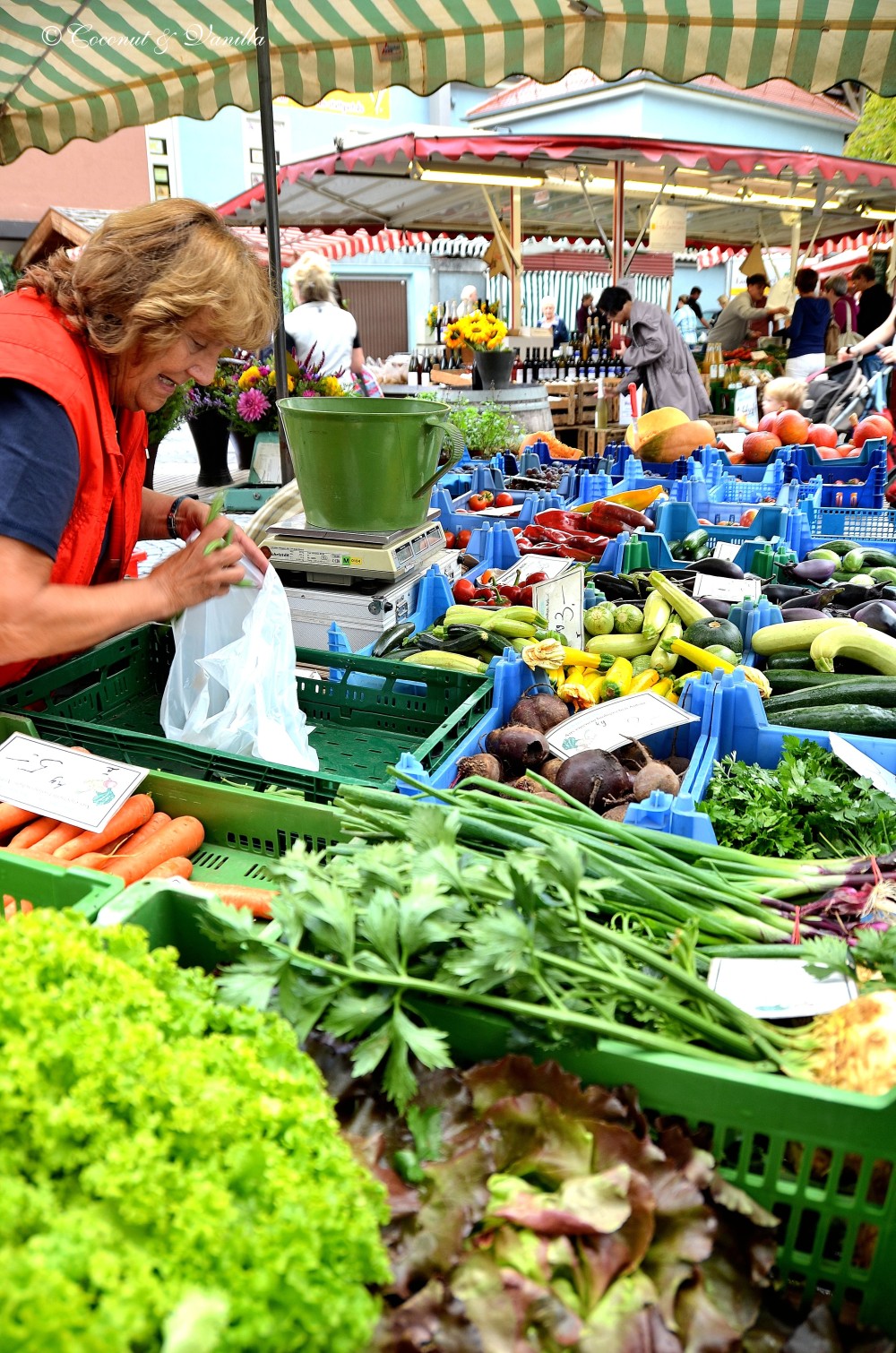 Mehl:
Hegnacher Mühle, 71334 Waiblingen – Hegnach: Das Getreide bezieht die  Mühle von Bauern in 20 km Umgebung. Einzelne Sorten gibt es auch in Läden in der Umgebung zu kaufen (siehe Internetseite).
Adler Mühle Balingen, Eichstetterstr. 3, 79353 Bahlingen am Kaiserstuhl: Bis zu 30 kg kann man das Mehl auch online bestellen, wenn man nicht in der Nähe wohnt. Sehr praktisch, wenn man als Brotbäcker kein Auto hat.
Öl:
Ölmühle Ditzingen, Johannes-Fuchs-Strasse 5, 71254 Ditzingen: Wird auch in verschiedenen Läden in der Region verkauft (z.B. Rewe in Fellbach). Es gibt Sonnenblumen-, Raps-, Walnuss-, Mandel-, Erdnuss-, Sesam-, Olivenöl und viele andere spezielle Öle, einige auch in Bioqualität.
Gewürze und getrocknete Kräuter:
Wurzelsepp, Hauptmarkt 1, 90403 Nürnberg: Hier kaufe ich alle Gewürze und Kräuter. Die Qualität ist hervorragend, ebenso wie die Auswahl. Hier wird einem immer geholfen, wenn man auf der Suche nach etwas (außergewöhnlichen) ist. Zudem sind die Angestellten super nett. Mein Lieblings(Lebensmittel)laden. Außerdem gibt es dort auch noch eine große Auswahl an offenen Tees ( es gibt auch immer eine frisch gebrühte Kanne zum Probieren) und Produkte von L'Occitane und ähnlichen Marken.
Fleisch und Wurst:
Metzgerei Bienzle, Vaihinger Markt 7, 70563 Stuttgart (es gibt noch eine 2. Niederlassung in Stuttgart-Möhringen): sehr gutes Fleisch, sehr gute Wurst ohne Geschmacksverstärker und künstliche Inhaltsstoffe, ohne Gluten und Laktose
Hoflieferant Munz, Stuttgarter Str. 23, 70469 Stuttgart-Feuerbach: Ein Bio-Metzger in Feuerbach mit sensationellem Fleisch! Das Geflügel kommt vom Bioland Bauernhof, das Schweine- und Rindfleisch von der Bäuerlichen Erzeugergemeinschaft Schwäbisch-Hall. Das beste Rindfleisch das wir je gekostet haben, stammte von hier. Das ganze hat natürlich auch seinen Preis. Die Wurst fand ich allerdings nicht so berauschend.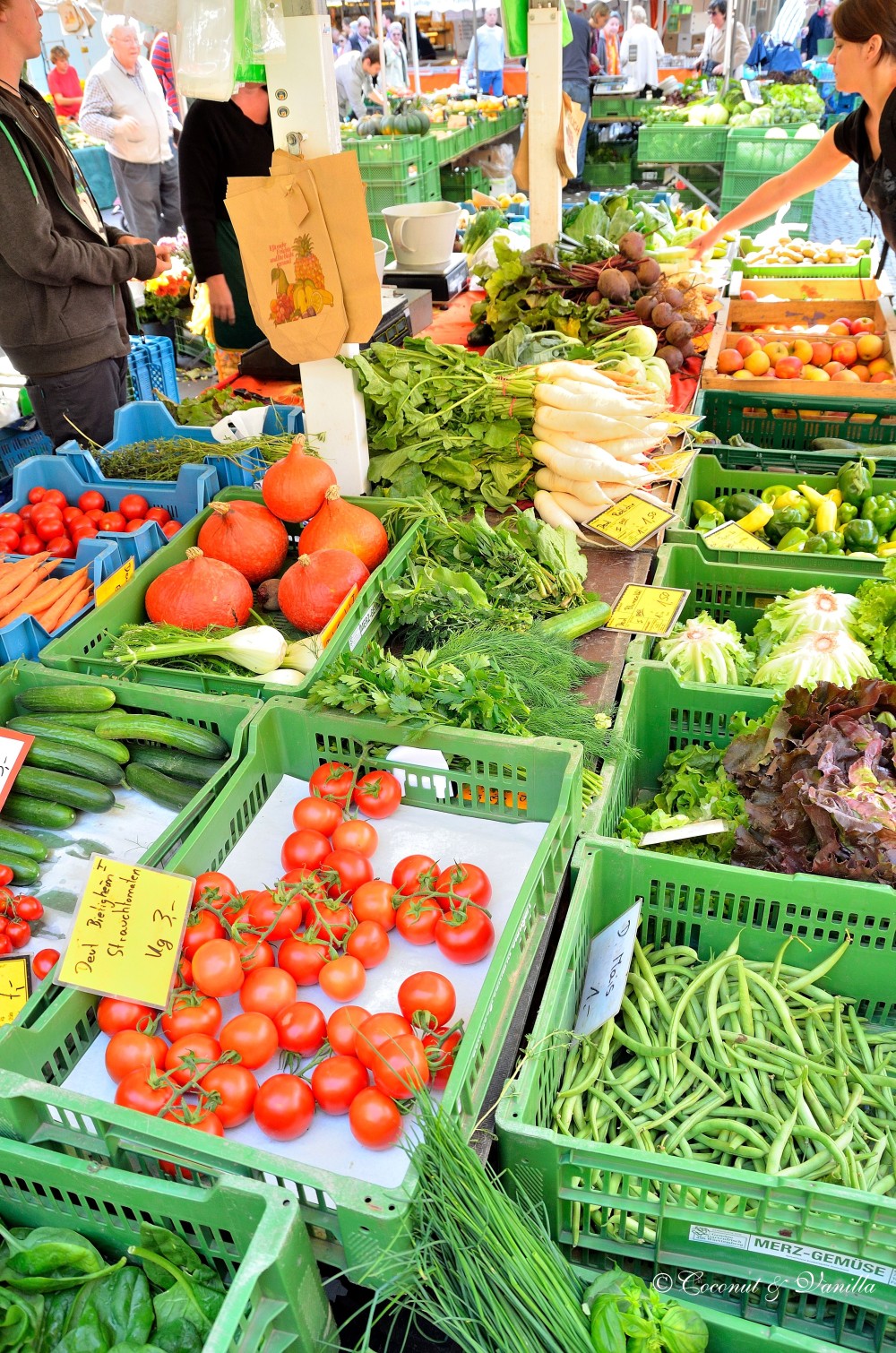 Markt Stuttgart – Bad Cannstatt:
Obst, Gemüse, Kräuter:
Gärtnerei Geist (es gibt auch eine Auswahl an Blumen): unser Lieblingsstand, lokale Produkte, vieles aus eigenem Anbau
Gärtnerei Albeck: hier werden nur Produkte aus eigenem Anbau verkauft, alles ist biologisch angebaut (nicht zu verwechseln mit dem Demeterstand, die alles haben, egal zu welcher Jahreszeit!). Hier gibt es die besten Tomaten! Außerdem gibt es auch ungewöhnliches Gemüse dort, z.B. Zucchiniblüten, lila Frühlingszwiebeln, Mandeln oder Mini-Paprika.
Blumen:
Ulrich Steinle: Dieser Stand hat fast nur Blumen (bis auf eine kleine Auswahl an Gemüse). Die Auswahl ist herrlich von Schnittblumen, bis zu fertigen Sträußen. Außerdem gibt es das alles für kleines Geld. Hier komme ich selten vorbei, ohne was mitzunehmen.
Käse:
Käse Widmann: Der beste Ort um Käse zu kaufen. Der Inhaber Herr Widmann verkauft immer am Samstag in Bad Cannstatt. Unsere Lieblingskäseverkäuferin ist auch auf einem Bild zu sehen. Sehr empfehlenswert! Käse Widmann hat noch weitere Stände in Stuttgart, Baden-Württemberg und sogar in Hessen, außerdem gibt es auch einen Laden in Waiblingen.
Eier & Geflügel: Eier Bleyer: Ein Stand der diverses Geflügel, Kaninchen, manchmal auch Lamm (angelblich auch Wild, hab ich aber noch nicht gesehen) verkauft, ebenso wie verschiedene Eier verkauft. Dort kaufen wir die Naturland-Bio-Eier vom Bromberghof in Sachsenheim-Ochsenbach.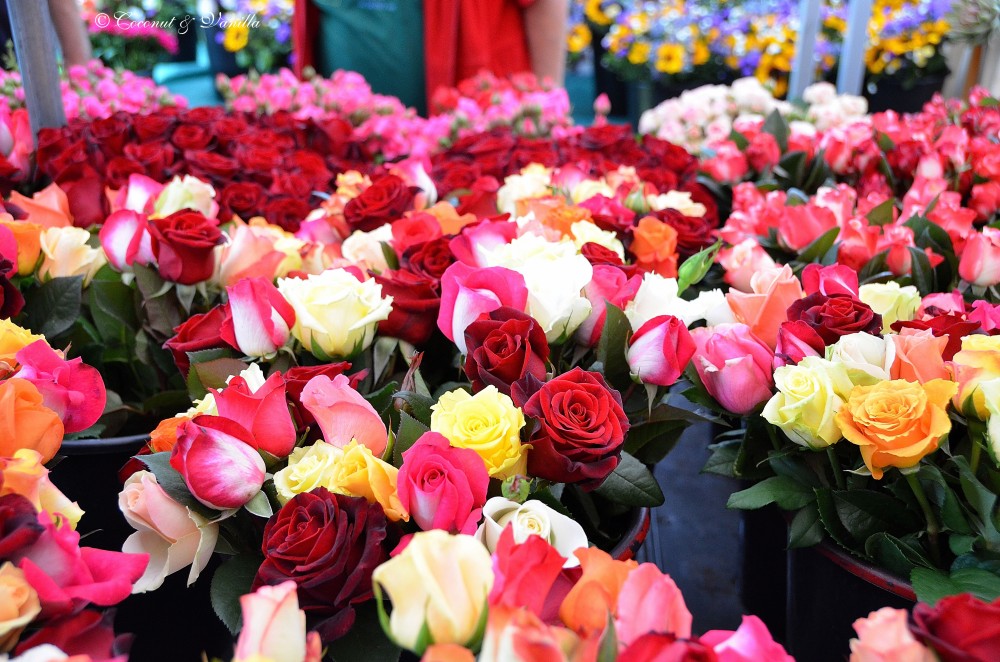 Recently there were some discussions in the German bloggersphere about where to buy food. Where to get the best, local, in season food. Astrid from Arthurs Tochter created a site on her blog, where she's collecting all the tips from bloggers in Germany. I love that idea, since I'm also constantly looking for the best places to shop my food. I prefer it local. If it's flour, vegetables or meat. Fish is really challenging. At least I make sure the fish is marked with the MSC sign (if it's not from an aqua culture or fresh water, but from the sea).
So I was quite intrigued to take part of this idea. It took a few weeks, because I also wanted to show you our beautiful market here. Finally!
We live in the the eastern part of Stuttgart and don't own a car, so our radius where we shop is limited.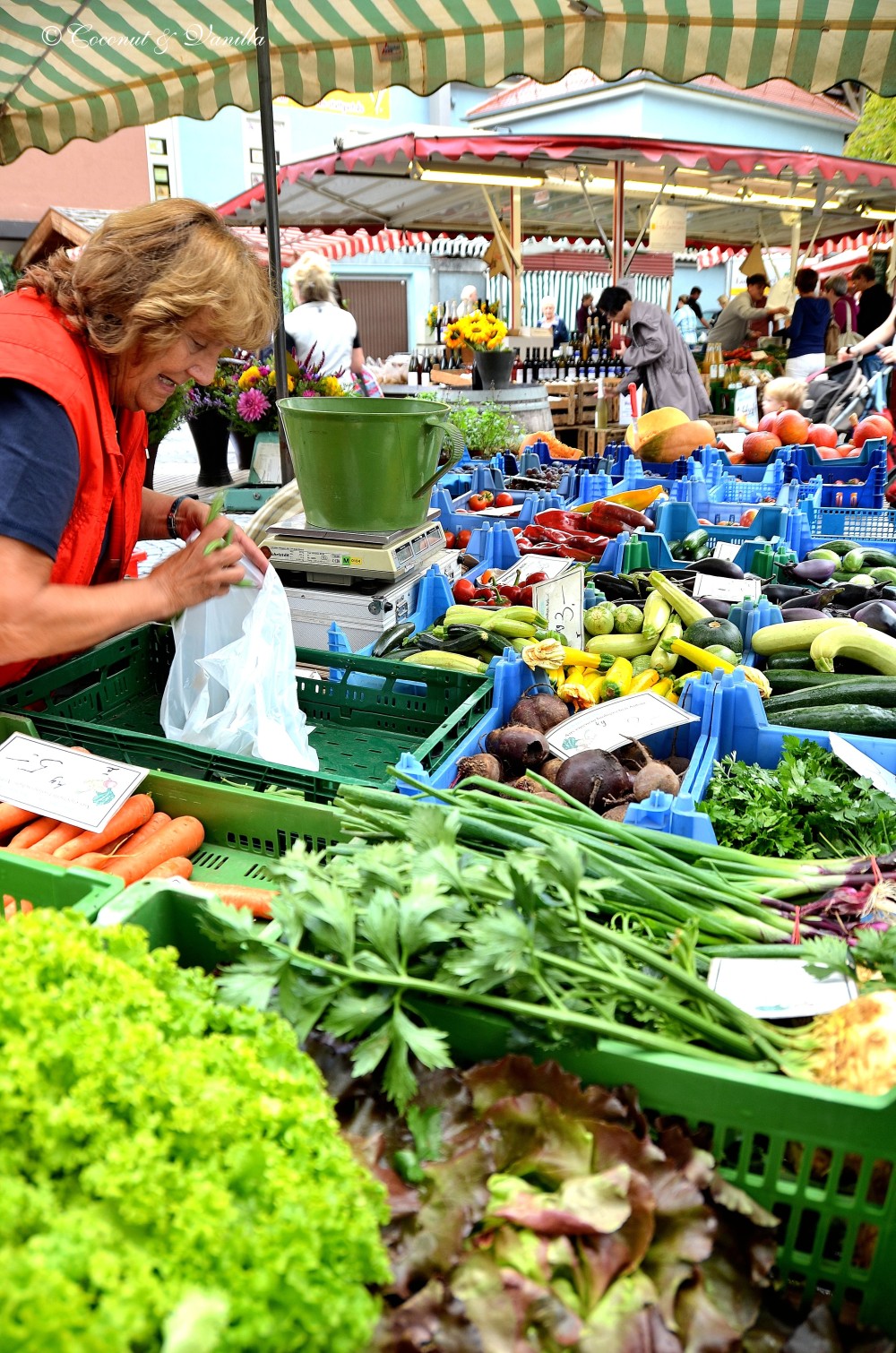 Flour:
Hegnacher Mühle, 71334 Waiblingen – Hegnach: The grain comes from farms 20 km around the mill. It can also be bought in stores in the region
Adler Mühle Balingen, Eichstetterstr. 3, 79353 Bahlingen am Kaiserstuhl: up to 30 kg, you can also purchase the flour online, which is great for bread bakers without car
Oil:
Ölmühle Ditzingen, Johannes-Fuchs-Strasse 5, 71254 Ditzingen: is also distributed in various shops in the region. Offers sunflower, canola, walnut, almond, peanut, sesame, olive oil and a lot of other special oils. They offer some oils in organic quality.
Spices & Dried Herbs:
Wurzelsepp, Hauptmarkt 1, 90403 Nürnberg: I buy all my spices and dried herbs there. The quality is amazing, as well as the variety. It never happened to me, that I searched for something and they couldn't help me. Also they are super friendly there. My favourite food shop. They also have different open teas (they always have a pot with fresh tea for trying – lovely) and beauty products from L'Occitane and other brands.
Meat:
Metzgerei Bienzle, Vaihinger Markt 7, 70563 Stuttgart (they have a second dependence in Stuttgart-Möhringen): very good meat and sausages (wurst), the sausages don't contain flavour enhancer, gluten, lactose
Hoflieferant Munz, Stuttgarter Str. 23, 70469 Stuttgart-Feuerbach: An organic butcher in Feuerbach with sensational meat. The poultry is from a Bioland farm, the pork and the beef are from the Erzeugergemeinschaft Schwäbisch-Hall. The best beef we've ever tasted, was from here! Of course all this comes at a price. The Sausages weren't to my taste.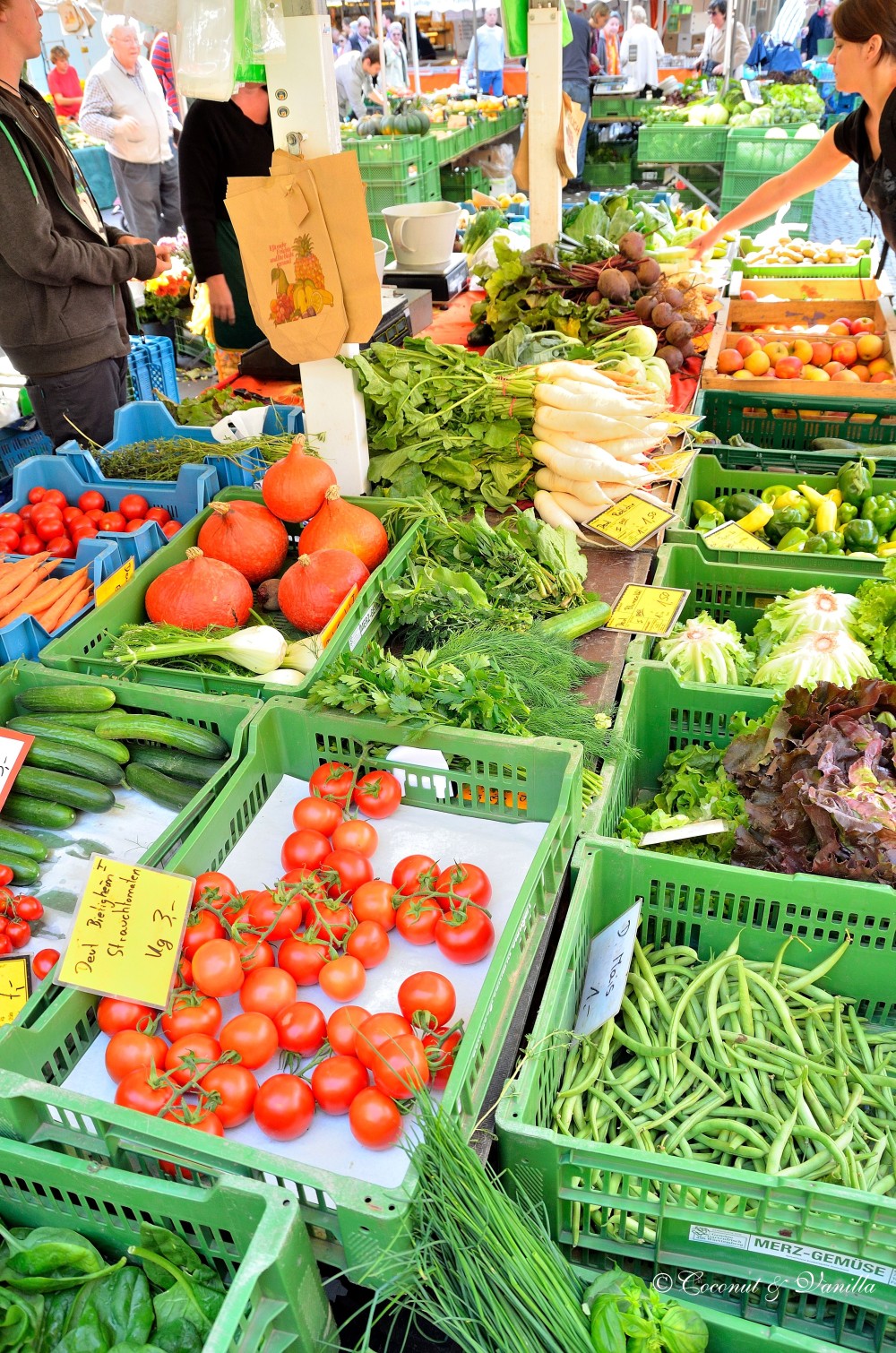 Market Stuttgart – Bad Cannstatt:
Fruits, Vegetables & Herbs:
Gärtnerei Geist (they also have a range of flowers): our favourite stand, with almost only local produce and a lot from their own farms
Gärtnerei Albeck: they only sell their own produce, which is all organic. They have the best tomatoes! And a lot of uncommon things like zucchini flowers, mini peppers, purple spring onions, almonds etc. (don't mix it up with the Demeter stand, that sells everything, regardless of the season!)
Flowers:
Ulrich Steinle: The market stand with almost just flowers (and a small range of vegetables) has the most beautiful flowers and bouquets for small money.
Cheese:
Käse Widmann: It's the best place in Stuttgart to buy cheese! The owner Mr. Widmann also sells at the stand in Bad Cannstatt. It's always a pleasure! They have a lot of stands in Stuttgart, Baden-Württemberg and even Hessen, as well as a shop in Waiblingen, look it up on their homepage!
Eggs & Poultry: Eier Bleyer: A stand selling different poultry, rabbit, sometimes lamb (should have also game, but I've never seen it, yet) and also different eggs. There we buy organic eggs, that are Naturland certified from the Bromberghofin Sachsenheim-Ochsenbach.