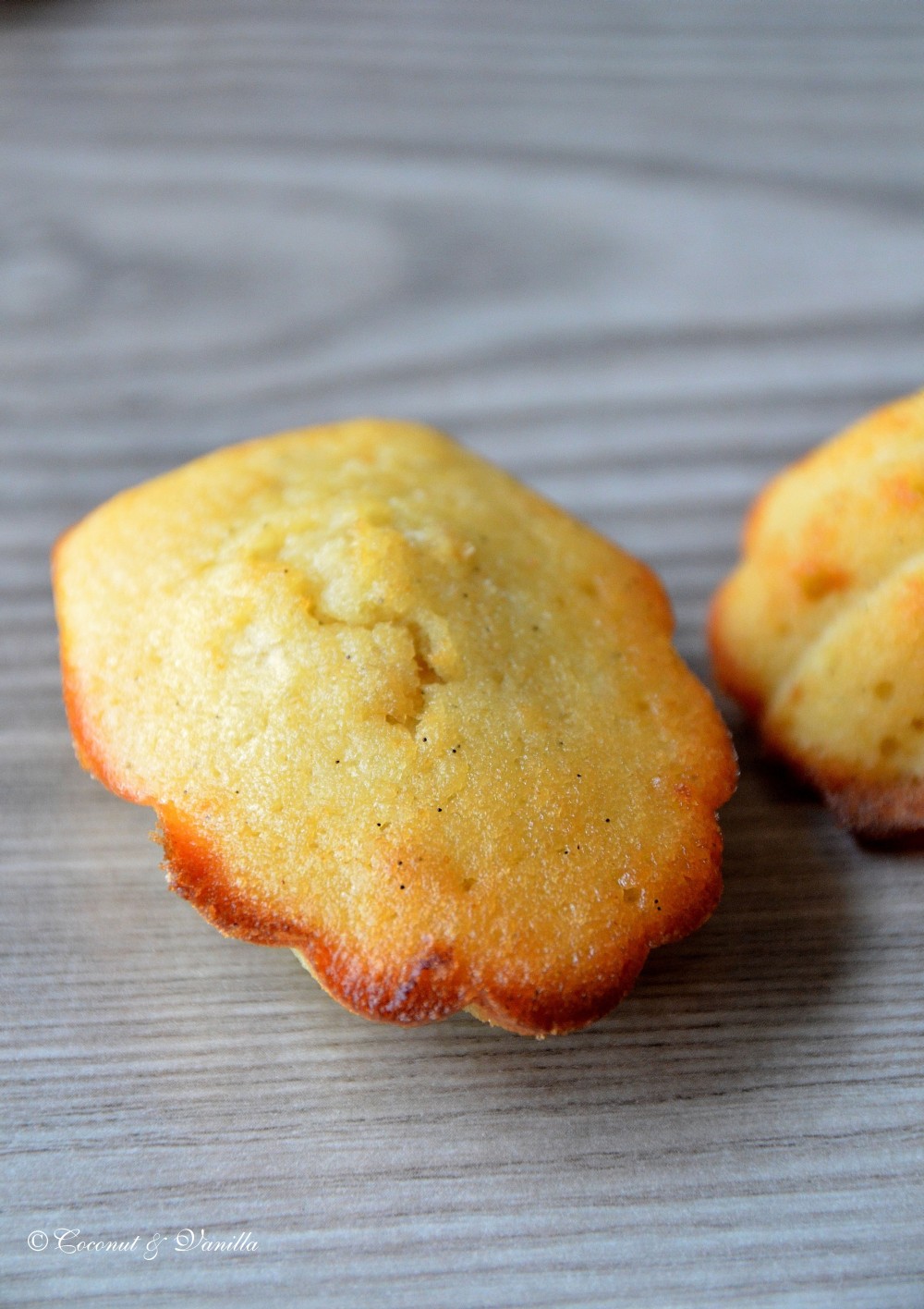 Madeleines sind so eine heikle Sache. Ich liebe sie. Und sie sind einfach zu machen. Sie sind auch sehr lecker. Aber meistens nur am Backtag, vielleicht noch am Tag danach. Anschließend sind sie trocken, hart, einfach nicht mehr lecker. Mein Gebäck sollte sich aber schon ein paar Tage halten. Das erwarte ich schlicht und einfach. Ich backe nicht nur für einen Tag (außer es kommen natürlich Gäste).
Ich war schon von vielen Madeleines begeistert. Die Begeisterung legte sich schnell. Bis ich diese hier ausprobiert habe. Sie schmecken nicht nur einfach ganz toll nach den verwendeten Zutaten, also Äpfel, der Vanille und der gebräunten Butter, nein sie halten sich auch noch mehrere Tage in einer Blechdose. Dabei bleiben sie immer schön saftig und aromatisch. Ich habe mein Rezept gefunden!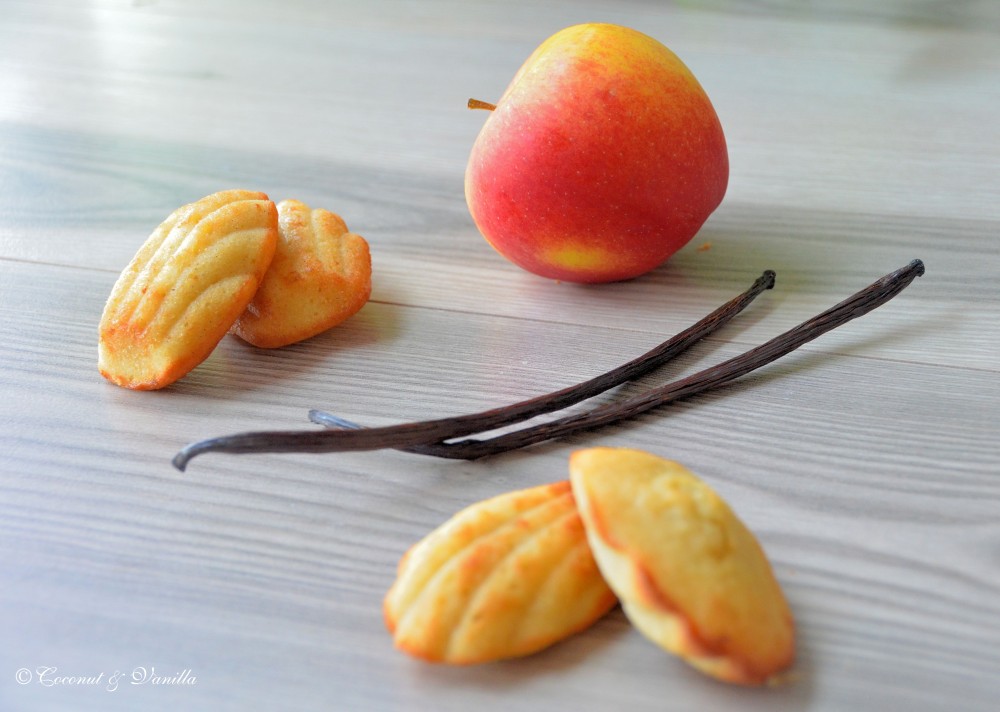 Schwierig wird es wohl, wenn ich mich nach Madeleines ohne Obst sehne. Aber das dürfte im Herbst zu verhindern sein. Es gibt ja noch Birnen, Quitten und im Notfall könnte man auch ein bisschen Kürbisfleisch in die kleinen Küchlein schmuggeln.
Ich habe mich bei diesem Rezept mehr oder weniger an die Angaben gehalten, und es nur auf glutenhaltige Zutaten umgemodelt. Ich habe es von dem wundervollen Blog von Aran – Cannelle et Vanille. Sollte man also unter eine Glutenunverträglichkeit oder Zöliakie leiden, ist dieser Blog eine sehr gute Anlaufstelle für Rezepte. Ansonsten ist er immer wieder schön anzuschauen.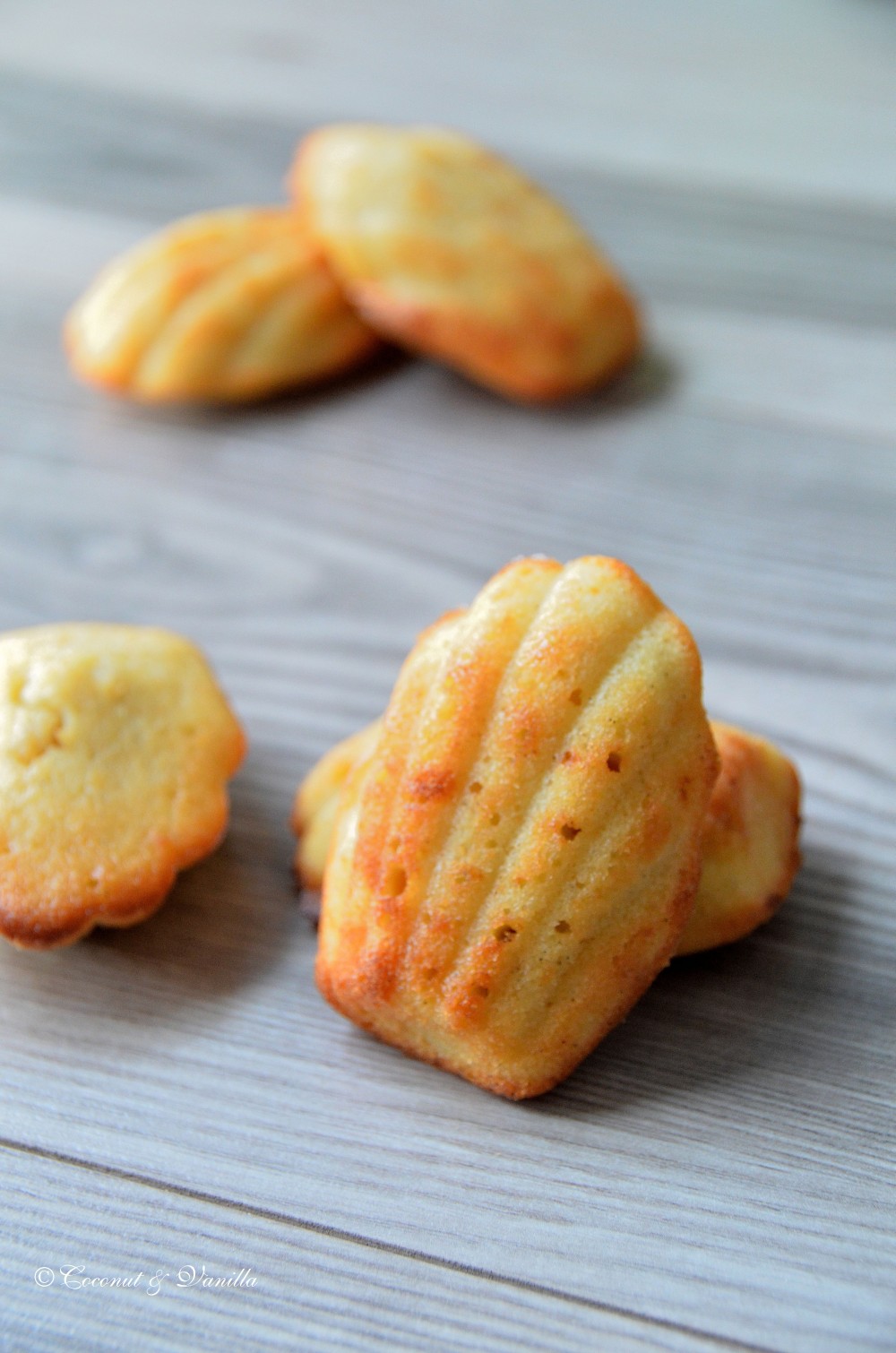 Vor einem Jahr: Churros
Apfel & Vanille Madeleines mit brauner Butter
nach einem Rezept von Cannelle et Vanille
ergibt ca. 20 Madeleines
Apfelmus aus dem Ofen:
Zutaten:
3 Äpfel, geschält, entkernt und in 2 cm Würfel geschnitten

1 Vanilleschote, aufgeschlitzt und Mark entfernt

1 EL Butter

1 EL heller Rohrzucker
Alles in einer Auflaufform vermengen und bei 180° C im Ofen 20-25 Minuten backen. Die Vanilleschote entfernen und pürieren.
Madeleines:
Zutaten:
100 g Butter

130 g Weizenmehl

1 TL Backpulver

1 Prise Salz

2 Eier

125 g heller Rohrzucker

Apfelmus von oben
Die Butter in einem kleinen Topf bei mittlerer Hitze schmelzen, bis sie anfängt zu bräunen und nussig duftet. Zur Seite stellen und abkühlen lassen.
In einer kleinen Schüssel Mehl, Backpulver und Salz mischen.
Die Eier mit dem Zucker auf hoher Stufe schlagen, bis die Masse dick ist und eine helle Farbe aufweist. Das Mehl hinzufügen und unterrühren. Die braune Butter mit dem Apfelmus unterrühren. Die Schüssel mit Frischhaltefolie abdecken und 2 Stunden kühl stellen (ich hab die Sache etwas abgekürzt, da Platzmangel herrschte. Ging auch so).
Den Ofen auf 180° C vorheizen.
Falls man keine Silikonform benutzt, die Madeleineform einfetten. Den Teig in die Mulden füllen und 10-15 Minuten backen, bis sie goldbraun sind.
Noch 5 Minuten in der Form auskühlen lassen, dann auf ein Abkühlgitter legen. Die nächste Ladung backen.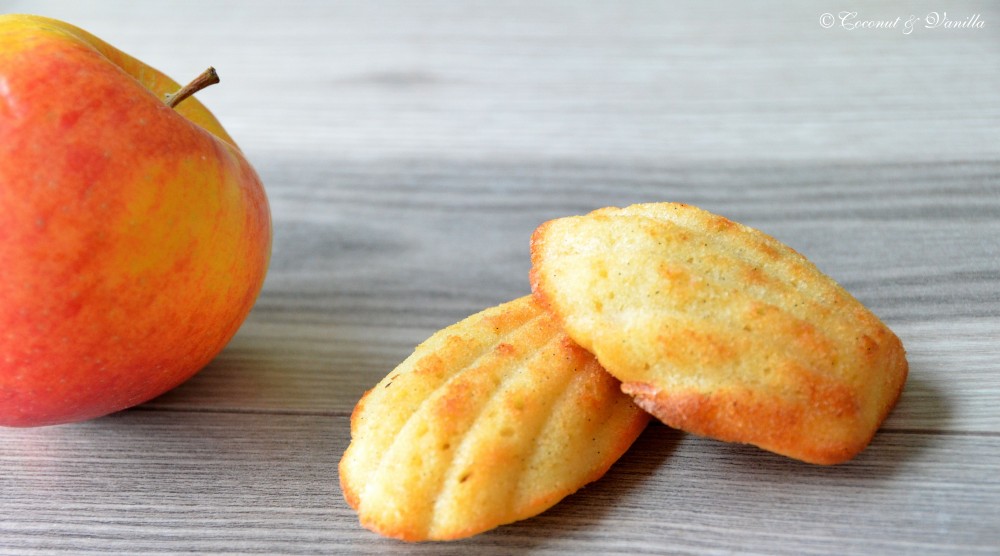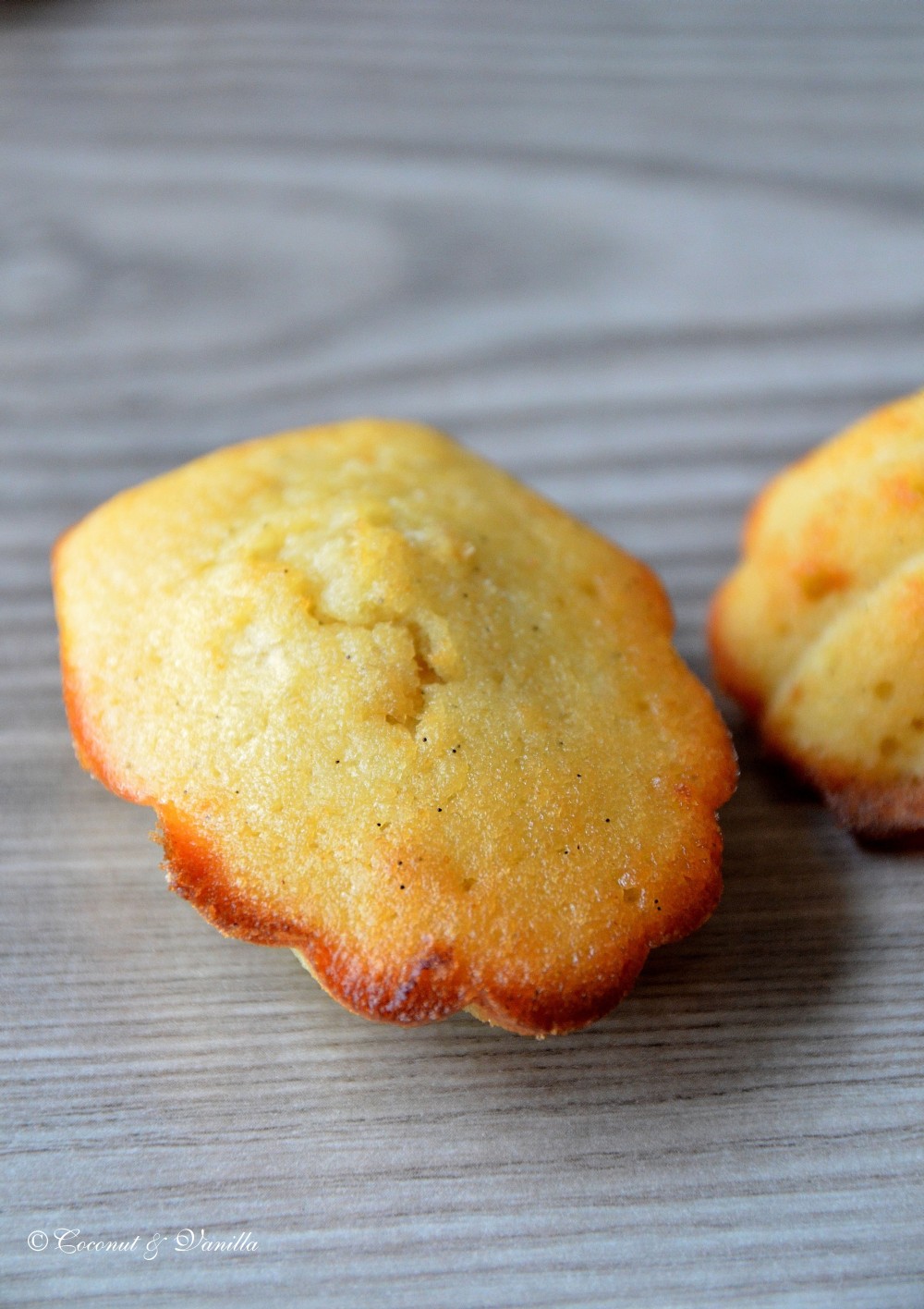 Madeleines are a delicate thing. I love them and they are super easy to bake. Also they are delicious. But mostly only on the day they are baked, maybe the day after. After that they are dry, hard, just not delicious anymore. But my baked goods should last for a few days. That are just my expectations. I'm not baking things for only one day (except guests are expected).
I already was enthusiastic about many madeleine recipes. But that was gone soon. Until I tried these sweet little gems. They are perfectly delicious! They combine the taste of the apples with the vanilla and the brown butter. AND they are lasting several days in a cookie jar. Whilst that, they are keeping moist and aromatic. I found my recipe!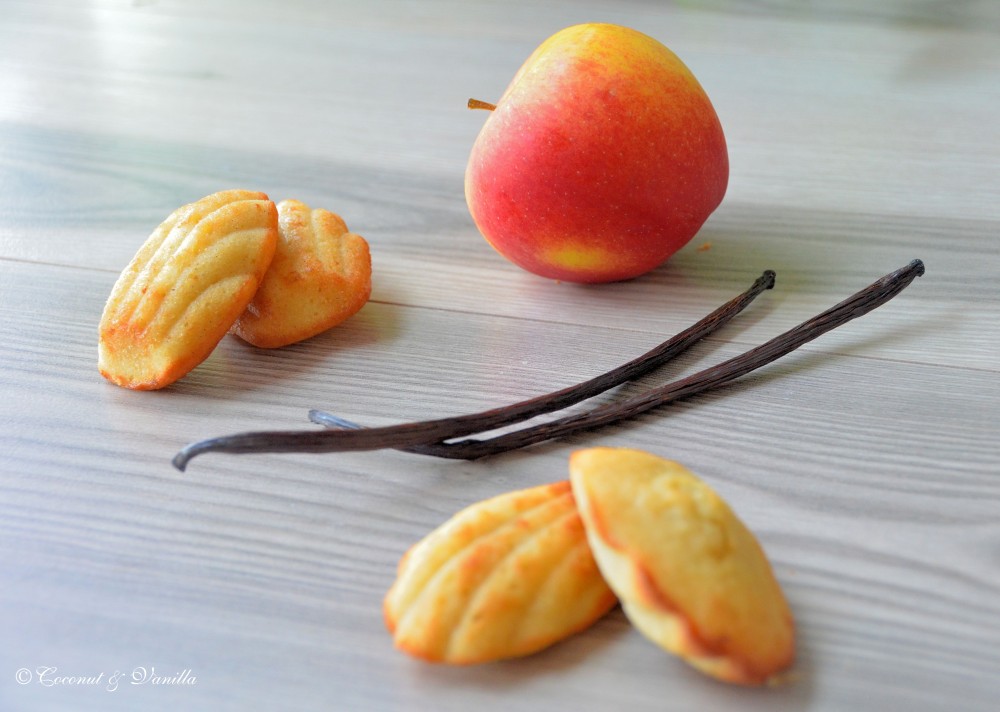 It will be different finding a recipe, without fruit, although. But this won't be necessary in autumn, since there still can be used pears, quinces and even some pumpkin puree.
I found this recipe on the wonderful blog from Aran – Cannelle et Vanille. I just changed the recipe into one with gluten. So if you are suffering under celiac disease, this blog should be one of your favourite sources for recipes. Besides it is just a beautiful blog.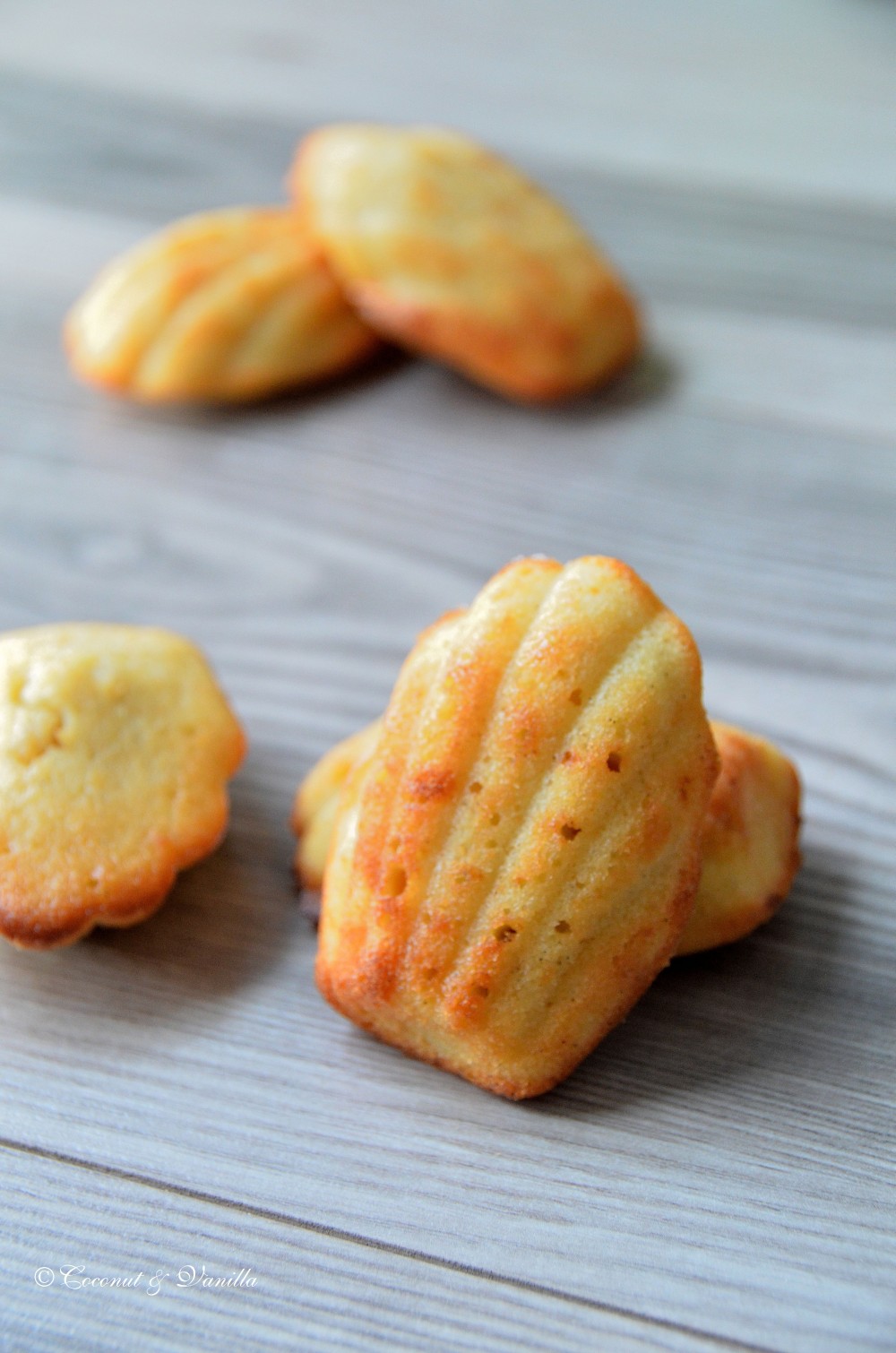 One year ago: Churros
Apple, Brown Butter & Vanille Madeleines
source: Cannelle et Vanille
yield: about 20 madeleines
Roasted Apples:
Ingredients:
2 small apples, peeled, cored and cut into 2 cm cubes

1 vanilla pod, split and seeds scraped

1 Tbsp light brown sugar

1 Tbsp butter
Combine the ingredients in a baking dish and bake for 20-25 minutes at 180° C. Remove the vanilla pod and puree it.
Madeleines:
Ingredients:
100 g butter

130 g plain wheat flour

1 tsp baking powder

a pinch of salt

2 eggs

125 g light brown sugar

pureed apple mixture from above
Melt the butter in a small saucepan over medium heat, until it begins to brown and smells nutty. Set aside to cool.
In a small bowl combine the flour, salt and the baking powder.
Whip the eggs and the sugar on high speed, until light and thick. Add the flour and mix briefly until combined. Add the brown butter and the apple puree and mix until combined. Cover the bowl with plastic wrap and chill for two hours (I shortened this step, since I hadn't the possibilities. Worked fine though.).
Preheat the oven to 180° C.
Spoon the batter into the madeleine pan (if you are using a non-silicone pan, don't forget to butter it).
Bake the madeleines for 10-15 minutes, until golden brown. Let them cool in the pan for 5 minutes, then transfer to a cooling rack. Bake the next batch.