Sunday, 15th November 2015
I am a little squirrel, I always have a huge collection of nuts at home. If I would have a garden I would plant a lot of nut trees!
I store a lot of them in the freezer, which is not very convenient, if you only have 2,5 drawers. On the other hand they last longer, because they do not turn rancid. Especially more expensive nuts that contain more fat can turn rancid more quickly.
Because I like to bulk buy my nuts online I want them to keep good more a long time.
If you don't have the space to freeze your nuts, store them airtight and even more important away from light!
When buying on the internet, I buy at Eutrade or at Schmütz Naturkost. Schmütz Naturkost also offers great stuff like freeze-dried fruit, dried fruit and organic food. I only buy nuts which is labeled with its origin country and is not from China or other dubious countries I do not trust.
I would love to buy chopped, ground and sliced almonds and hazelnuts in bulk. They packaging waste for every 100 g of nuts resents me a lot. But until now I haven't found a source for this. The only one is a central market (like Metro), which is quite inconvenient and also lists amounts of 500 g. Additionally they only have fraction of the products I need, so it doesn't justifies the effort.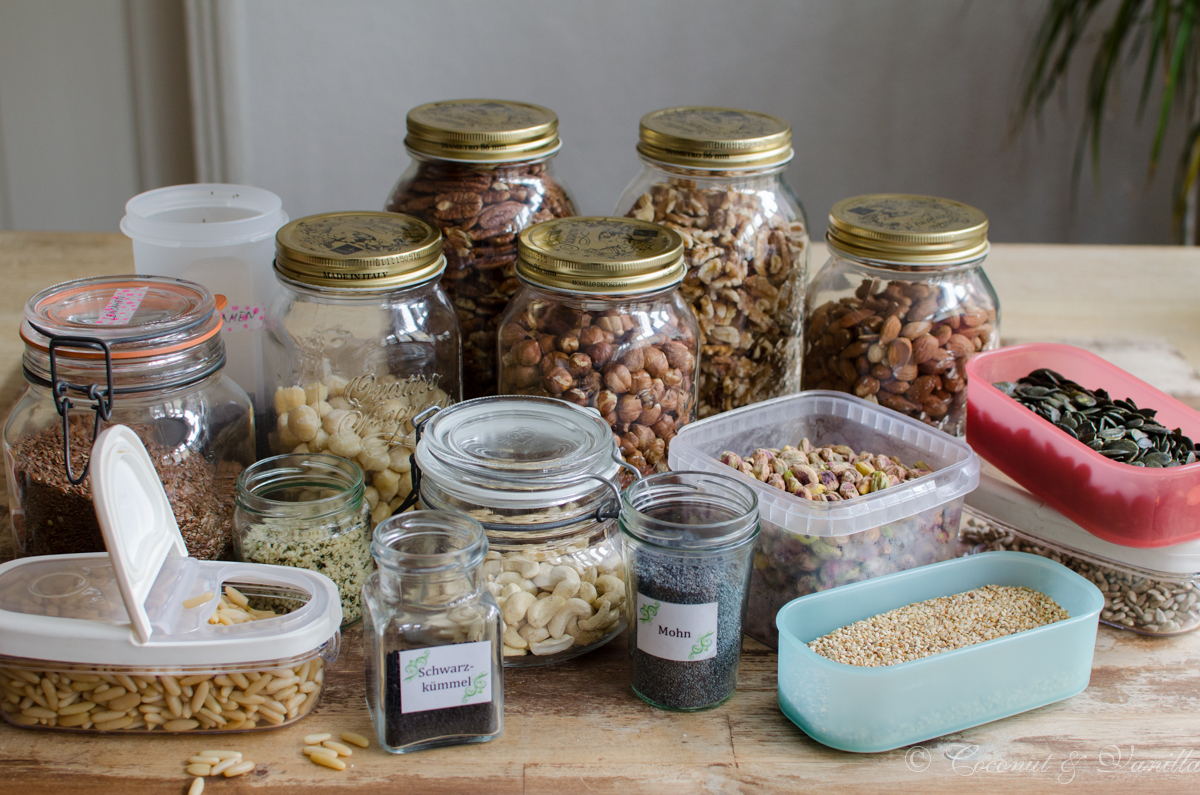 Walnuts
I only like walnuts so-so, because they are always a bit bitter, which I do not like so much. But for some dishes and with some ingredients they are great and cannot be missed. Also I like them in bread. I buy them online and freeze them (they tend to become rancid quite quickly) or buy smaller amounts at Aldi.
Pecans
My favourite nuts! Unfortunately very hard to come by in Germany. Aldi Süd listed them a few years ago, but they were gone again after a few months. Price was quite fair, then. Here and there you can find that in the supermarkets, but prices are exorbitant. I buy them online and freeze them. I always have them at home, because they work with almost everything!
Almonds
Whole, chopped, blanched, ground or sliced, you would find them all in my pantry. After the bad harvest in 2014 and 2015 almonds are quite expensive now.  I do not like that every 100 grams are packed seperately in plastic, but unfortuntely I have not found a source for buying the chopped, sliced and ground ones in bulk, yet.
Hazelnuts
Hazelnuts are quite expensive after bad harvests in 2014 and 2015 and even hard to come by from time to time. Before I never had problems and always had whole, chopped, ground and even sliced hazelnuts at home. Here also the same problem with the packaging as with the almonds appear, but there's also no source for buying them in bulk.
Pine Nuts

Pine nuts are the queen of "nuts"! It's the same with pine nuts as with cheese or bacon: everything tastes better with it!
But pine nuts are so very expensive in the grocery store! Therefore I only buy them online where they are more reasonable priced. I don't buy the shorter varieties from China, because I don't want to buy food (okay mostly anything) from China. My pine nuts are from Pakistan.
Macadamia Nuts

Macadamia nuts are very expensive and contain a lot of healthy unsaturated fats. Therefore they also tend to become rancid very quickly. I buy them online and freeze them. Unsalted nuts are almost not affordable in the supermarket and before I search that long I buy them online. In emergency cases you can always snack them ;).
Cashew Nuts

I only need cashews every now and then. So I buy some online and freeze them. So they keep fresh for a long time.
Pistachios
I need pistachios every now and then. So I buy them online, where they are much cheaper and freeze them. Who can afford to buy them in the supermarket, nonetheless? If I wouldn't freeze them, I would snack them all the time ;). Mine are from Iran.
Peanuts
I always have peanuts at home. I use them in asian dishes, sauces and for baking.
Sunflower Seeds

I don't like sunflower seeds that much and I only have them at home for the gluten-free nut and seed bread.
Pumpkin Seeds

I use pumpkin seeds for bread, rolls, granola or pesto. I don't use a lot of them, so I buy them from Alnatura.
Flaxseeds
I only use flaxseeds for baking and only need a little. Alnatura's are good.
Chia Seeds

Chia seeds are such a trend right now and of course I have them at home. Chia swells very good and is therefore great for glute-free baking. They don't have a particular taste. It makes a great thickener for the gluten-free nut and seed bread.
Poppy Seeds

I use poppy very rarely. If I use it, I use it for bread, rolls, baking and cooking and so my supply keeps forever.
Sesame
I also use sesame rarely, but I own black and white. Mostly I use it for breads, rolls or cooking oriental dishes. Unfortunately it is not possible to buy small amounts.
Nigella or Black Cumin Seeds

I always have small amounts of nigella at home. I use it mostly for sprinkling homemade pitas and flatbread with it. It's so delicious, I should use it more often!