Tuesday, 6th October 2015
Don't you hunger for cookies every now and then? But then baking them immediately is another thing. I have the solution for this problem: this giant cookie is stirred together in a pinch!
And don't tell me you never longed for a huge cookie? This skillet cookie is more like a cookie cake. It tastes like a chocolate chip cookie, but is more mellow in general, but crispy on the edges. I'm addicted to it and everyone who snacked on it at work, too!
Big cookie love over here!
If you don't have a cast iron skillet (which is by the way very handy and not expensive, at all), another oven-proof skillet (no plastic parts!) is fine or a 24 cm spring form or baking dish.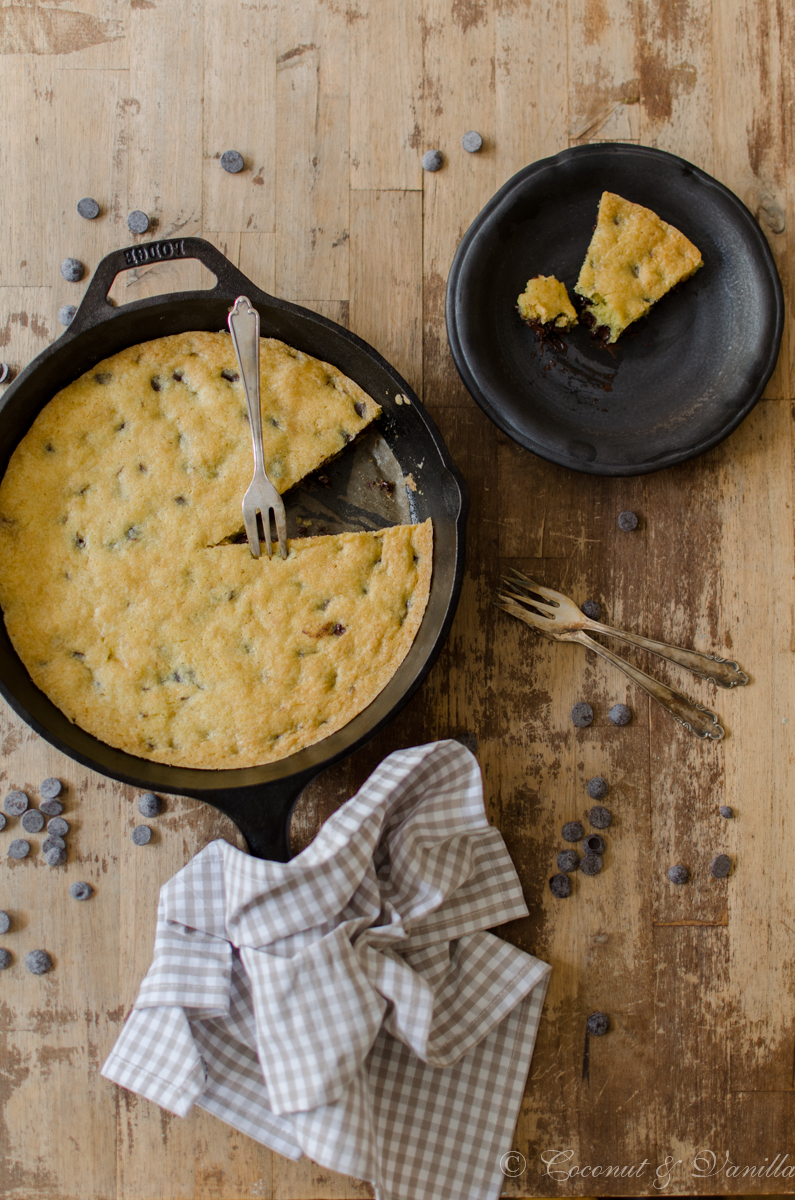 Two years ago: fresh corn pesto
Three years ago: Franconian yellow beetroot salad
Five years ago: peach shortbread
Six years ago: red kuri squash mini quiches with nutty lambs lettuce
Skillet Chocolate Chip Cookie Cake
adapted from Martha Stewart
Ingredients:
85 g butter, at room temperature
50 g brown sugar
50 g white sugar (or 100 g brown sugar overall)
1 egg, at room temperature
1 tsp vanilla extract
110 g wheat flour (pastry)
1/2 tsp baking soda
1/4 tsp fleur de sel
100 g dark chocolate chips
Prehat the oven ot 180° C top/bottom (160° C hot air).
Stir together the butter and flour, then stir in the egg and vanilla extract until homogenous. Then stir in the flour, baking soda and salt. In the end add the chocolate chips.
Use a oven-proof skillet (not plastic parts!, i.e. cast iron) or a baking dish / spring form with 24 cm in diameter. Cut out a fitting piece of parchment paper for the bottom of the pan and place it in the skillet. Spread the batter on the bottom evenly.
Bake the cookie cake for about 20 – 25 minutes until golden brown.
Let the cookie cool until handwarm, because the cake tastes best with still molten chocolate bits!
Enjoy!