Tuesday, 30th June 2015
This easy fluffy cheesecake with strawberries and elderflower syrup is a wonderful summer refreshment when it is hot!
I prefer to bake the bottom shortly, but when it is too hot for turning on the oven, you can also skip that part and you can make a whole no-bake cheesecake. Amazing, isn't it! You only need some tasty strawberries and some elderflower syrup. Later in summer you could also use peaches, raspberries or blackberries instead. Sounds great to me! The cheesecake batter can be flavorised with lemon zest or vanilla instead of the syrup, then. So many possibilites, so many great ideas!
I like to use my beloved homemade Graham Cracker, which I always have on hand. But you can also use ordinary whole wheat cookies or your favourite cookies. I prefer graham cracker, because in my opinion they make the best cheesecake bottom, which is unbeatable good! Give it a try!
I picked up the idea from the wonderful book Wilde Beeren by Luzia Ellert. A great book for summer, bursting with berry recipes! Totally recommended by me!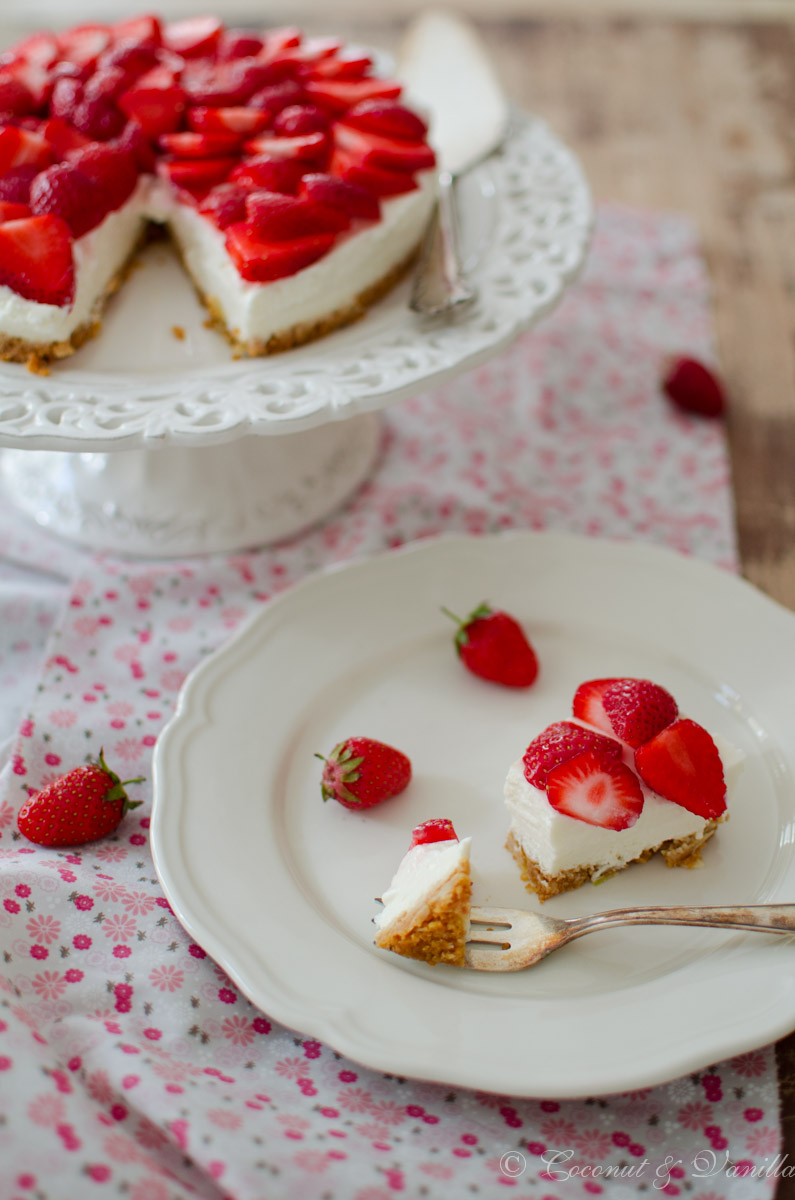 One year ago: lasagne
Two years ago: yogurt cucumber ice pops with mango
Three years ago: puff pastry turnovers with zucchini and feta
Five years ago: " target="_blank">friandaises with red currants
Strawberry Elderflower Cheesecake
adapted from Wilde Beeren by Luzia Ellert
yields: one 20 cm cheesecake
Ingredients:
100 g graham cracker, homemade (or whole wheat cookies or your favourite cookies), glutenfree graham cracker
30 g butter, liquid
30 g sliced almonds
4 sheets of gelatine
300 g cream cheese
250 g ricotta
20 g sugar
1 TL vanille sugar
100 ml elderflower syrup, best homemade
1 organic lemon, zest and juice
300 g strawberries
Chop the cookies in a food processor finely (or put them in a freezer bag, close it and smash them with a rolling pin).
Roast the almonds until fragrant and lightly coloured on medium heat.
Stir together the cookie crumbles, almonds and butter. Press them evenly in a 20 cm spring pan.
Bake the bottom for 10 minutes at 150° C. Let cool completely. (You can skip this point, but it makes the bottom more flavoursome.)
Soak the gelatine sheets in a deep dish of cold water.
Whisk the cream cheese, ricotta, sugar, vanilla sugar, elderflower syrup, lemon zest and lemon juice.
Squeeze the gelatine and heat with 2 tbsp elderflower cream in a small saucepan on low heat while stirring until the gelatine dissolves. Whisk into the rest of the elderflower cream. Pour the cream onto the cake bottom and spread evenly. Place the cheesecake in the fridge until the cream has set (best over night).
Loosen the cake with a sharp knife from the spring pan. Dip the knife into cold water from time to time so it doesn't stick to the cream. Transfer the cake to a large plate.
Rinse and hull the strawberries. Slice them and cover the cheesecake with the berry slices.
Enjoy!