Tuesday, 23rd June 2015
I know I told you that the spätzle asparagus salad would be the last asparagus dish for this season, but I changed my mind ;)! As I was on vacation in May I had to indulge in the rest of asparagus season and this lukewarm asparagus salad with nuts and orange is so unbelievable good, that I cannot wait until next year to tell you the recipe!
Since ages this recipe is pinned on my pinterest board. I discovered it on Uwes blog and it made my mouth water every year with its beautiful picture. But this year I had everything on hand and cooked the salad. I definitely cannot blame the recipe that I didn't tried it before since it is not difficult at all. But I tend to prefer recipes from cookbooks than from the internet, funny ha? For me it's just more convenient to browse through a cookbook than to take the tablet or look up a recipe and print it. What do you prefer?
I made a few adaptions to the recipe and jazzed it up with even more orange! The flavours and textures are just wonderful together and I imaging this salad is great for grilling, too! If you can't try it this year, mark it boldly for next year!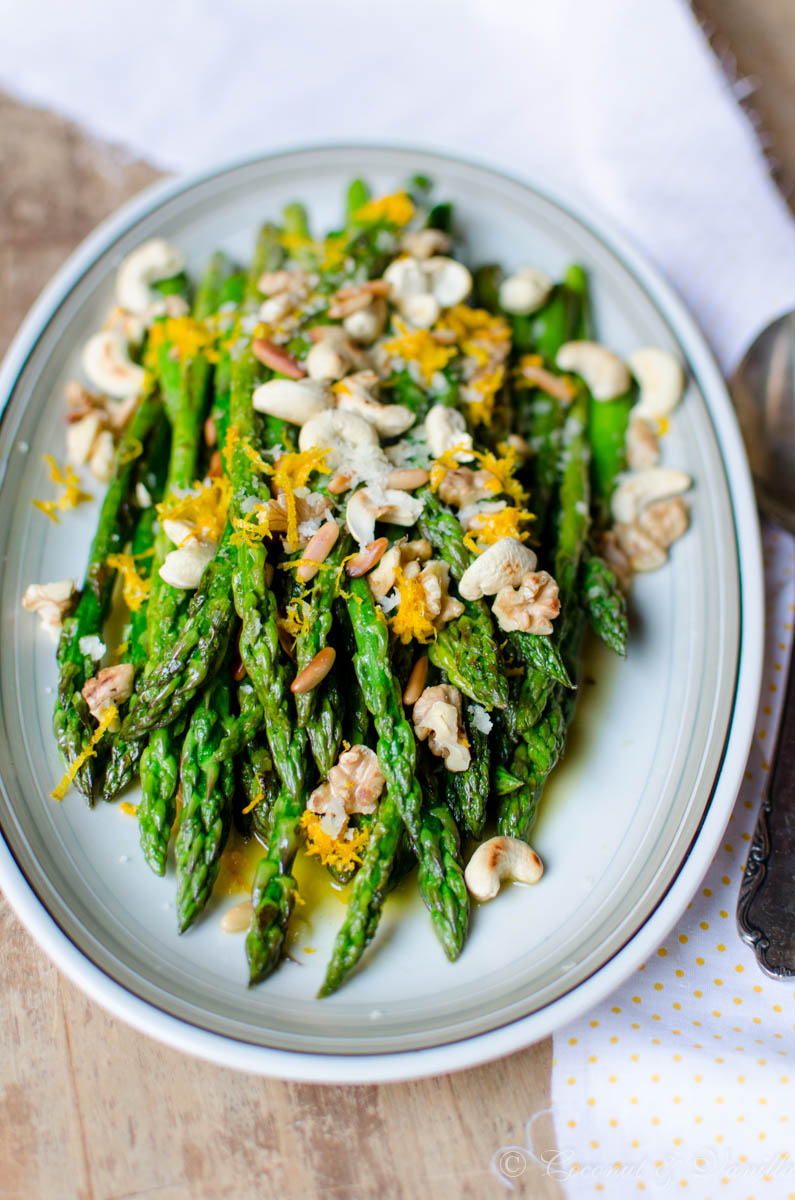 Two years ago: grand hugo – our summer cocktail
Three years ago: puff pastry turnovers with zucchini and feta
Five years ago: arroz con leche …lo mejor
Lukewarm Asparagus Salad with Nuts and Orange
adapted from High Foodality
yields: 4 portions
Ingredients:
1 kg g green asparagus
2 organic oranges
40 g pine nuts
100 g cashew nuts
50 g walnuts, coarsely chopped
3 Tbsp hazelnut oil
3 Tbsp + 2 Tbsp olive oil
4 Tbsp orange vinegar
optional: 10 g parmesan, coarsely grated or thinely shaved
sea salt, fresh pepper
Rinse the asparagus and cut off the ends.
Grate the zest off the oranges. Remove the fillets from the oranges and save the juice.
Roast the nuts seperately in a pan without fat, as they all need different times for browning.
Shake the orange juice, hazelnut oil, 3 Tbsp olive oil and the orange vinegar in a jar.
Sauté the asparagus in two portions in a large frying pan with the remaining olive oil, until it is done, but still firm to the bite. This can take 5 – 10 minutes depending on the thickness of the asparagus (or longer, if your asparagus is really thick, although I cannot recommend buying these. I like the thin spears).
Place all the asparagus in the pan and pour half the dressing in the pan. Let cook shortly.
Place the asparagus and the rest of the warm dressing on a platter. Sprinkle the nuts and orange fillets on the asparagus. Nap with the rest of the dressing and garnish with the orange zest. If you like you can sprinkle a bit of parmesan on top, but I think that is not necessary.
Enjoy!