Friday, 21st November 2014
I love alsace! It offers a great landscape and a lot to see. Also the wine is just my taste! The north around Straßbourg is more a beer area, near Colmar it's again wine. I recommend to take a seat at a nice spot and sip a glass of Crèmant. In Straßbourg you'll order a beer from a local brewery or a Panaché (beer and lemonade). It' good to know, by the way, that you can always order some "eau", which is tap water and doesn't cost a cent.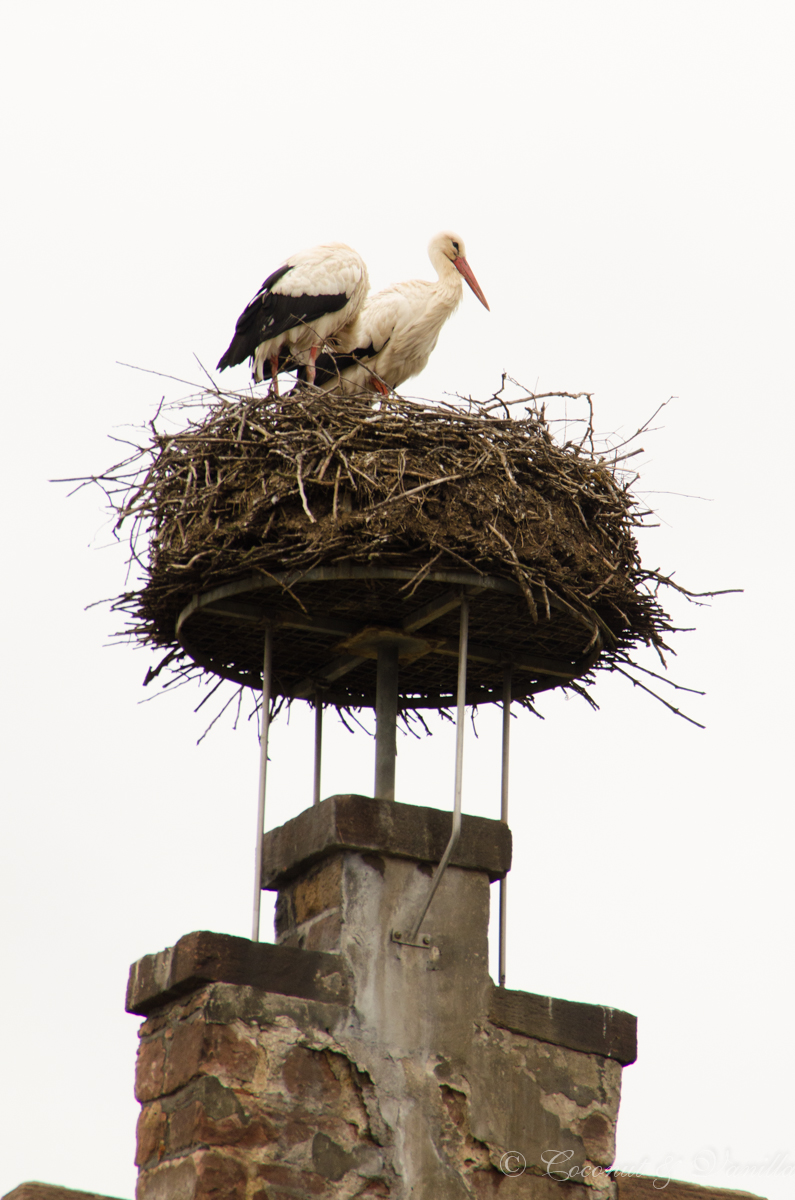 Straßbourg
I can't recommend a hotel in Straßbourg. But Julia of German Abendbrot has a recommendation, which we had chosen, too, but it was already booked out. But it looked nice from the outside and the location is also perfect! I just can advise against any Ibis! Do gon't there, even if they are central (in our case Ibis Petit France, but I do think they are all similar there). It was loud (inside and outside), not soundproof, very small rooms and stifting.
La Cloche à Fromage: 27, Rue de Tonneliers, Straßbourg
For dinner I hugely recommend la Cloche à Fromage! A cheese restaurant with all kinds of cheese dishes (their cheese shop is across the street). Choose the cheese fondue, it's excellent! They offer different fondues for example with Roquefort, Münster, goats cheese and more. Very delicious! And if you are two people you can order two different ones! You can also order raclette, but I fancy fondue and Raclette is even more heavy than fondue. For raclette they have a funny procedure, but you can see that on some other tables for sure. Totally awsome is also the "greatest cheese dome of the world"! You can also enjoy a cheese platter with cheeses you chose yourself.
The atmosphere and the service is friendly and nice. Groups (also small touristic groups) might also be there, but they are everywhere in Straßbourg. Hey it's a touristic town ;).
Art Café: 1, place Hans Jean Arp, Straßbourg
A nice restaurant with light dishes (rare!) is located on the "roof terrace" of the art museum and has a nice view over Straßbourg. They call themselves the most beautiful roof terrace of Straßbourg, which we only could smile about, but probably it is the only roof terrace in Straßbourg! The french don't see that a nice scenerie is also nice for eating, they also eat at a busy road. The service is friendly, but very slow and unmindful. Don't hesitate to go in for paying the check at the bar.
Au Petit Bois Vert: 2 Quai de la Bruche, Straßbourg
At the river are some sweet little bistros and restaurants. We only drank something at the Au Petit Bois Vert, but the food and especially the dessert looked very good!
Salon de Thé Grand Rue: 80, Grand Rue, Straßbourg
You can enjoy a small breakfast with very good  homemade jams here. On the other side of the bistro there's a little square where they have more seats and it's more beautiful to sit.
Apart from that Straßbourg is very touristic. It wasn't easy finding good restaurants, if you don't want to eat a lot of meat or sausages. It's great for shopping, because they have a lot of shops. In the end of June summer sale begins and they reduce a lot more in France than in Germany and you find some really good stuff for little money! You need to bring some patience in Straßbourg, because there a lot of people shopping!
They also have a lot of small delicatessen stores, but Straßbourg was the start of the trip so we didn't buy any food there. But Matze has put together a great collection of deli stores.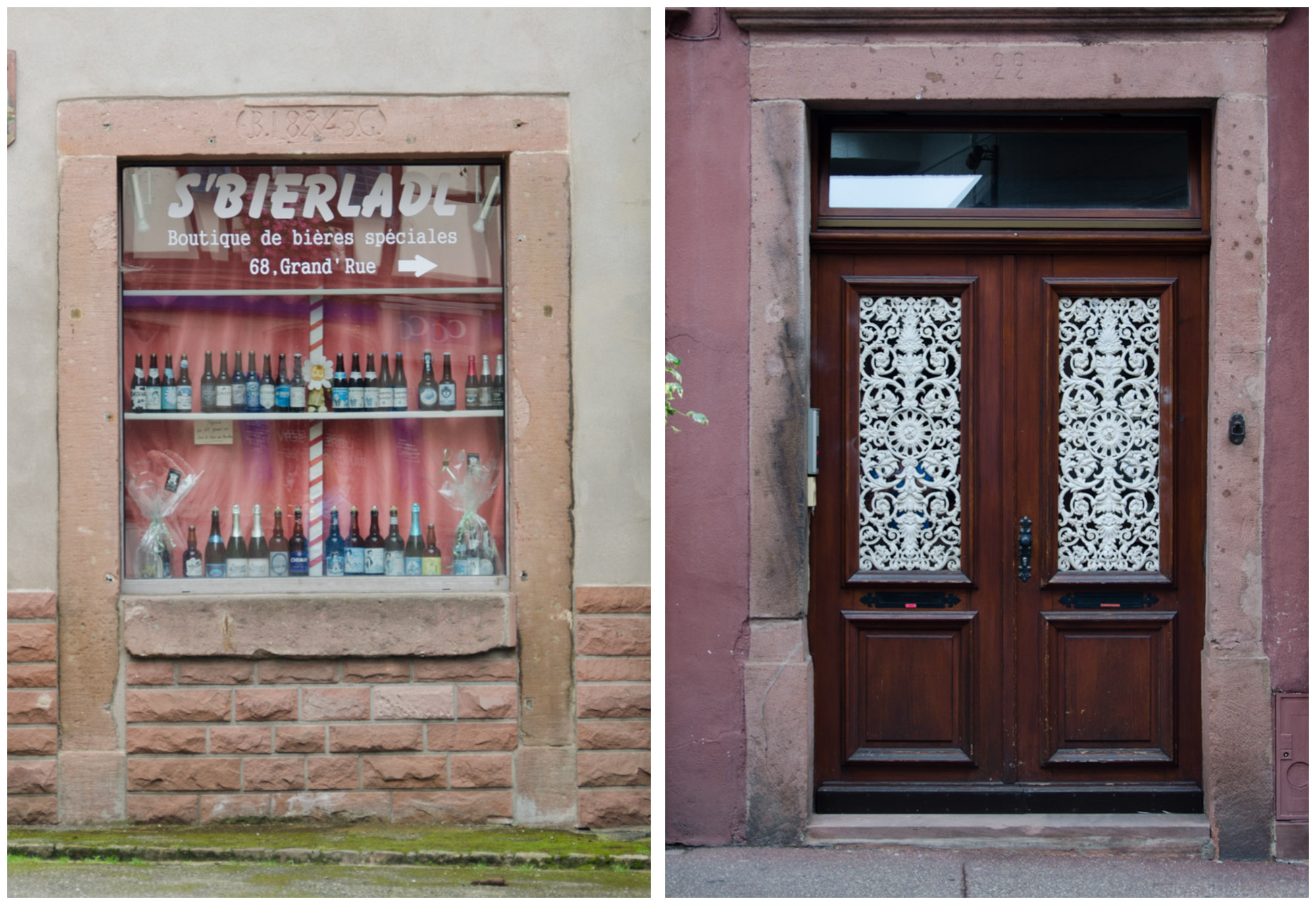 On the way to Colmar are a lot of great places to stop. I will present you four: an ecological wine grower, a lovely town with a good patisserie and an ecological touch, a spectacular castle and excellent food with wonderful atmosphere!
Domaine Vincent Stoeffler: 1, rue des Lièvres, Barr
You should use a trip to Alsace to buy wine and not short ;)! Well, there's a lot of wine to choose from and you might feel lost when faced with the mass of wine growers. Of course you can also buy good wine in supermarkets, but it's always a bit of russian roulette. You never know what you get and if it's good. Also there's a huge choice in the supermarket, so how to choose of 20 pinot gris the right one?
Sabine recommended Vincent Stoeffler, an organic wine grower. We had a lovely private wine tasting without advance reservation. They did tell a lot about the wines and even in German! The wine is spectacular, as well as the crémant, which we also got to try! I'm delighted and I'm recommending this vineyard from the heart. Next time I need to book a room in Barr so I can try more wine ;).
Sélestat is located between Straßbourg and Colmar and looks big when driving in town. But the old town is manageable and can be explored by foot in a short time. While walking through the small alleys I found an eco bistro and a small deli shop. Here and at the local pharmacy /drugstore? they advertise eco cosmetics and food. This was unique for me in France. A funny coincidence?
Sélestat is quiet and not overcrowded with tourists at all. This is relaxing after Straßbourg. In the pedestrian zone the Rue de Clefs you'll find the Patisserie and Confiserie Kamm where you can enjoy small and delicious pastries.
Auberge Frankenbourg: 13, Rue de Général de Gaulle, La Vancelle
In the mountains near Sélestat the Auberge Frankenbourg is located. Book a night here and make a reservation for dinner (best seats are near the large windows)! The restaurant is marked with one star Michelin and offers exquisite cuisine. It's experimental without being off touch with the reality. Not for everyday dinners, but a special treatment on vacation. Still it's not necessary to spend a fortune here (which happens more often in France than in Germany). The prices are very reasonable, the service very good and friendly.
There is always someone speaking German who can explain the dishes, which can be sometimes a bit difficult in French. They also recognized us from last year, which of couse is flattering. Or was it just coincidence?
The accompanying wines for the menus are really exceptional and I recommend to choose them with the menu! Therefore booking a room there makes sense ;). I had a really really good pinot gris there!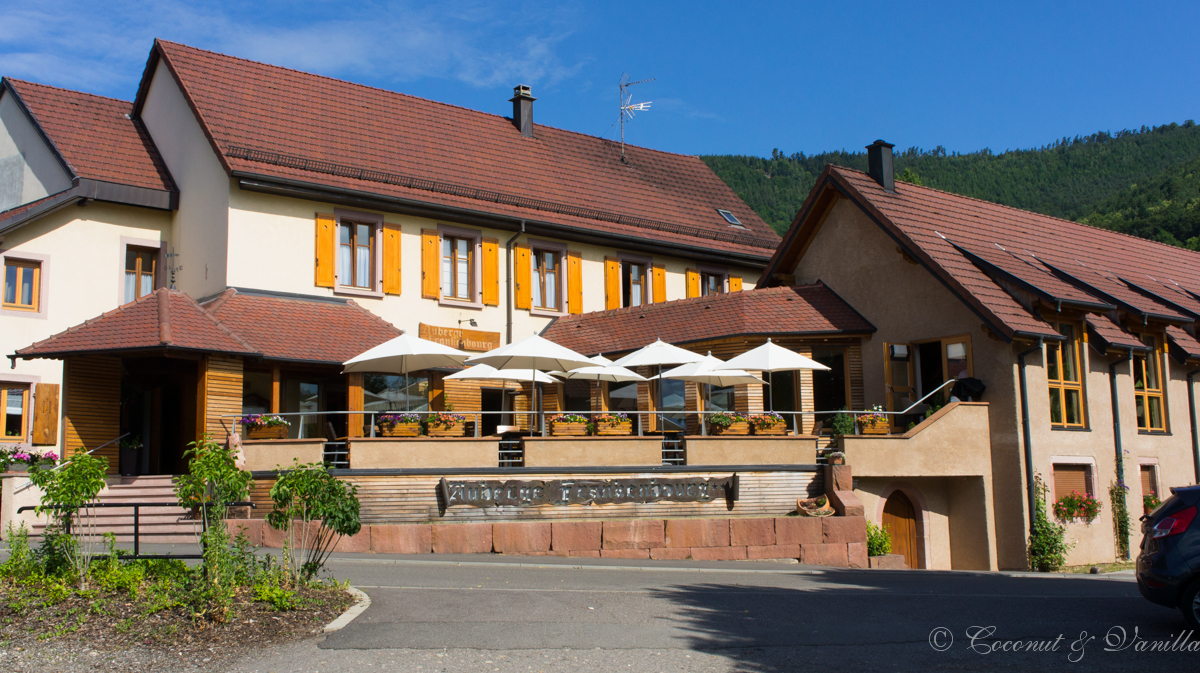 The breakfast is not worth mentioning from what I've seen and you might be still full from the night before. For french circumstances the breakfast might be good, but as a German I'm really breakfast spoiled and my expectations are high! In cases like these I rather skip a (expensive) middle-classed or bad breakfast and buy something from the bakery.
Haut Königsburg: Orschwiller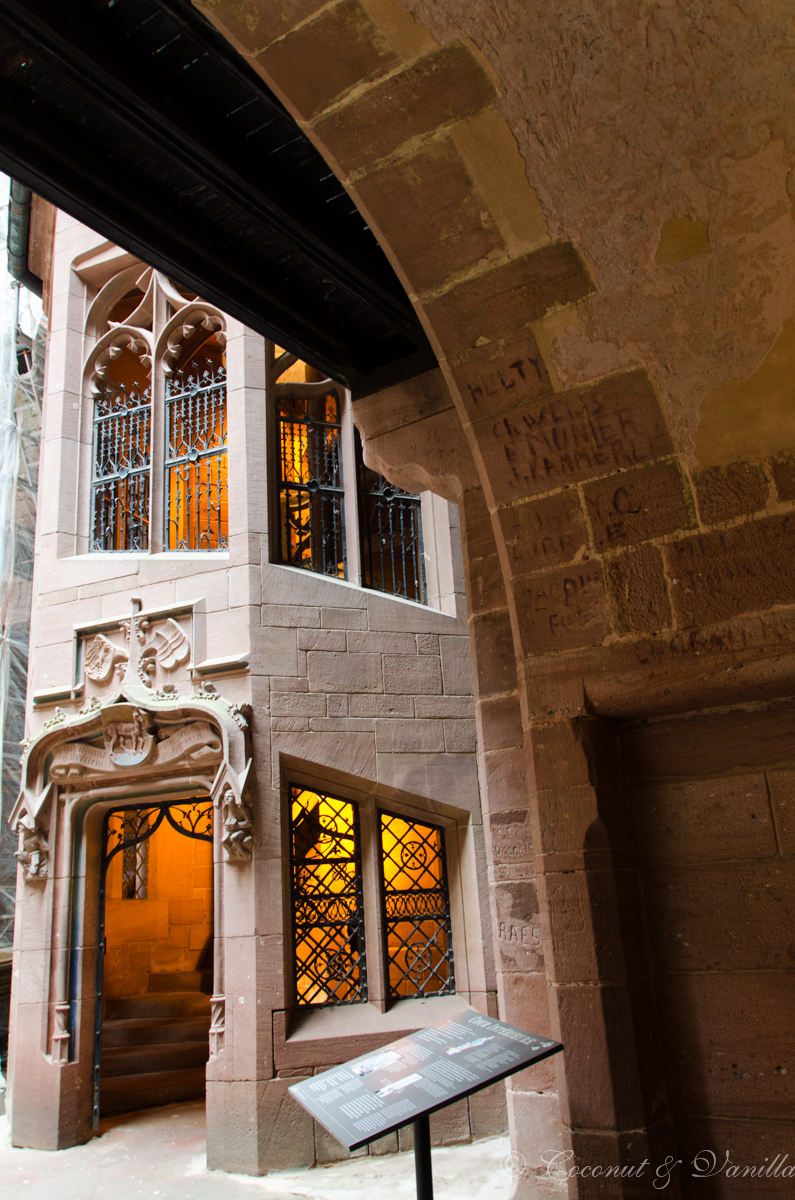 Haut Königsburg is a monumental worth seeing castle! The castle is over 900 years old and was rebuilt by the Germans from 1901 to 1908. The history through the centuries is very interesting and the fascinating reconstruction is documented with a lot of large photographies, which are presented in the castle. The view from Haut Königsburg is also breathtaking beautiful! Very worth a visit!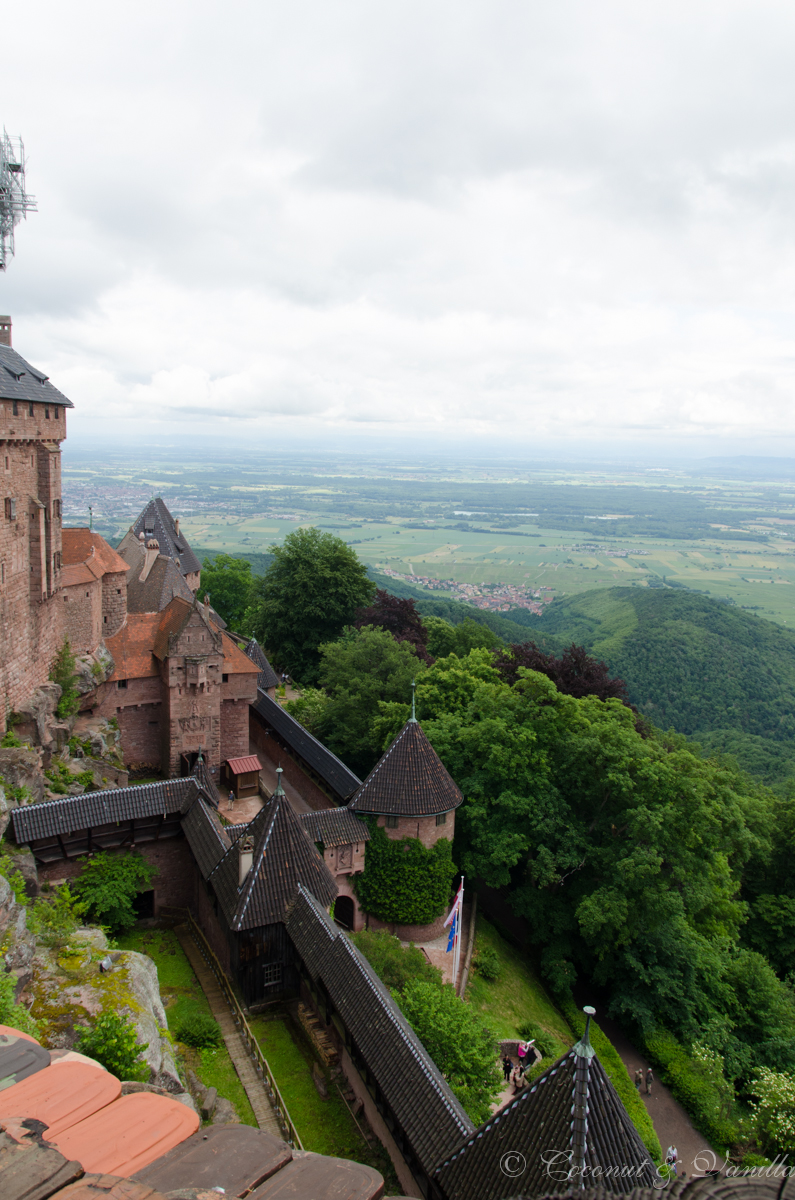 If you are interested in Christine Ferber you can visit her jam empire near Colmar and also visit a Staub outlet. Both is not really necessary. But for the sake of completeness I mention it here.
Maison Ferber: 18, rue des Trois Epis, Niedermohrschwihr (Maison Ferber isn't displayed on the outside and it does look more like some general store)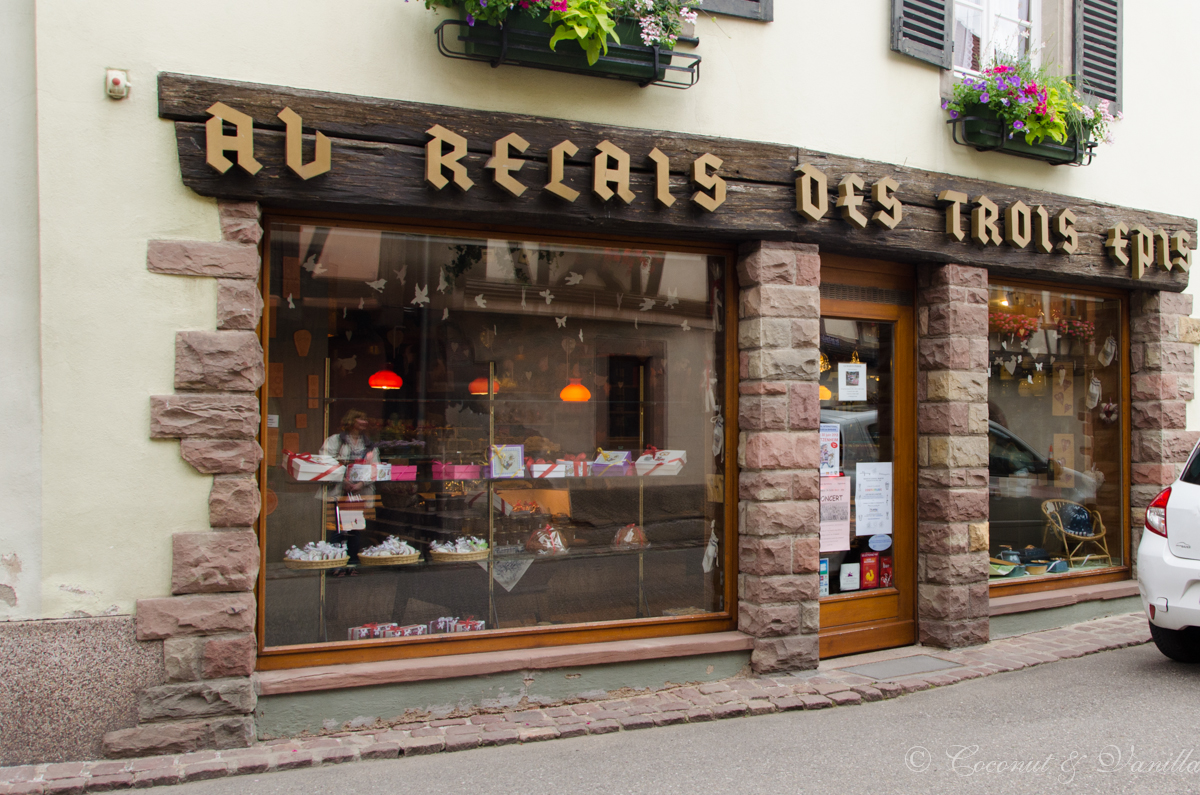 Christine Ferber produces a lot of homemade jam in a village near Colmar. She also wrote some cookbooks, I also own one. She is quite popular in France. Her jams are quite pricey (around 7 euro for a small jar) and they didn't were that great (not for 7 euro). I can purchase better jams in Germany for less money. The shop is very small and isn't labeled with "confitures", so you could get easiliy lost. But in the end it's the only one that is open ;).
Staub Outlet: 2 rue St Gilles, Turckheim
This outlet has a lot of Staub stuff and is mostly very cheap. But I don't favour the colours. If you don't have any expectations and you are looking for a roasting pan, you might find one here (large choice of roasting dishes and pots, but also a large range of prices!). I chose three different baking dishes and paid less than 40 euros. Very cheap! But if you have already everything, skip the outlet.
Colmar:
We just drifted through Colmar. Most beautiful scenery to sit is near the small canal.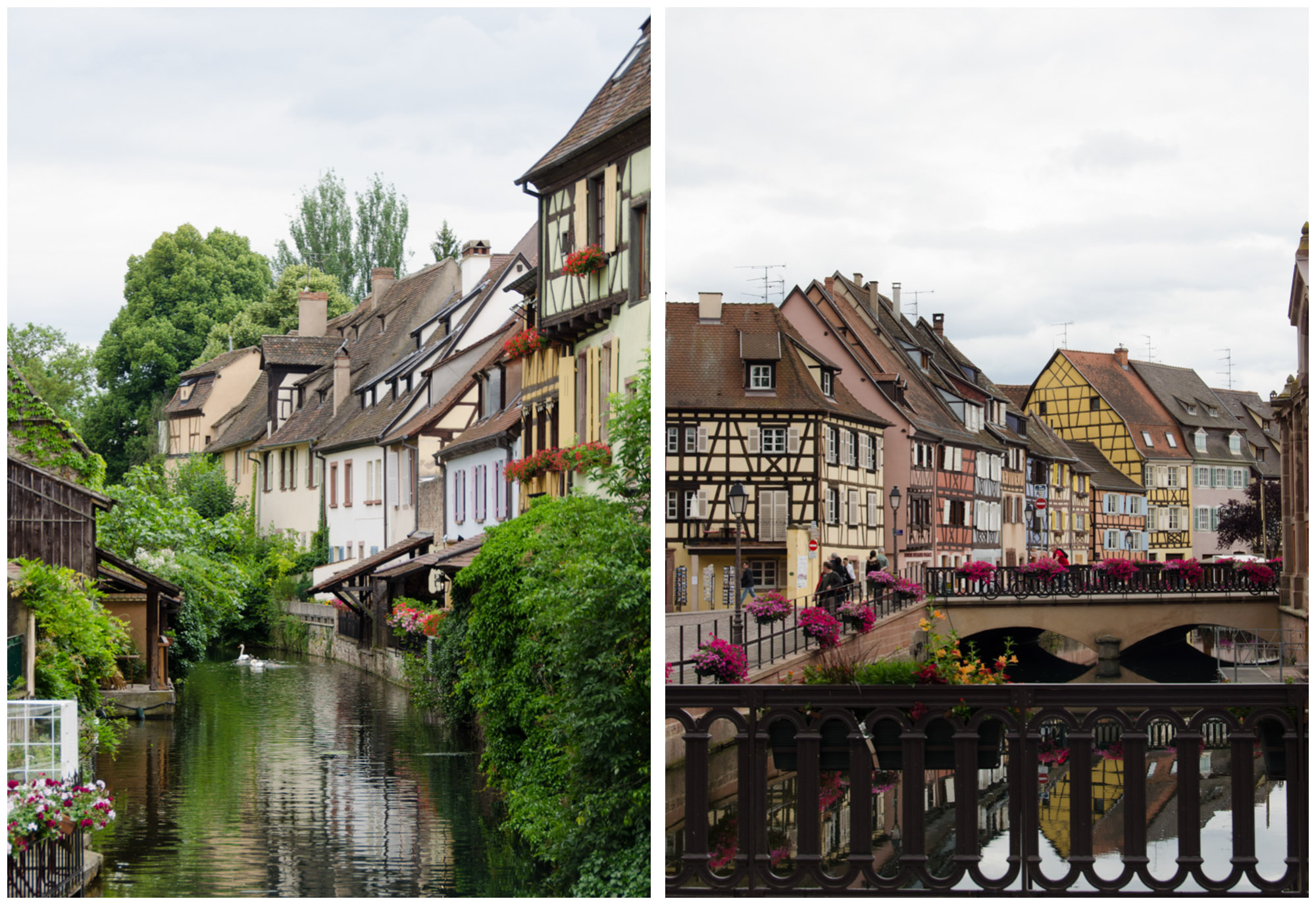 Le Koifhus: 2, place de l'Ancienne Douane
Because we like the places at the canal so much and we also loved the food (tart flambée!) and the wine/crèmant, we mostly went to the Koifhus. Best to sit outside. It's also cosy inside, but also very loud most of the time.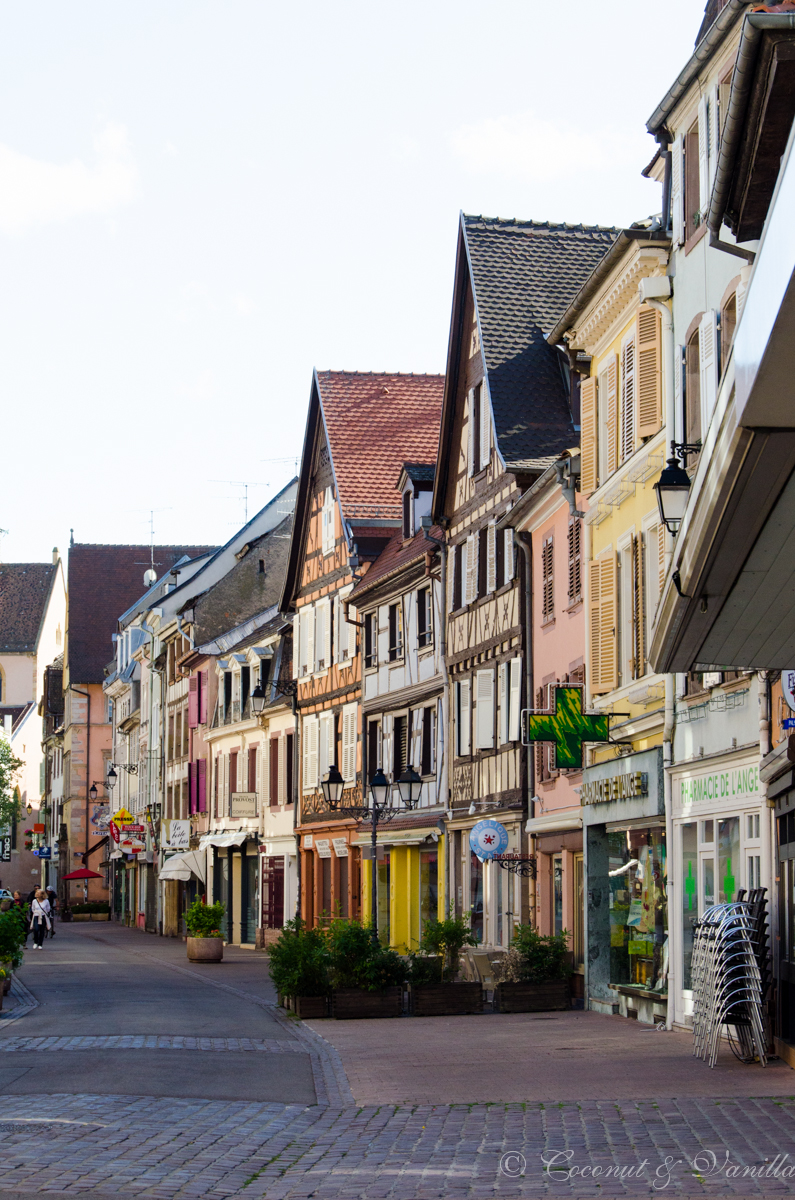 Our hotel was quite and clean, but I wouldn't recommend it exactly, because I missed the personal touch. But Sandy of Confiture de Vivre has a good tip!
Avenue d'Alsace: 41, Grand Rue
This sweet little shop has beautiful textiles, which are handmade of the owner. I bought a neat bag and a dish towel. Also they sell wonderful handmade ceramics, so I also had to buy a bowl. They really have some exceptional things, which you don't find else where and are no kitsch.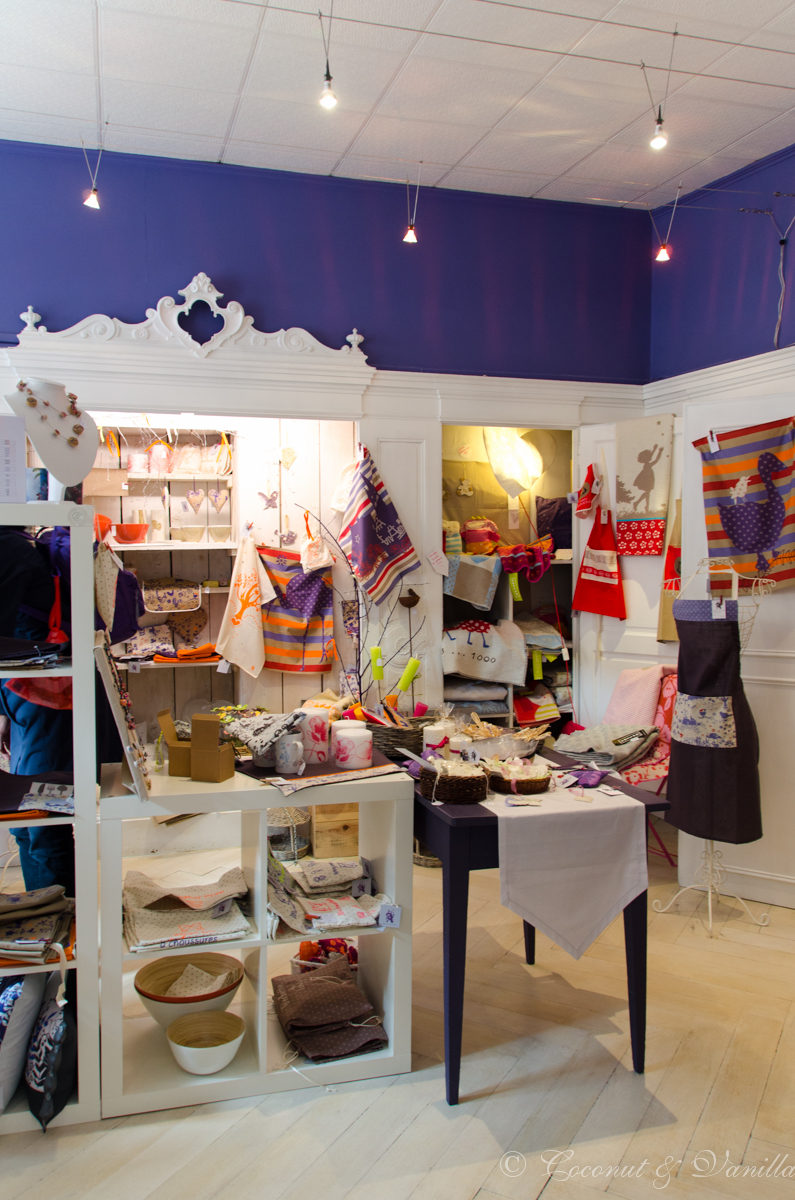 North of Colmar on the motorway to Straßbourg is a very large, well equipped Cora supermarket. If you are driving there by and want to buy some stuff.
Matze wrote a very informative post about french supermarkets (in German), which I recommend you to read, if you are visiting France! In my experience the Cora was really good (clean with a good and large choice of groceries). I very disliked Carrefour (unclean, poor choice of groceries and the fresh grocieries looked really worse). Bring a lot of time for the ceckout! Although there might be almost no people in the super market it takes very long. Cashiers are not as fast as here in Germany (or elsewhere!) and although there might be a long queue at the register, they chat and chill a lot! Just relax, it's vacation after all!
Of course everything is available in a well assorted supermarket in France! My personal tip: butter cookies with hazelnut chocolate (or white chocolate, but my favorite is nut, sooo good!), salted butter from the Guerande, cheap Cidre from the Bretagne, open tea from Twinings (yeah not from France, but great nonetheless 😉 ). You might also enjoy the jam section and if you like the Belgian speculoos cookies you will not only get them here, but also as a spread for a slice of bread! If you are not able to go to a vineyard or wine seller you could also buy wine in the supermarket. I only had good experiences with that. In Alsace you can also buy regional beer. Also look for the fresh vegetables and fruit: ball zucchini, colourful tomatoes and ox heart tomatoes are available for cheaper prices that in Germany. A lot of supermarkets also have a section with regional food, take a look there, too!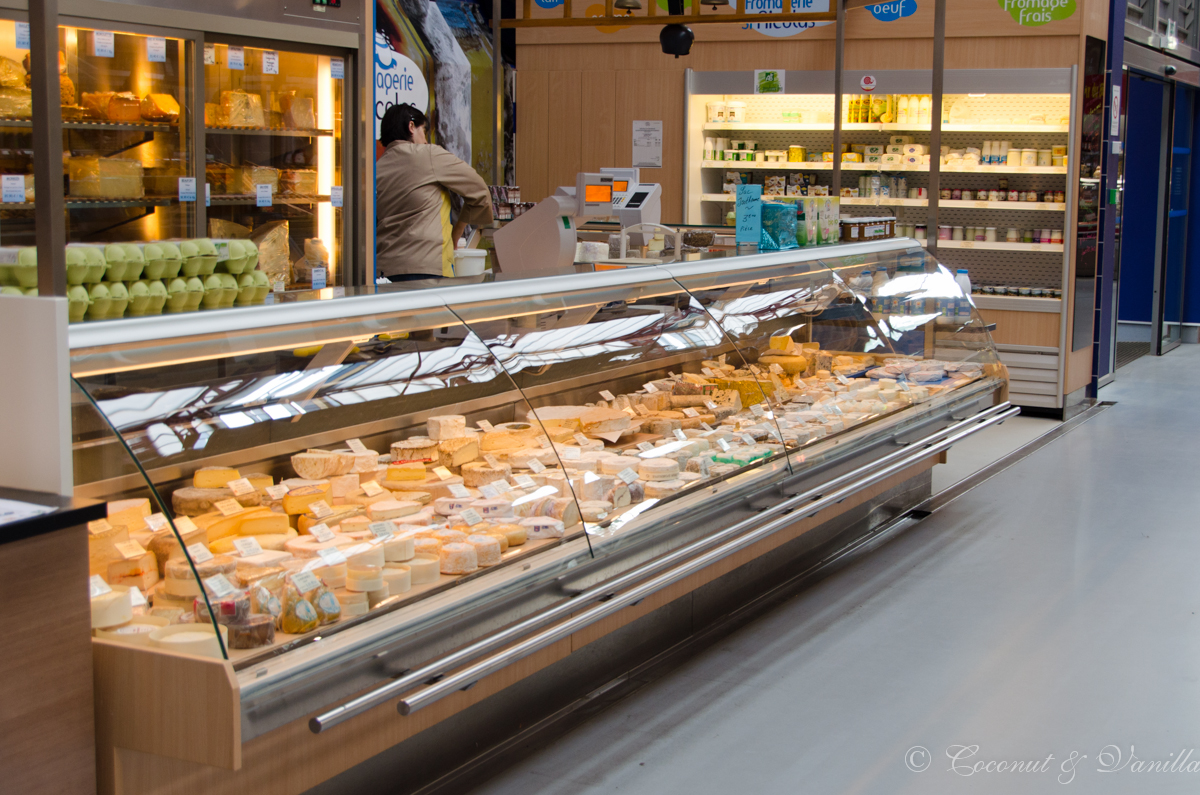 If you want to buy cheese (hello, who doesn't?!) look for a market hall or a specialised cheesemonger! Supermarkets normally also have large cheese counters, but they have no flair and small cheesemongers refine cheese themselvers, too!
Also keep a lookout for bakeries who are really still baking! This is not so easy, as in France they have a lot of chains like in Germany and the warming up of baked goods are as well disguised. "Artisan boulangerie" doesn't mean necessarily that they still bake. Chains can be noticed, because they are present everywhere. Also look into the bakery and go with your guts. Did you find a bakery? Then go buy everything they offer, nothing can go wrong here ;). I always buy different baguettes, pain d'epi, croissants and pain au chocolat! I tend to buy more on the last day and freeze it as soon as I am at home. Defrost it before eating, eventually warm it up for a short period of time. It taste as fresh as just bought!
If you prefer eclairs, tartelettes and small cakes lookout for a patisserie! Differences can be big, some are producing more natural, others more colourful. In my experience this can differ from city to city (or region). They also have croissants and pain au chocolat.
Market halls are always good for food shopping and sometimes for a small breakfast.
Huge thank you to Sabine of Bonjour Alsace  and Matze of Chez Matze for their superb tips!