Dienstag, 1. März 2011
Update: Für das deutsche Rezept nach unten scrollen!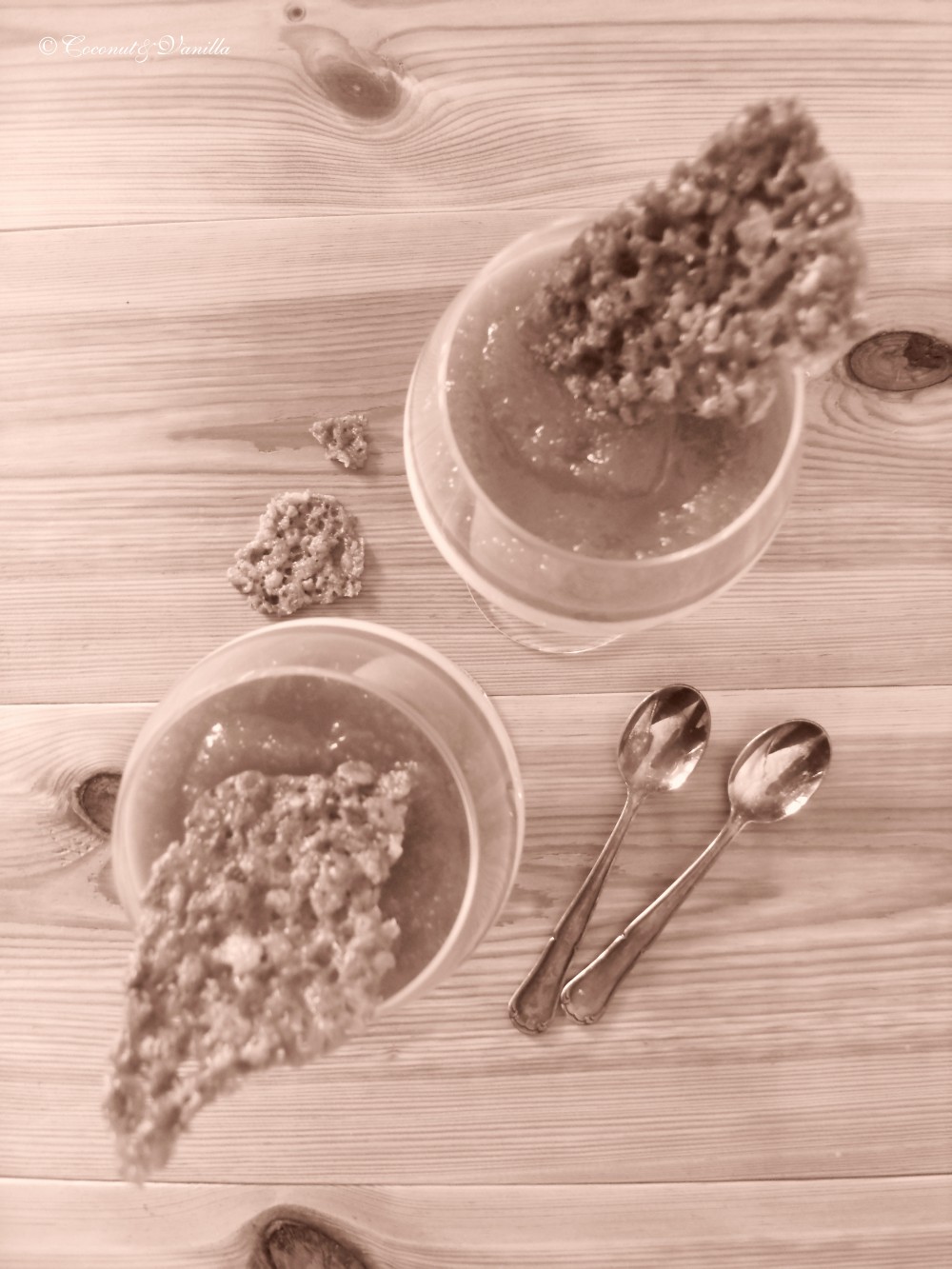 The February 2011 Daring Bakers' challenge was hosted by Mallory from A Sofa in the Kitchen. She chose to challenge everyone to make Panna Cotta from a Giada De Laurentiis recipe and Nestle Florentine Cookies.
Last month's challenge was  a nice and relaxing one. Although I am posting a bit late, the panna cotta and the cookies were finished already three weeks ago. I like those challenges, that emphasize the recipes, that do not need several days and five different methods and a whole freezer for accomplishing, because simplicity is often the best. Like chocolate chip cookies. Easy and a hit. So is panna cotta. One of my all-time favourite dessert.
The recipes given were not what I know or expected.
I added some yogurt instead of cream to the panna cotta, which normally works well. It worked, but the flavour wasn't like I knew it. But it was okay. I left the honey out and added some vanilla, which should be in every Vanilla Panna Cotta, since the name calls for it, although the recipe didn't. That was very strange, but who would I be to follow recipes?!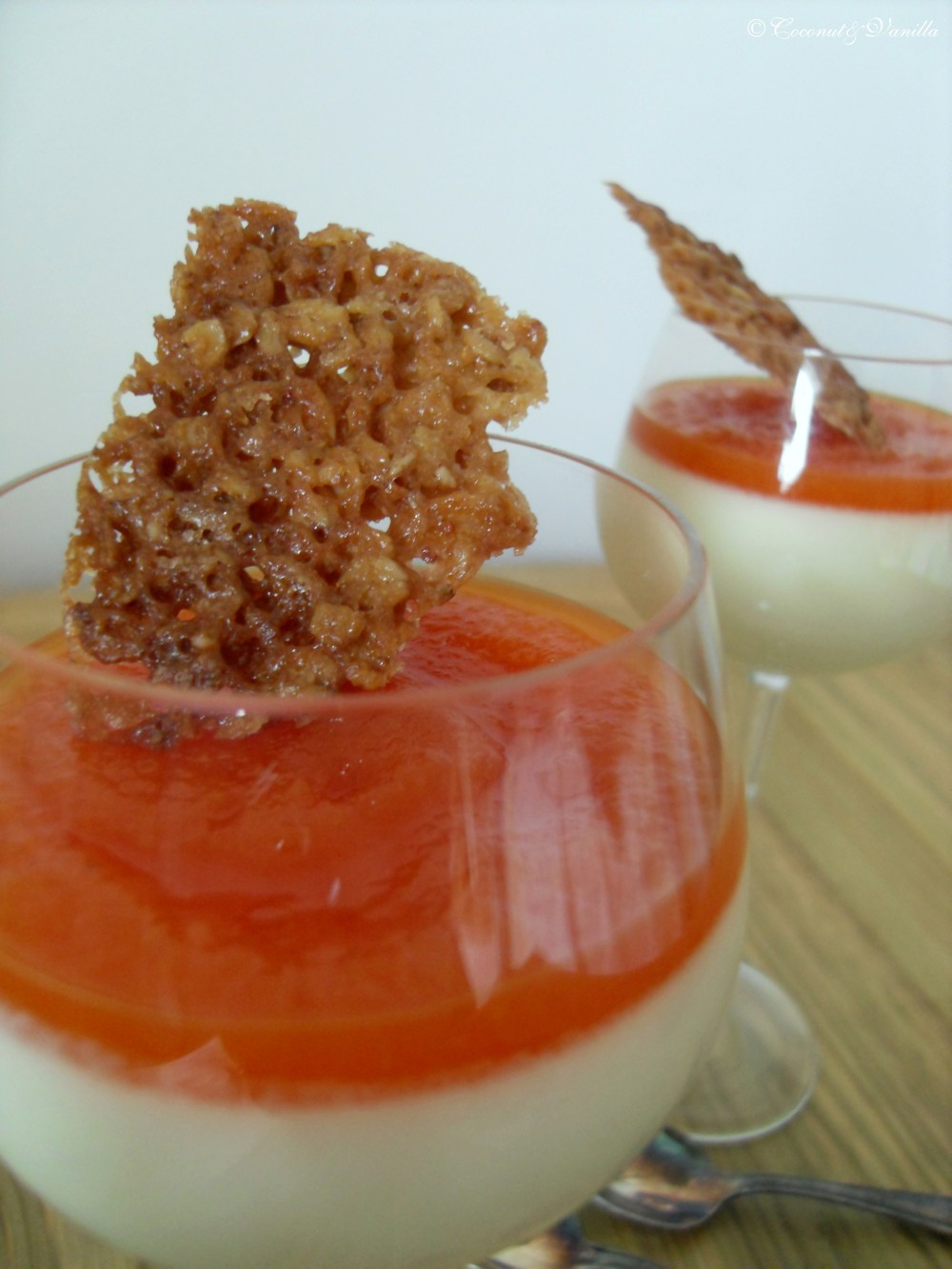 The florentine recipe was strange for me as well, since I've already baked some, but the recipe didn't call for rolled oats or syrup. This time I followed the recipe (indeed!). The result were some were sweet cookies, that have to be baked long enough, until they are all crispy through and through.I left the chocolate out to stick two of their kind together, because the would have been too much. I liked the cookies, although for me they didn't had much in common with florentine cookies, like we know them in Germany.
I would like to know how they are in Italy, but since my Italian is very limited, the research wasn't a great success. So anyone who can tell about this?
Here's the recipe of the cookies. I do not provide, the one of the panna cotta, since I've already posted some (Coconut Panna Cotta & Buttermilk Panna Cotta) , which I prefer.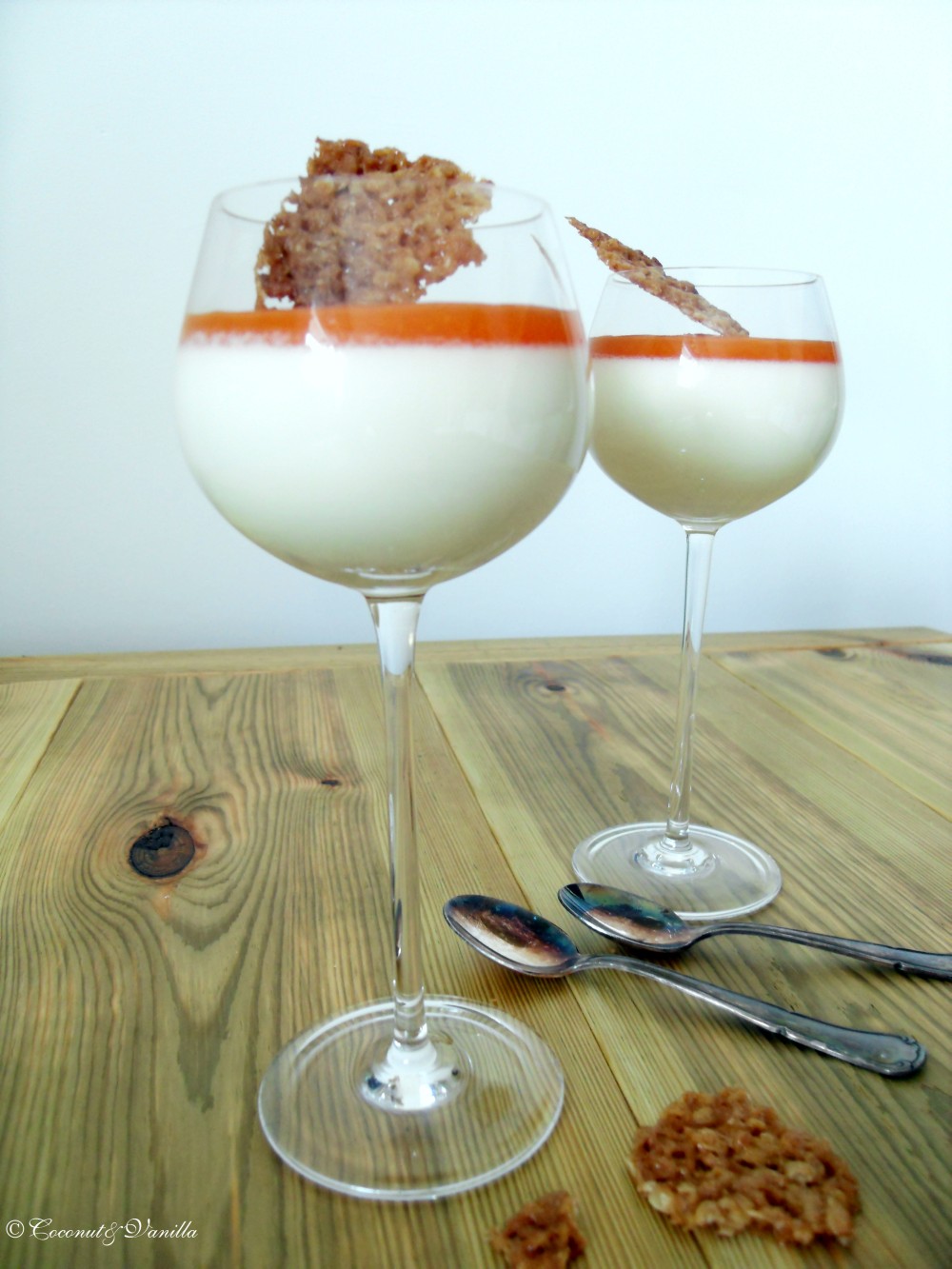 Haferflorentiner
150 g Butter
160 g Haferflocken
230 g Zucker
95 g Weizenmehl
60 ml Maissirup
60 ml Vollmilch
1 TL Vanilleextrakt
1 Prise Salz
250 g Zartbitter- oder Vollmilchschokolade (optional)
Ich habe das Originalrezept meinen Erfahrungen angepasst.

Den Ofen auf 190° C vorheizen. Ein Blech mit Backpapier auslegen.
Die Butter schmelzen und mit den Haferflocken, Zucker, Mehl, Sirup, Milch, Vanilleextrakt und dem Salz mischen. Teelöffelweise auf dem Blech verteilen, dabei viel Platz zwischen den einzelnen Häufchen lassen. Den Teig mit einem feuchten Löffel etwas glattstreichen.
12-15 Minuten backen, bis sie knusprig und goldenbraun sind. Auskühlen lassen.
Wer mag schmilzt die Schokolade im Wasserbad und klebt entweder zwei zusammen oder sprenkelt nur etwas über die Kekse. Ich habe diesen Schritt ganz weggelassen, da die Kekse sausüß waren.