So Hand auf's Herz, diesen Kuchen gab es diesen Sommer sage und schreibe 4-Mal, in Worten: viermal! Das ist bei uns echter Rekord (jedenfalls dieses Jahr), da ich meistens immer neue Kuchen ausprobieren muss. Viele von Euch kennen dieses Problem. An Brombeeren (wie auch Himbeeren) kann ich nicht vorbeigehen, vor allem weil es sie nur so kurz gibt. Da entsteht jedes Mal die Frage, welchen Kuchen backen? Die Antwort war dann oft: der Kuchen letztens war doch sooo lecker. Ja, jedes Mal!
Er wird besonders saftig und locker, weil saure Sahne in den Teig kommt. Getoppt wird das ganze von Zimtstreuseln. Ja mei, was wollt ihr mehr?! Bei uns gibt es auf dem Markt noch ein paar späte Brombeeren, die Möglichkeit auf das Nachbacken besteht also noch dieses Jahr. Sonst hilft nur, merken für nächstes Jahr.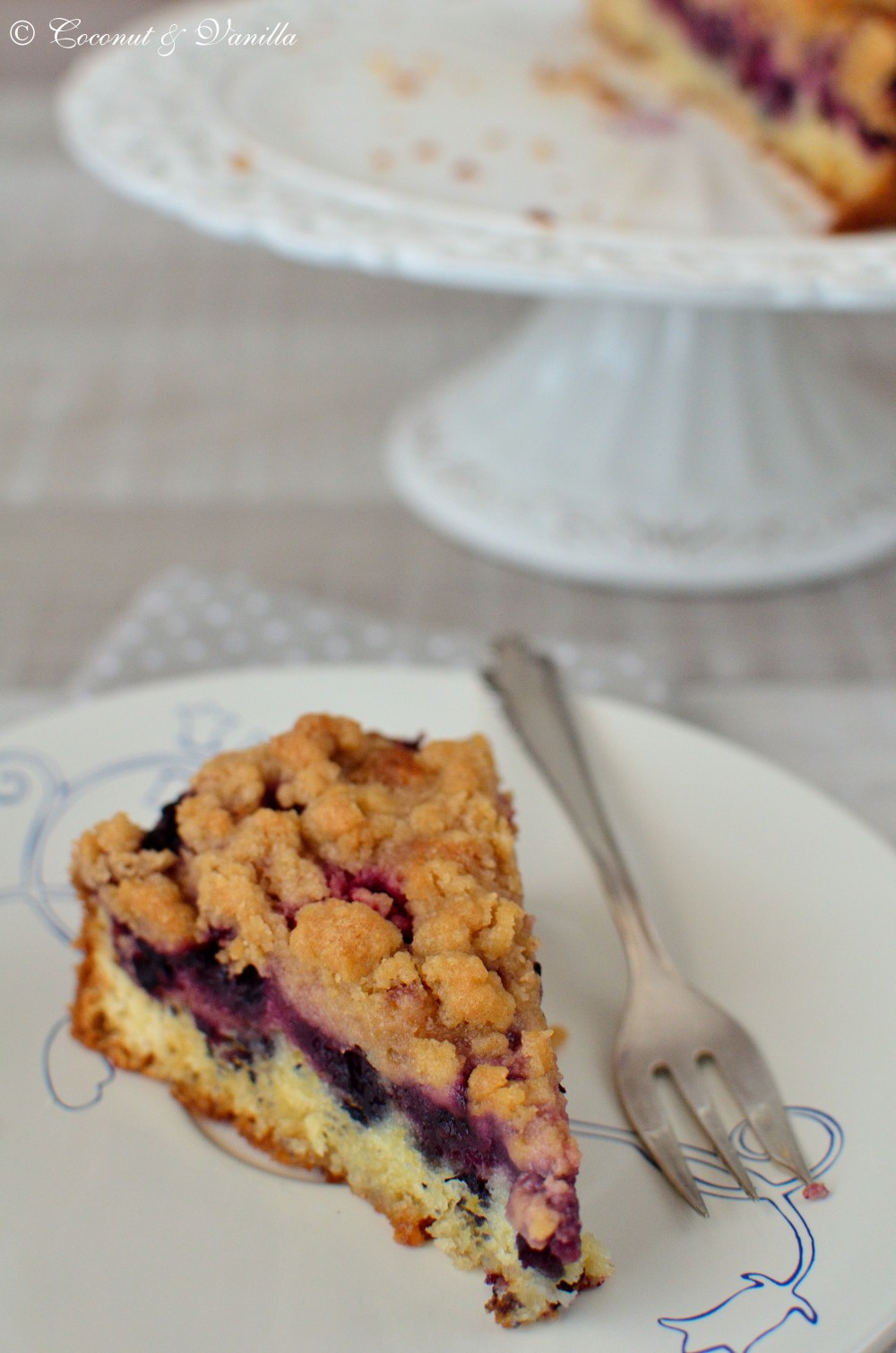 Vor einem Jahr: Birnen-Vanille-Tarte
Vor zwei Jahren: glutenfreie Donuts
Vor drei Jahren: knusprige, dünne Pekannusskekse
Brombeerkuchen mit Zimtstreusel
nach einem Rezept von Pastry Affair
ergibt: einen kleinen Kuchen, 20 cm Durchmesser
Zutaten:
für den Kuchen
125 g Weizenmehl, Type 405

1/2 TL Natron

1 Prise Salz

1/4 TL gem. Ingwer

55 g Butter

115 g Zucker

1 Ei

115 g saure Sahne

250 g Brombeeren
für die Streusel
3 EL brauner Zucker

55 g Butter

55 g Weizenmehl, Type 405

1/2 TL Zimt
Den Ofen auf 200° C (Umluft 180° C) vorheizen.
Eine kleine Springform mit 20 cm Durchmesser ausfetten und mehlen.
Butter und Zucker cremig rühren. Das Ei unterrühren, dann die saure Sahne. Die trockenen Zutaten nach und nach unterrühren.
Den Teig in der Form verteilen und mit den Brombeeren toppen. Die Beeren leicht in den Teig drücken.
Für die Streusel alle Zutaten gut verrühren, bis sich grobe Streusel geformt haben. Die Streusel auf dem Kuchen gut verteilen.
50-60 Minuten backen, bis der Kuchen goldbraun ist und ein reingestochenes Holzstäbchen sauber aus dem Kuchen kommt.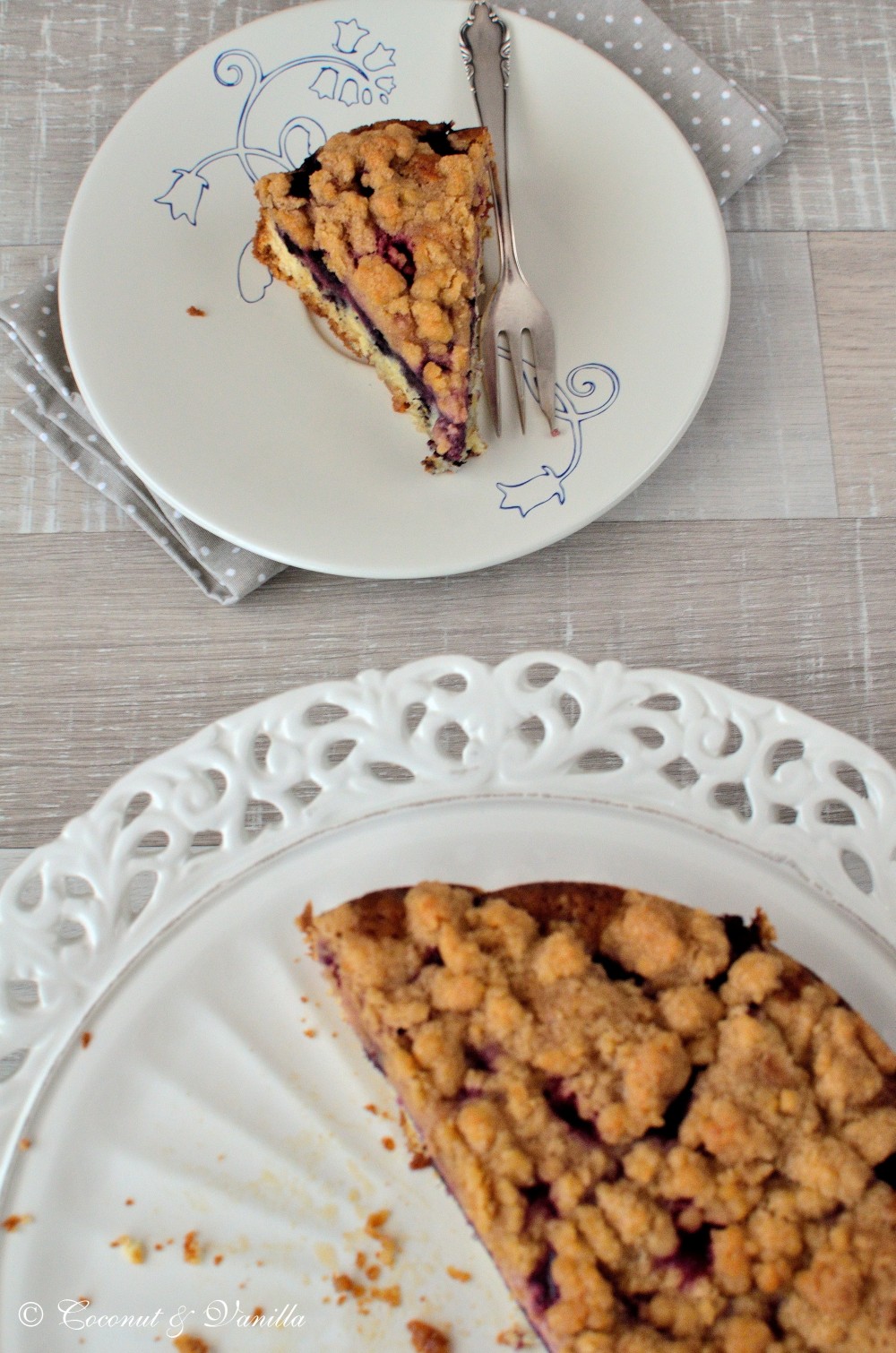 Hand on heart, we made this incredible cake 4 times this summer, in words: four! This is a record in our household (at least this year), because I tend to try new cakes every time. Many of you know this common problem. But I just can't pass blackberries (as well as raspberries), when I see them, since their season is so short. So every time I ask myself then, what cake to bake? The answer was often: this cake recently was so delicious. Yes, every time!
The cake turns out wonderful mellow and fluffy, because of the addition of sour cream. Topped with cinnamon streusel, what do you want more?! Our farmers market still has some late blackberries, so there's still the possibility to bake this cake this year. Otherwise, you just have to mark it for next year.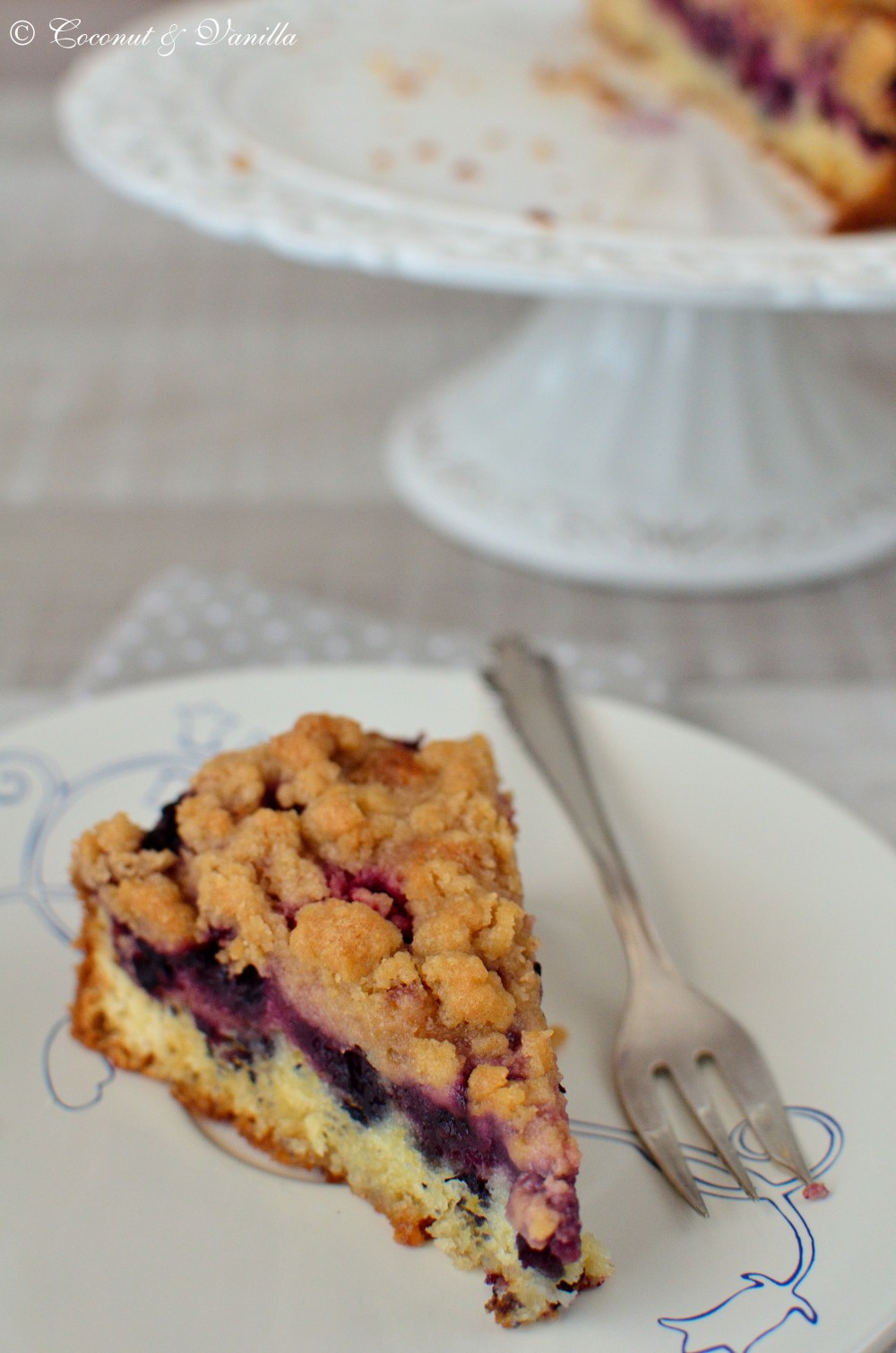 One year ago: Vanilla-Pear-Tart
Two years ago: gluten-free Donuts
Three years ago: crispy, thin Pecan Cookies
Blackberry Cake with Cinnamon Streusel
adapted from Pastry Affair
yields: one cake, 20 cm in diameter
Ingredients:
for the cake
125 g flour

1/2 tsp baking soda

1 pinch of salt

1/4 tsp ground ginger

55 g butter

110 g sugar

1 egg

115 g sour cream

250 g blackberries
for the streusel
3 Tbsp brown sugar

55 g butter

55 g flour

1/2 tsp cinnamon
Preheat the oven to 180° C.
Butter and flour a 20 cm springform pan.
Cream the butter and sugar, until light and fluffy. Beat in the egg, then the sour cream. Gradually add the dry ingredients and mix until fully incorporated.
Spread the batter into the springform pan and top with the blackberries. Press them slightly into the batter.
Mix all the ingredients for the streusel, until well mixed and coarse crumbles have formed. Crumble the streusel evenly on the cake.
Bake for 50-60 minutes, until the cake is golden brown and an inserted skewer comes out clean.