Ich glaube Brombeeren sind diesen Sommer mein Lieblingsobst, nach Himbeeren oder doch eher Erdbeeren?! Hm, schwierige Entscheidung. Die richtige Entscheidung ist auf jeden Fall von allem so viel wie möglich zu kaufen und mit den Brombeeren diesen herrlichen Pie zu machen.
Das Schöne an Brombeeren ist ja, dass sie nicht gleich schimmeln und matschen wie Himbeeren und nach dem Backen auch noch gut ihre Form behalten, nicht so wie die lieben Erdbeeren.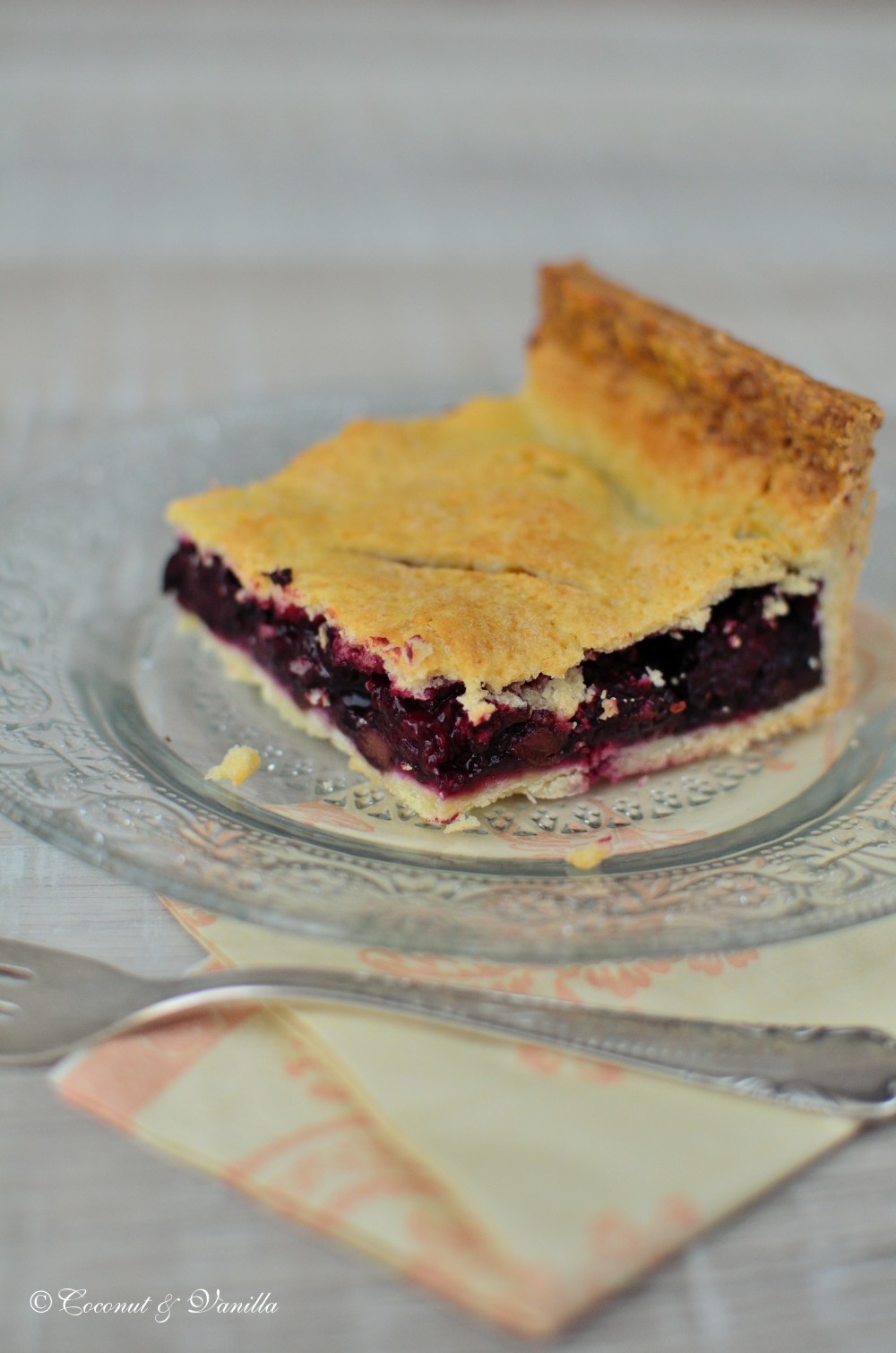 Und ob man es glaubt oder nicht, sie passen ganz hervorragend zu Schokolade. Dieser Pie hat mich total überrascht, da alles so super zusammenpasst: Frucht und Schokolade, eingehüllt in viel leckeren Teig. Ich empfehle nur den Rand nicht so hochzuziehen wie ich, das ist dann doch zu viel des Guten. Aber ich hatte einfach so viel Teig.
Das habe ich aber versucht im Rezept etwas anzupassen. Da ich aber in einer quadratischen Springform gebacken habe (eine gute Idee, da dann das Verhältnis Füllung/Teig stimmt), müsst ihr selber sehen, ob bei Euch was übrig bleibt oder nicht, je nachdem welche Form und Größe ihr benutzt.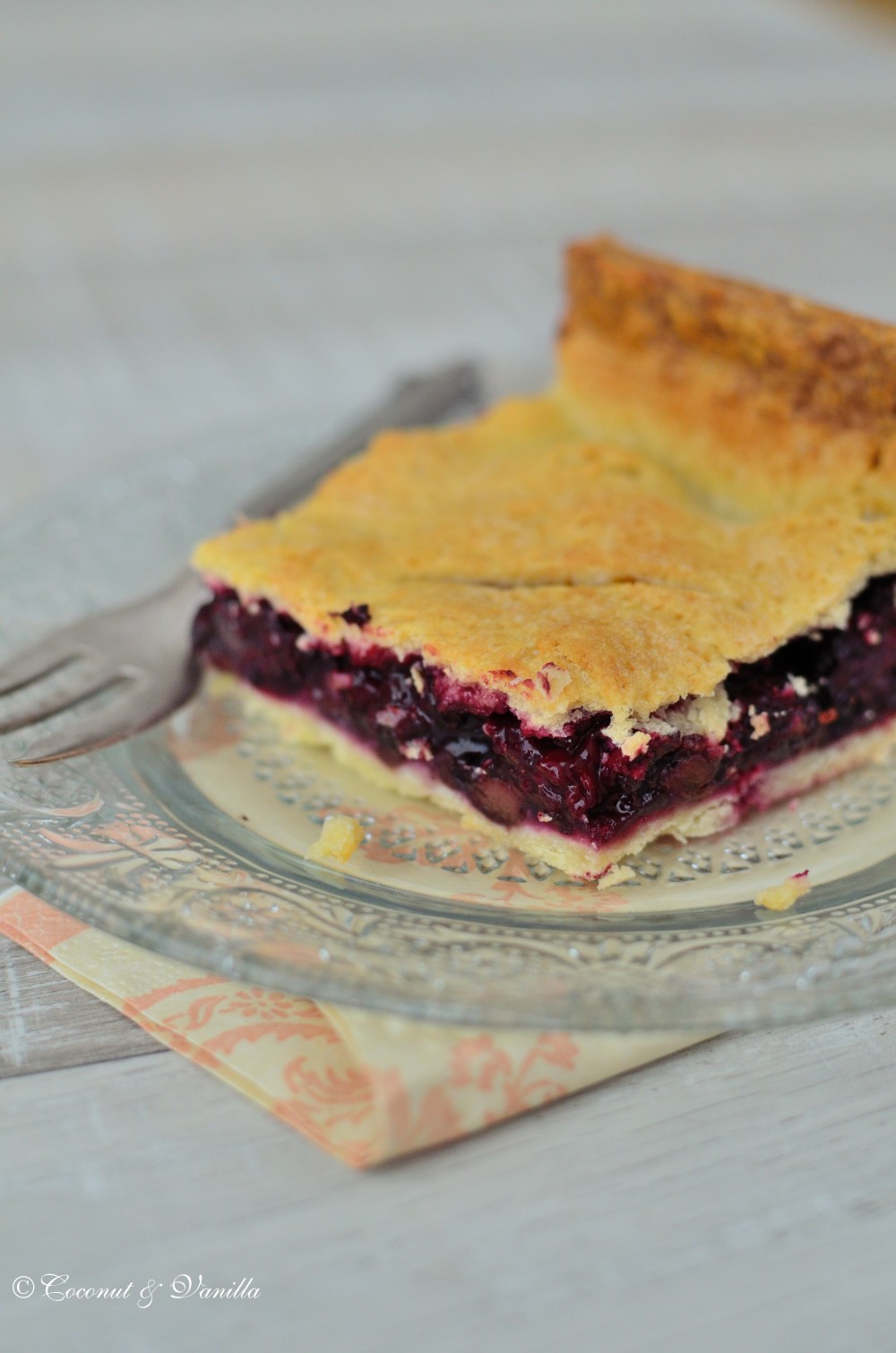 Vor zwei Jahren: Pflaumen-Galettes
Brombeer-Schokoladen-Pie
adaptiert von White on Rice Couple
ergibt einen quadratischen Pie 24 x 24 cm (müsste auch mit einer runden 28 cm Springform funktionieren)
Zutaten:
Für den Teig
400 g Mehl

50 g Zucker

1/4 TL feines Meersalz

180 g kalte Butter, klein gewürfelt

1 großes Ei

kaltes Wasser (50 ml)
Für die Füllung
500 g Brombeeren

50 g Zucker

1,5 EL Maisstärke

100 g Schokoladentropfen
Außerdem
Den Ofen auf 180° C vorheizen. Die Form ausbuttern.
Mehl, Zucker und Salz für den Teig mischen. Die Butter dazugeben und verkneten, bis alles krümelig ist. Das Ei verrühren und dazugeben. Verkneten. Nun nach und nach das Wasser zugeben bis der Teig glatt ist, man braucht evtl. nicht das ganze Wasser.
Den Teig halbieren. Beide Hälften je nach Form der Springform ausrollen. Sie sollten beide größer sein als die Form, man braucht ja noch den Rand.
Eine Hälfte in die Form legen und einen Rand hochziehen.
Die Schokoladentropfen auf dem Teig verteilen.
Den Zucker mit der Stärke mischen, dann unter die Brombeeren heben. Die Brombeeren auf der Schokolade verteilen.
Die zweite Teigplatte auf die Füllung legen. Am Rand sollten sich beide Teigplatten treffen. Mit den Finger zusammendrücken. 1 cm stehen lassen, den Rest mit einem Messer abschneiden.
Die Oberseite mit Sahne einpinseln.
Mit einem Messer Schlitze in die Oberseite schneiden.
30-40 Minuten backen, bis der Pie goldbraun ist.
Aus dem Ofen holen und auskühlen lassen.
Schmeckt lecker lauwarm, wenn die Schokostücke noch geschmolzen sind. Aber auch kalt aus dem Kühlschrank ein Genuss!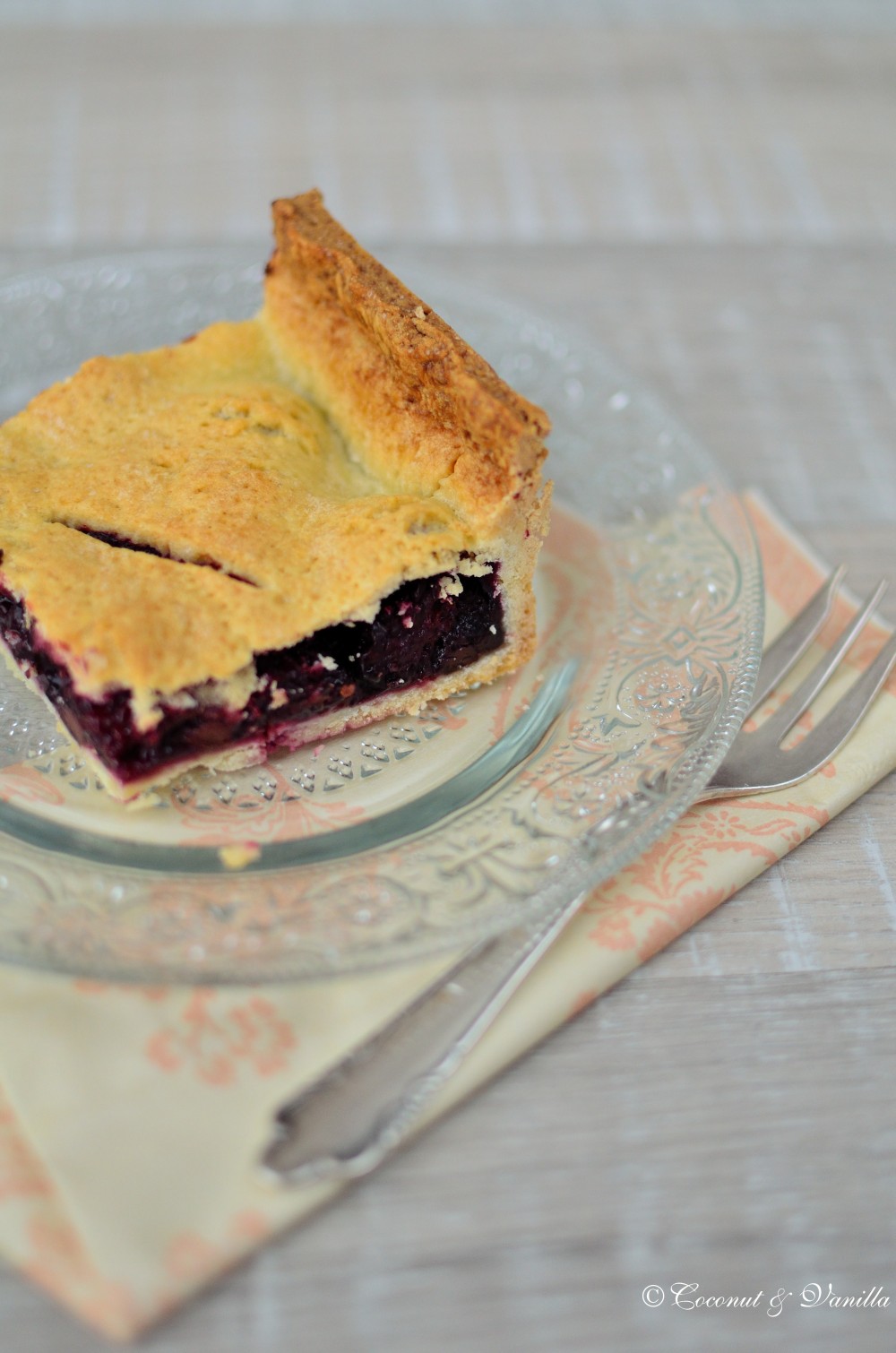 I think blackberries are my favourite fruit this summer, after raspberries or rather strawberries?! Um, difficult decision. In any case it's the right decision to buy as much as possible of these summer fruits and to make this remarkable pie with blackberries.
The nice thing about blackberries is, that they keep very firm while baking, not like their sister strawberry and they do not mould as easy as their sister raspberry.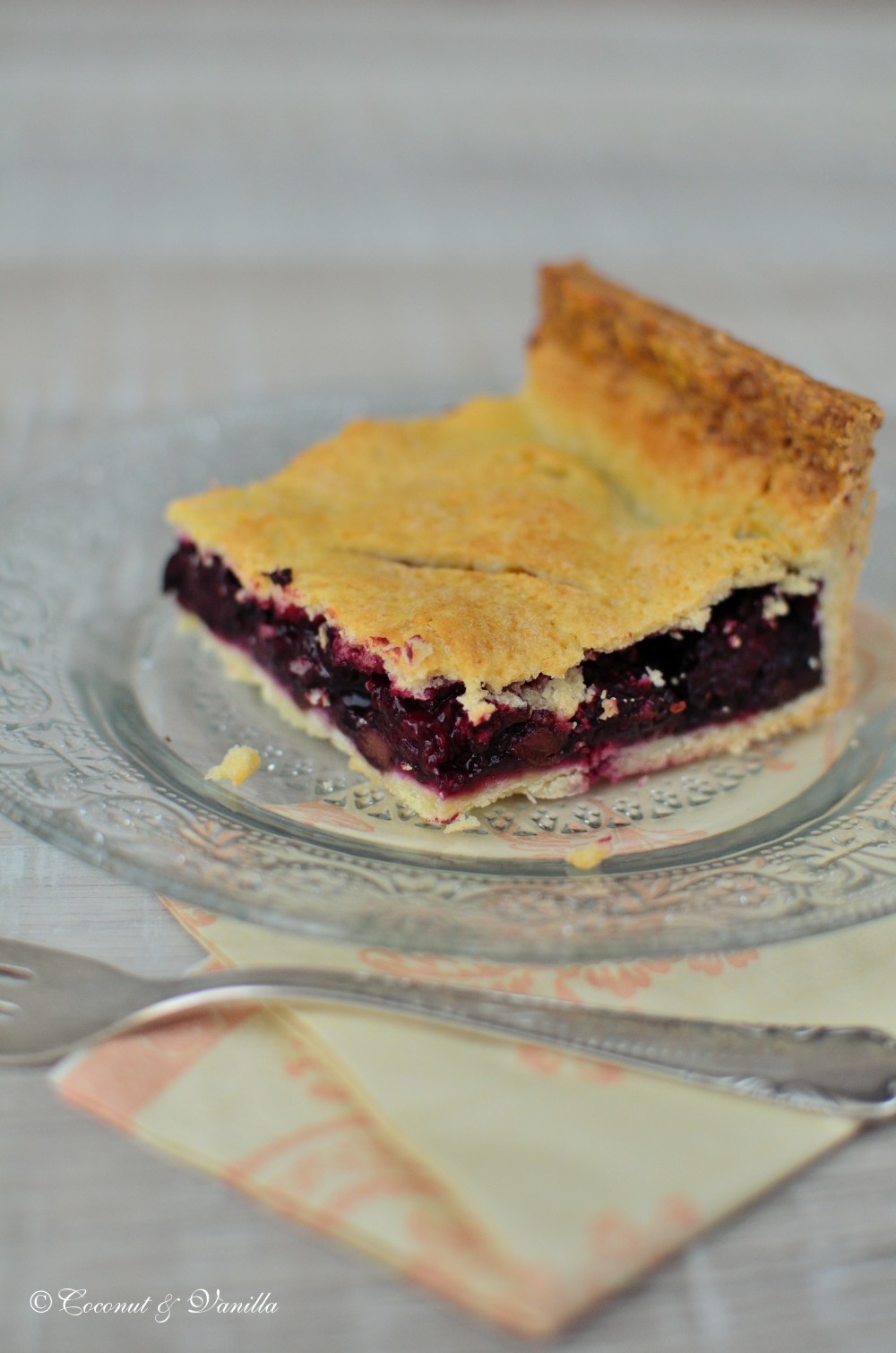 And if you believe it or not, they perfectly fit with chocolate! This pie totally surprised me about how everything matches so fine: fruit and chocolate, covered in delicious dough. I just do not recommend to make such a high rim like me, because that was a bit too much. But I had to so much dough.
I tried to adapt that in the recipe. But as I used a rectangular spring pan (which is a good idea, since the ratio filling/dough is just right then), you have to see, if you end up with some leftover dough or not, depending on which kind of pan and size you use.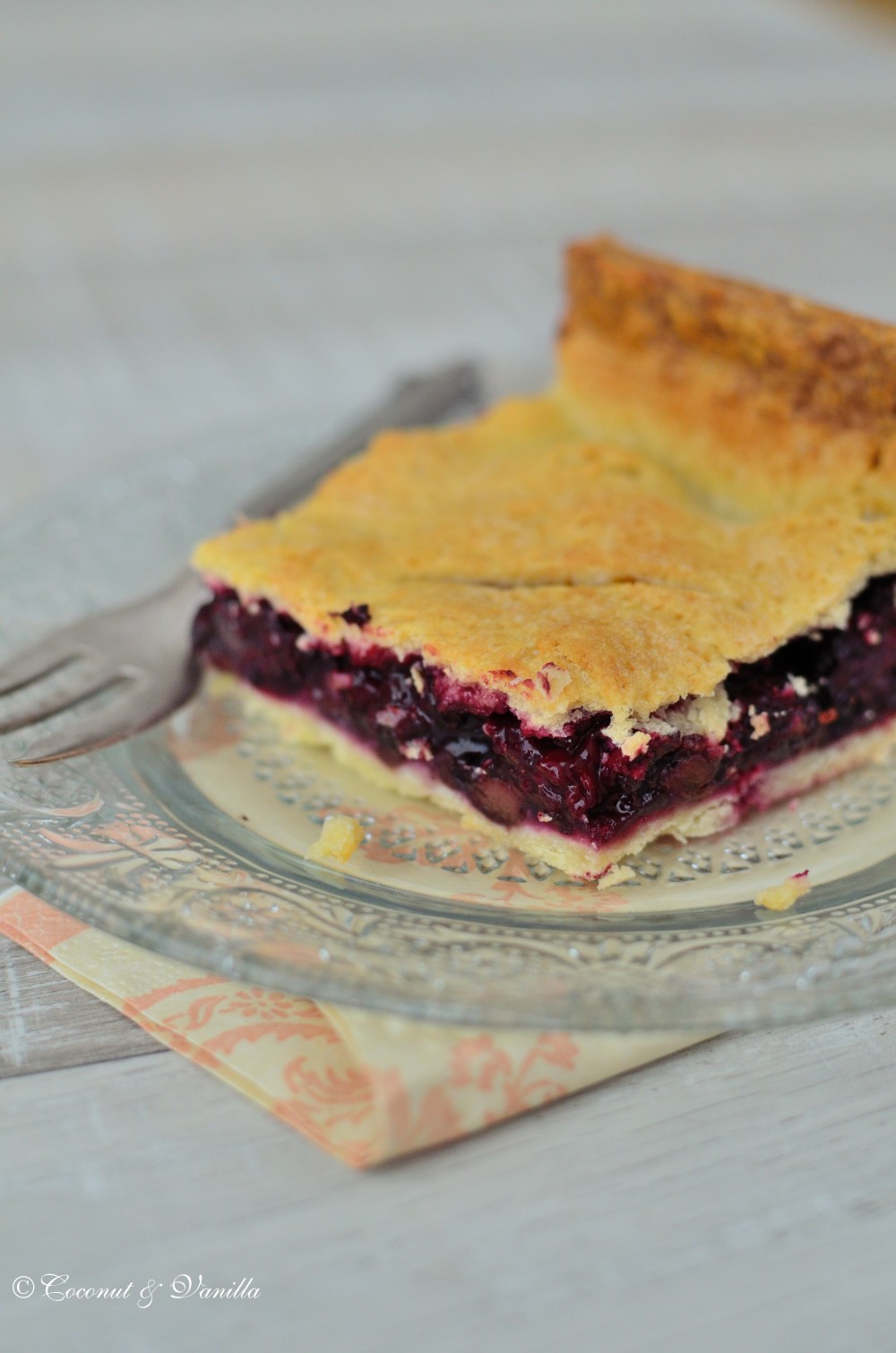 Two years ago: Plum Galettes
Blackberry-Chocolate-Pie
adapted from White on Rice Couple
yields: one rectangular pie (24 x 24 cm), although I didn't test it, I assume a 28 cm pan works well, too
Ingredients:
for the dough:
400 g flour

50 g sugar

1/4 tsp fine sea salt

180 g butter

1 large egg

cold water (about 50 ml)
for the filling:
500 g blackberries

50 g sugar

1,5 Tbsp corn starch

100 g chocolate chips
furthermore:
cream for brushing the top of the pie
Preheat the oven to 180° C. Butter the pan.
Mix the flour, sugar and salt for the dough. Add the butter and incorporate until it's all crumbly. Whisk the egg and add to the dough and incorporate. Add the water bit by bit, until you have a smooth dough. You may not need all of the water.
Half the dough. Roll them out, larger than the pan, because you'll need to form a rim, too.
Place one half in the pan and form a rim.
Spread the chocolate chips on the dough.
Mix the sugar and the corn starch, the toss with the berries. Spread the berries on the chocolate chips.
Place the second half of the dough on the filling. The two dough pieces should meet at the rim. Press it together with you fingertips. Leave 1 cm as a rim, cut the rest off with a knife.
Brush the top and the edges with cream.
Using a knife, cut slits into the top of the pie.
Bake 30-40 minutes, until the pie is golden brown.
Remove from the oven and allow to cool.
Taste lovely lukewarm, when the chocolate chips are still molten. Tastes great fresh from the fridge!