Der Herbst macht sich bemerkbar, auf unserem Feld ist der Mangold reif und es ist Zeit für wärmende und deftigere Gerichte. Mangold ist ein tolles Gemüse, nicht nur weil es herrlich aussieht, wenn es nicht im klassischen weiß/grün angepflanzt wurde, sondern z.B. wie bei uns in rot/grün, aber auch orange, gelb und pink statt rot sind eine Augenweide. Leider fällt einem bei Mangold nicht gleich ein, was man daraus zaubern kann. Dünsten fällt für mich als Zubereitungsweise weg, zu langweilig. Diese Quiche mache ich aber jedes Jahr als Erstes, denn sie hat sich schon lange bewiesen und ist immer wieder sehr sehr lecker.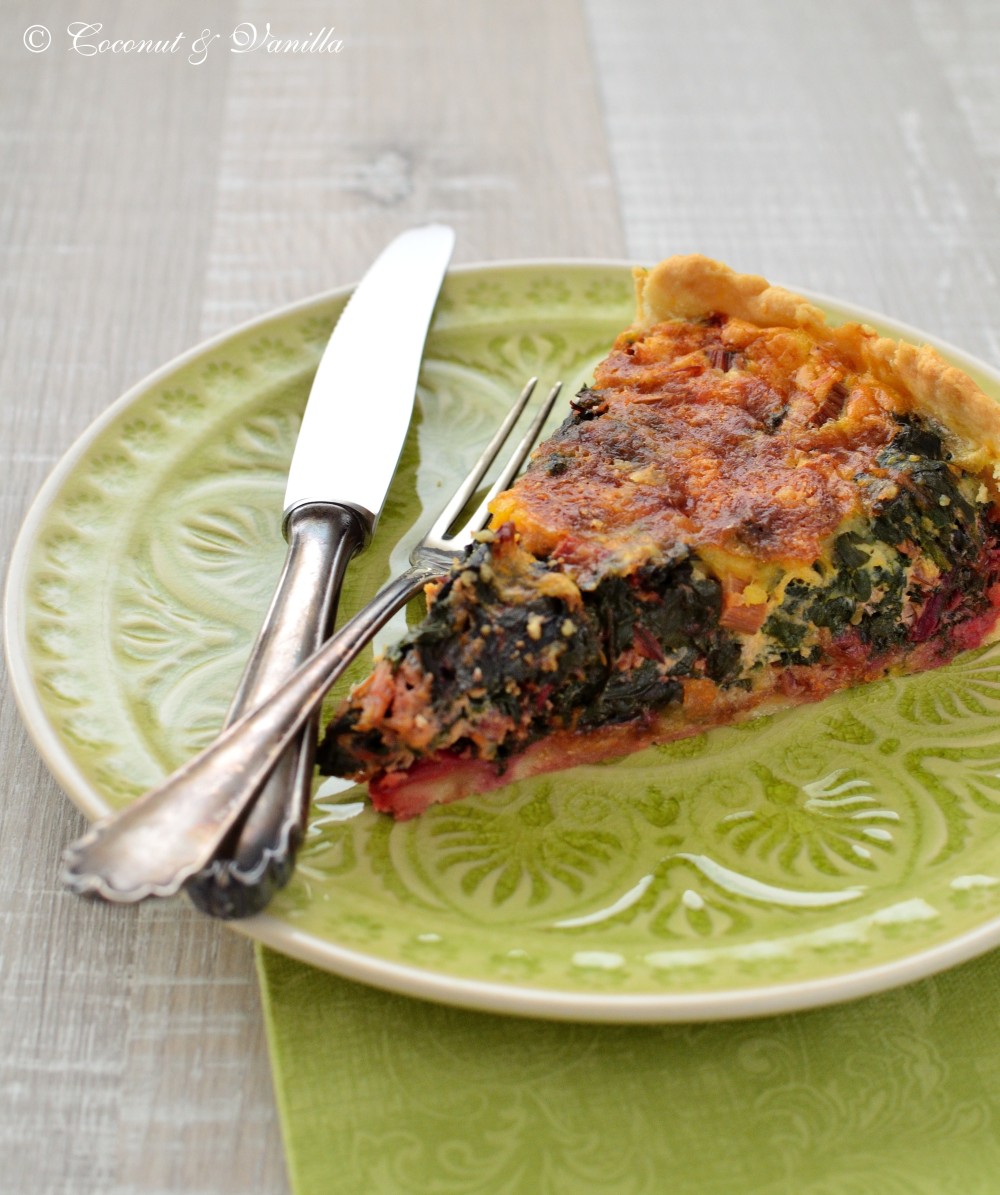 Vor einem Jahr: Birnen-Vanille-Tarte
Vor zwei Jahren: glutenfreie Donuts 
Mangold-Quiche
ergibt: eine Quiche mit 26 cm Durchmesser
für 4 Personen
Zutaten:
für den Teig:
200g Weizenmehl Type 405

1 Prise Salz

100 g kalte Butter, in kleinen Würfeln 

kaltes Wasser
für die Füllung:
600 g Mangold

1 Zwiebel

2 Knoblauchzehen

Meersalz, Pfeffer und Muskat

75 g Bergkäse (oder Gruyère)

200 g Sahne

100 g Vollmilch

4 Eier
Eine Springform ( 26 cm Durchmesser) ausfetten.
Mehl, Salz und Butter zu einem Teig verkneten. Wasser esslöffelweise hinzufügen bis ein glatter homogener Teig entsteht. Den Teig ausrollen und die Springform damit auslegen, dabei einen 5-6 cm hohen Rand hochziehen. Den Teig kalt stellen.
Den Mangold waschen und den Stielansatz kappen. Die Stiele von den Blätter abschneiden. Ich schneide die Stiele V-förmig aus den Blätter heraus. Große Blätter halbieren und in 1 cm breite Streifen schneiden. Die Stiele würfeln ( ca. 1,5 cm Kantenlänge).
Zwiebeln und Knoblauch schälen und fein würfeln.
In einer großen Pfanne das Öl erhitzen. Zwiebel und Knoblauch kurz andünsten, dann die Mangoldstiele dazu. Bei mittlerer Hitze 5 Minuten dünsten, dann die Blätter dazu. Nochmal 5 Minuten andünsten. Mit Salz, Pfeffer und Muskat würzen.
Den Ofen auf 200° C vorheizen (Umluft 180° C).
Den Käse fein reiben.
Sahne, Milch und Eier verquirlen und kräftig würzen.
Das Mangoldgemüse auf dem Boden verteilen und den Guss darüber gießen. Mit dem Käse bestreuen und 40 Minuten backen, bis die Quiche goldbraun ist.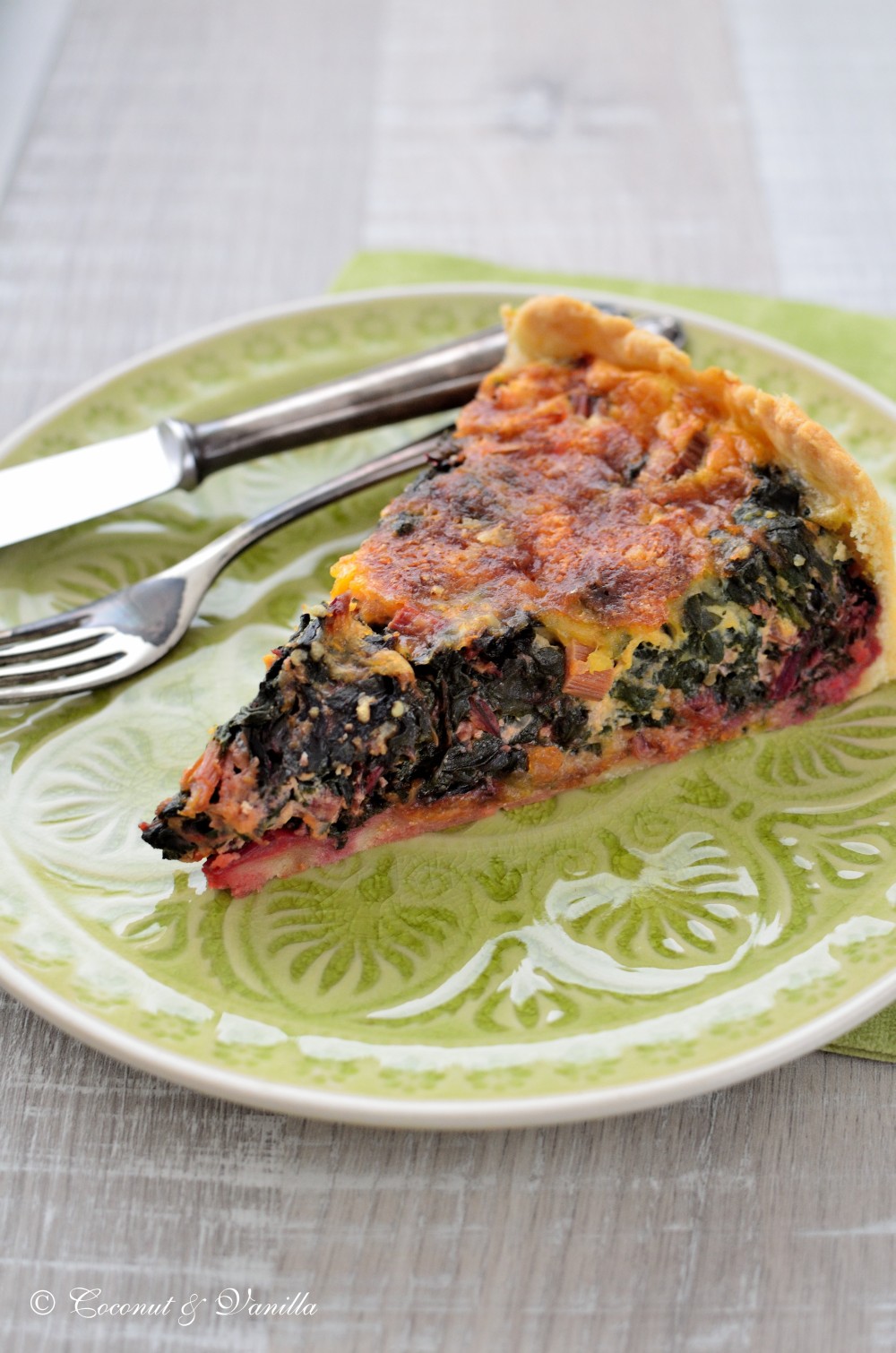 Autumn leaves his signs, on our field the Swiss chard is ripe and it's time again for warming and hefty dishes. Swiss chard is a great vegetable, especially if it's a colourful variety. Our's is red and green, but pink, yellow or orange instead of red is beautiful, too. Unfortunately there are not a lot of dishes, that come to my mind, when I have Swiss chard in my hands, but this quiche is the first recipe every year I make with it. It has itself well established in our home long time ago and is delicious every time again we eat it.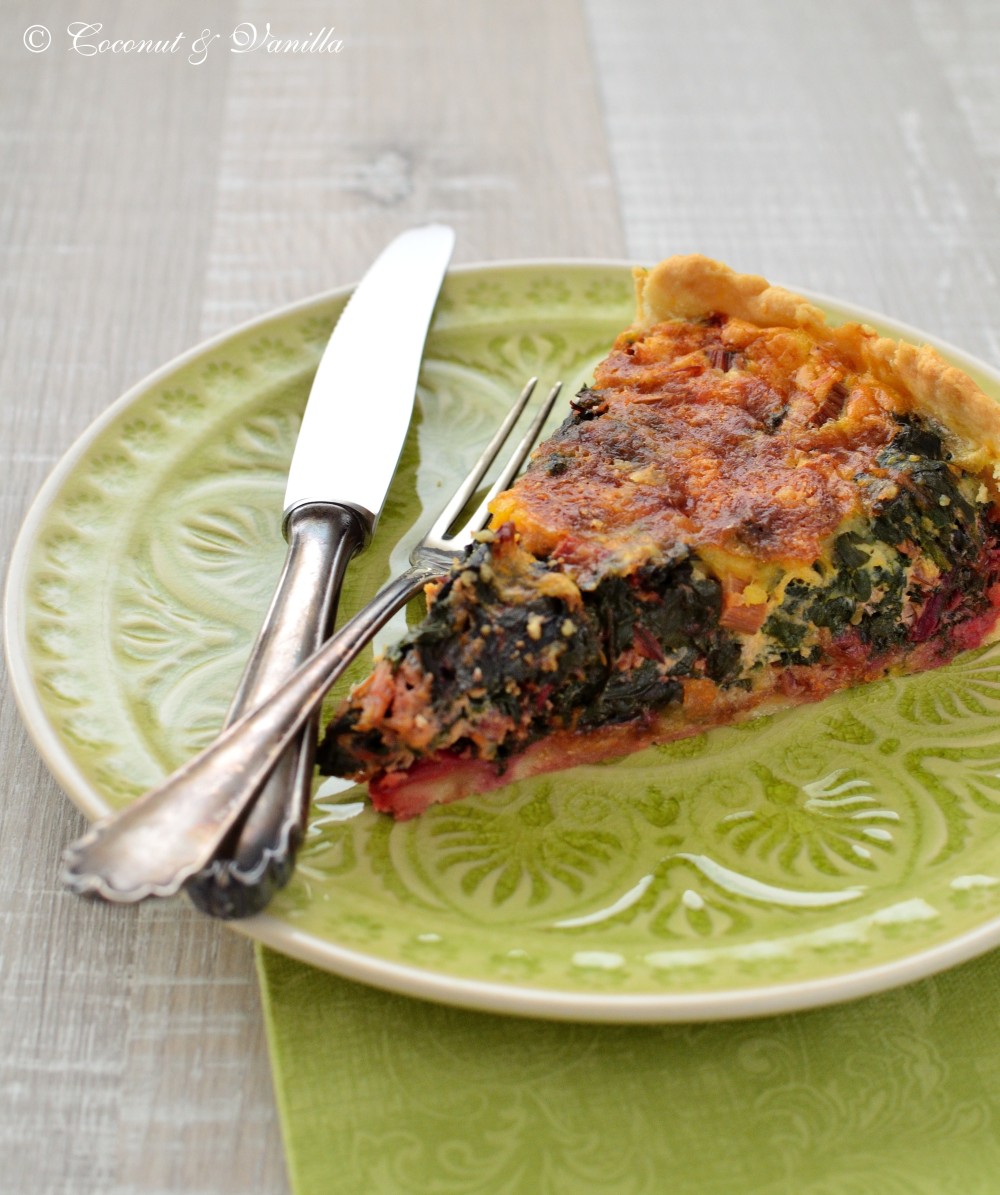 One year ago: Vanilla-Pear-Tart
Two years ago: gluten-free Donuts
Quiche with Swiss Chard
yields: one quiche 26 cm in diameter
serves 4
Ingredients:
for the dough:
200 g flour

1 pinch of salt

100 g cold butter, cubed 

cold water
for the filling:
600 g Swiss chard

1 onion

2 cloves of garlic

2 Tbsp olive oil

sea salt

freshly ground pepper

freshly ground nutmeg

75 g hard cheese, like Gruyère

200 g cream

100 ml whole milk

4 eggs
Butter a 26 cm spring pan.
Combine the flour, salt and butter and knead. Add the cold water with a tablespoon, until the dough comes together and formes a smooth ball.
Roll out the dough.
Line the spring pan with the dough, forming a 5-6 cm high rim.
Chill the dough in the fridge.
Wash the Swiss Chard. Cut off the end of the stems. Cut the stems off the leaves. I cut them off like a V pointing in the leave. Halve the leaves and cut them into 1 cm strips. Dice the stems ( about 1,5 cm edge length).
Peel the onion and garlic and dice them finely.
Heat a large pan with the olive oil on medium heat. Sautee the onion and garlic for one minute, the add the Swiss chard stems. Sautee for 5 minutes, then add the leaves. Sautee again for 5 minutes, season with salt, pepper and nutmeg.
Preheat the oven to 200° C.
Grate the cheese finely.
Whisk together the cream, milk and eggs. Season generously.
Place the Swiss chard onto the dough spread evenly. Pour the the eggmilk over the chard and scatter with the cheese.
Bake for about 40 minutes, until golden brown.