Thursday, 9th August 2012
Kohlrabi is not quite my favourite vegetable. It just taste tastes too much like cabbage to me, but has quite a fantastic texture. Quite difficult. As a child I loved to snack it raw and I can't remember that cabbagy taste. Really strange!
After the original plants on our field were eaten by flea beetles, we planted new ones nonetheless. I confess, it was all about the colour! But I can't pass vegetables in uncommon colours.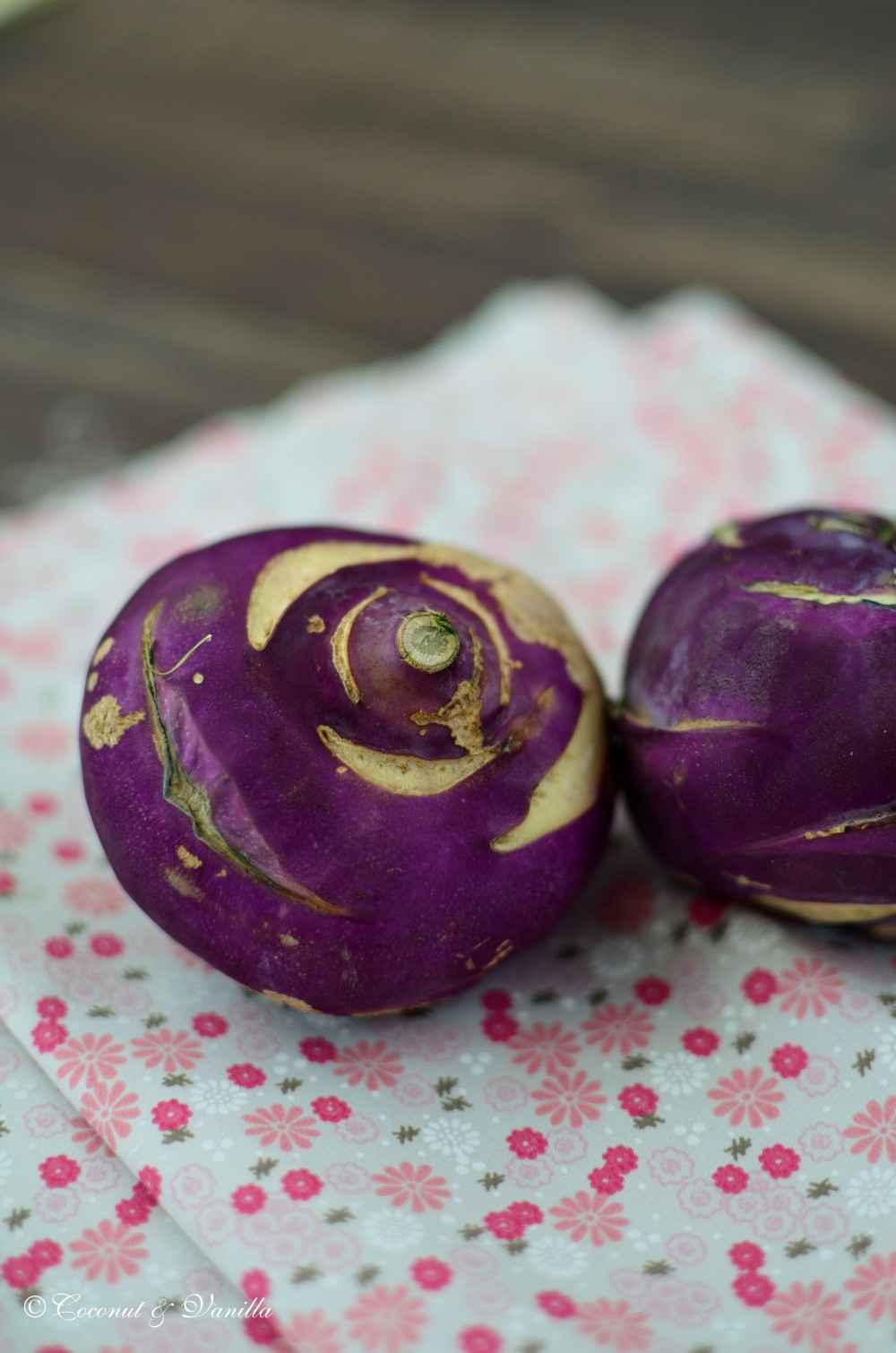 We benefit now by harvesting the kohlrabi very young. So, we don't have those large pieces at home, the kohlrabi is much more delicate and the taste of cabbage shall (!) be less fragrant.
The tenderness was convincing, the other point, well let's do not talk about it anymore. My mother gave me a recipe, which she already cooked in former times and which combines the kohlrabi with lemon and mint. I can't remember eating it at home, but the combination got me immediately. The aroma of the lemon and mint slightly covers the cabbagy taste and goes perfectly with the freshness of young kohlrabi.
An easy, fast vegetarian dish, which served with polenta is also a great whole meal.
One year ago: Strawberry Tartlets with Yogurt-Lime-Mousse
Two years ago: Peach Tartelettes 
Kohlrabi with Lemon and Mint
adapted from Vegetarisch kochen. Schnell, einfach und raffiniert and Schnelle vegetarische Küche by Elisabeth Fischer
yields: 2 servings
Ingredients:
clarified butter / butter

3 – 4 small kohlrabi, peeled and thinly sliced with a mandoline

100 ml vegetable broth

1 organic lemon, juice and zest

1 Tbsp mint, finely chopped

salt

50 ml cream (optional)
Heat some clarified butter in a large frying pan.
Add the kohlrabi and braise lightly on middle heat for 5 minutes.
Add the broth, lemon juice and zest and braise for another 5 minutes. The kohlrabi should still be firm to the bite!
Season with salt, add the chopped mint and if you like some cream, which tastes also delicious.
Serve with polenta.