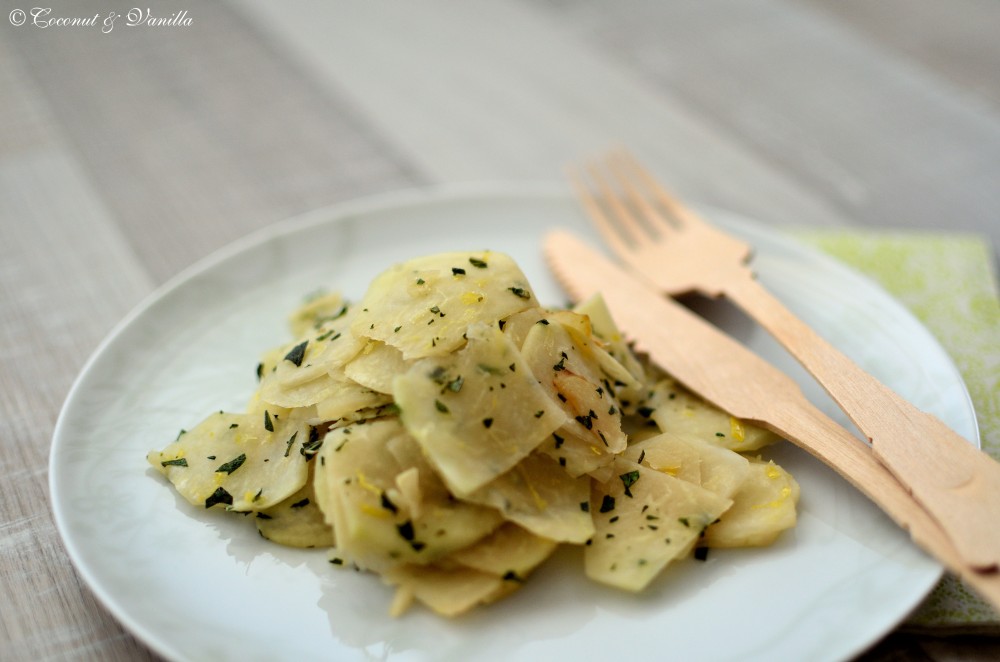 Kohlrabi ist nicht gerade mein Lieblingsgemüse. Er schmeckt mir einfach zu kohlig, hat dabei aber eine tolle Konsistenz. Eher schwierig. Als Kind hab ich ihn aber gerne roh gegessen und an einen kohligen Geschmack kann ich mich damals gar nicht erinnern. Schon komisch!
Nachdem die Ursprungspflänzchen auf dem Feld von Erdflöhen verspeist wurden, haben wir ihn aber trotzdem angepflanzt. Ich gestehe, dass es nur passierte weil er lila war. An Gemüse in ungewöhnlichen Farben kann ich einfach nicht vorbeigehen.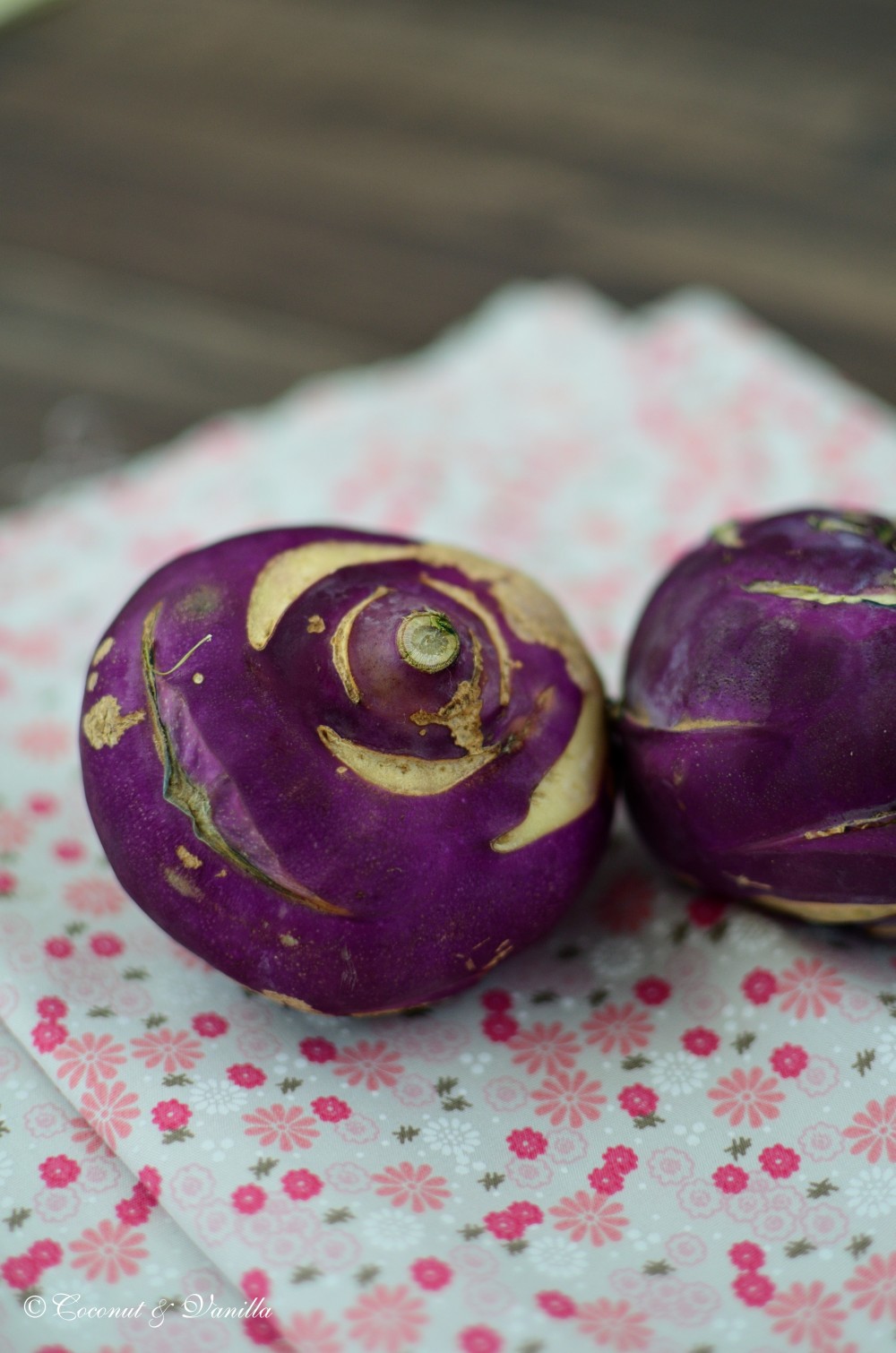 Der Vorteil ist, dass man den Kohlrabi jetzt jung ernten kann. Somit hat man nicht so große Ömmel daheim, der Kohlrabi ist wesentlich zarter und der Kohlgeschmack soll (!) geringer ausgeprägt sein.
Von der Zartheit konnte ich mich überzeugen, das andere naja bleibt mal dahingestellt. Meine Mutter bot mir ein Rezept an, dass sie früher auch schon häufiger gemacht hat und das den Kohlrabi mit Zitrone und Minze auf den Tisch bringt. Ich kann mich zwar nicht erinnern das Gericht mal daheim gegessen zu haben, aber Zitrone und Minze ließen mich aufhorchen. Die Aromen überdecken den kohlartigen Geschmack etwas und passen perfekt zu der Frische junger Kohlrabi.
Ein einfaches, schnelles vegetarisches Gericht, dass mit Polentaschnitten auch als Hauptgericht glänzt.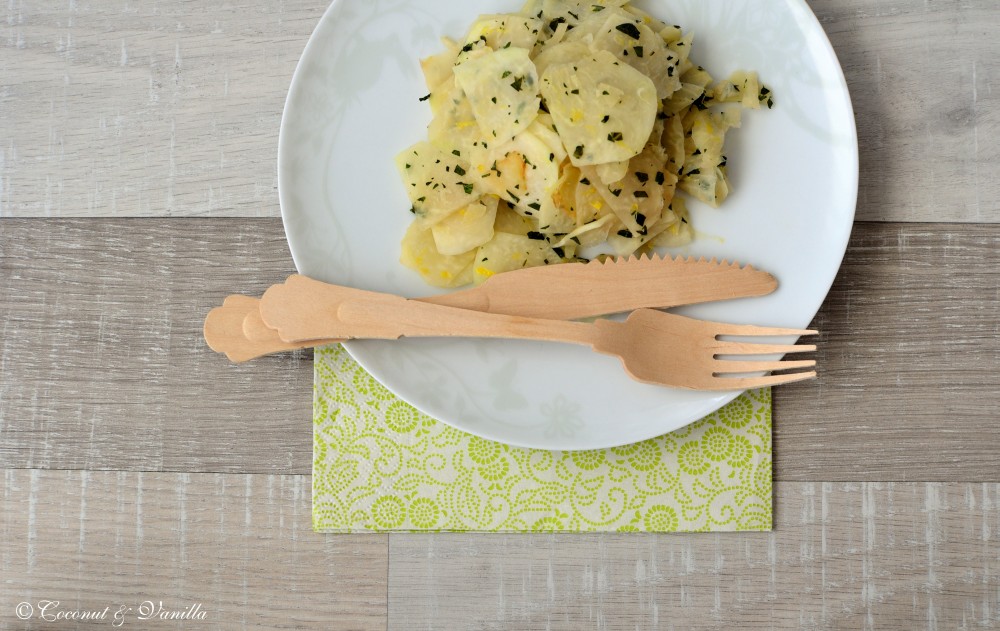 Vor einem Jahr: Erdbeertörtchen mit Joghurt-Limetten-Mousse
Vor zwei Jahren: Pfirsich-Tartelettes
Kohlrabi mit Zitrone und Minze
nach einem Rezept aus Vegetarisch kochen. Schnell, einfach und raffiniert bzw. Schnelle vegetarische Küche von Elisabeth Fischer (der Inhalt der Bücher ist exakt gleich)
Für 2 Personen
Zutaten:
Butterschmalz

3 – 4 kleine junge Kohlrabi, geschält und dünn gehobelt

100 ml Gemüsebrühe

1 Bio-Zitrone, Saft und abgeriebene Schale

1 EL Minze, fein gehackt

Salz

50 ml Sahne (optional)
Etwas Butterschmalz in einer großen Pfanne schmelzen.
Den Kohlrabi dazugeben und bei mittlerer Hitze 5 Minuten andünsten, nicht anbraten!
Die Brühe, den Zitronensaft und die Zitronenschale dazugeben und weitere 5 Minuten andünsten. Der Kohlrabi soll noch Biss haben!
Die gehackte Minze unterrühren und mit Salz abschmecken. Wer mag kann noch etwas Sahne unterrühren, das schmeckt auch sehr lecker.
Dazu passt sehr gut Polenta/Polentaschnitten.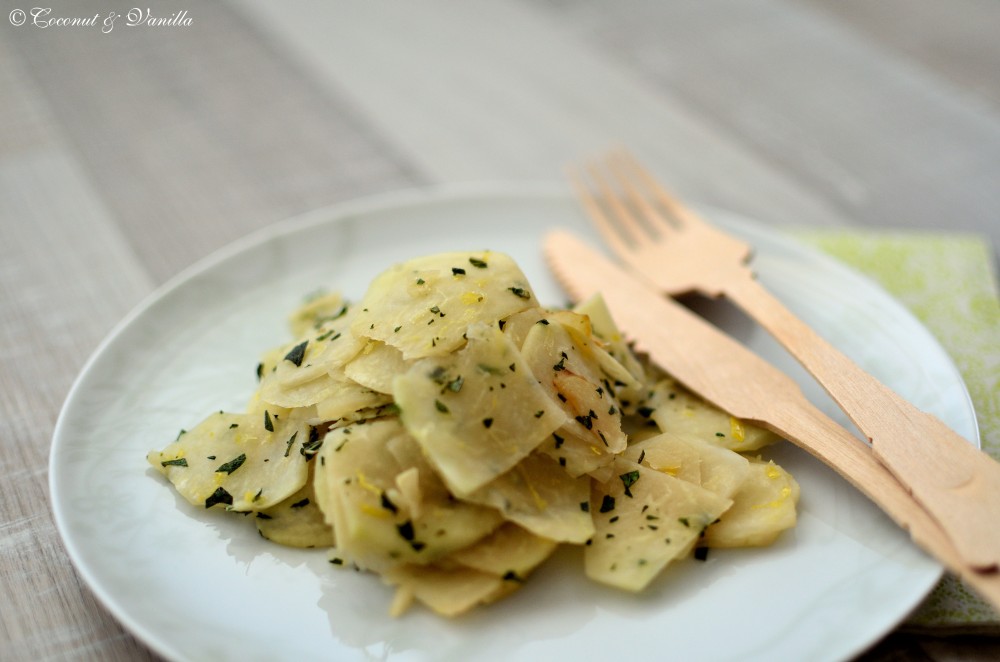 Kohlrabi is not quite my favourite vegetable. It just taste tastes too much like cabbage to me, but has quite a fantastic texture. Quite difficult. As a child I loved to snack it raw and I can't remember that cabbagy taste. Really strange!
After the original plants on our field were eaten by flea beetles, we planted new ones nonetheless. I confess, it was all about the colour! But I can't pass vegetables in uncommon colours.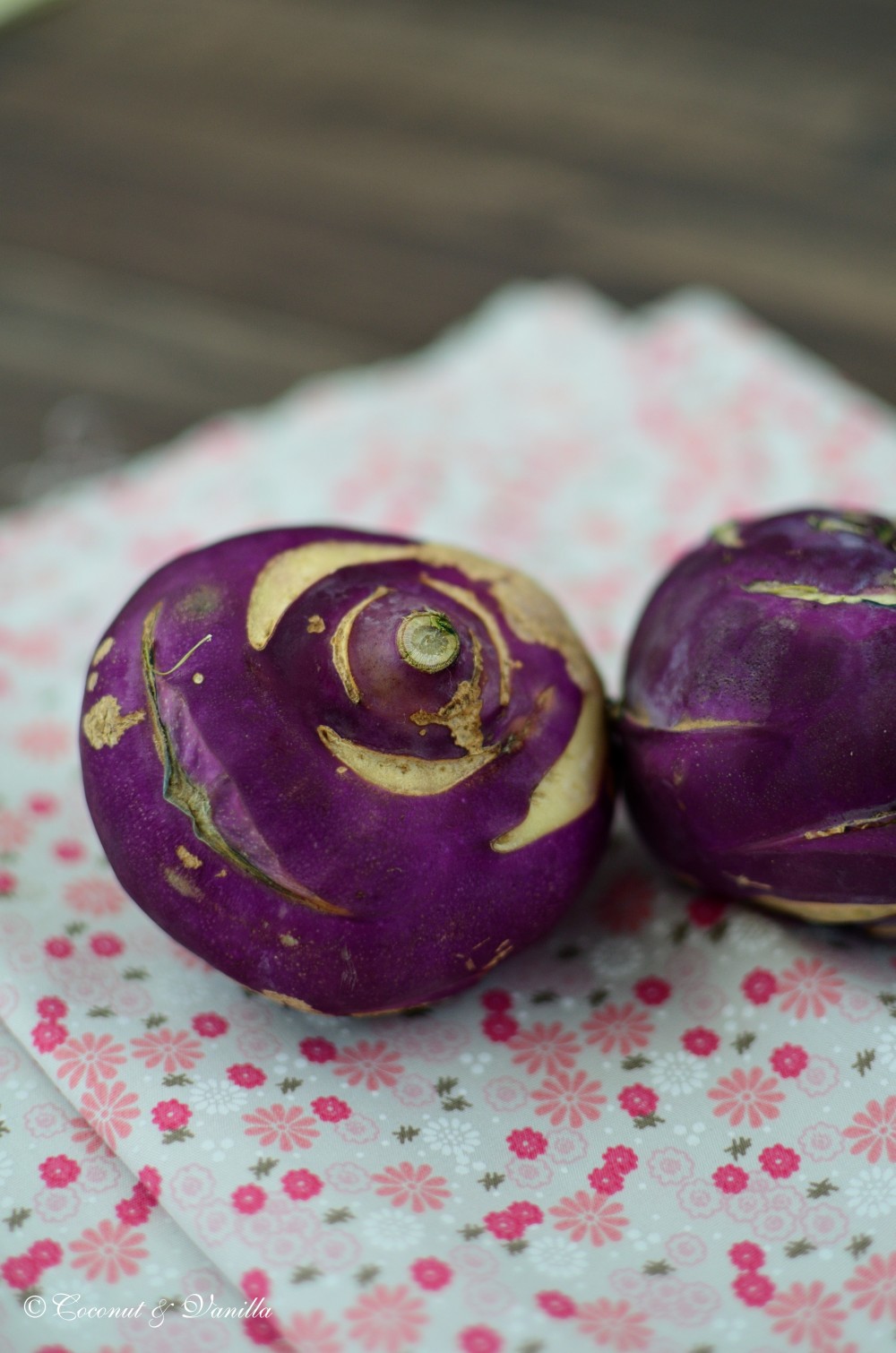 We benefit now by harvesting the kohlrabi very young. So, we don't have those large pieces at home, the kohlrabi is much more delicate and the taste of cabbage shall (!) be less fragrant.
The tenderness was convincing, the other point, well let's do not talk about it anymore. My mother gave me a recipe, which she already cooked in former times and which combines the kohlrabi with lemon and mint. I can't remember eating it at home, but the combination got me immediately. The aroma of the lemon and mint slightly covers the cabbagy taste and goes perfectly with the freshness of young kohlrabi.
An easy, fast vegetarian dish, which served with polenta is also a great whole meal.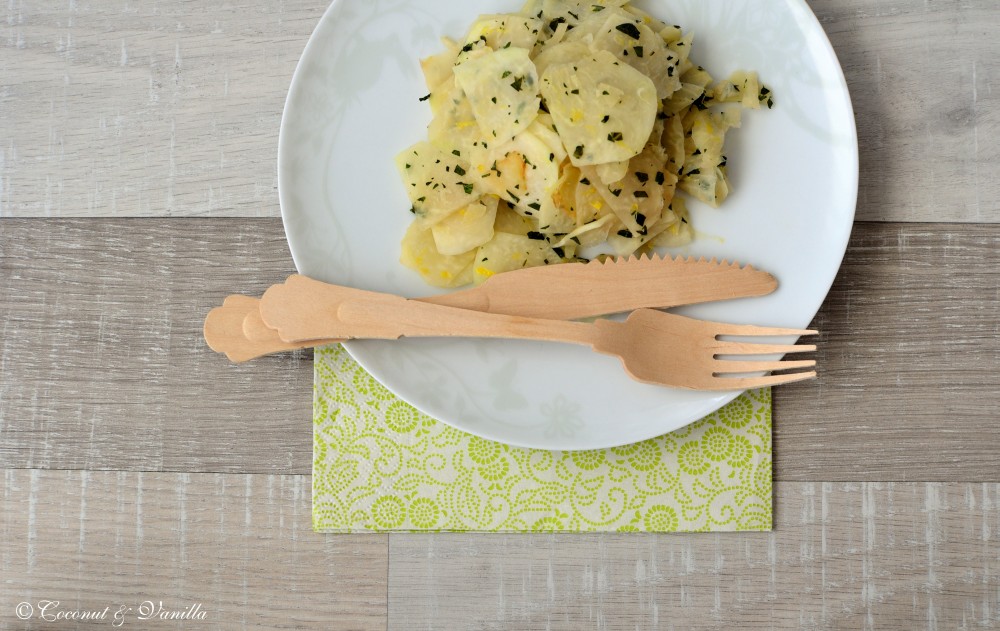 One year ago: Strawberry Tartlets with Yogurt-Lime-Mousse
Two years ago: Peach Tartelettes 
Kohlrabi with Lemon and Mint
adapted from Vegetarisch kochen. Schnell, einfach und raffiniert and Schnelle vegetarische Küche by Elisabeth Fischer
yields: 2 servings
Ingredients:
clarified butter / butter

3 – 4 small kohlrabi, peeled and thinly sliced with a mandoline

100 ml vegetable broth

1 organic lemon, juice and zest

1 Tbsp mint, finely chopped

salt

50 ml cream (optional)
Heat some clarified butter in a large frying pan.
Add the kohlrabi and braise lightly on middle heat for 5 minutes.
Add the broth, lemon juice and zest and braise for another 5 minutes. The kohlrabi should still be firm to the bite!
Season with salt, add the chopped mint and if you like some cream, which tastes also delicious.
Serve with polenta.