Wednesday, 5th October 2011
Recently there were some discussions in the German bloggersphere about where to buy food. Where to get the best, local, in season food. Astrid from Arthurs Tochter created a site on her blog, where she's collecting all the tips from bloggers in Germany. I love that idea, since I'm also constantly looking for the best places to shop my food. I prefer it local. If it's flour, vegetables or meat. Fish is really challenging. At least I make sure the fish is marked with the MSC sign (if it's not from an aqua culture or fresh water, but from the sea).
So I was quite intrigued to take part of this idea. It took a few weeks, because I also wanted to show you our beautiful market here. Finally!
We live in the the eastern part of Stuttgart and don't own a car, so our radius where we shop is limited.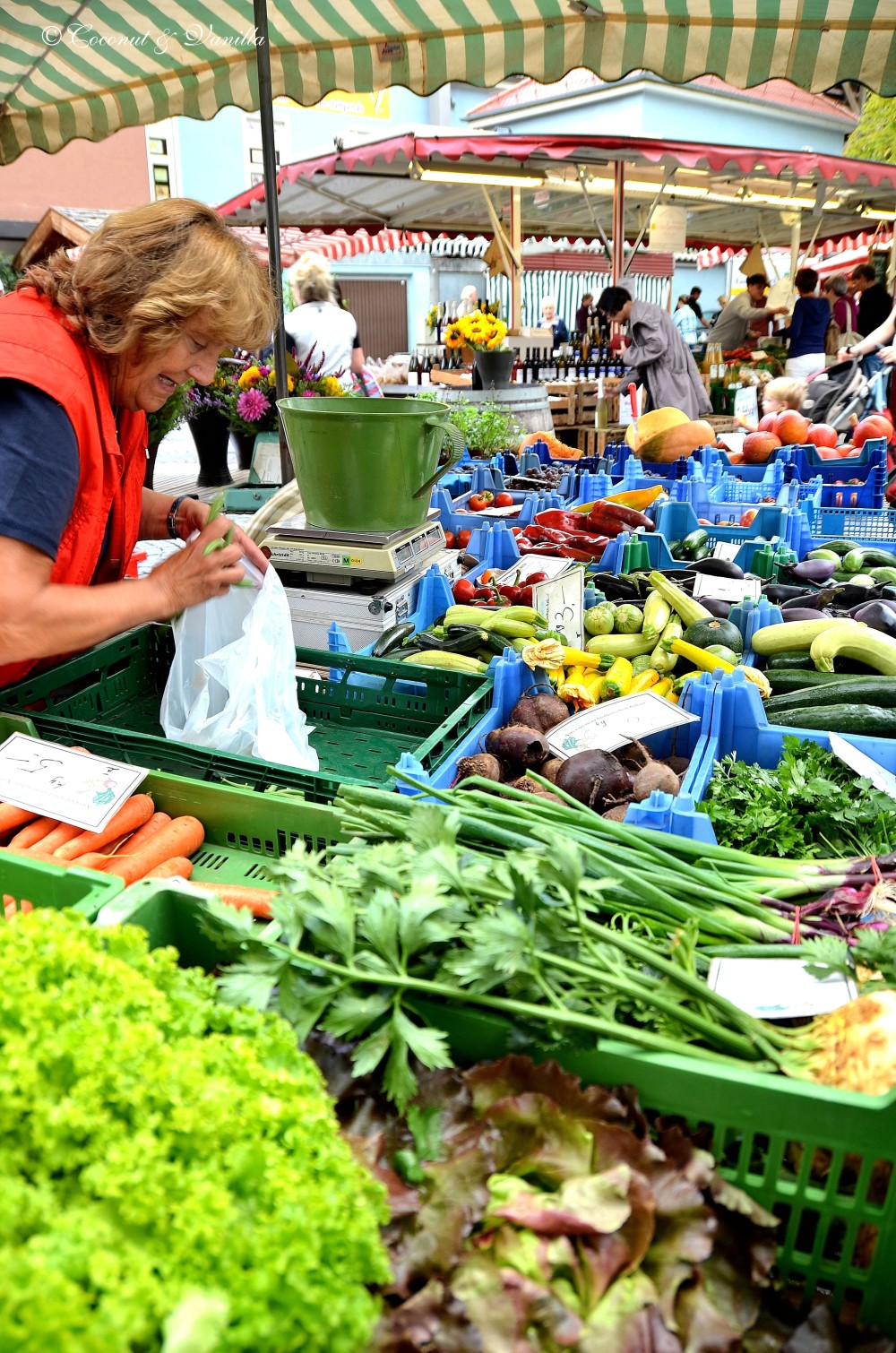 Flour:
Hegnacher Mühle, 71334 Waiblingen – Hegnach: The grain comes from farms 20 km around the mill. It can also be bought in stores in the region
Adler Mühle Balingen, Eichstetterstr. 3, 79353 Bahlingen am Kaiserstuhl: up to 30 kg, you can also purchase the flour online, which is great for bread bakers without car
Oil:
Ölmühle Ditzingen, Johannes-Fuchs-Strasse 5, 71254 Ditzingen: is also distributed in various shops in the region. Offers sunflower, canola, walnut, almond, peanut, sesame, olive oil and a lot of other special oils. They offer some oils in organic quality.
Spices & Dried Herbs:
Wurzelsepp, Hauptmarkt 1, 90403 Nürnberg: I buy all my spices and dried herbs there. The quality is amazing, as well as the variety. It never happened to me, that I searched for something and they couldn't help me. Also they are super friendly there. My favourite food shop. They also have different open teas (they always have a pot with fresh tea for trying – lovely) and beauty products from L'Occitane and other brands.
Meat:
Metzgerei Bienzle, Vaihinger Markt 7, 70563 Stuttgart (they have a second dependence in Stuttgart-Möhringen): very good meat and sausages (wurst), the sausages don't contain flavour enhancer, gluten, lactose
Hoflieferant Munz, Stuttgarter Str. 23, 70469 Stuttgart-Feuerbach: An organic butcher in Feuerbach with sensational meat. The poultry is from a Bioland farm, the pork and the beef are from the Erzeugergemeinschaft Schwäbisch-Hall. The best beef we've ever tasted, was from here! Of course all this comes at a price. The Sausages weren't to my taste.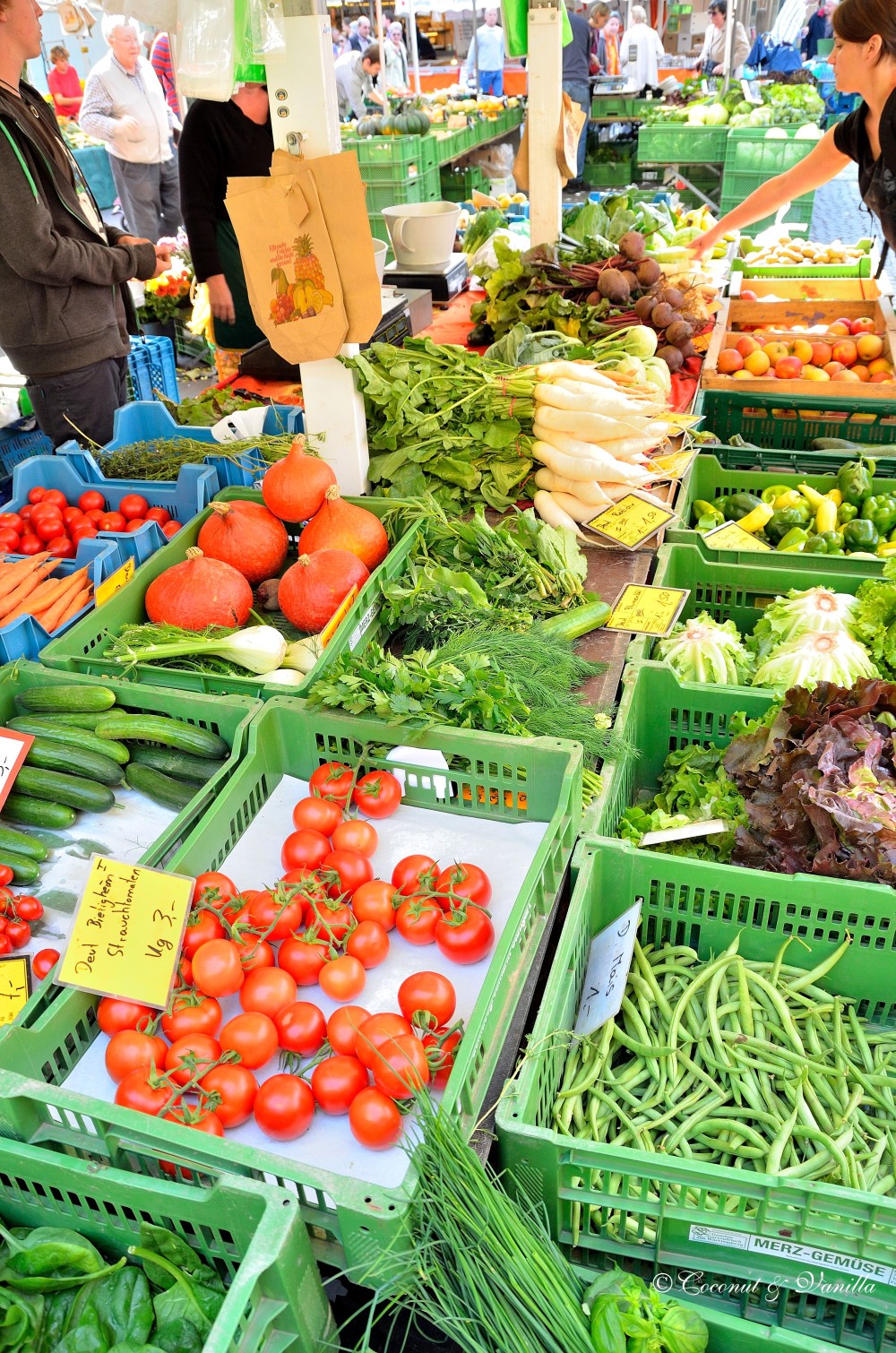 Market Stuttgart – Bad Cannstatt:
Fruits, Vegetables & Herbs:
Gärtnerei Geist (they also have a range of flowers): our favourite stand, with almost only local produce and a lot from their own farms
Gärtnerei Albeck: they only sell their own produce, which is all organic. They have the best tomatoes! And a lot of uncommon things like zucchini flowers, mini peppers, purple spring onions, almonds etc. (don't mix it up with the Demeter stand, that sells everything, regardless of the season!)
Flowers:
Ulrich Steinle: The market stand with almost just flowers (and a small range of vegetables) has the most beautiful flowers and bouquets for small money.
Cheese:
Käse Widmann: It's the best place in Stuttgart to buy cheese! The owner Mr. Widmann also sells at the stand in Bad Cannstatt. It's always a pleasure! They have a lot of stands in Stuttgart, Baden-Württemberg and even Hessen, as well as a shop in Waiblingen, look it up on their homepage!
Eggs & Poultry: Eier Bleyer: A stand selling different poultry, rabbit, sometimes lamb (should have also game, but I've never seen it, yet) and also different eggs. There we buy organic eggs, that are Naturland certified from the Bromberghofin Sachsenheim-Ochsenbach.