Ich hatte schon mal erwähnt, dass ich gerne frühstücke. Nur habe ich dafür keine Zeit. Ich muss nämlich stattdessen schlafen. Jedenfalls unter der Woche. Deshalb esse ich dann meistens nur einen Joghurt auf der Arbeit. Geht auch, ist aber nicht so optimal. Und weil ich ganz schön mäkelig anspruchsvoll bin was Joghurt anbelangt (nicht von den großen Firmen kaufen, keine Fruchtstücke, kein aufgeweichtes Müsli, keine künstlichen Aromen, also meistens bio), gehen mir langsam die Sorten aus (ich möchte nämlich nicht jeden Tag die gleiche Sorte Joghurt essen).
Müsli ist auch nicht. Weil ich habe Kiefer, statt Rücken (meistens) und Kopf und manchmal Nacken. Schnitten erinnern mich an Pausenbrot in der Schule, das muss ich auch nicht mehr haben. 13 Jahre waren genug Pausenbrot. Mir als Frostbeule würde zudem entgegenkommen, wenn das Frühstück warm ist. Tatsächlich kann man viele tolle warme Gerichte zum Frühstück machen, die auch schnell gehen und einfach sind. Zum Beispiel Grießbrei!
Ein köstliches Relikt meiner Kindheit, das ich immer wieder gerne aufwärme (nur im übertragenen Sinne!). 5 Minuten braucht der und man benötigt nur Grieß und Milch (oder andere Flüssigkeit, die hartgesottenen verwenden vielleicht sogar nur Wasser). Dazu etwas Obst. Kein frisches für mich. Ja, ich esse auch nur sehr selten Frischobst!
Ich mag es lieber gegart, gerne auch warm. Wärmt halt auch von innen! Eingemachtes Obst ist ganz toll und praktisch! Man kann im Winter Kirschen essen und im Frühjahr Quitten. Eingelegt in einem leckeren Gewürzsirup, der dann auch noch den Grießbrei oder jeden anderen Frühstücksbrei süßt! Das perfekte schnelle, wärmende Frühstück!
PS: Lässt sich auch gut als Mittagessen für Kinder kochen! Ohne Obst hab das sogar ich als Kind gegessen ;).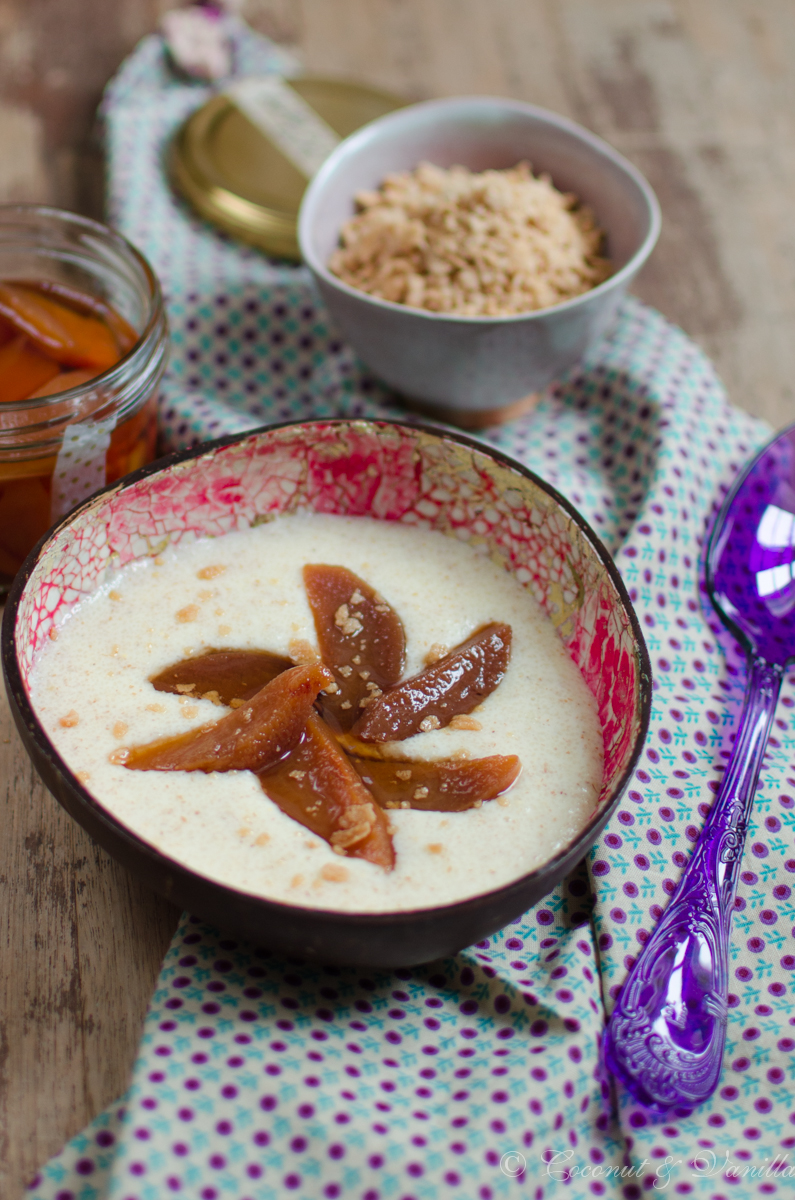 Vor vier Jahren: Pasta mit Pilzen
Vor fünf Jahren: Heidelbeer-Buttermilch-Panna Cotta
Grießbrei
ergibt: 1 Portion
Zutaten:
25 g Weichweizengrieß (oder Dinkelgrieß)
250 ml Vollmilch (oder Nussmilch oder oder oder)
Die Milch in einem Topf aufkochen. Den Grieß einrühren und weiterköcheln lassen bis der Grieß aufquillt und der Brei sich verbindet und andickt. Dann den Topf vom Herd ziehen, einen Deckel auflegen und 5 Minuten ruhen lassen.
Ich füge nie Zucker beim Breikochen hinzu. Ich süße lieber danach mit Sirup oder Zimtzucker.
eingelegte Chaiquitten
nach einem Rezept aus Preserving by the Pint von Marisa McClellan
ergibt: 3  250 ml Gläser
Zutaten:
3 – 4 Quitten (etwa 700 g)
300 g Zucker
2 EL losen schwarzen Chaitee
Die Gläser vorbereiten und sterilisieren.
Die Quitten schälen, entkernen und in dünne Scheiben schneiden.
In einen Topf den Zucker mit 350 ml Wasser geben. Den Tee in einen Teebeutel füllen und in den Topf geben. Die Quitten dazugeben und alles aufkochen. 15 – 20 Minuten bei kleiner Hitze simmern lassen. Den Sirup probieren und falls der Gewürzteegeschmack ausreichend ist, den Tee entfernen. Die Quitten weiter kochen bis sie gar sind und sich mit einer Gabel leicht einstechen lassen. Ich habe den Tee auch so lange im Sirup köcheln lassen.
Die Quitten in den Gläsern verteilen. Den Sirup nochmals aufkochen und dicklich einkochen lassen (nochmals 10 – 15 Minuten). Die Quitten mit dem Sirup bedecken und die Gläser verschließen.
Es sollte sich ein Vakuum im Glas bilden, wenn die Gläser abgekühlt sind. Die Quitten halten sich in dem Sirup dann ohne weiteres Einkochen.
Sollte sich kein Vakuum bilden oder wollt ihr auf Nummer sicher gehen, dann empfehle ich das Einkochen der Gläser im Wasser.
Dazu einen großen Topf mit einem Gitter mit Wasser füllen und die Gläser hineinstellen (alternativ kann man auch ein Geschirrtuch auf den Topfboden legen). Die Gläser sollen sich nicht berühren. Das Wasser sollte bis etwa 1 cm über die Deckel reichen. Das Wasser zum Kochen bringen und 10 Minuten kochen lassen. Dann die Gläser aus dem Wasser entfernen und auf einem Geschirrtuch abkühlen lassen.
Die Quitten halten sich mindestens 1 Jahr. Vorzugsweise dunkel und kühl lagern (Kühlschrank ist erst nach dem Öffnen notwendig).
Some time ago I told you that I love to have breakfast. Just, I don't have time for that. I want to sleep instead. At least in the week. So mostly I eat a yogurt at work and that's it. That's ok, but not the best. And because I'm a bit fastidious demanding about yogurt (don't buy the big brands, no fruit pieces, no softened granola, no artifical flavours, so mostly organic) I don't have a lot to choose anymore, as I don't want to eat the same sort of yogurt every day.
Granola isn't working for me either, because I have jaw problems. Sometimes also back or head and sometimes neck. Sandwiches remind me of school and I don't need that anymore. 13 years of school sandwiches, no thanks! As I feel the cold I prefer a warm breakfast. Indeed a lot of breakfasts can be perfectly served warm and are easy and quick to prepare. Like semolina porridge!
A delicious relict of my childhood, which I like to make all over again. Semolina only needs milk and 5 minutes (or another fluid, hard-nosed people may just use water). Add some fruit. No fresh fruit for me. Yes, I also eat fresh fruit very rarely!
I prefer it cooked, with pleasure also still warm. Also warms from the inside! Preserved fruit is so great and handy! You can eat cherries in winter and quinces in the spring! Preserved in a delicious spiced syrup it also sweetenes the porridge. The perfect quick and warming breakfast!
PS: You can also cook this for children for lunch! Without fruit even I ate it as a child ;)!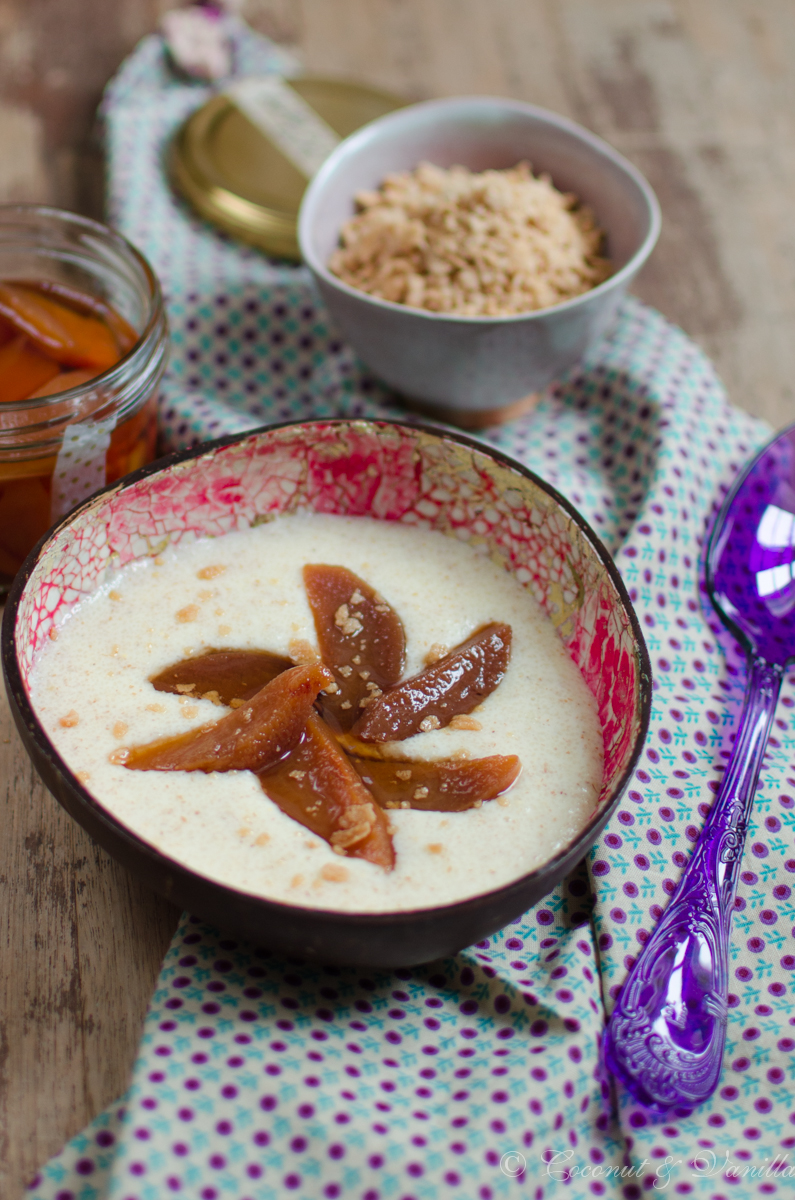 Four years ago: pasta with mushrooms
Five years ago: blueberry buttermilk panna cotta
Semolina Porridge
yields: 1 portion
Ingredients:
25 g wheat or spelt semolina
250 ml whole milk (or nut milk or anythin else you prefer)
Bring the milk to a boil. Stir in the semolina and simmer on low heat until the porridge thickens. Remove from the heat, close with a lid and rest for 5 minutes.
I never add any sugar for semolina porridge, as I prefer to sweeten it afterwards with syrup, fruit or cinnamon sugar.
Preserved Quinces in Chai-Tea Syrup
adapted from preserving by the pint by Marisa McClellan
yields: 3 250 ml jars
Ingredients:
3 – 4 quinces (about 700 g)
300 g sugar
2 Tbsp loose black chai tea
Prepare and sterilize the jars.
Peel and core the quinces. Slice them thinly.
Fill the tea in a teabag or a tea egg. Add with the sugar and 350 ml water to a pot. Add the quince slices, bring to a boil and simmer for 15 – 20 minutes on low heat. Taste the syrup and if the chai tea taste is to your liking remove the tea. Cook the quinces until they are done and a fork can easily be inserted in a quince slice. I also kept the tea that long in the syrup.
Divide the quince slices amongst the jars. Boil the syrup again and cook until thick (another 10 – 15 minutes). Cover the quinces with the syrup and close the jars with lids.
A vacuum should emerge in the jars, when the jars have cooled completeley. The quinces will be good in the syrup without cooking them in a waterbath.
If no vacuum is emerging or you want to make sure that one will emerge, preserve the quinces by cooking the jars in water.
Therefore use a large pot with a grid on the bottom and place the jars in there. Fill with water, about 1 cm above the lids. The jars should not touch each other. Bring the water to a boil and cook for 10 minutes. Then remove the jars from the water and let them cool on a kitchen towel.
The quinces are preserved for at least 1 year. Store in a dark and cool place and after you've opened a jar, store it in the fridge.