Heute habe ich meine dm Leckerbissen Box abgeholt.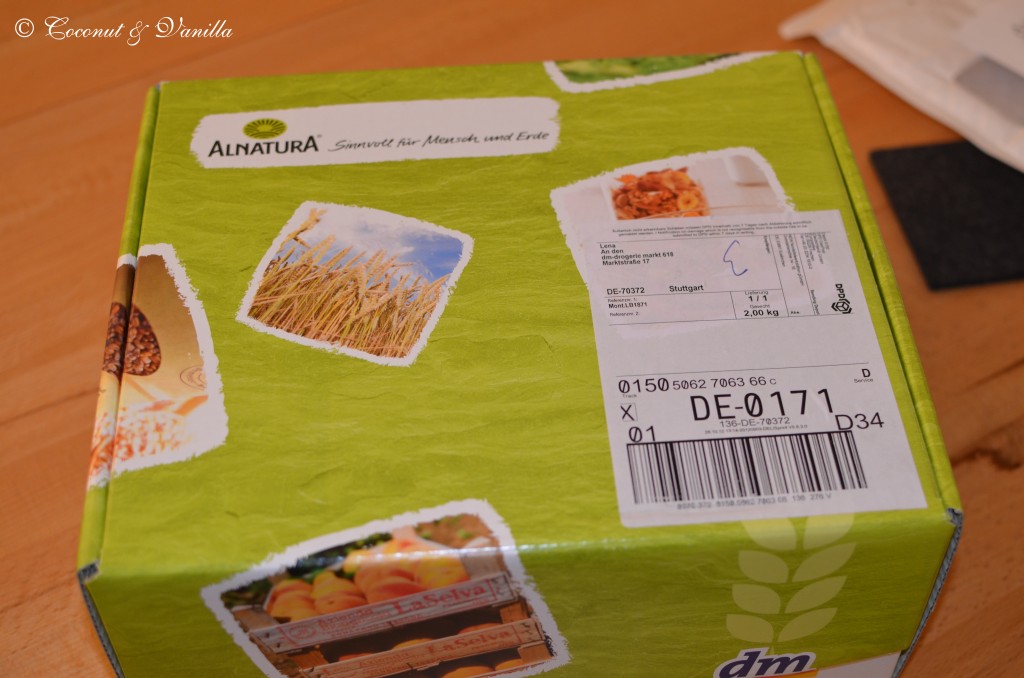 Einige fragen sich jetzt sicher was das überhaupt ist und warum man so was haben muss. Vor einiger Zeit konnte man bei dm ein Abo dieser Boxen bestellen, es gab sie nur in limitierter Auflage, ich glaube es waren 2500 Stück und waren innerhalb kürzester Zeit vergriffen. Ein Abo geht 3 Monate, man bekommt also 3 Boxen.
In diesen Boxen gibt es zu 5 Euro pro Stück eine Auswahl von Alnatura Produkten.
Da wir sehr gerne bei Alnatura einkaufen und mich viele Produkte interessieren, ich sie aber trotzdem nicht kaufe (Nutzen, Preis, etc), fand ich, dass 5 Euro eine gute Investition sind.
Ich war ziemlich überrascht, als ich sie heute abgeholt hab, denn sie war sau schwer. Glücklicherweise befanden sich keine 5 Milchkartons darin ;).
Folgendes habe ich in meiner Box vorgefunden: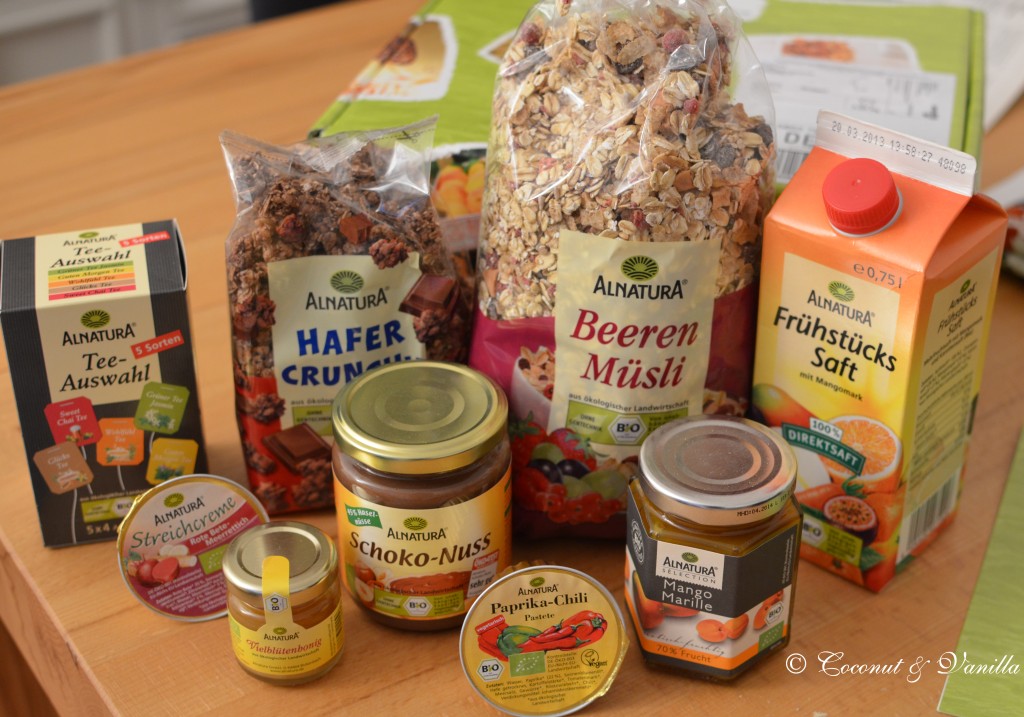 Es gab eine Teeauswahl, zwei verschiedene Müslis, einen Saftmix, eine Marmelade, Nuss-Nugat-Creme, ein Pröbchen Honig, und zwei Brotaufstriche (rote Beete-Meerrettich und Paprika-Chili).
Das ganze wurde passend zum Motto Frühstück ausgesucht, was ich eine nette Idee finde.
Die Produkte finde ich auch gut gewählt, eine massentaugliche Mischung ;).
Besonders gut gefällt mir die Marmelade (eigentlich Fruchtaufstrich), da ich nie Marmelade kaufe (mache ich ja immer selbst), hätte ich sie nie probiert. Die Sorte klingt aber sehr lecker.
Über die Brotaufstriche freue ich mich auch, immer gut mal eine Alternative daheim zu haben und ich finde es gut sich mal für umme durch zwei Sorten zu testen (die letzte gekaufte war nur Mittelmaß).
Ich bin auch gespannt auf die Nuss-Nugat-Creme. Gekauft hätten wir sie nicht, da uns nur noch fairtrade Nuss-Nugat-Creme ins Haus kommt und das ist diese leider nicht (sehr schade, Alnatura). Eine sehr leckere Nuss-Nugat-Creme, die fairtrade ist, gibt es übrigens von Gepa mit dem Namen Bio-Cocoba.
Der Tee wird sicherlich getrunken, gekauft hätten wir ihn nicht, da wir unsere Standardsorten haben und wir offenen Tee bevorzugen.
Auf den Saft bin ich gespannt. Auch diesen hätten wir nicht gekauft, mir wäre der Preis zu hoch (1,95 €) und wir trinken auch keine fertig gemischten Säfte. Gerade deshalb freue ich mich aber auf's Probieren!
Tja, die Müslis… mir hätte ja eine Sorte gereicht. Und gerade das große Beeren-Müsli findet bei mir gar keinen Anklang. Es sind nämlich Beerchen und am schlimmsten Rosinen enthalten. Für mich der Horror! Außerdem mag ich die Haferflocken nicht, die sich dann mit der Milch zu einem schönen Brei vermengen. Bäh! Ich mag es lieber knusprig wie bei dem Schokomüsli. Beide wären nicht in unseren Einkaufswagen gewandert, da ich unser Müsli selber mache.
Zuletzt das Pröbchen Honig: das hätte es für mich nicht gebraucht. Ich verstehe, dass es zum Frühstückskonzept passt, aber ich finde die kleinen Gläschen Verschwendung und ich finde man sollte auch lieber Honig aus der Region kaufen (den es ja zu zuhauf in Deutschland gibt!) und der von Alnatura ist nicht aus Deutschland (der in dem Gläschen nicht mal aus der EU).
Alles in allem gefällt mir die Box recht gut. Bis auf das Beeren-Müsli werde ich auch alles selbst verzehren ;). Nur weil wir die meisten Produkte nicht selbst gekauft hätten, heißt das trotzdem das ich sie gerne probiere. Für 5 Euro gab es diesmal Produkte im Gegenwert von 17,45 Euro und bis auf den Honig waren auch alles Originalgrößen.
Ich freue mich auf die nächste Box und hoffe, dass sie ganz unter dem Stern von Weihnachten steht ;).
PS: Ich habe diese Box aus eigener Überzeugung und mit meinem eigenen Geld gekauft.
Today I picked up my dm Leckerbissen box.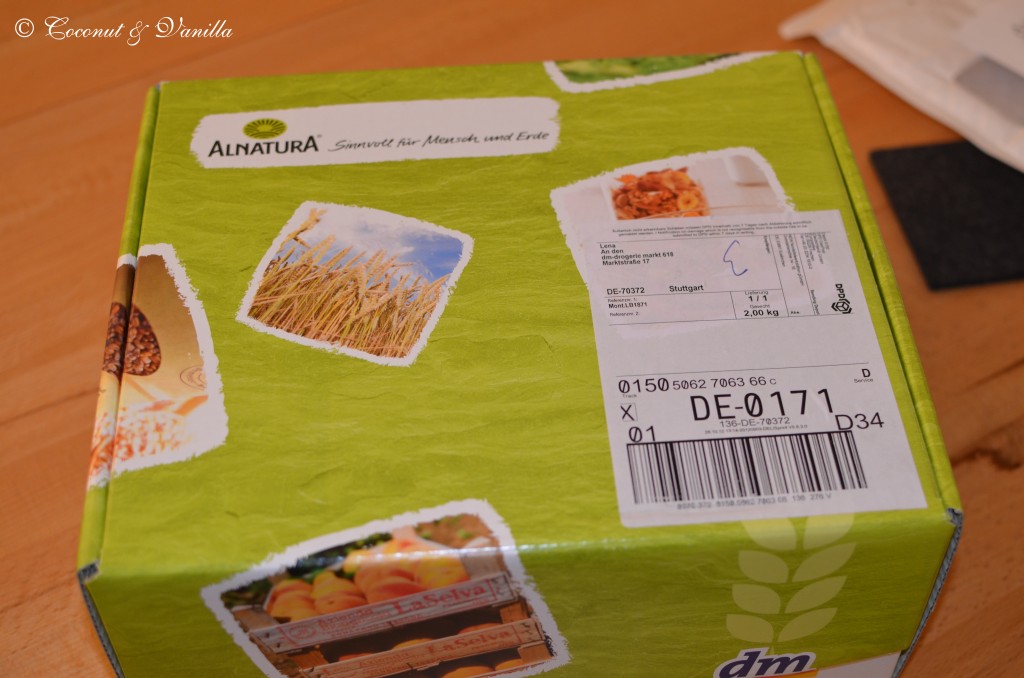 Some of you might ask what this is and why someone needs to have it. A while ago you could order a subscription of these boxes at dm (a German drugstore chain). They were limited to 2500 and after a short time out of stock. One subscription lasts 3 months, so you get 3 boxes.
For 5 Euro per box you get a selection of Alnatura (a German whole food chain) products.
As we buy regularly at Alnatura and I'm always interested in different products, but mostly I'm not buying them (benefit, price, etc), I thought 5 Euro were a good investment.
I was quite surprised as I picked up the box today, as it was quite heavy. Luckily no five milk cartons were in there ;).
In my box was: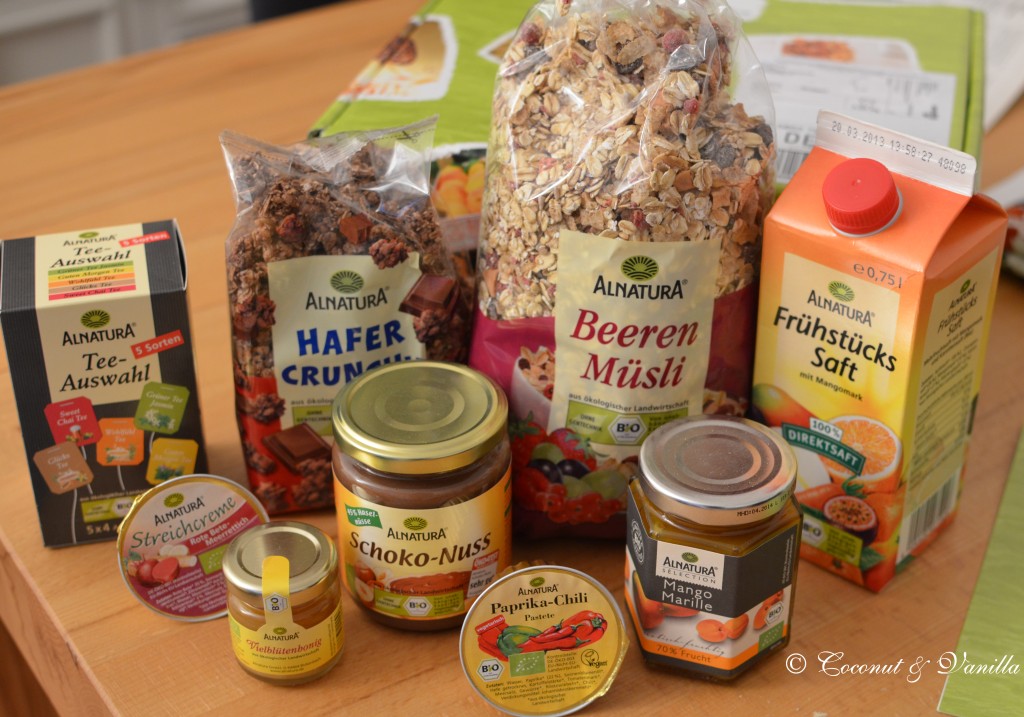 A selection of teas, two different granolas, a mix of juices, one jam (mango-apricot), a hazelnut-praline-spread, a small sample of honey and two spreads (beetroot-horseradish and bell pepper-chili).
These products were selected for the theme breakfast, which I found a nice idea.
The products are a good choice, suitable for the masses.
I do like the jam, since I never buy jam (I always make our own), I would have never tasted it. Mango with apricots sounds delicious.
I'm also happy about the spreads, since it's always good to have some options and of course it's better to taste them for less money (the last spread we bought was just mediocre).
I'm looking forward to the hazelnut-praline-spread. I wouldn't have bought it, since we only buy fair trade ones anymore. Unfortunately this one is not fair trade (shame on you, Alnatura).There's a very good fair trade hazelnut-praline-spread by Gepa named Bio-Cocoba, by the way.
We will drink the tea for sure, although we wouldn't buy it, since we have our standard varieties and we like to drink loose tea.
I'm also looking forward to the juice (a mix of apple, orange, carrot, passion fruit and mango), which we also wouldn't have bought, since it's quite expensive (1,95€) and we don't drink mixed juices. But exactly because of that I'm delighted to taste it.
So the granolas… one variety would have been enough for me. And especially the large package with the berries is a total no-go for me, because there are berries and most horrifying raisins in there! Moreover I don't like the rolled oats in there, which turn into mush mixed with milk. Yuck! I prefer it crispy and crunchy like the chocolate granola. We wouldn't have bought them, since I make our granolas myself.
Finally the small honey sample: this is unnecessary for me. I understand that it suits the breakfast theme, but in my opinion those little glasses are a waste. Moreover we all should buy local honey (which we have a lot in Germany) and the honey from Alnatura is not from here (this one is not even from the EU).
All things considered, I like the box very much. Except for the berry granola, I will consume all the products ;). Just because I wouldn't have bought most of the products, doesn't mean I wouldn't love to taste them. For 5 Euro you get products worth17,45 Euros and except for the honey all were original sizes.
I'm looking forward to the next box and I hope it will be all about Christmas ;).
PS: I bought this box out of conviction and with my own money.