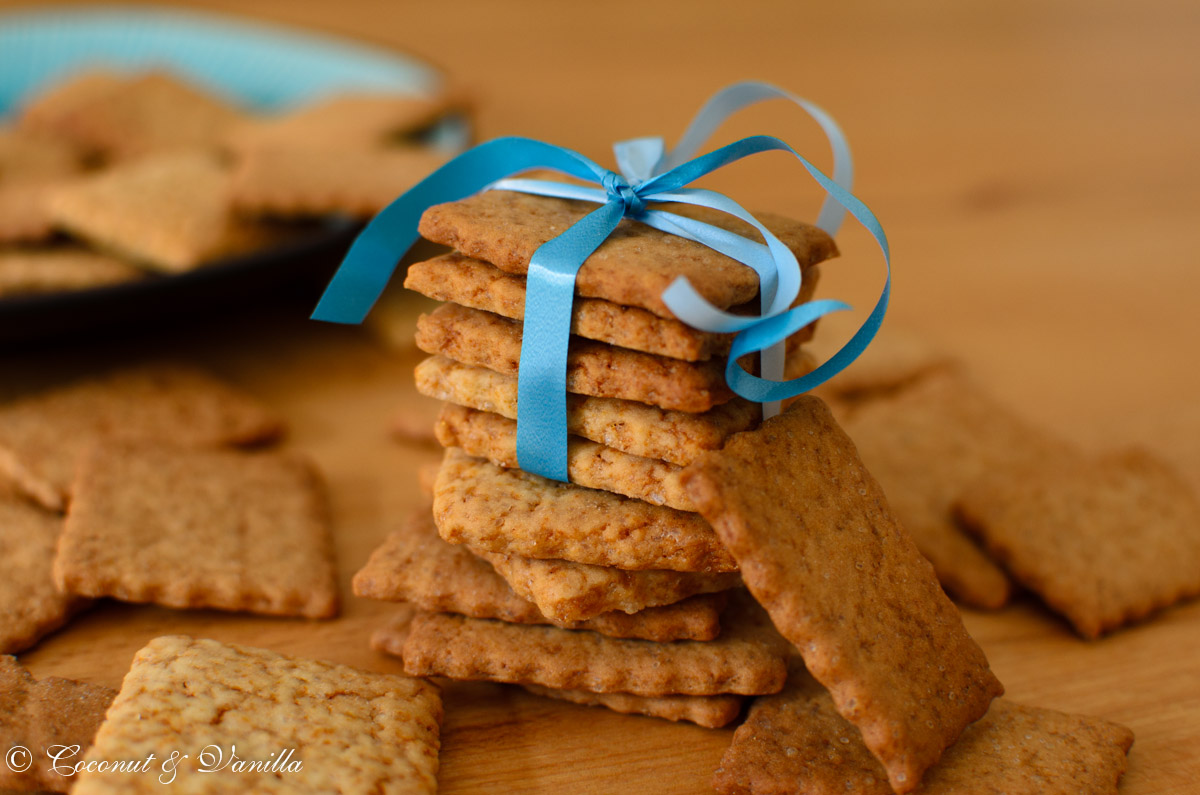 Graham Cracker brauche ich immer dann, wenn ich Käsekuchen backe. Eigentlich Cheesecake. Denn deutschen Käsekuchen mag ich nicht. Das amerikanische Pendant ist um ein vielfaches leichter und wie ich finde auch leckerer. Das liegt auch am Boden, der besteht im Original meist aus Graham Cracker. Das wiederum sind keine Cracker, wie wir sie kennen, sondern ganz einfach Kekse, die man in USA überall kaufen kann. Hier natürlich nicht. War ja klar.
Ich habe nun schon oft Rezepte gesehen, in denen diese Graham Cracker einfach durch andere ersetzt werden. Ich habe es auch schon selbst ausprobiert, aber die Ergebnisse waren mehr als enttäuschend, vor allem wenn man weiß wie es schmecken kann! Butterkekse und Co sind einfach nicht für den perfekten Cheesecakeboden geeignet, nein es muss der Graham Cracker sein!
Deshalb backe ich schon seit längerem meine eigenen Graham Cracker und friere diese auf Vorrat ein. Sie halten sich sicherlich auch sehr lange in einer Blechdose, aber dann besteht die Gefahr, dass sie vor dem nächsten Cheesecake alle aufgefuttert wären. Denn wenn man nämlich keinen Cheesecake mag, kann man diese wunderbaren Kekse auch einfach Zwischendurch knabbern, sie sind nämlich unheimlich lecker!
Da meine Kekse optisch nicht viel hermachen müssen, rolle ich den Teig aus und rädele dann mit dem Teigrädchen rechteckige Kekse aus, die in etwa gleichgroß sind. So hat man auch keine Probleme mit Teigresten!
Und demnächst versorge ich Euch dann mit dem ultimativen Cheesecake Rezept, das wartet nämlich schon seit Herbst auf seinen großen Auftritt!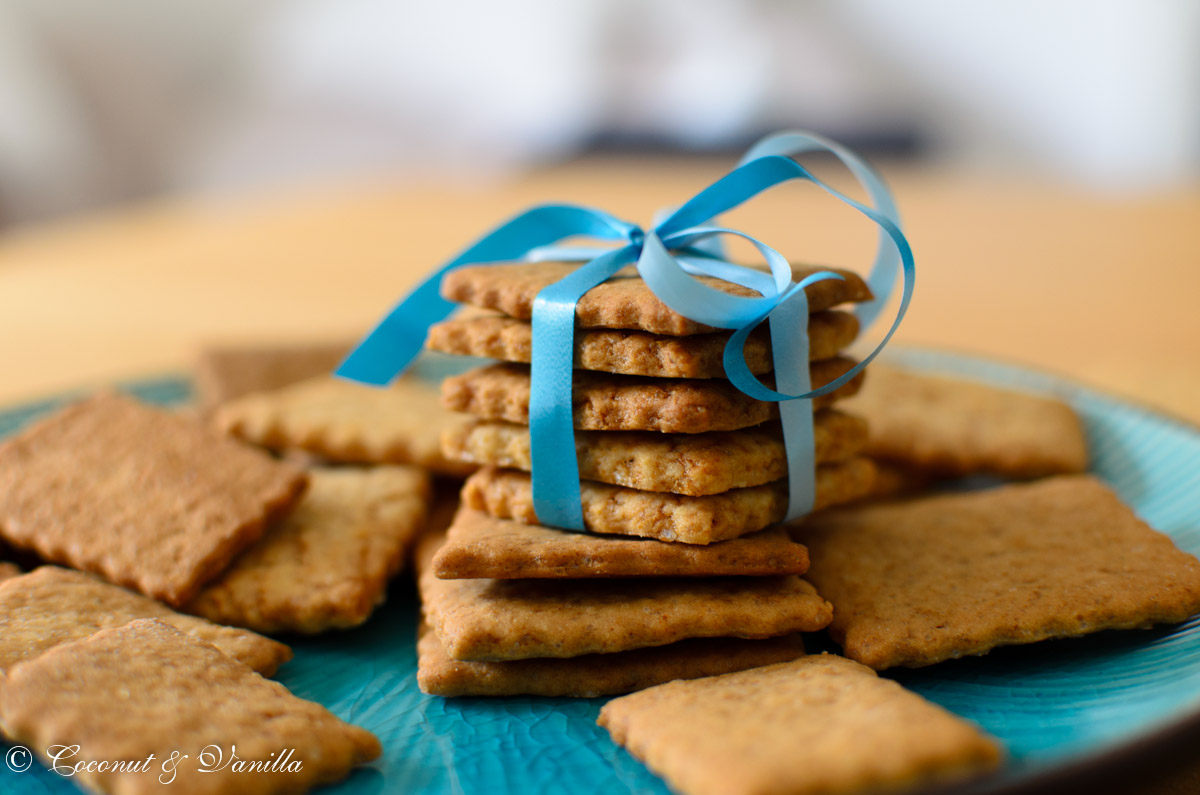 Vor zwei Jahren: Pasta mit Pilzen
Vor drei Jahren: Selbstgemachte Gemüsebouillonpaste
Außerdem: glutenfreie Graham Cracker
Graham Cracker
nach einem Rezept von Smitten Kitchen
ergibt 2-3 Bleche
Zutaten:
375 g Weizenmehl (wer mag kann problemlos 100-150 g durch Weizenvollkornmehl ersetzen)
175 g brauner Zucker
1 TL Natron
1 Prise Salz
100 g kalte Butter, gewürfelt
115 g Honig
75 ml Vollmilch
2 EL Vanilleextrakt
optional: Zimtzucker zum Bestreuen der ungebackenen Kekse (lasse ich immer weg, da ich meine hauptsächlich für Cheesecake benutze und der zusätzliche Zucker dafür unnötig ist)
Mehl, Zucker, Natron und Salz in einer großen Schüssel mischen. Die Butter dazugeben und in der Küchenmaschine oder mit dem Handrührer vermixen, bis sich die Butter verteilt hat und eine Konsistenz von grobem Sand erreicht ist.
In einer kleinen Schüssel Honig, Milch und Vanilleextrakt verrühren und zu den restlichen Zutaten geben. Alles verrühren. Der Teig ist eher klebrig. Den Teig zu einem Rechteck formen, mit etwas Mehl bestäuben und in Frischhaltefolie wickeln. 2 Stunden kalt stellen (oder über Nacht).
Den Ofen auf 160° C (Umluft) vorheizen.
Die Hälfte des Teigs auf einer bemehlten Arbeitsfläche 3 mm dick ausrollen. Mit einem Teigrädchen in gleichgroße Rechtecke schneiden (meine sind 3 x 4 cm groß). Wer mag kann sie auch mit Plätzchenausstechern ausstechen, aber mit dem Teigrad hat man keine Reste.
Mit der zweiten Hälfte ebenso verfahren. Die Rest verkneten und auch ausrädeln.
Auf Blechen mit Backpapier lege. Etwas Abstand lassen, die Kekse gehen noch etwas auf. Wer noch Zimtzucker auf den Keksen mag, bestreut sie jetzt damit.
15-20 Minuten backen.
Auf Kuchengitter transferieren und auskühlen lassen.
Die abgekühlten Kekse vakuumiere ich in einer großen Tüte und friere sie ein. So habe ich immer ausreichend Vorrat für Cheesecakes. Zum Knabbern einfach in Blechdosen aufbewahren.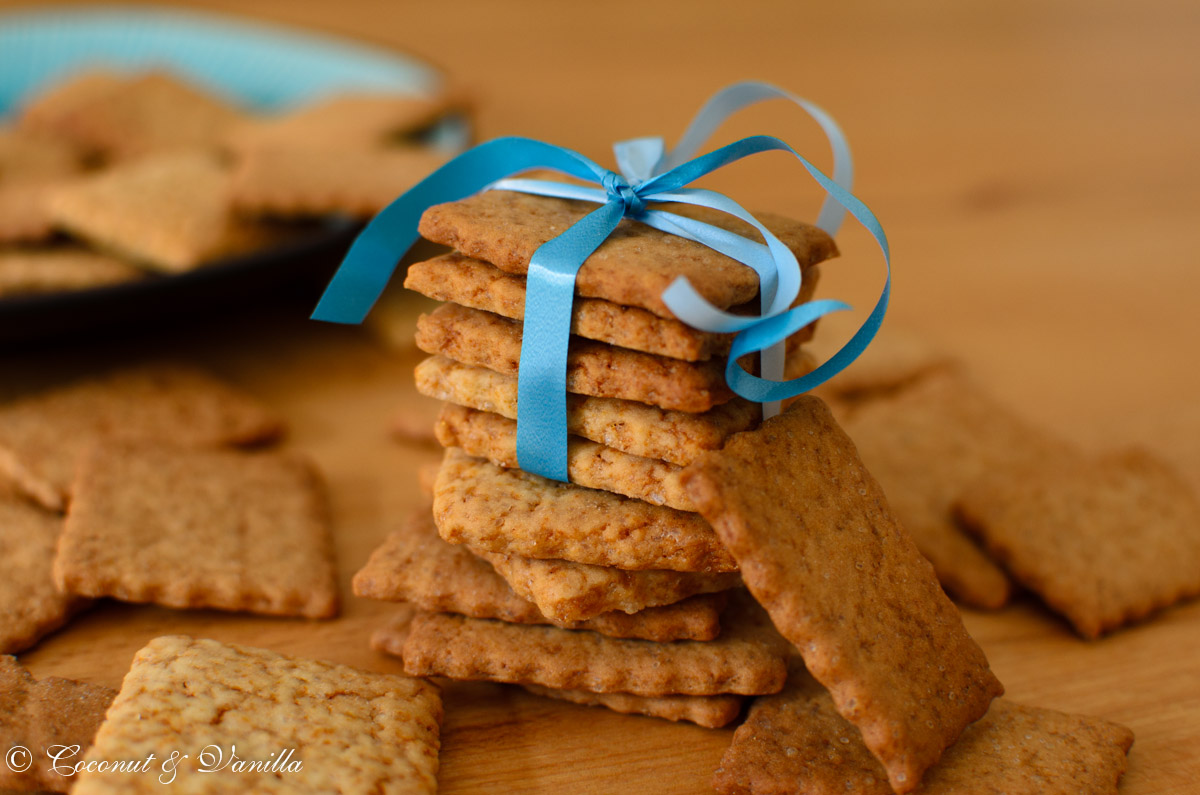 I'm in need of graham crackers, when I want to bake some cheesecake. Not any cheesecake, the American kind of. I just can't stand the German ones. The American cheesecake is so much lighter and as I think much more scrumptious! This however has to do with the bottom (amongst other points), which consists mainly of graham crackers. Which are no cracker at all, but cookies, which you can buy everywhere in the US. Not in Germany, of course. Clearly, sigh.
I often spotted recipes using other cookies than graham crackers for the cheesecake bottom and I've already tried different kinds, but the outcome was more than disappointing, moreover if you know how they could taste! Butter biscuits and co are just not suitable for the perfect cheesecake crust, it need to be graham crackers!
Because of that I'm baking my own graham crackers and freeze them, so I always have some handy. They surely keep well in a tin box, too, but then I'd to make sure they won't be eaten, before making the next cheesecake! So if you don't like cheesecakes, there's no need to refrain from these cookies, since they are perfect for a nibble in between and just delicious on their own!
Since my graham crackers don't need to be beautiful, I just roll out the dough and cut it with a pastry wheel in equal sized squares. Thus, you won't have any leftovers of dough, too.
I'm providing the ultimate cheesecake recipe using these graham cracker, soon, so stay tuned!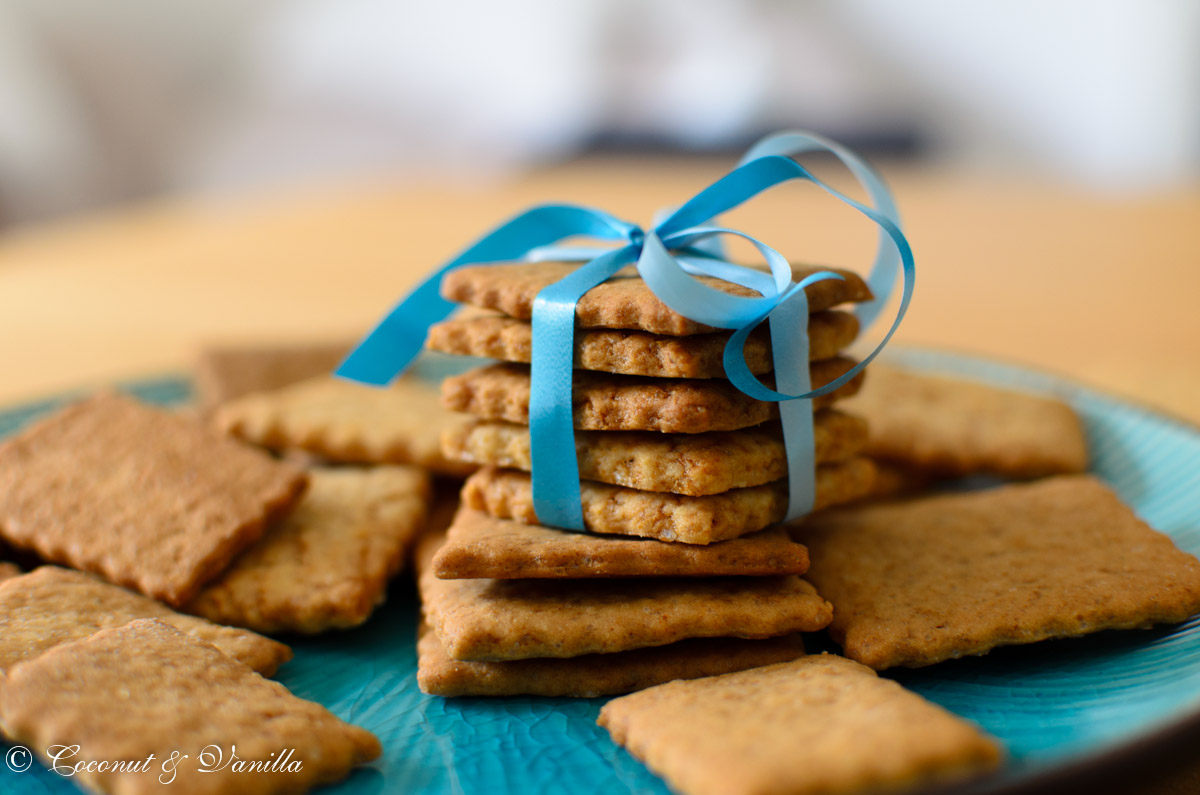 Two years ago: mushroom pasta
Three years ago: homemade bouillon paste
Moreover: gluten-free graham cracker
Graham Cracker
adapted from Smitten Kitchen
yields: 2 – 3 baking sheets
Ingredients:
375 g flour (you can replace 100-150 g with whole wheat flour, if you like)
175 g brown sugar
1 tsp baking soda
1 pinch of salt
100 g cold butter, diced
115 g honey
75 ml whole milk
2 Tbsp vanilla extract
optional: cinnamon sugar to top the unbaked cookies (I skip that, since I mostly use the cracker for cheesecakes and therefore the additional sugar is not needed)
Mix flour, sugar, baking soda and salt in a large bowl. Add the butter and mix (best in a food processor, otherwise use your hand mixer or stand mixer), until the butter is evenly distributed and the dough has the texture of coarse sand.
Mix honey, milk and vanilla extract in a small bowl, add to the dough and mix. The dough will be on the sticky side. Shape a rectangle, dust with some flour and wrap in plastic foil. Refrigerate for 2 hours or over night.
Preheat the oven to 160° C.
Roll out the dough 3 mm thick. With the help of a pastry wheel cut it into equal sized squares (mine are about 3 x 4 cm). You can also use pastry cutters, if you like, but you won't end up with no left over dough using a pastry wheel.
Place the cookies with some space between them on baking sheets lined with parchment paper. If you want to top them with cinnamon sugar, now it's the time to do that!
Bake for 15-20 minutes.
Transfer the cookies to cake racks and let cool.
I evacuate the cookies in a large bag and freeze them, so I always have some cookies for cheesecake handy. For nibbling keep them in a tin box.