Das sind nicht die ersten Lebkuchen die ich fabriziert habe. Aber diese hier sind gaaanz anders, als die die ich hier gebloggt habe. Die waren der Typ Nürnberger Lebkuchen, diese hier sind mehr der Typ "Herzen, Sterne Brezen", aber saftiger und nicht so mächtig. Wahrscheinlich gibt es so ähnliche auch zu kaufen, ich weiß nur nicht wie sie heißen oder von welcher Firma sie sind. Ich achte nicht so auf dieses Gebäck im Supermarkt.
Aber ich bezweifle auch, dass man so leckere Lebkuchen kaufen kann. Ich war erst skeptisch, da flache Lebkuchen häufig trocken und hart sind, aber nicht diese hier. Die Schokolade oben drauf ist ein Muss und macht die Lebkuchen noch besser. Diese Kekse sind definitiv eine meiner Favoriten dieses Jahr. Deshalb habe ich sie auch Julia in ihr Post aus meiner Küche-Päckchen eingepackt. Neben selbstgemachtem Eierlikör, gab es für sie eine Plätzchenauswahl. Nach und nach werde ich Euch einige davon vorstellen.
Der Teig ergibt übrigens eine ganze Menge an Lebkuchen, obwohl ich keine Zweifel habe, dass sie bis Weihnachten aufgegessen sind.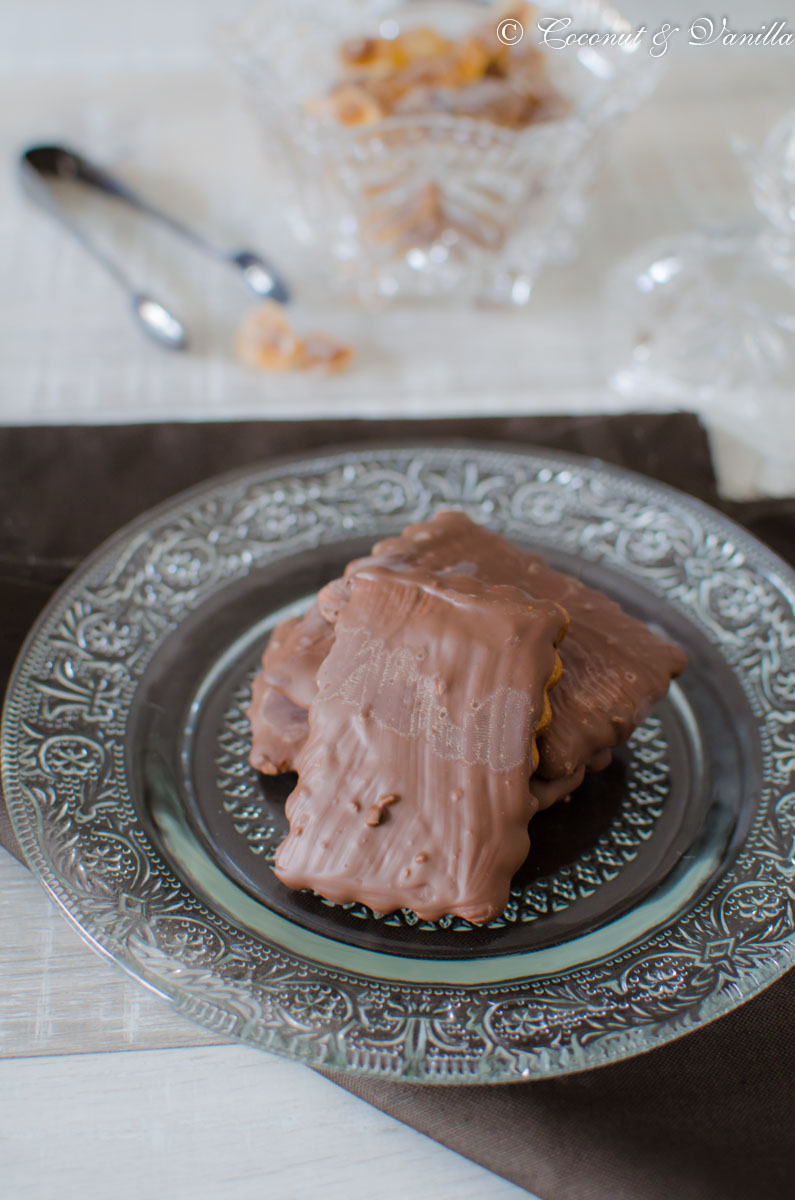 Vor einem Jahr: Schokoladenkekse mit Fleur de Sel
Vor zwei Jahren: Weihnachtsplätzchen
Lebkuchen mit Schokoladenüberzug
nach einem Rezept von Plaetzchen.org
Zutaten:
250 g Honig
250 g brauner Zucker
100 g Butter
1/2 TL Salz
15 g Lebkuchengewürz
1 TL Zitronenextrakt
500 g Mehl
20 g Kakao
12 g Pottasche
2 Eier
1 EL brauner Rum
200 g Kuvertüre (Vollmilch, Zartbitter oder gemischt)
Honig mit Zucker und Butter in einem Topf aufkochen und unter Rühren erhitzen bis sich der Zucker aufgelöst hat. Salz und das Lebkuchengewürz unterrühren. Die Masse abkühlen lassen. Lässt man sie jedoch komplett abkühlen wird sie sehr fest, dann einfach nochmal leicht erwärmen.
Mehl, Kakao und Pottasche mischen, die Zuckermischung, Zitronenextrakt, Rum und die Eier dazugeben und zu einem Teig verkneten. Abdeckt mindestens über Nacht, besser eine Woche lagern (ich hab ihn eine Woche auf den Balkon gestellt).
Den Ofen auf 180° C vorheizen.
Den Teig vor dem Weiterverarbeiten kurz durchkneten, dann 0,5 cm dick ausrollen und ausstechen. Auf Bleche mit Backpapier legen und 10-15 Minuten, je nach Größe, backen. Auf Kuchengitter zum Abkühlen legen.
Die Kuvertüre hacken und im Wasserbad schmelzen.
Die Lebkuchen nach dem Abkühlen mit der Kuvertüre bestreichen. Wenn die Kuvertüre getrocknet ist, in Blechdosen aufbewahren.
These are not the first gingerbread cookies I made. But these are so very different to those. Those were more than a cookie, like the traditional famous Lebkuchen vom Nuremberg. This time they are like a lighter gingerbread cookie, but a mellow one. Probably there are cookies like this to buy, but I don't know there name (or from which brand). I just don't take notice of things like that in the supermarket.
But I doubt it, that you can buy such delicious gingerbread cookies. First I was a bit sceptical, since flat gingerbread cookies tend to be hard and dry. But not these! The chocolate coating is a must and makes the gingerbread even better. These cookies are one of my favourites this season.
The dough makes a lot of cookies, but I have no doubt, that they are eaten since Christmas.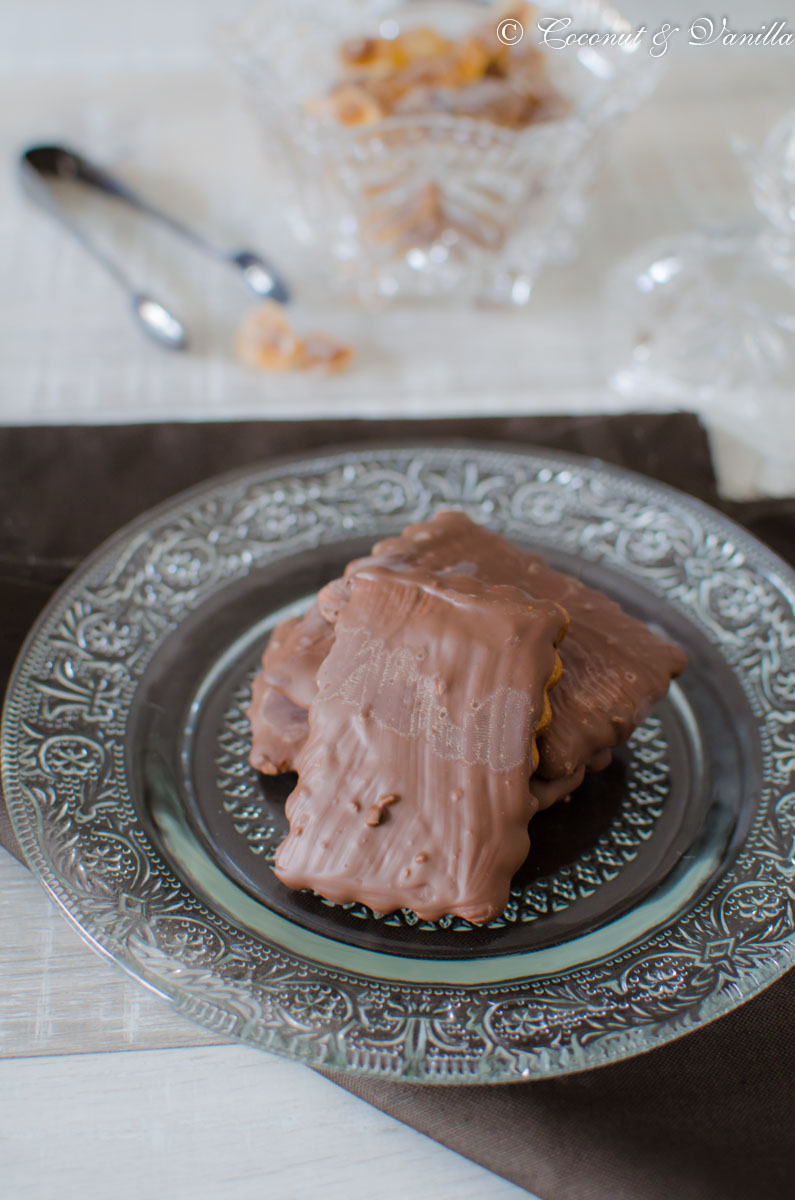 One year ago: chocolate cookies with fleur de sel
Two years ago: christmas cookies
Gingerbread with Chocolate Coating
adapted from Plaetzchen.org
Ingredients:
250 g honey
250 g brown sugar
100 g butter
1/2 tsp salt
15 g gingerbread spice
1 tsp lemon extract
500 g wheat flour
20 g cocoa
12 g potassium carbonate
2 eggs
1 Tbsp brown rum
200 g white or semisweet chocolate (or a mix of both)
Heat the honey with the sugar and butter in a saucepan and bring to the boil. Heat until the sugar has dissolved. Stir in the salt and the gingerbread spice. Let it cool. If you let it cool entirely it will get very hard, just heat it slightly again.
Mix the flour with the cocoa and the potassium carbonate. Add the sugar mixture, as well as the lemon extract, rum and the eggs and knead, until everything is incorporated. Store covered in a cool place overnight, better for one week (I stored in on our balcony for one week).
Preheat the oven to 180° C.
Knead the dough shortly before going on with the recipe. Roll it out 5 cm thick and cut out shapes with cookie cutters. Place on baking sheets lined with parchment paper. Bake for 10-15 minutes depending on the size of the cookies. Transfer to cooling racks.
Chop the chocolate and melt in a water bath.
Brush the cookies with the melted chocolate. When the chocolate is dry, store in tin cans.