Rote Beete haben wir auf unserem Acker ja auch schon zur Genüge geerntet. Wir mögen Rote Beete, aber wie mit vielem Gemüse weiß man irgendwann einfach nicht mehr was man damit anfangen soll.
Zum Glück bin ich dann auf Petra's Blogeintrag gestoßen. Rote Beete Gnocchi! Als großem Fan von Gnocchi musste ich die natürlich machen. Ein bisschen Überwindung hat's schon gekostet. Wenn man aber die Rote Beete einen Tag (oder ein paar) vorher gart, ist der Aufwand nicht mehr groß. Die meiste Zeit verbringt man damit die Gnocchi zu formen. Für mich ist das ein entscheidender Teil der Gnocchiherstellung, schließlich sollen Gnocchi wie Gnocchi aussehen. Ich benutze ein Gnocchi Brett um die kleinen Dinger in Form zu bringen.
Und liebe Blogleser, das G in Gnocchi wird nicht gesprochen, für die die es immer noch nicht wissen, mir damit aber ziemlich auf den Keks gehen. Ich fange hier aber dafür nicht von Bruschetta an…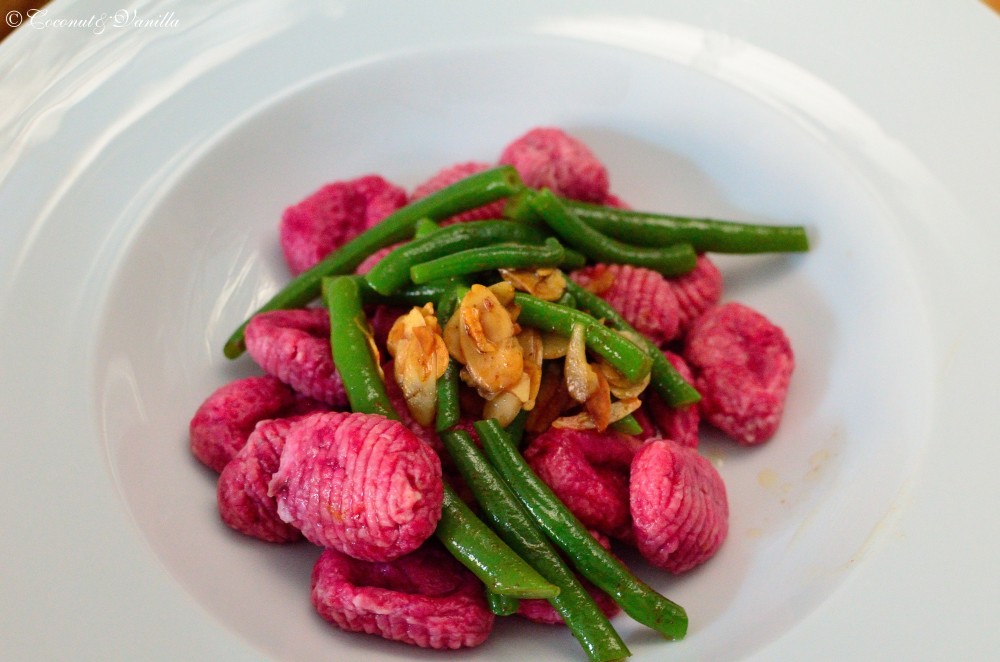 Zu Ehren von Arthur's Tochter 3. Geburtstag habe ich (mit tatkräftiger Unterstützung des Heimwerker Freunds) ein Video über die Herstellung von Rote Beete Gnocchis erstellt.
Herzlichen Glückwunsch, Astrid! Mach weiter so! Ich wünsche Dir viele tolle Beiträge zu deinem Bloggergeburtstag und weiterhin frohes Bloggen!
Nochmal zurück zu den roten Gnocchi, die leichter herzustellen sind als ihre Kartoffelschwestern. Die Gnocchi sind leichter, da sie hauptsächlich Ricotta enthalten, der Rote Beete Geschmack schimmert subtil durch. Zum Sattwerden benötigt man eine größere Portion als von den normalen Kartoffelgnocchi. Ich habe sie mit grünen Bohnen in zweifacher (zu dreifacher hat es leider nicht gereicht, aber hätte ich noch Haselnussblättchen gehabt, wäre es eine dreifache geworden) Nussbutter serviert, was perfekt harmoniert hat. Genauso gut könnte ich mir aber eine Gorgonzolasauce dazu vorstellen. Die grünen Bohnen sind natürlich als Beilage für viele Gerichte vorstellbar, es müssen keine Gnocchi sein.
How to make Beetroot Gnocchi from Coconut & Vanilla on Vimeo.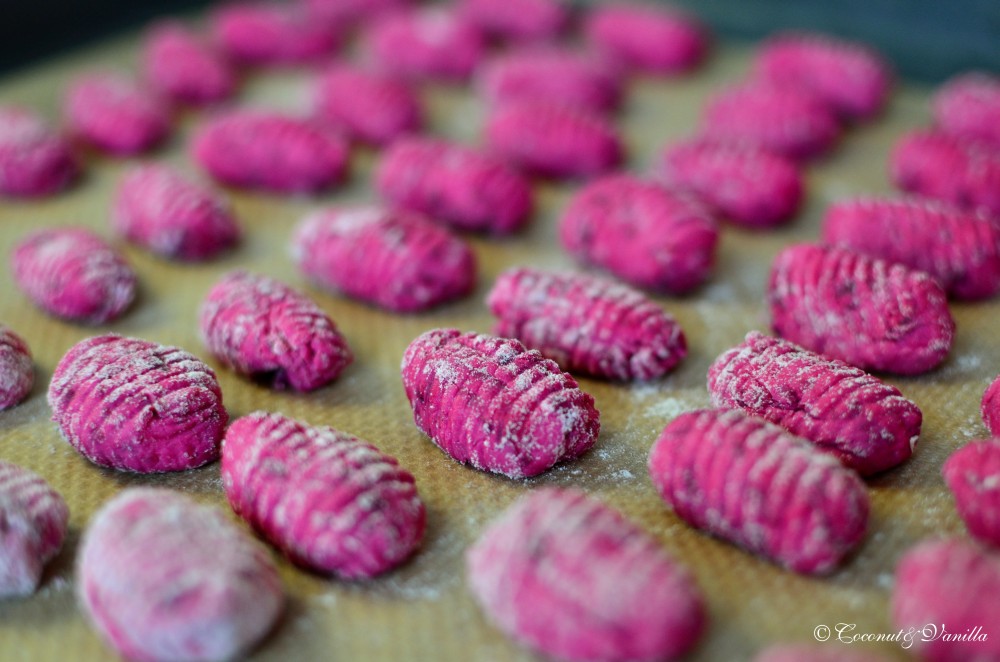 Vor zwei Jahren: Indisches Mandelhühnchen
Rote Beete Gnocchi
leicht angepasst nach dem Rezept von Chili & Ciabatta
ergibt ca. 160 Gnocchi (für 4 als Hauptspeise mit entsprechend Sauce oder etwas Gemüse)
Hinweis: die restlichen Gnocchi kann man auf einem Blech mit Backpapier einfrieren, dann absammeln und in Tüten verpackt einfrieren
Zutaten:
2 mittlere Rote Beete (roh) oder 200 g gegarte Rote Beete (geschält)

500 g Ricotta

1 Ei

75 g Parmesan, frisch gerieben

1 1/4 TL Salz

Pfeffer

140 g Mehl für den Teig

75 g Mehl zum Wälzen
Verwendet man rohe Rote Beete, die Beete in Alufolie einwickeln und bei 200° C 1 Stunde im Ofen garen. Rote Beete abkühlen lassen. Die Schale lässt sich nun einfach lösen. Mit einem kleinen Messer kann man sie abziehen (wer keine roten Finger möchte, sollte Handschuhe anziehen).
Etwa 200 g Rote Beete fein reiben. Mit Ricotta, Ei, Parmesan, Salz, ordentlich Pfeffer verrühren.  Das Mehl unterrühren. (Die Masse kann bis hierhin vorbereitet und über Nacht im Kühlschrank aufbewahrt werden.)
Für die ganze Menge habe ich 3 Backbleche zum Auslegen benötigt. Ich habe nachher die Hälfte gekocht (für 2 Personen) und die andere Hälfte eingefroren.
Die Backbleche mit Backpapier auslegen.
In einen tiefen Teller das restliche Mehl geben. Die folgende Vorgehensweise seht ihr sehr gut in meinem Video. Mit Hilfe von 2 Teelöffeln kleine Nocken aus dem Teig stechen und in die Schüssel mit dem Mehl geben. Die Nocken im Mehl wälzen, das Mehl abschütteln (ich werfe sie dafür in meinen Händen hin und her), dann kleine Zylinder formen. Über ein Gnocchibrett rollen. Wer keins hat kann sie über die Zinken einer Gabel rollen oder sie mit der Gabel einfach etwas eindrücken. Gnocchi auf dem Blech ablegen. (Geformte Gnocchi können 6 Stunden im Voraus zubereitet werden, im Kühlschrank kalt stellen.)
Einen großen Topf mit Wasser zum Kochen bringen. Salz zugeben. Macht man die Bohnen als Beilage, erst die Bohnen blanchieren.
Die Gnocchi in den Topf geben, das Wasser sollte danach nur noch simmern. Wenn sie an die Oberfläche steigen, noch kurz im Wasser lassen (etwa 1 Minute), dann mit einem Sieblöffel entnehmen und auf Teller verteilen.
Die Bohnen mit der Nussbutter (oder eine andere Sauce) auf den Gnocchi verteilen.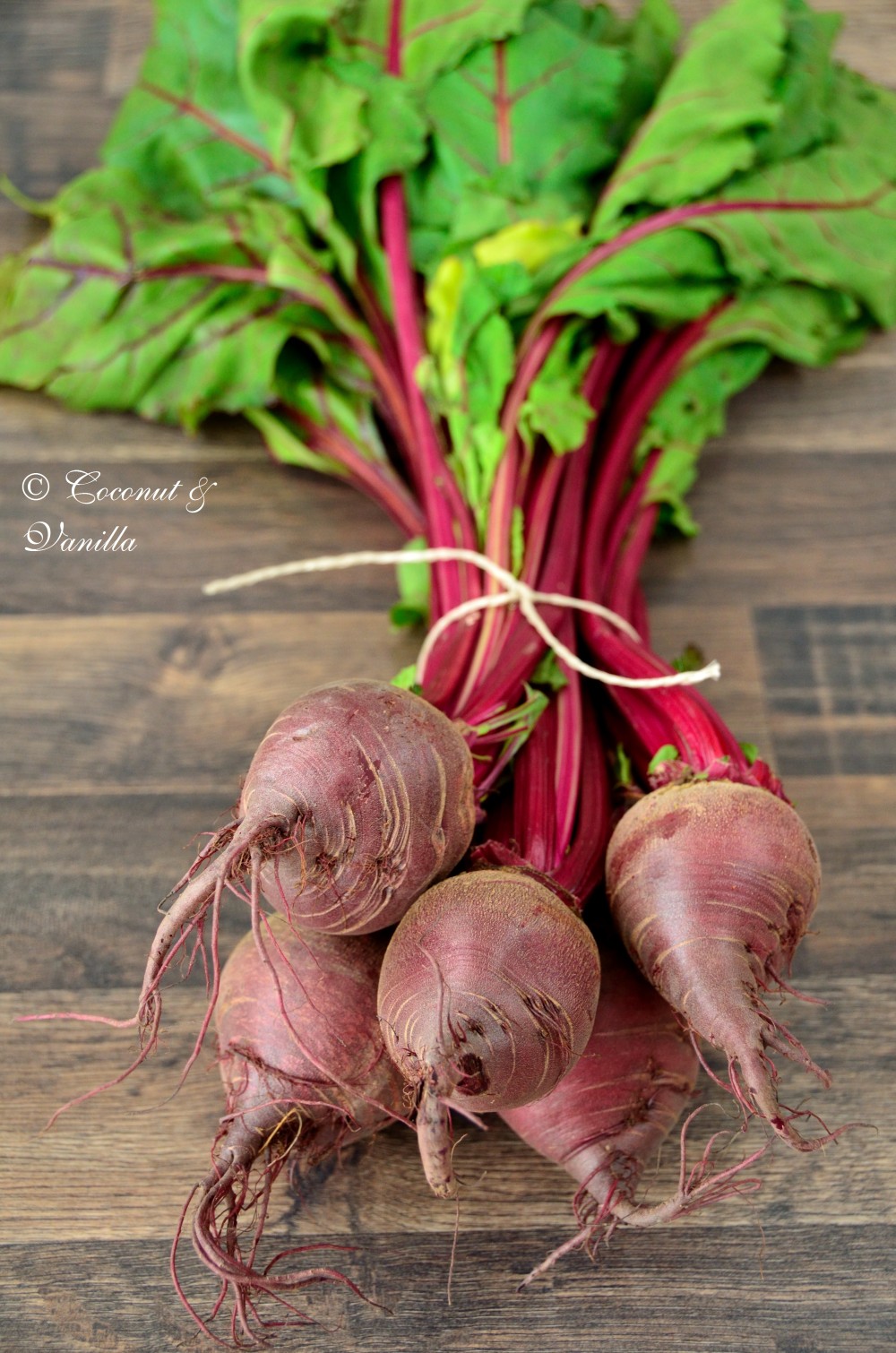 grüne Bohnen in zweifacher Nussbutter
für 2 Personen
(die Mengen sind ca. Angaben, da ich nichts gewogen habe)
Zutaten:
2 Handvoll grüne Bohnen, gewaschen und geputzt

30 g gehobelte Mandeln (wer hat ersetzt einen Teil durch Haselnussblättchen)

80 g Butter
Die Bohnen nach Belieben halbieren oder dritteln. Im kochenden Salzwasser blanchieren (ich habe das Gleiche wie für die Gnocchi genommen). Dauert um die 5 Minuten je nach Dicke und Größe. Gnocchi mit einem Schaumlöffel entnehmen, in ein Sieb geben und kurz mit kaltem Wasser abbrausen.
Mit dem folgenden habe ich begonnen als die Gnocchi im Wasser waren:
Die Mandelblättchen in einer großen Pfanne anrösten. Wenn sie anfangen zu duften und Farbe anzunehmen, die Butter dazugeben und schmelzen. Die Butter wird schnell zu Nussbutter und die Nüsse werden jetzt auch schneller braun. Aufgepasst, dass Euch nix verbrennt! Ich hab die Pfanne von der Herdplatte gezogen, die Eigenwärme der Pfanne hat ausgereicht. Die Bohnen in die Nussbutter geben und durchschwenken. Mit den Gnocchi servieren.
Die grünen Bohnen in zweifacher Nussbutter machen sich ebenso gut als Beilage zu einem anderen Gericht oder zu anderen Pastasorten oder  Polenta als vegetarischen Hauptgang.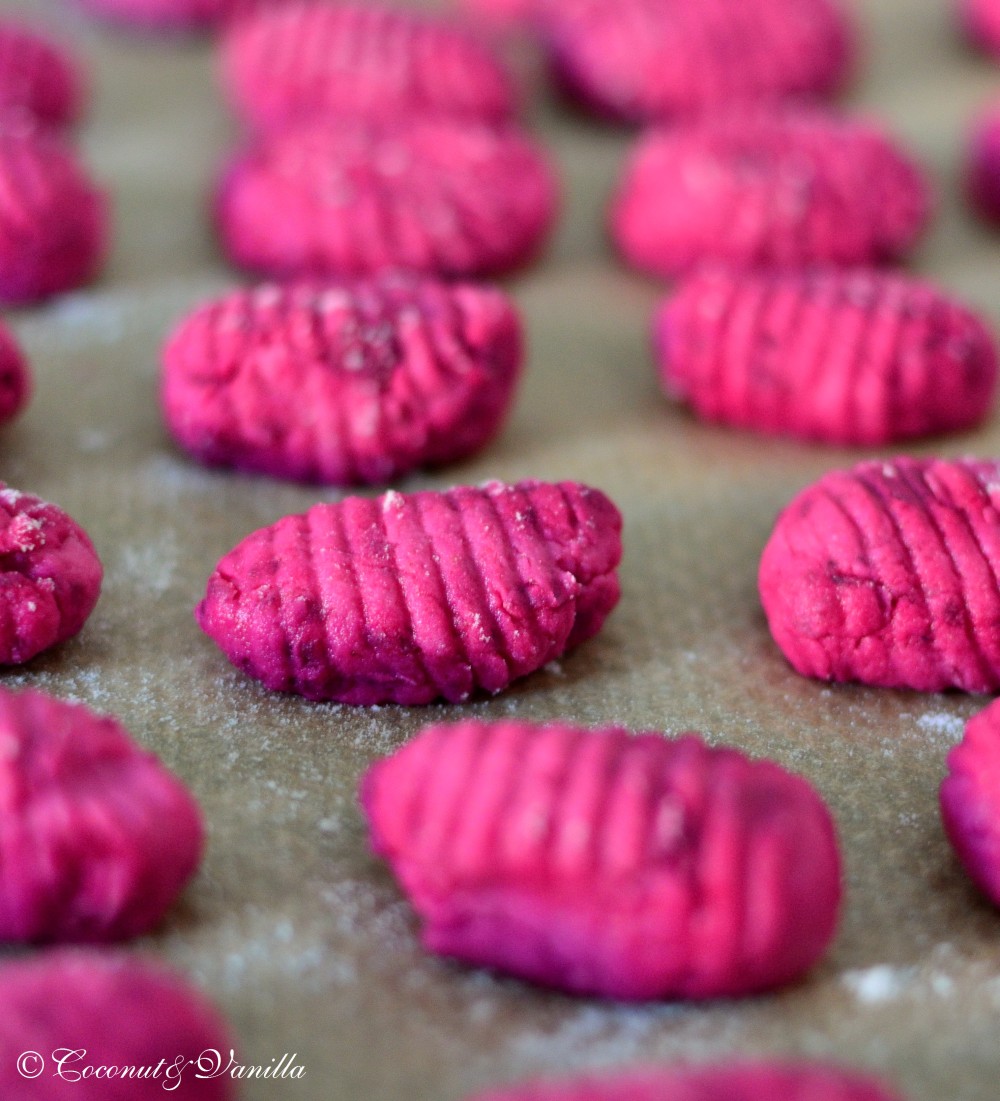 We harvested well enough beetroots from our vegetable patch, yet. We love beetroot, but as it happens with a lot of vegetables that are abundant, you don't know where to put them or what to make out of them anymore.
Luckily I stumbled upon Petra's blog entry. Beetroot gnocchi! As a huge fan of gnocchi I surely had to make them. Truly it was a bit of an effort to make them. But if you roast the beetroots one day (or several) before, the effort isn't that much anymore. It takes most of the time to shape the gnocchi. But for me that's the crucial  part of making gnocchi, since gnocchi have to look like gnocchi. For the purpose of shaping these small babies I use a Gnocchi Board.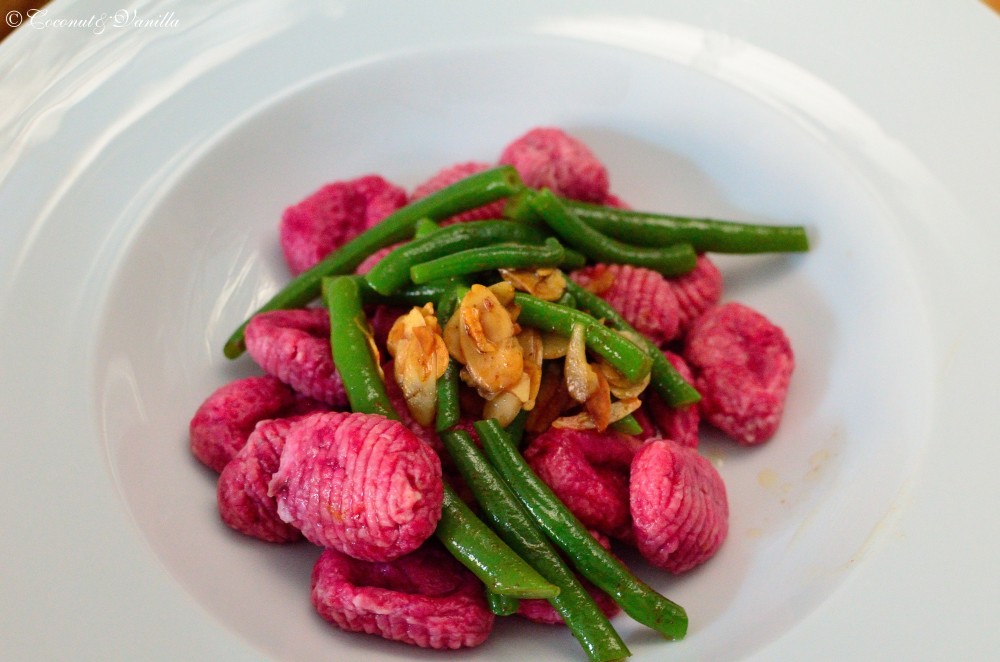 In honour of Arthur's Tochter third blog birthday I created a small video (with the help of the handyman boyfriend) about how to make (or to be more precise how to shape) beetroot gnocchi.
Happy blogging, Astrid! Keep it up! I wish you a lot of  great posts for your anniversary and more posts to come!
How to make Beetroot Gnocchi from Coconut & Vanilla on Vimeo. Once again back to the red gnocchi, which are way easier to make than their potato siblings. The gnocchi are lighter in texture, because they are mainly made of ricotta cheese, the beetroot taste shimmers slightly through.  You need a larger portion than with potato gnocchi to be full. I served them with green beans in a twofold brown nut butter with almonds slivers, which perfectly fit together. But I also imagine, that gorgonzola sauce pairs great here, too. Of course you don't have to make gnocchi to enjoy these scrumptious beans, they pair perfectly with other dishes, too.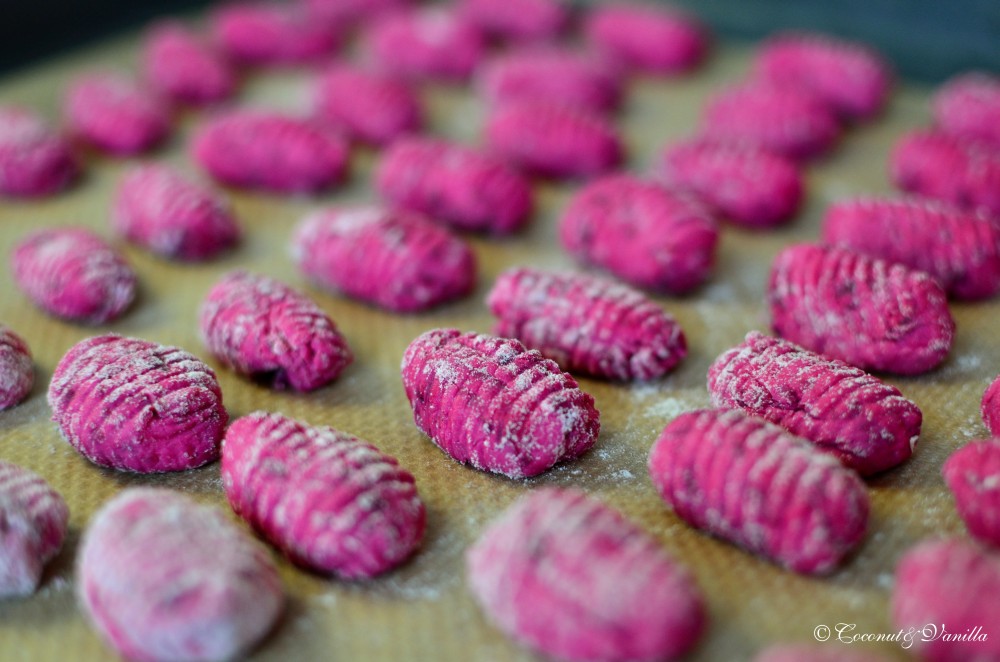 Two years ago: Indian Almond Chicken
Beetroot Gnocchi
slightly adapted from the recipe from Chili & Ciabatta
yields: about 160 gnocchi (serves 4 as a main course with a corresponding sauce or some vegetables)
Ingredients:
2 middle-sized beetroots (raw) or 200 g cooked/roasted beetroot (skin removed)

500 g ricotta

1 egg

75 g parmesan, finely grated

1 1/4 tsp salt

pepper

140 g flour for the batter

75 g flour for tossing the gnocchi
If you use raw beetroots, wrap them in aluminium foil and roast them for 1 hour at 200° C in the oven. Let the beetroots cool. The skin can now easily be removed with a small knife (if you don't want to get red handed, wear disposable gloves).
Finely grate about 200 g of the beetroots. Mix with the ricotta, egg, parmesan, salt and pepper. Fold in the flour. (The batter can be prepared to this step and stored in the fridge over night.)
For the whole amount of gnocchi I used 3 baking sheets to set them aside. I cooked half of the recipe (for 2 persons) and froze the other half.
Line the sheets with parchment paper.
Place the rest of the flour in a deep dish. You see the following way of proceeding very good in my video above. Make small dumplings using two teaspoons. Place the dumplings in the flour dish. Toss the dumplings in the flour, then cast it off again (I tossed them cautiously between my hands). Shape the dumpling into small cylinders. Roll them over a gnocchi board. If you don't own one, roll them over the prongs of a fork or just impress them with a fork. Place the gnocchi onto the baking sheets. (Shaped gnocchi can be prepared 6 hours in advance, just cool them in the fridge.)
Bring a large pot of water to the boil. Add salt. If you make the beans, blanch them first.
Add the gnocchi to the boiling water, reduce the heat, so it just simmers. When they are rising to the surface, leave them in the water for about another minute. Remove with a slotted spoon and arrange them on plates.
Serve with the beans and the brown nut butter (or some other sauce).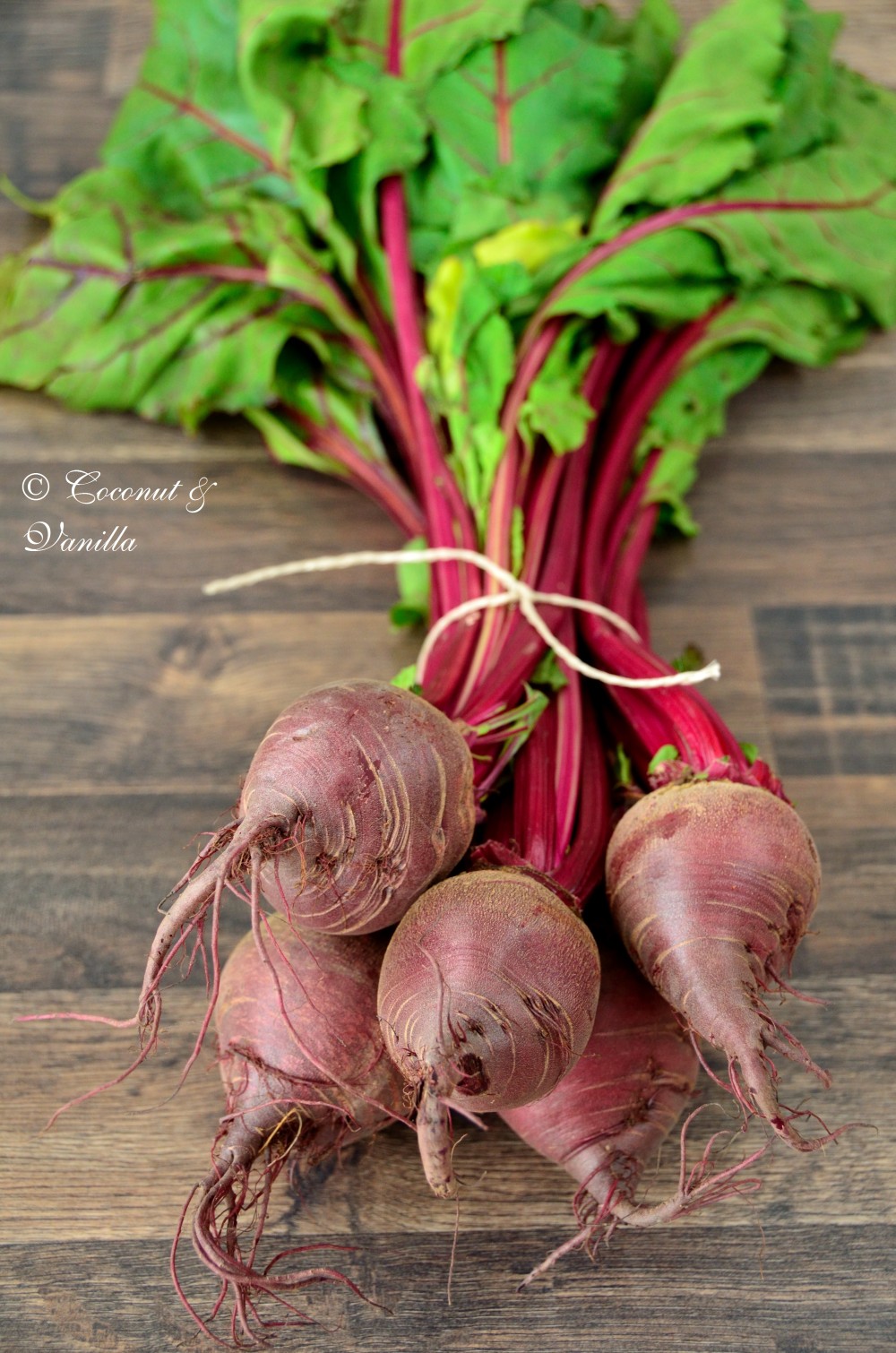 Green Beans in a twofold brown nut butter
yields: 2 servings
(the quantities are approximations, since I didn't measure them)
Ingredients:
2 handfuls of green beans, washed and trimmed

30 g slivered almonds (if you have, substitute half of them with  slivered hazelnuts)

80 g butter
Cut the green beans in halves or thirds, depending on their size. Blanch them in boiling salt water for about 5 minutes (I used the same water as for the gnocchi). Remove them with a slotted spoon to a colander and rinse them shortly under cold water.
I started with the following step after I put the gnocchi into boiling salted water:
Roast the slivered almonds in a large frying pan. When they start to smell and to take colour, add the butter and melt it. The butter turns quickly into brown butter and the nuts are also roasting quickly. Be cautious, so nothing burns! I removed the pan from the heat, since its own heat was enough. Add the beans to the butter and glaze them. Serve with the gnocchi.
The beans with the brown nut butter work also very well as a side dish or with other pasta or polenta as a vegetarian main meal.