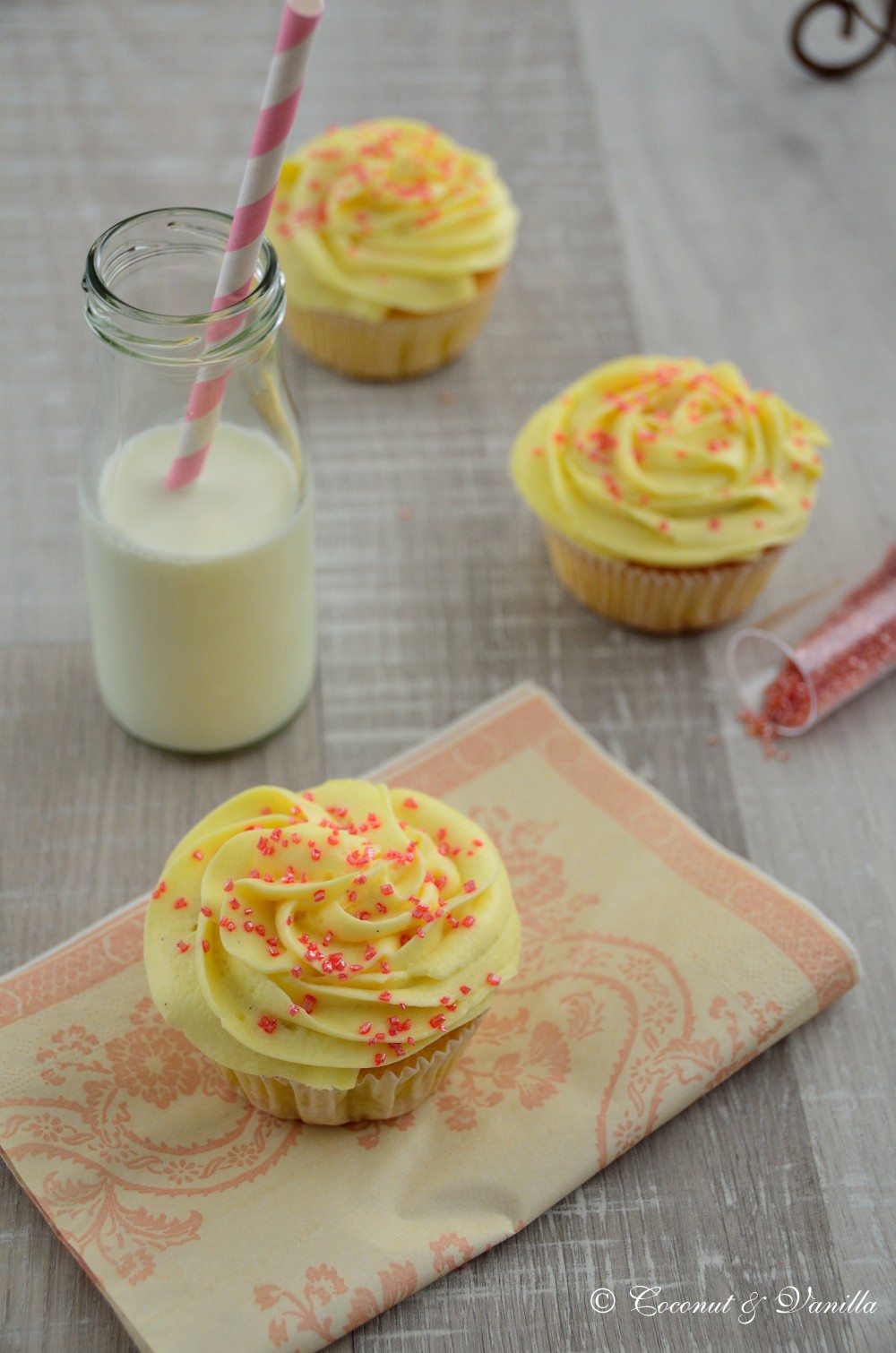 Zu Ostern gibt's bei mir die ultimative Eierlikördröhnung: Eierlikör Cupcakes. Ich bin auf den Geschmack gekommen. Nein, nicht der Eierlikör, die Cupcakes. Nachdem ich die leichte Methode des Toppings mit Puddingcreme entdeckt habe, bin ich ganz begeistert von den kleinen Törtchen, denen ich vorher nie etwas abgewinnen konnte. Keine schweren Cupcakes auf diesem Blog! Versprochen! Auch diese Cupcakes überzeugen mit Leichtigkeit und Fluffigkeit.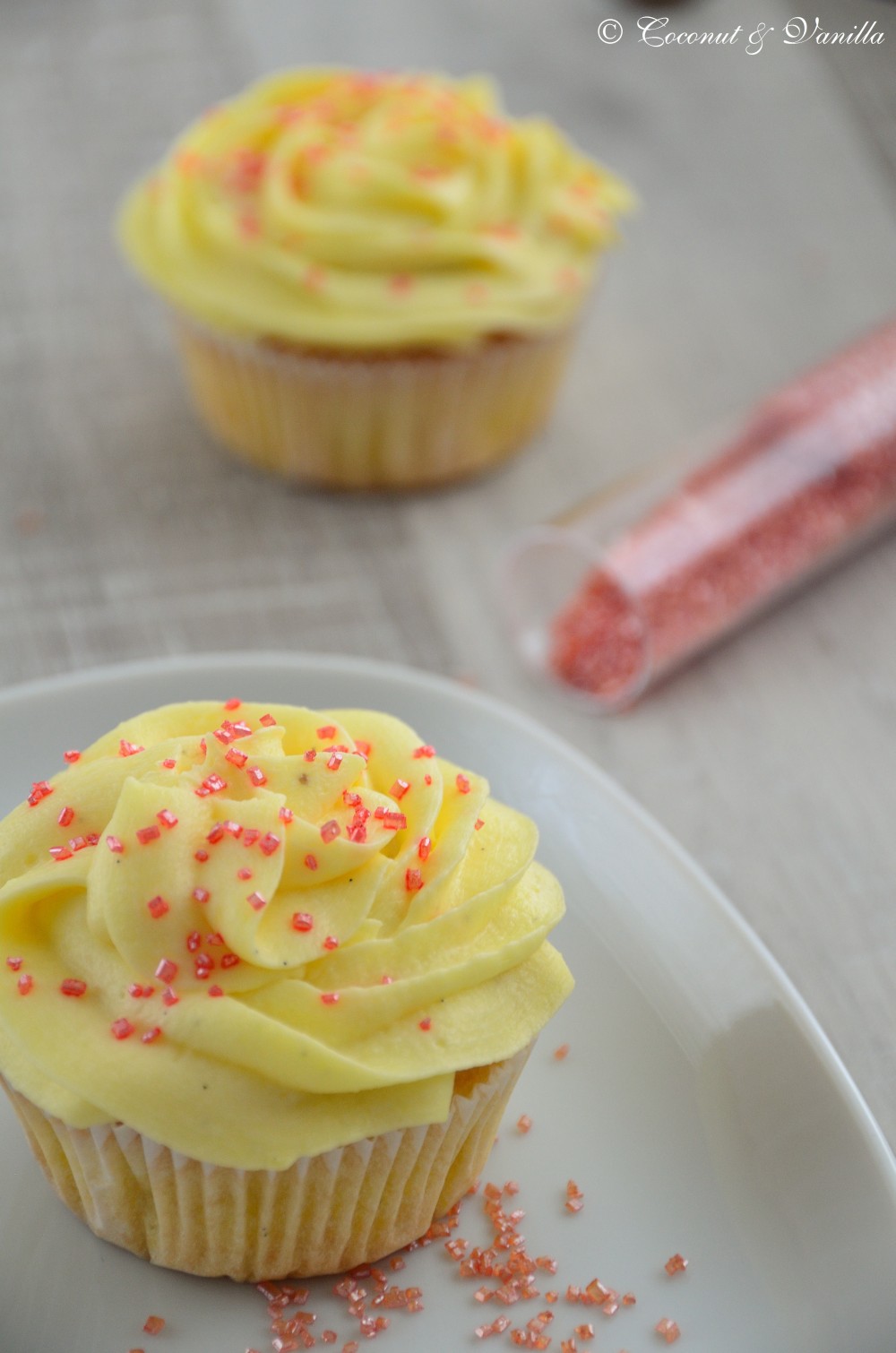 Der Teig der Küchlein ist ein einfaches Eierlikörkuchenrezept, das in der gleichen Menge auch als Napfkuchen überzeugt (dann aber die Creme weglassen und länger backen). Die Creme besteht mal wieder aus Pudding, aber diesmal selbstgemachtem Eierlikörpudding. Ich habe keinerlei Pülverchen verwendet (Speisestärke zählt nicht). Man kann den Pudding natürlich auch einfach so essen. In diesen Cupcakes ist alles selbstgemacht, auch der Eierlikör nach diesem Rezept. Zusammengerührt ist das alles schnell. Und selbstgemacht schmeckt man eben!
Die Cupcakes sollten im Kühlschrank (oder im Freiluftkühlschrank, falls es bei euch kalt genug ist, aber nicht friert) aufbewahrt werden, aber unbedingt 10-15 Minuten vor dem Servieren herausgenommen werden. Nur dann entfalten sich die vielfältigen Eierliköraromen.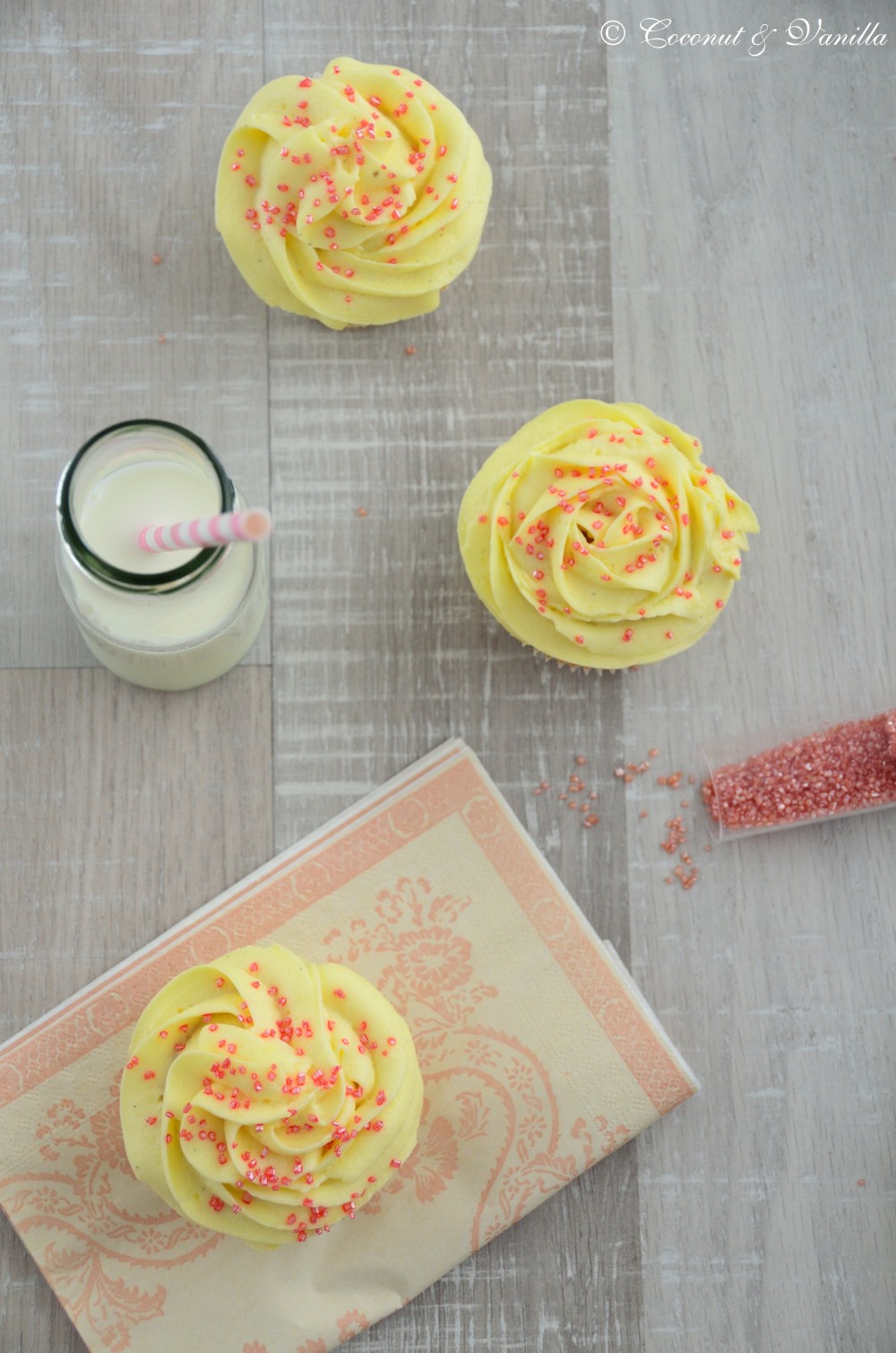 Vor einem Jahr: Rhabarber Muffins
Eierlikör Cupcakes
ergibt: 18 Stück
Zutaten:
Für die Küchlein:
5 Eier

150 g Puderzucker

2 EL Vanillezucker

1 Prise Salz

250 ml Sonnenblumenöl

150 g Speisestärke, gesiebt

100 g Mehl

4 TL Backpulver
Für das Topping:
400 ml Vollmilch

50 g Zucker

40 g Speisestärke, gesiebt

2 Eigelbe

100 g weiche Butter
Den Ofen auf 160° C vorheizen. Die Muffinformen mit Papierförmchen auslegen.
Die Eier mit dem Puder- und Vanillezucker, sowie mit dem Salz dick und schaumig schlagen. Weiterschlagen, dabei den Eierlikör unterrühren. Dann nach und nach das Öl unterrühren und nochmal 2 Minuten weiterschlagen.
Speisestärke, Mehl und Backpulver unter den Teig heben.
Die Förmchen zu etwa drei Vierteln mit Teig füllen (etwa 2 EL).
Die Küchlein 20-25 Minuten backen, bis sie goldbraun sind und die Stäbchenprobe bestehen!
Komplett auskühlen lassen.
Für den Pudding die Milch, 100 ml Eierlikör und den Zucker aufkochen. Die restlichen 100 ml Eierlikör mit der Speisestärke und den Eigelben verrühren. Wenn die Milch kocht, langsam nach und nach in die Milch einrühren (dazu am besten den Topf vom Herd nehmen). Nochmals kurz aufkochen lassen.
Die direkte Oberfläche des Puddings mit Frischhaltefolie belegen. Auskühlen lassen und anschließend im Kühlschrank durchkühlen lassen.
Die Butter cremig rühren. Nach und nach esslöffelweise den Pudding unterrühren, bis alles homogen ist.
Die Creme in einen Spritzbeutel füllen und auf die Cupcakes spritzen. Ich habe dazu eine Rosentülle verwendet.
Die Cupcakes im Kühlschrank aufbewahren. Vergesst aber nicht sie 10-15 Minuten vor dem Servieren aus dem Kühlschrank zu nehmen, damit sie ihr volles Aroma entfalten können.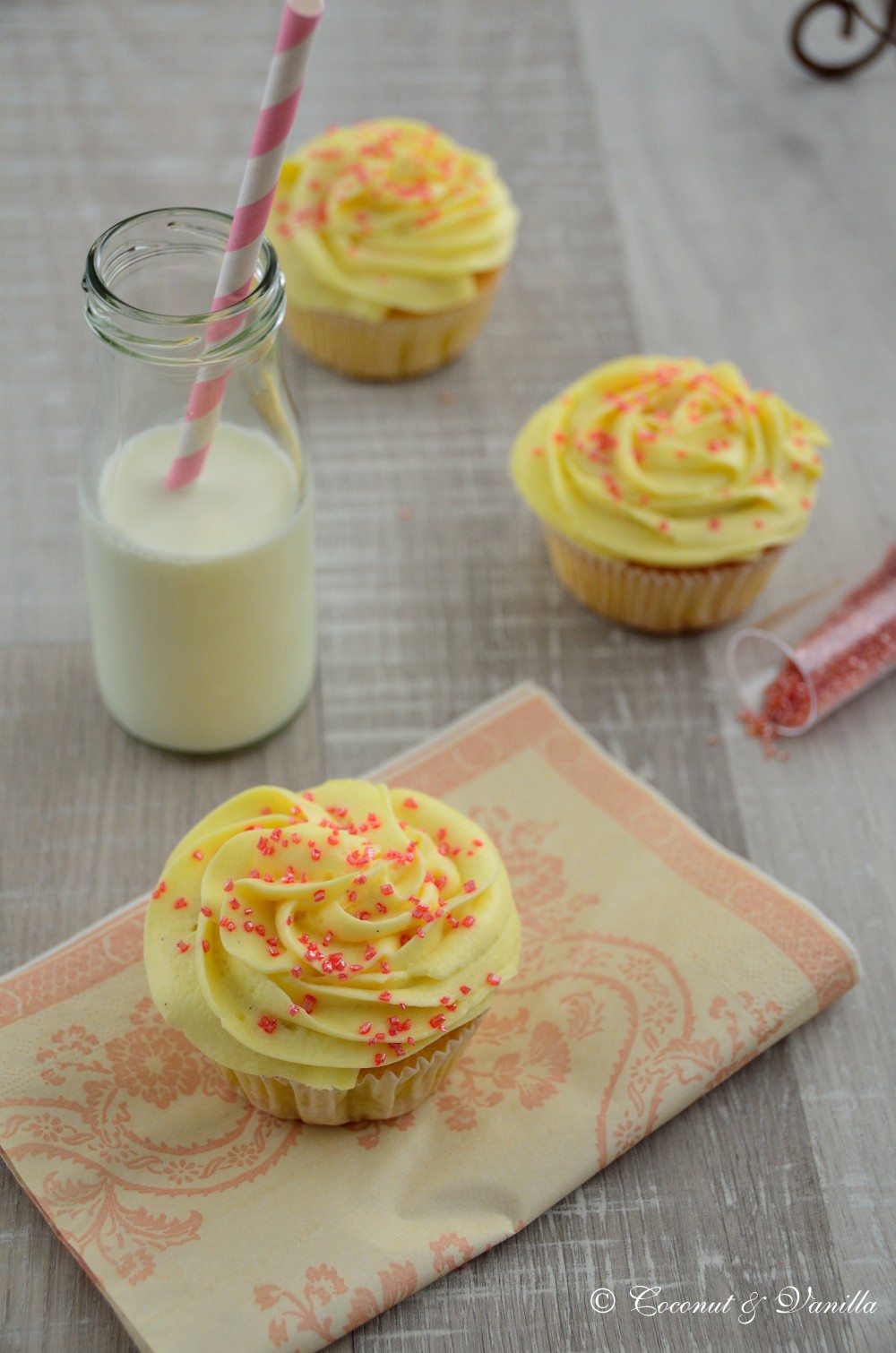 For Easter I have the ultimate eggnog high: eggnog cupcakes. I got hooked on that. No, not the eggnog, the cupcakes. After discovering the light version of topping cupcakes with pudding cream, I'm delighted with them. My cupcakes will never be heavy! Promise! This cupcakes are also convincing with light- and fluffiness.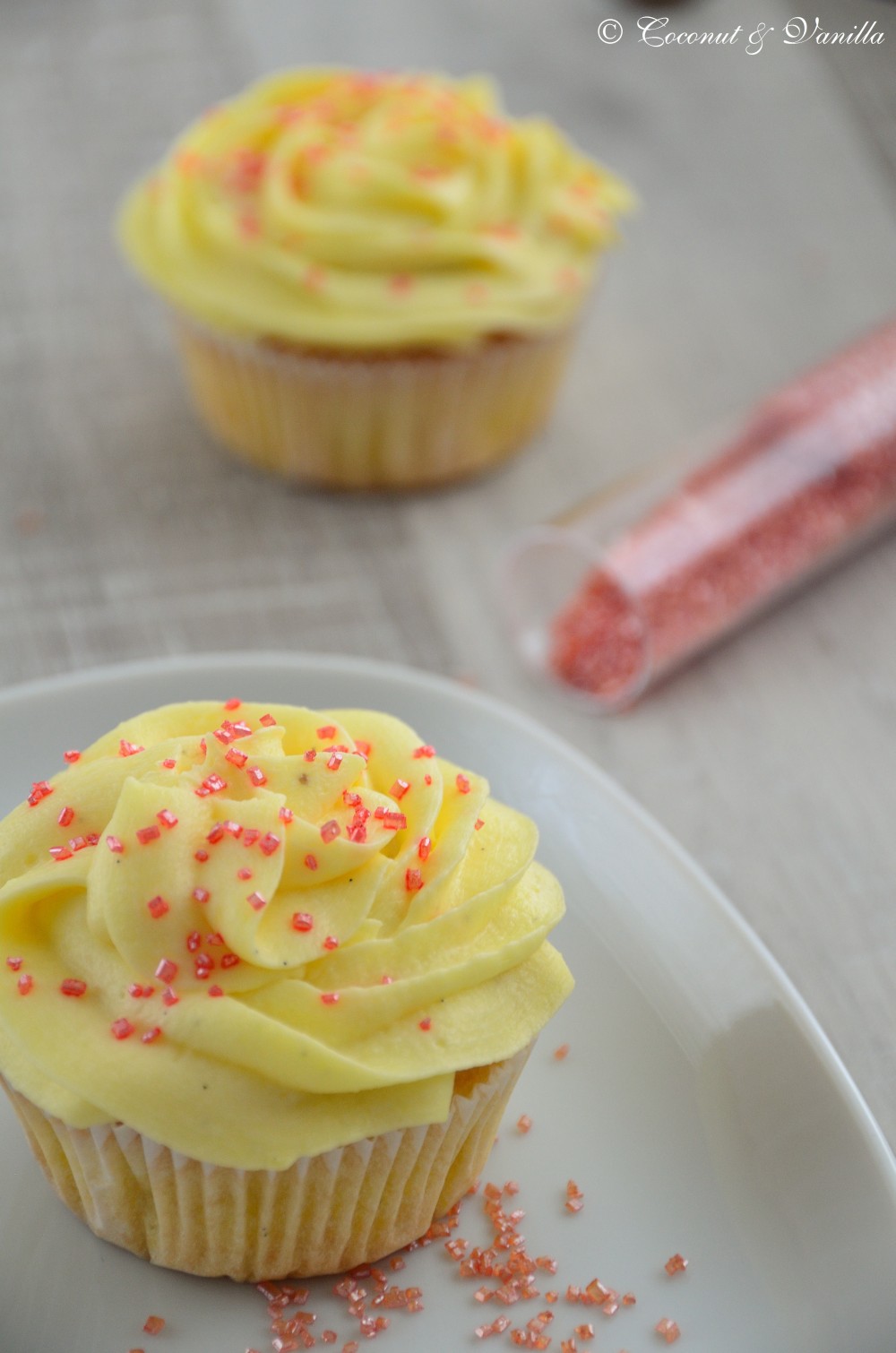 The dough is a simple eggnog cake recipe, which works also great as a pound cake with the same amount of dough (just bake longer and skip the pudding cream). The topping is again made of pudding, but this time homemade eggnog pudding. I didn't used any convenience product. And of course you can eat the pudding just right away, delicious! In this cupcakes everything is homemade, even the eggnog (with this recipe). Everything is whisked together fast and you will taste, that it's homemade.
The cupcakes need to be cooled, but taken out of the fridge 10-15 minutes before serving for developing the manifold eggnog aroma.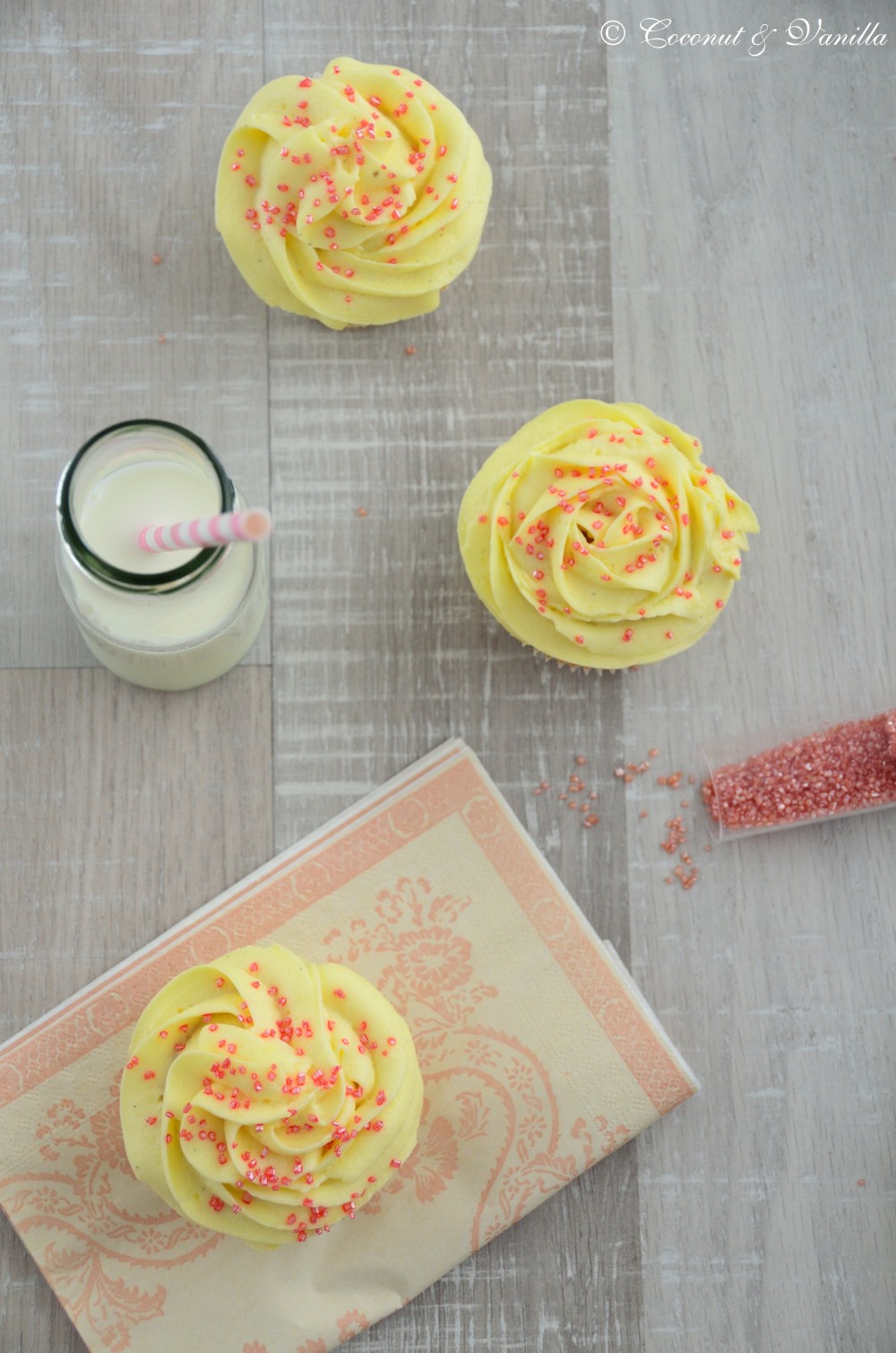 One year ago: Rhubarb Muffins
Eggnog Cupcakes
yields:  18
Ingredients:
for the cakes:
5 eggs

150 g powdered sugar

2 Tbsp vanilla sugar

1 pinch of salt

250 ml sunflower oil

150 g corn starch

100 g flour

4 tsp baking powder
for the topping:
400 ml whole milk

50 g sugar

40 g corn starch, sieved

2 egg yolks

100 g butter, at room temperature
Preheat the oven to 160° C. Line the cupcake forms with paper moulds.
Beat the eggs with the powdered and vanilla sugar and the salt, until they are pale and fluffy. Continue beating, while adding the eggnog. Then add the oil gradually and beat 2 minutes more.
Add the flour, corn starch and the baking powder and fold it in.
Fill the moulds with the dough. About 2 tablespoons per mould, they should be filled for about three quarters.
Bake the cakes for 20-25 minutes, until golden brown and an inserted skewer comes out clean!
Let them cool completely.
In a medium saucepan bring the milk, 100 ml eggnog and the sugar to the boil. Whisk together the remaining 100 ml eggnog, the corn starch and the egg yolks.
Remove the saucepan from the heat when it's boiling and add the egg mixture gradually while whisking. Bring it again to the boil (it's enough to put it on the heat for a very short time).
Place some plastic foil directly on the surface and let it cool completely (place it in the fridge, when it has cooled out).
Cream the butter and add the eggnog pudding by tablespoons. Mix until well combined.
Fill the cream into a pastry bag with your favourite tip and top the cupcakes with the cream.
Keep refrigerated, but don't forget to remove them 10-15 minutes from the fridge before serving!