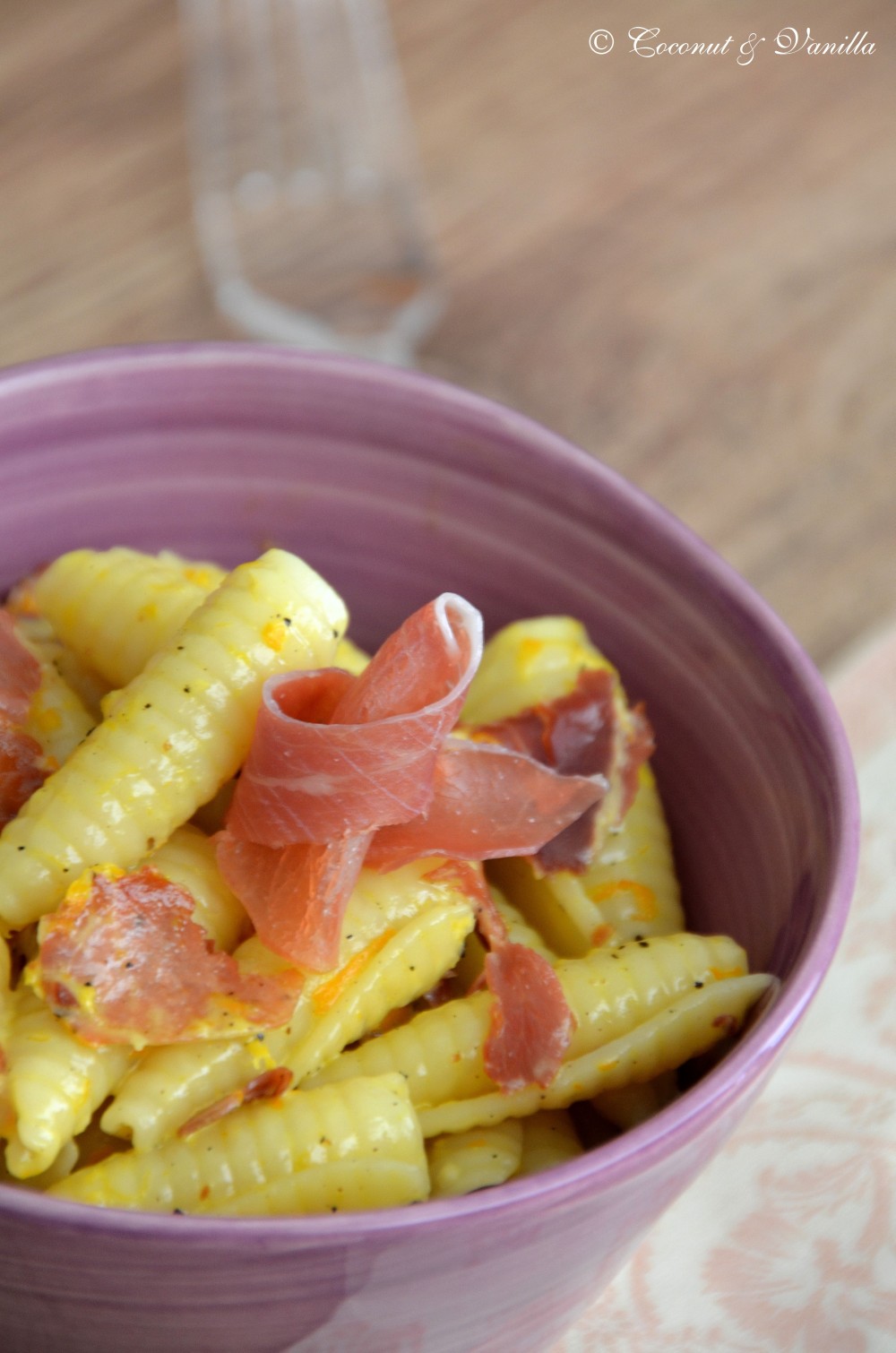 Nach dem gewaltigen Zuckerschock der letzten Tag gibt es jetzt wieder was Deftiges. Lecker leicht und frühlingshaft mit Orangenschale, -saft und feinem rohen Schinken.
Ich liebe Pastagerichte und dieses ist ungewöhnlich, aber saulecker! Zudem ist es mit wenigen Zutaten im Handumdrehen zubereitet. Ein ideales Gericht, wenn es mal schnell gehen muss oder man einfach keine Lust auf lange Kochabende hat.
Das Rezept hab ich von The Bitten Word, einer meiner Lieblingsblogs. Zach und Clay kochen aus den vielen Essenszeitschriften, die sich eben mit der Zeit ansammeln. Lecker und amüsant.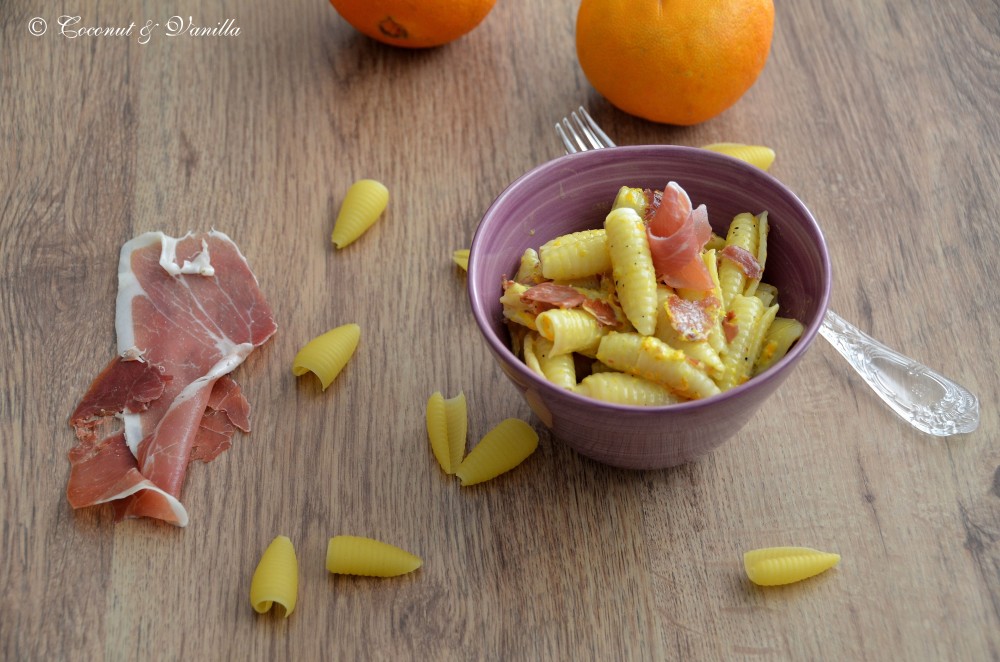 Vor einem Jahr: Toastbrot
Orangen-Pasta mit Serrano-Schinken
nach einem Rezept von The Bitten Word
für 2
Zutaten:
300 g Pasta, Form nach Belieben

1 EL Butterschmalz

75 g hauchdünn geschnittenen rohen Schinken (ich habe Serrano Schinken verwendet), in mundgerechte Stücke gerissen

1 Bio-Orange, geriebene Schale und Saft

125 ml Sahne

Pfeffer, Salz

fein geriebener Parmesan
Einen großen Topf mit Wasser aufkochen, Salz hinzufügen und die Pasta kochen, bis sie al dente ist.
In einer großen Pfanne das Butterschmalz schmelzen und den Schinken für etwas 3 Minuten anbraten.
Den Orangensaft, die Schale und die Sahne dazugeben und aufkochen.
Die Pasta abgießen und etwas Kochwasser zurückbehalten.
Die Pasta zu der Sauce geben und mit Salz und Pfeffer würzen. Wer mag kann jetzt noch etwas Kochwasser dazugeben, um die Sauce verdünnen.
Mit geriebenem Parmesan servieren.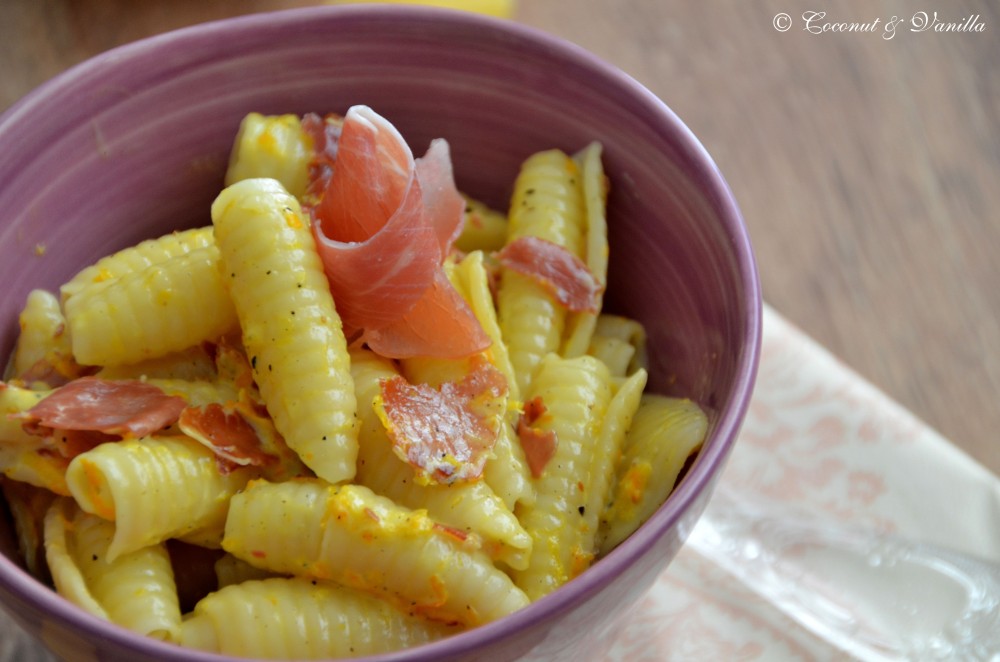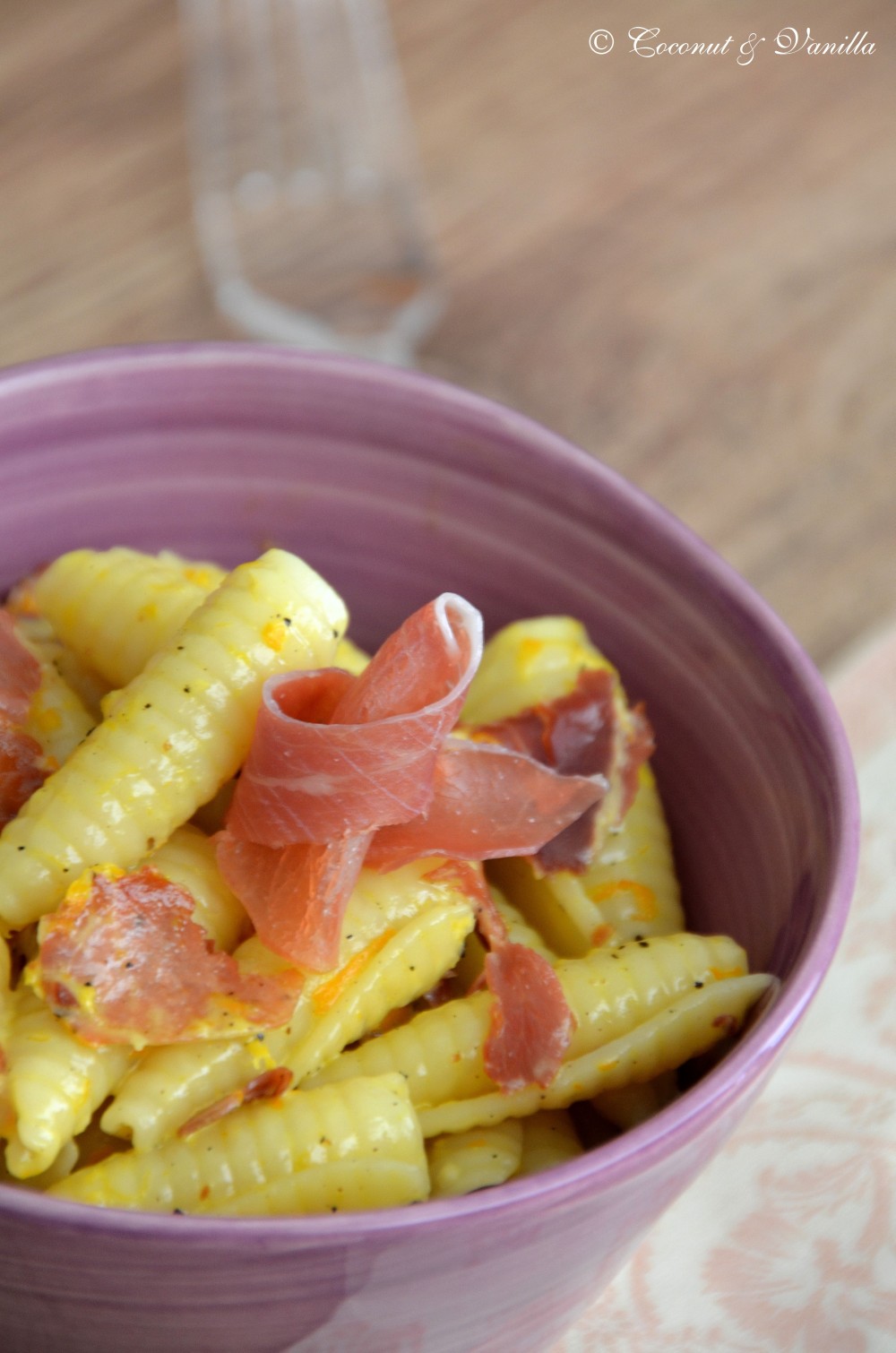 After the huge sugar shock of the last days there is something hearty here again. Lovely deliciousness with orange zest and juice and prosciutto. A light and springlike meal.
I love pasta dishes and this one is a bit unuasual, but nevertheless totally scumptious. Also this dish is cooked in just a few minutes with only a few ingredients. A perfect quick family meal.
The recipe is from The Bitten Word, one of my favourite blogs. Zach and Clay are cooking from food magazines, that have accumulated over the years. Mouth-watering and amusing.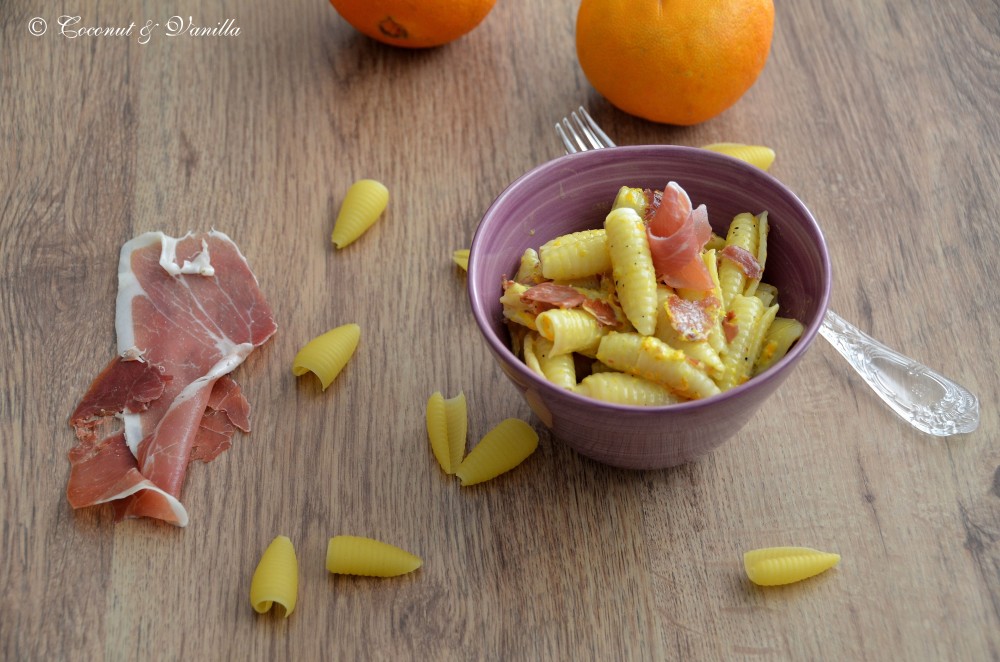 One year ago: Toast
Orange Pasta with Prosciutto
adapted from The Bitten Word
serves 2
Ingredients:
300 g pasta of your choice

1 Tbsp clarified butter

75 g thinly sliced prosciutto (I took serrano ham), torn into bite size pieces (about 3 cm)

1 organic orange, zest and juice

125 ml heavy whipping cream

pepper, salt

finely grated parmesan
Bring a large pot of water to the boil. Add salt and the pasta and cook until al dente.
Meanwhile melt the clarified butter in a large skillet. Add the prosciutto sauté for about 3 minutes.
Add the orange juice, zest and the cream and bring to a boil.
Drain the pasta and reserve some pasta water.
Add the pasta to the sauce, season with salt and pepper and add some pasta water, if you want to thin the sauce.
Serve with the parmesan.