Wednesday, 15th October 2014
Originally I wanted to submit another pesto to Peggys Event Rapsölution. But how it happens, my idea didn't work on the foreevening of the event, of course. Moreover my Nikon striked. Doesn't go well these days. But I always have some posts waiting in line and I noticed that I still have the perfect recipe. Lucky me! So I'm now submitting this awesome pesto made of carrot tops and pumpkins seeds!
I wanted to make this pesto for a very long time, because it conforms with my will to use the most of the food and also to avoid food waste. What is more obvious than to use the green of the carrots than to throw it away? This works best if you grow your own carrots or have fresh ones from the farmer (and don't have any rabbits at home), because you should know how the vegetables have been treated (or better NOT).
Peggys event features the use of rapeseed oil or canola oil. Until now I drew from the reserves from my Stuttgart times, since there is a small oil mill located in Ditzingen (the Ölmühle Ditzingen), which produces wonderful oil themselves. They have the best sunflower oil, rapeseed oil, peanut oil and much more specialties like linseed oil, grapeseed oil or poppyseed oil. If you are around check it out! Some stores around Stuttgart also have some products and also the stall of the Bauernmarkt Leutenecker on the farmers market in Bad Cannstatt. You can look it up here in my shopping recommendations, too! I need to order some stuff, since I used up my last rapeseed oil last night ;).
I refine the pesto with pumpkin seeds, but you can also use other nuts that you prefer. The pumpkin seeds provide a special taste to the pesto, since the carrot greens don't provide a specific taste.
Soon I'll tell you what to make scrumptious with the carrots hanging on the carrot tops ;).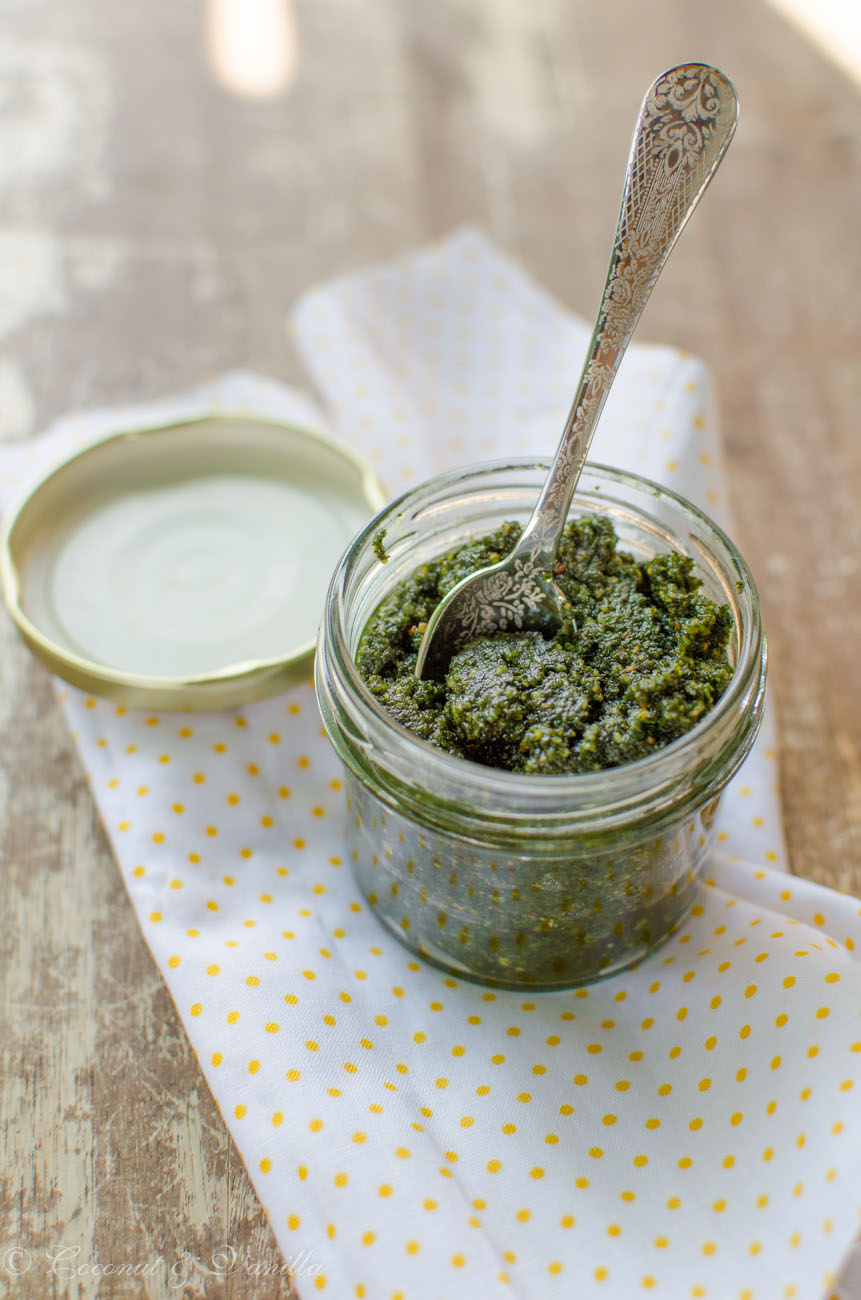 One year ago: fresh corn pesto
Two years ago: franconian yellow beetroot salad
Three years ago: tart flambée
Four years ago: peach shortbread
Five years ago: red kuri squash mini quiches and nuttily lamb's lettuce 
Carrot Top Pesto with Pumpkin Seeds
yields: about 4 portions
Ingredients:
80 g carrot tops
40 g pumpkin seeds
55 g parmesan, finely grated
about 60 ml canola oil
1 pinch of salt
Rinse the carrot greens and spin them dry. Chop coarsely so they fit in a food processor.
Roast the pumpkin seeds in a pan until they are fragrant.
Use a food processor to chop the carrot tops with the pumpkin seeds finely. Add the parmesan and keep on chopping. Add the oil step by step until you get a creamy pesto. Add as much oil until you get the desired texture. Season with a pinch of salt.
The pesto is perfect with pasta, but it can also used as a spread for bread or crostini, sandwiches or as a filling for savoury baked goods.