Monday, 30th July 2012
 We harvested well enough beetroots from our vegetable patch, yet. We love beetroot, but as it happens with a lot of vegetables that are abundant, you don't know where to put them or what to make out of them anymore.
Luckily I stumbled upon Petra's blog entry. Beetroot gnocchi! As a huge fan of gnocchi I surely had to make them. Truly it was a bit of an effort to make them. But if you roast the beetroots one day (or several) before, the effort isn't that much anymore. It takes most of the time to shape the gnocchi. But for me that's the crucial  part of making gnocchi, since gnocchi have to look like gnocchi. For the purpose of shaping these small babies I use a Gnocchi Board.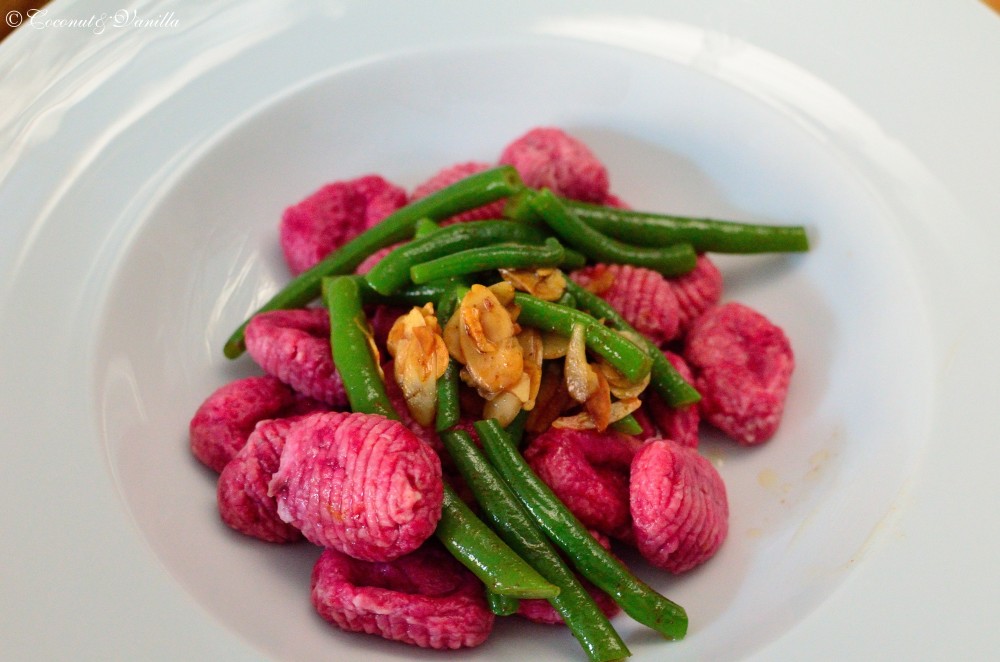 In honour of Arthur's Tochter third blog birthday I created a small video (with the help of the handyman boyfriend) about how to make (or to be more precise how to shape) beetroot gnocchi.
Happy blogging, Astrid! Keep it up! I wish you a lot of  great posts for your anniversary and more posts to come!
How to make Beetroot Gnocchi from Coconut & Vanilla on Vimeo. Once again back to the red gnocchi, which are way easier to make than their potato siblings. The gnocchi are lighter in texture, because they are mainly made of ricotta cheese, the beetroot taste shimmers slightly through.  You need a larger portion than with potato gnocchi to be full. I served them with green beans in a twofold brown nut butter with almonds slivers, which perfectly fit together. But I also imagine, that gorgonzola sauce pairs great here, too. Of course you don't have to make gnocchi to enjoy these scrumptious beans, they pair perfectly with other dishes, too.
Two years ago: Indian Almond Chicken
Beetroot Gnocchi
slightly adapted from the recipe from Chili & Ciabatta
yields: about 160 gnocchi (serves 4 as a main course with a corresponding sauce or some vegetables)
Ingredients:
2 middle-sized beetroots (raw) or 200 g cooked/roasted beetroot (skin removed)

500 g ricotta

1 egg

75 g parmesan, finely grated

1 1/4 tsp salt

pepper

140 g flour for the batter

75 g flour for tossing the gnocchi
If you use raw beetroots, wrap them in aluminium foil and roast them for 1 hour at 200° C in the oven. Let the beetroots cool. The skin can now easily be removed with a small knife (if you don't want to get red handed, wear disposable gloves).
Finely grate about 200 g of the beetroots. Mix with the ricotta, egg, parmesan, salt and pepper. Fold in the flour. (The batter can be prepared to this step and stored in the fridge over night.)
For the whole amount of gnocchi I used 3 baking sheets to set them aside. I cooked half of the recipe (for 2 persons) and froze the other half.
Line the sheets with parchment paper.
Place the rest of the flour in a deep dish. You see the following way of proceeding very good in my video above. Make small dumplings using two teaspoons. Place the dumplings in the flour dish. Toss the dumplings in the flour, then cast it off again (I tossed them cautiously between my hands). Shape the dumpling into small cylinders. Roll them over a gnocchi board. If you don't own one, roll them over the prongs of a fork or just impress them with a fork. Place the gnocchi onto the baking sheets. (Shaped gnocchi can be prepared 6 hours in advance, just cool them in the fridge.)
Bring a large pot of water to the boil. Add salt. If you make the beans, blanch them first.
Add the gnocchi to the boiling water, reduce the heat, so it just simmers. When they are rising to the surface, leave them in the water for about another minute. Remove with a slotted spoon and arrange them on plates.
Serve with the beans and the brown nut butter (or some other sauce).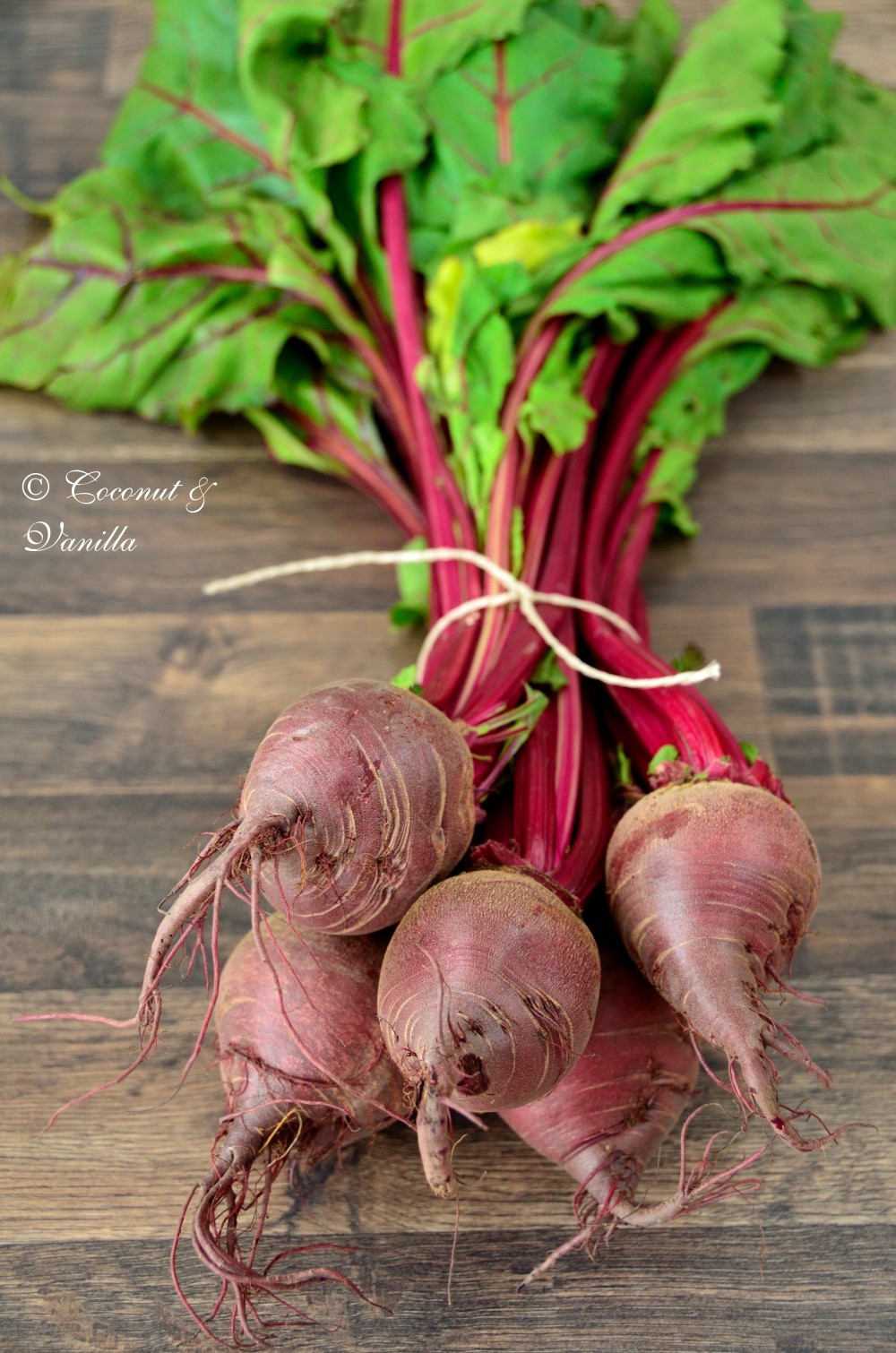 Green Beans in a twofold brown nut butter
yields: 2 servings
(the quantities are approximations, since I didn't measure them)
Ingredients:
2 handfuls of green beans, washed and trimmed

30 g slivered almonds (if you have, substitute half of them with  slivered hazelnuts)

80 g butter
Cut the green beans in halves or thirds, depending on their size. Blanch them in boiling salt water for about 5 minutes (I used the same water as for the gnocchi). Remove them with a slotted spoon to a colander and rinse them shortly under cold water.
I started with the following step after I put the gnocchi into boiling salted water:
Roast the slivered almonds in a large frying pan. When they start to smell and to take colour, add the butter and melt it. The butter turns quickly into brown butter and the nuts are also roasting quickly. Be cautious, so nothing burns! I removed the pan from the heat, since its own heat was enough. Add the beans to the butter and glaze them. Serve with the gnocchi.
The beans with the brown nut butter work also very well as a side dish or with other pasta or polenta as a vegetarian main meal.