Dienstag, 27. April 2010
Update: Für das deutsche Rezept nach unten scrollen!
Finally I'm done with my oral exam and back from Vienna! The exam was just fine and I will be writing and showing you my photos of Vienna soon!
But first I will show you more about that cake, that I gave you hint of in my last post. Because it's easy-peasy, quickly done and mouth-watering. I mean it's containing streusel! Everything with streusel is yummy! The cake is so mouth-watering and fast, that I've done it two times in two weeks! Which is often, since I'm not repeating cake recipes that often.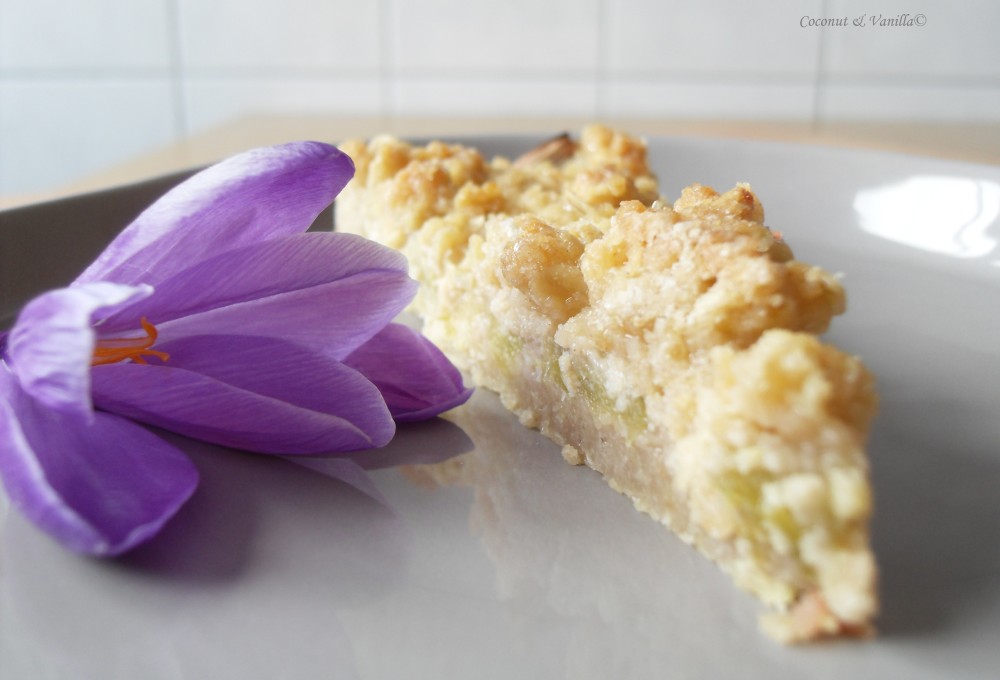 The first time I used some leftover frozen rhubarb from last summer from Elke and Martin's garden – relatives of mine. The second time I saw the first German rhubarb and consequently I had to buy it. I cannot stand the first rhubarb of the year or rhubarb at all. I love it like all seasonal fruits and vegetables… I'm really looking forward to asparagus!
What's also great with that cake is, that you only need a handful ingredients: Flour, rolled oats, butter, sugar, spices and of course rhubarb.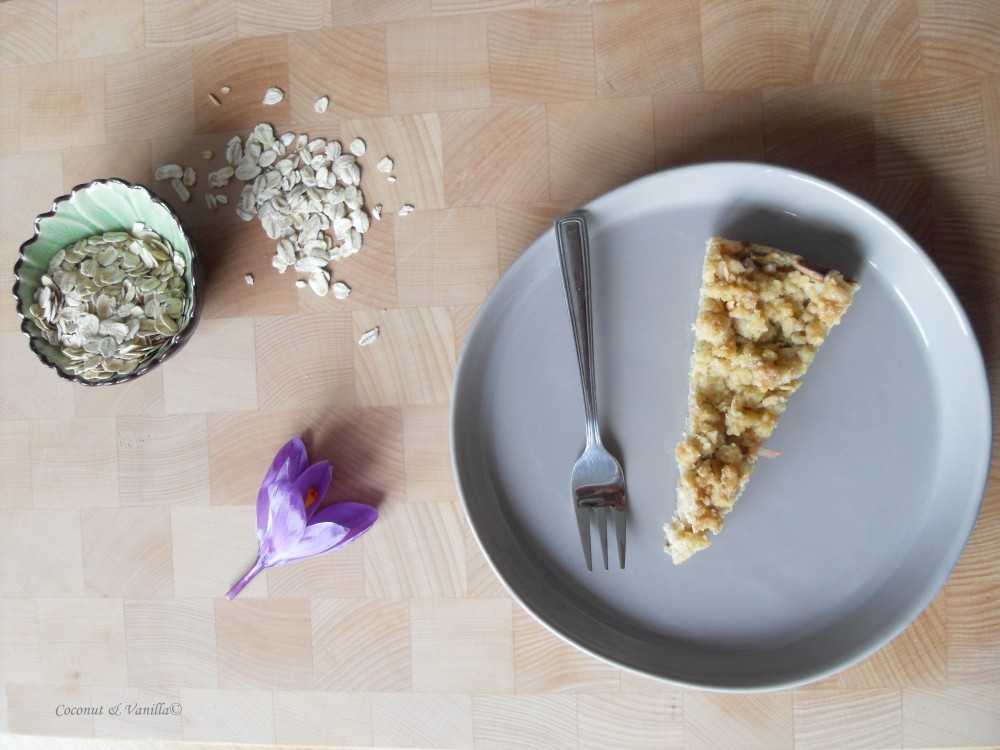 Just put all the ingredients, expect the rhubarb in your kitchen machine, let it do the work and the wonder is almost done. Some baking and your home is smelling so darn good. So grab yourself some rhubarb (if it's too much for one batch, freeze the rest for another time, when you are craving for some cake), invest 10 minutes, wait until it's baked golden-brown and enjoy!
Rhabarber-Streusel-Kuchen
ergibt: einen Kuchen für eine 26 cm Springform
Zutaten:
200 g Weizenmehl

75 g kernige Haferflocken

200 g Butter

225 g brauner Zucker

Kardamom und Zimt nach Geschmack

400 g Rhabarber, gewaschen, geputzt und in kleine Stücke geschnitten

ein Spritzer Zitronensaft
Den Ofen auf 190° C vorheizen.
Eine 26 cm Springform fetten.
Den Rhabarber mit dem Zitronensaft mischen, das nimmt ihm etwas von seiner Säure.
Mehl, Zucker, Haferflocken, Butter und die Gewürze zu Streuseln verabeiten. 2/3 der Streusel in die Form drücken. Den Rhabarber auf dem Teig verteilen. Die restlichen Streusel auf dem Rhabarber verteilen.
35-40 Minuten backen. Auskühlen lassen.