Auch wenn dieser Monat eislastig werden soll, so haben wir doch wieder viel Gemüse von unserem Feld. Und dem ein oder anderen mit einem Garten wird es ähnlich gehen wie uns und so einiges im Überfluss haben. Unsere Zucchini, Gurken und der Kürbis sind dieses Jahr sehr spät. Dafür haben wir gerade reichlich Mangold, Salat und alle möglichen Hülsenfrüchte.
Letztes Jahr habe ich Euch bereits die Mangoldquiche vorgestellt. Aber ein Rezept reicht bei weitem nicht aus, wenn man zu viel Mangold hat.
Die Mangoldstiele kann man geschnitten im Zweifelsfall gut einfrieren. Und mit den Blättern könnt ihr ein leckeres Pesto machen, dass sich auch sehr gut einfrieren lässt. So habe ich bereits letztes Jahr ein halbes Dutzend Gläschen Mangoldpesto auf Vorrat eingefroren. Das war im Winter eine willkommene Abwechslung entweder zu Pasta oder auch als Pizzaunterlage statt Tomatensauce.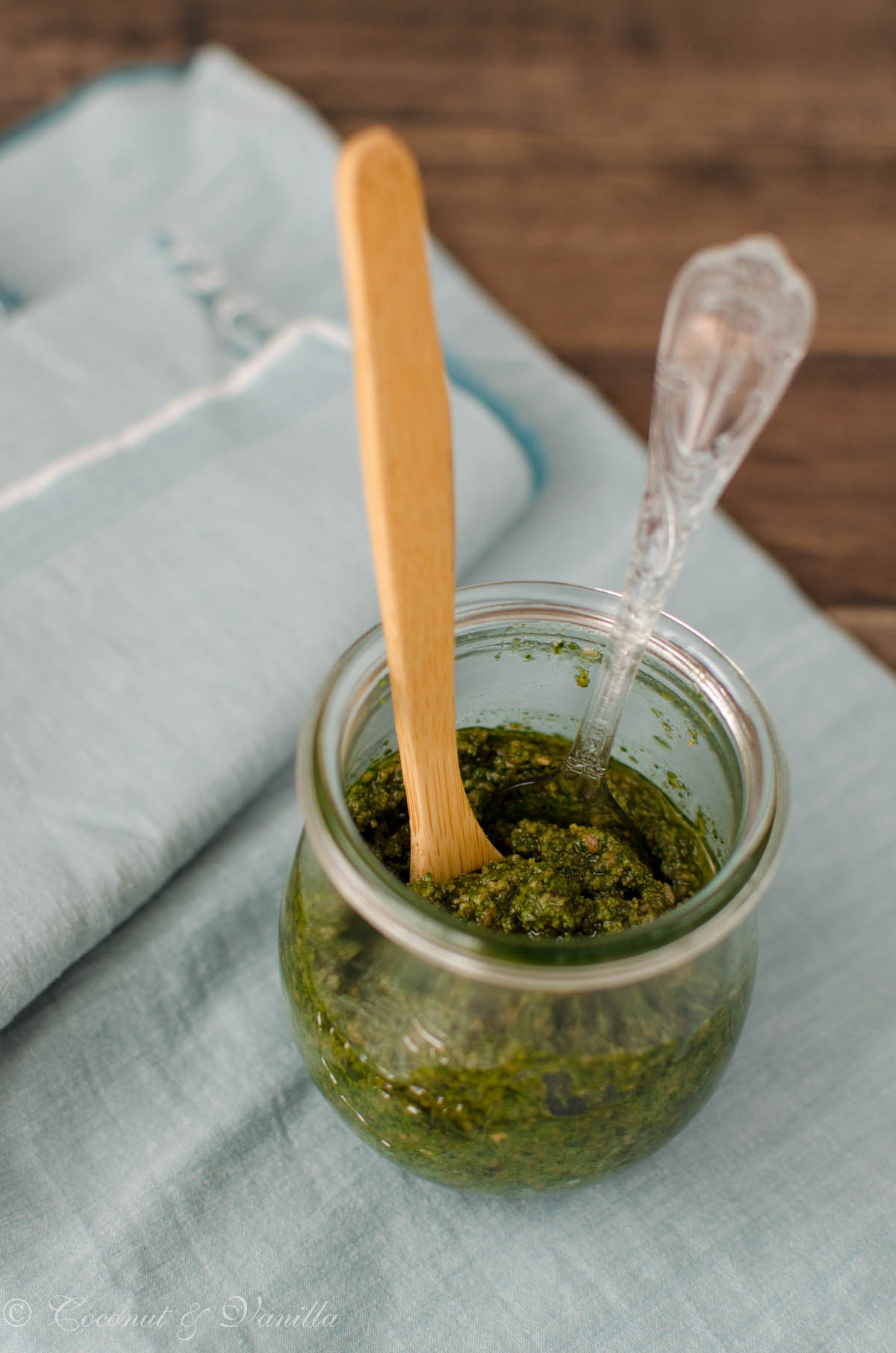 Vor einem Jahr: mürbe Erdbeer-Vanille-Tarte
Vor zwei Jahren: Heidelbeer-Zitronen-Tarte
Vor drei Jahren: Bruschetta
Mangold-Haselnuss-Pesto
180 g Mangoldblätter, gewaschen, trocken geschleudert und klein geschnitten
100 ml Olivenöl
50 g Parmesan, gerieben
50 g gehackte Haselnüsse, geröstet
Meersalz
Alle Zutaten in einem Blitzhacker zu einem feinen Pesto pürieren. Gegebenenfalls mit Salz abschmecken.
Das Pesto hält sich mit Öl bedeckt im Kühlschrank einige Tage frisch. Ohne Öl bedeckt kann man es in kleinen Gläschen oder Tupperware wunderbar einfrieren.
Although this month will be mostly about ice cream, we habe a lot of vegetables from our field to eat. Some of you with an own garden themselves might know these situations having some sorts of vegetables in abundance. Our zucchini, cucumbers and the squash are quite late this year. But we have a lot of swiss chard, lettuce and different kind of beans at the moment.
Last year I already introduced you to this mangold quiche. But one recipe isn't enough when it comes to the abundance of swiss chard.
The stalks can be diced and frozen easily and the leaves can be used the make a delicious pesto, which can be also frozen. Like this I made half a dozen glasses of swiss chard pesto last year and it was a welcome change in the winter. It can be used either for pasta or as a pizza base instead of tomato sauce.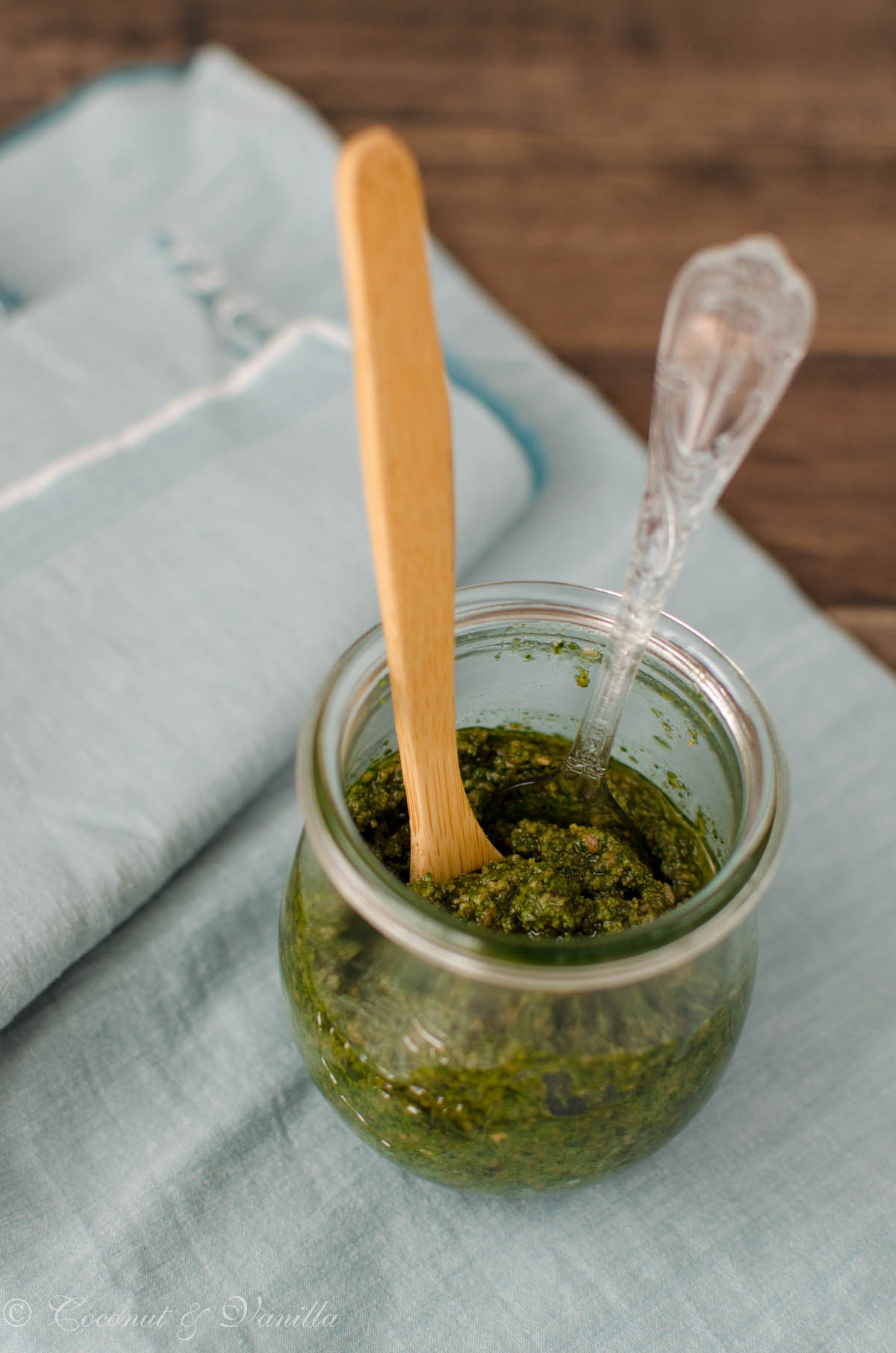 One year ago: strawberry vanilla tart
Two years ago: blueberry lemon tart
Three years ago: bruschetta
Swiss Chard and Hazelnut Pesto

180 g swiss chard leaves, rinsed, spin dry and chopped
100 ml olive oil
50 g parmesan, grated
50 g chopped hazelnuts, roasted
sea salt
Puree all ingredients in a food processor until fine. Season with salt eventually.
The pesto keeps fresh in the fridge for a few days, therefore cover with olive oil. Or freeze the pesto in small portions in glasses or tupperware without any additional oil.