Ja, ganz richtig gehört! Piña Colada Eis! Ein Cocktail als Eis ist doch wieder genau das richtige bei dem Wetter! Wobei ich zugebe, dass bei diesem Wetter jedes Eis recht kommt.
Ich bin ein großer Piña Colada Liebhaber und was läge da näher, als einfach ein Eis draus zu machen? Gesagt, getan!
Aus gerösteter Ananas, Kokosmilch, braunem Zucker, Rum und gerösteten Kokosraspeln hab ich für Euch ein karibikfeines Eis kreiiert.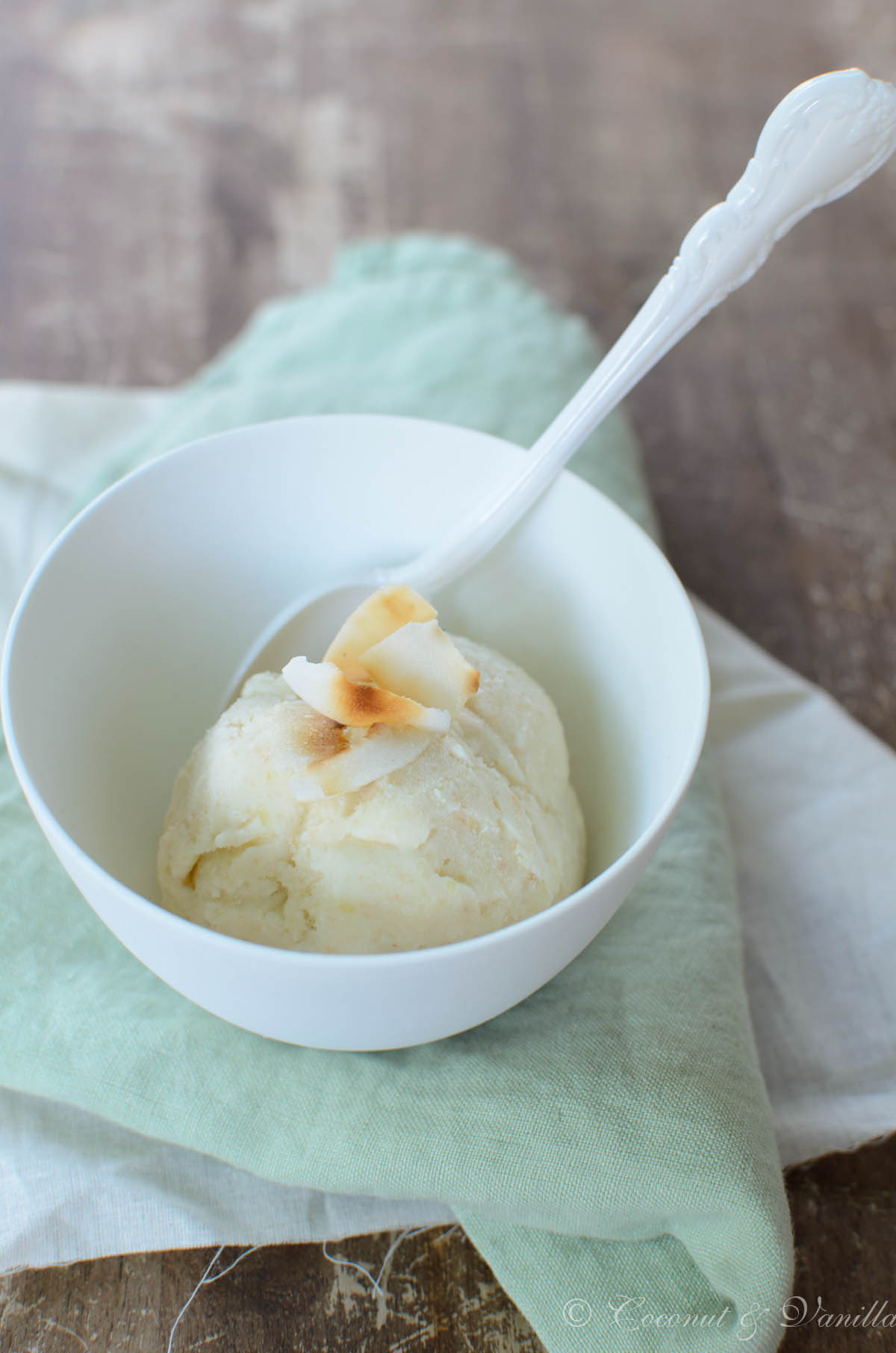 Vor einem Jahr: rote Beete Gnocchi mit grünen Bohnen in zweifacher Nussbutter
Vor drei Jahren: indisches Mandelhühnchen
Piña Colada Eis
Zutaten:
350 g Ananas, geschält und in Stücke geschnitten
125g + 80 g brauner Zucker
400 g Kokosmilch
350 ml Milch
2 EL Glukosesirup
40 g Frischkäse
1 Prise Salz
2 EL Speisestärke
50 ml weißer Rum
50 g Kokosflocken, geröstet
Die Ananas mit 80 g braunem Zucker in einer ofenfesten Form vermengen und 30 Minuten bei 180° C rösten. Abkühlen lassen. Anschließend fein pürieren.
Speisestärke mit etwas Milch glatt rühren.
Den Frischkäse mit dem Salz in einer mittelgroßen Schüssel verrühren.
Kokosmilch, Milch, Glukosesirup und 125 g braunen Zucker in einem Topf zum Kochen bringen. 5 Minuten kochen lassen. Die Speisestärke in die Milch rühren und nochmal aufkochen, bis die Milch andickt. Zum Frischkäse geben und verrühren, bis alles glatt ist. Das Ananaspüree unterrühren. Die Masse in den Kühlschrank stellen, bis sie durchgekühlt ist.
Wenn die Eismasse durchgekühlt ist den Rum und die Kokosflocken unterrühren. In der Eismaschine zu Eis gefrieren lassen.
Gut verschlossen im Gefrierschrank aufbewahren. 10 Minuten vor Verzehr aus dem Gefrierschrank nehmen, dann fällt das Portionieren leichter.
Yes, you heard right! Piña Colada Ice Cream! A cocktail made into ice cream is just the right thing for this weather! Although I've to admit, that every kind of ice cream is just right for this weather.
I'm a huge sucker for Piña Colada and what would be more obvious to make ice cream out of it? Said and done!
So I made a caribbean ice cream for you with roasted pineapples, coconut milk, brown sugar, rum and roasted shredded coconut.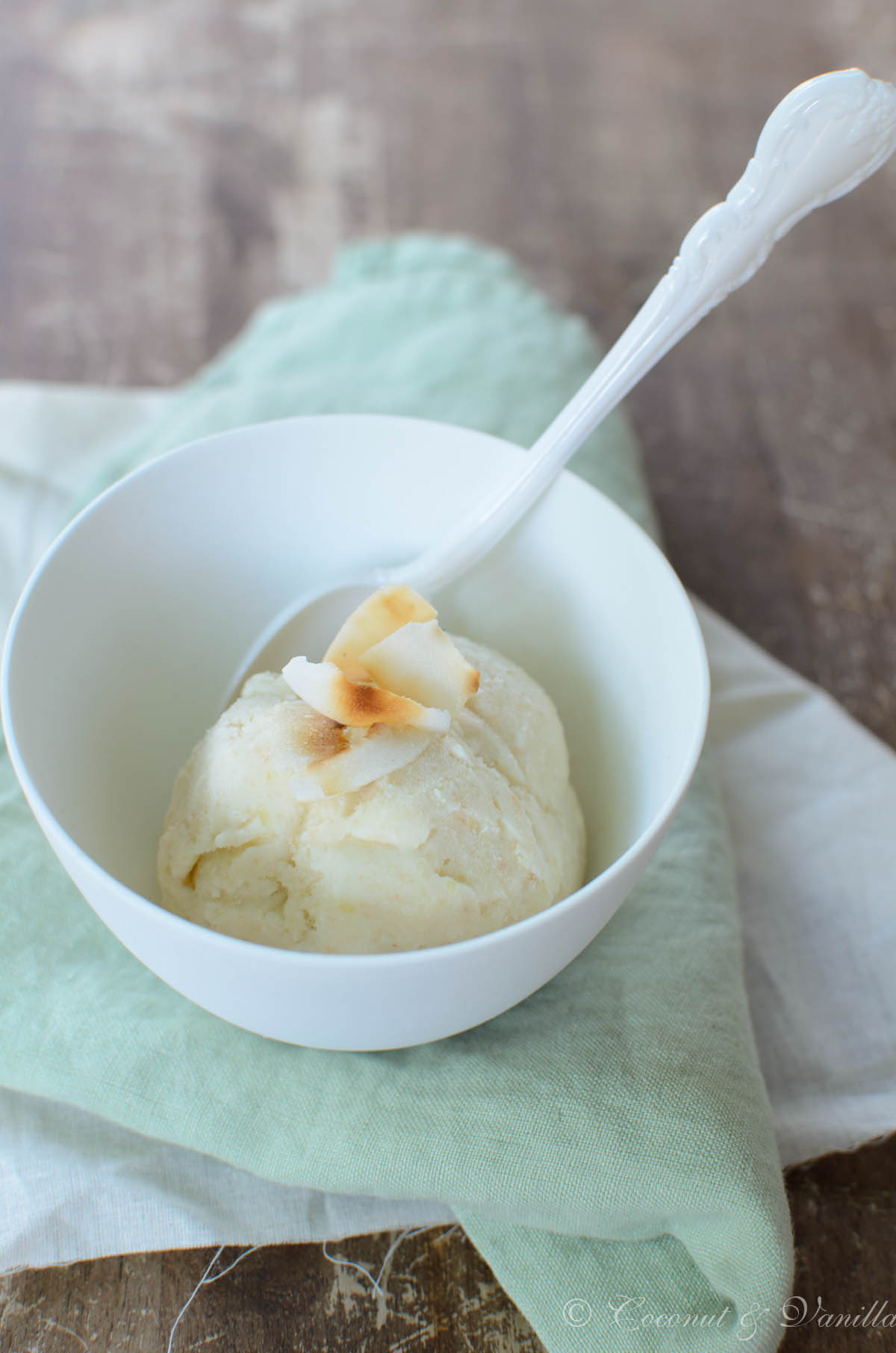 One year ago: beetroot gnocchi with green beans and a twofold brown nut butter
Three years ago: Indian almond chicken
Piña Colada Ice Cream
Ingredients:
350 g pineapples, peeled and diced
125g + 80 g brown sugar
400 g coconut sugar
350 ml milk
2 Tbsp glucose syrup or corn syrup
40 g cream cheese
1 pinch of salt
2 Tbsp corn starch
50 ml white rum
50 g desiccated coconut, roasted
Stir the pineapple and 80 g brown sugar in a ovenproof dish together and roast for 30 minutes at 180° C. Let cool and purée with an immersion blender.
Stir the corn starch with some milk until smooth.
Mix the cream cheese with the salt in a medium sized bowl.
Combine coconut milk, milk, glucose syrup and 125 g brown sugar in a medium saucepan and bring to a boil. Let cook for 5 minutes. Add the corn starch and bring again to the boil until the mixture thickens. Add the milk to the cream cheese and stir until smooth. Stir in the pineapple purée. Place the ice cream batter into the fridge and cool thourougly.
When the ice cream mixture is cool add the rum and the shredded coconut. Freeze the ice cream in your ice cream machine according to the manufacturers instructions.
Keep the ice cream thightly sealed in some tupperware in the freezer. Remove from the freezer 10 minutes before serving.