Neue Gewohnheit: jedes Wochenende ein Bärlauchrezept! Ok ok, bald ist auch die Bärlauchsaison vorbei, aber heute gibt es noch ein richtig tolles Rezept und nächstes Wochenende könnte es auch nochmal passieren, schließlich ist gestern nochmal ein Bund Bärlauch in den Einkaufskorb gewandert.
1 Bund Bärlauch pro Woche in der Saison ist eine richtig gute Dosis, so kann man sich die ganze Zeit daran erfreuen ohne ihn gleich über zu haben. Da es letzte Woche wieder einen Feiertag gab dachte ich, ich mach was Besonderes. Diese Ravioli standen schon länger auf meiner to-do-Liste, perfekt also für ein Wochenende oder einen freien Tag.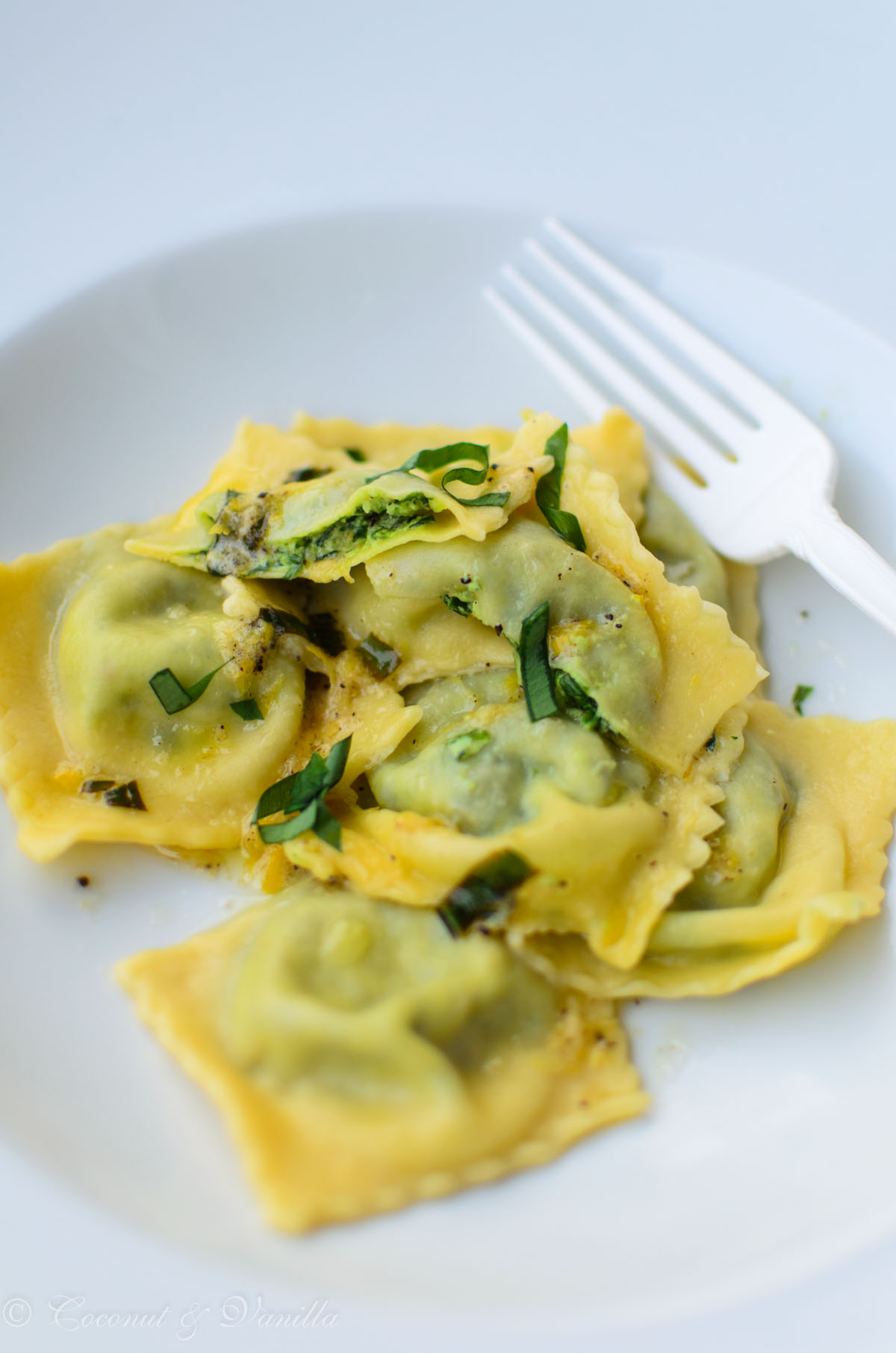 Zu zweit und mit dem Raviolibrett gingen sie auch ganz flott von der Hand. Zwar bin ich mit meinem Raviolibrett nicht so ganz zufrieden, da die Trennkante viel zu flach ist und so die Ravioli durch das Drüberrollen mit dem kleinen Nudelholz nie getrennt werden. Inzwischen nehm ich einfach das Teigrädchen dafür, geht eh schneller. Aber ärgern tu ich mich doch noch manchmal. Trotzdem bekommt man echt schnell 12 gleichgroße Ravioli.
Der Bärlauch kommt in der Füllung nachher richtig gut raus und die Zitronenbutter passt auch sehr gut ohne den Bärlauch unterzubuttern ;). Da ich natürlich nicht daran gedacht hatte vorher Ricotta zu kaufen, habe ich einfach selbst welchen gemacht! 1,5 Stunden sollte man dafür einplanen, aber man braucht nur Zutaten die man sowieso immer daheim hat und während der Nudelteig ruht kann der Ricotta abtropfen. Eins A!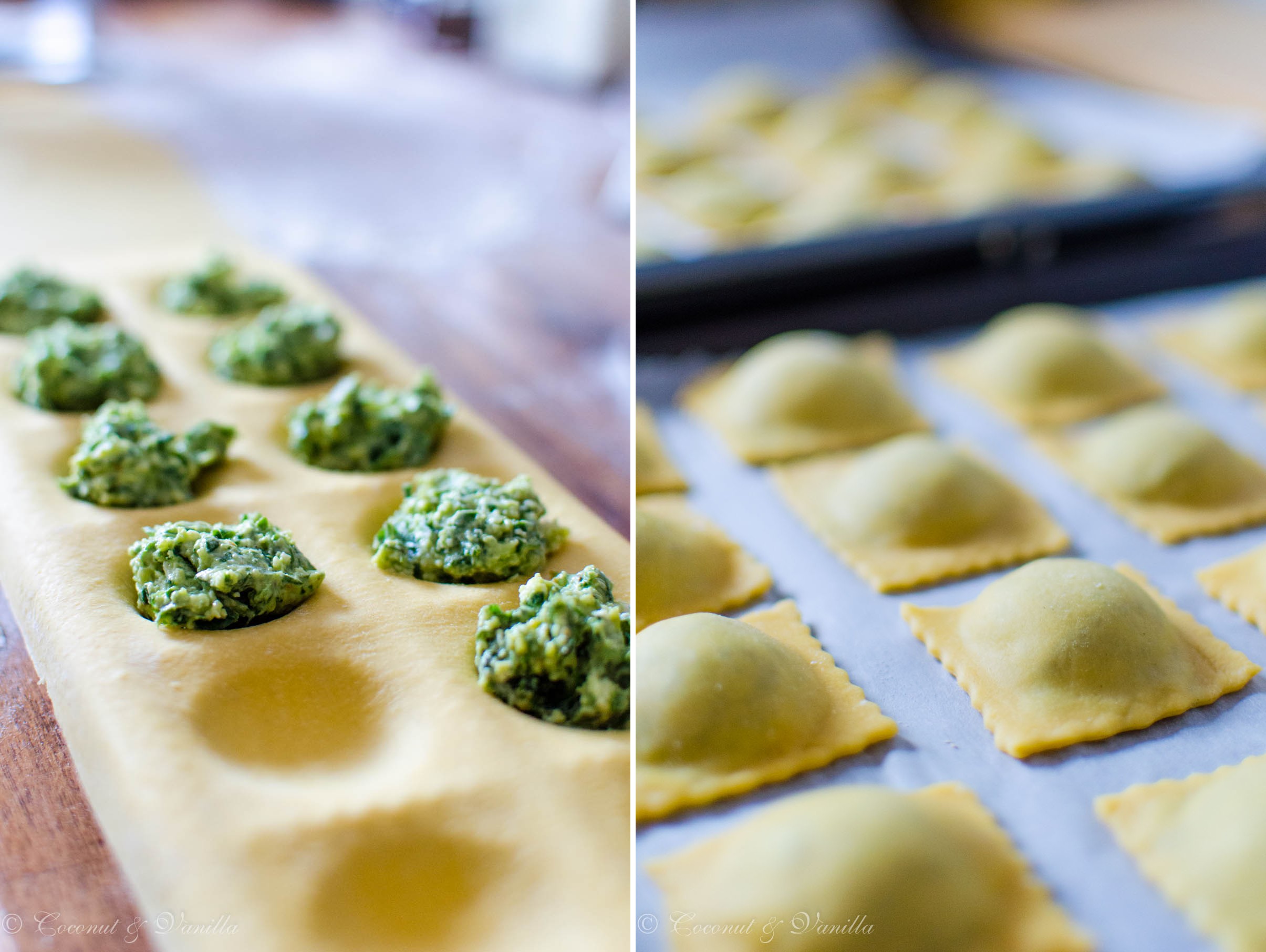 Vor einem Jahr: Crêpes mit mariniertem Spargel und Räucherlachs
Vor zwei Jahren: Rhabarber Streusel Tarte
Bärlauch-Ravioli mit Zitronenbutter
nach einem Rezept von Küchengötter
ergibt: 3-4 Portionen
Zutaten:
300 g Weizenmehl 405 (noch besser: italienisches Tipo 00)
3 Eier
Salz
100 g Bärlauch
250 g Ricotta
2 Eigelb
50 g Parmesan, fein gerieben
2 EL Semmelbrösel
Salz, Pfeffer
100 g Butter
2 EL Zitronensaft
abgeriebene Schale einer Bio-Zitrone
Das Mehl mit den 3 Eiern und 1 TL Salz zu einem glatten Teig verkneten. Eventuell ein kleines bisschen Wasser zugeben. In Folie wickeln und eine Stunde kalt stellen.
Den Bärlauch waschen und trocken schleudern. Die Stängel abschneiden. 2 Blätter beiseite legen und den Rest fein hacken. Mit dem Ricotta, Eigelben, Parmesan, Semmelbrösel vermengen und mit Salz und Pfeffer kräftig würzen.
2 Backbleche mit Backpapier auslegen. Die Arbeitsfläche leicht mehlen. Den Teig vierteln und mit der Nudelmaschine ausrollen (Stufe 7 von 9), dabei den Teig leicht mehlen damit er nicht reißt.Den restlichen Teig wieder in Folie wickeln damit er nicht austrocknet.
Mit dem Raviolibrett: Das Brett mit der Nudelbahn belegen und schon etwas in die Vertiefungen drücken. 1 gehäuften Teelöffel Füllung in jede Vertiefung geben. Die Zwischenräume mit Wasser bepinseln, dann mit der zweiten Hälfte der Nudelbahn belegen. Dabei die Luft von einer Seite zur anderen rausdrücken und dabei den Teig festdrücken. Nun entweder mit einem kleinen Nudelholz über das Raviolibrett rollen um die Ravioli zu trennen oder das Brett gleich umdrehen, die Ravioli am Stück lösen und mit einem Teigrädchen trennen.
Ohne Raviolibrett: Die Teigbahn längs halbieren. Im Abstand von 5 cm 1 gehäuften TL Füllung auf die Teigbahn geben. Um die Füllung mit Wasser bepinseln und die andere Bahnhälfte darauflegen. Den Teig andrücken, dabei die Luft herausdrücken. Mit einem Teigrädchen rechteckige Ravioli ausschneiden.
Die Ravioli auf die Bleche legen. Die überstehenden Teigreste können zusammengedrückt werden und nochmal ausgerollt werden.
Die restlichen zwei Bärlauchblätter in feine Streifen schneiden.
Einen großen Topf mit Wasser zum Kochen bringen und salzen. Die Ravioli 4-5 Minuten garen, bis sie al dente sind. Währenddessen die Butter schmelzen. Den Zitronensaft einrühren und die Zitronenschale einrühren und kurz aufkochen. Mit Salz und Pfeffer würzen.
Die Ravioli abtropfen und mit der Zitronenbutter servieren. Mit den Bärlauchstreifen bestreuen.
New habit: every weekend I present you a new recipe with wild garlic! Ok ok, the season will soon be over, but still I have another great recipe today and maybe next weekend, too, since I bought another bunch wild garlic yesterday. Oops!
But I think 1 bunch of wild garlic per week in season is a good dose to enjoy it without getting sick of it too fast. As we had another holiday last week, I decided to make something special and these ravioli were on my to-do-list for some time. Quite perfect for the weekend or a day off.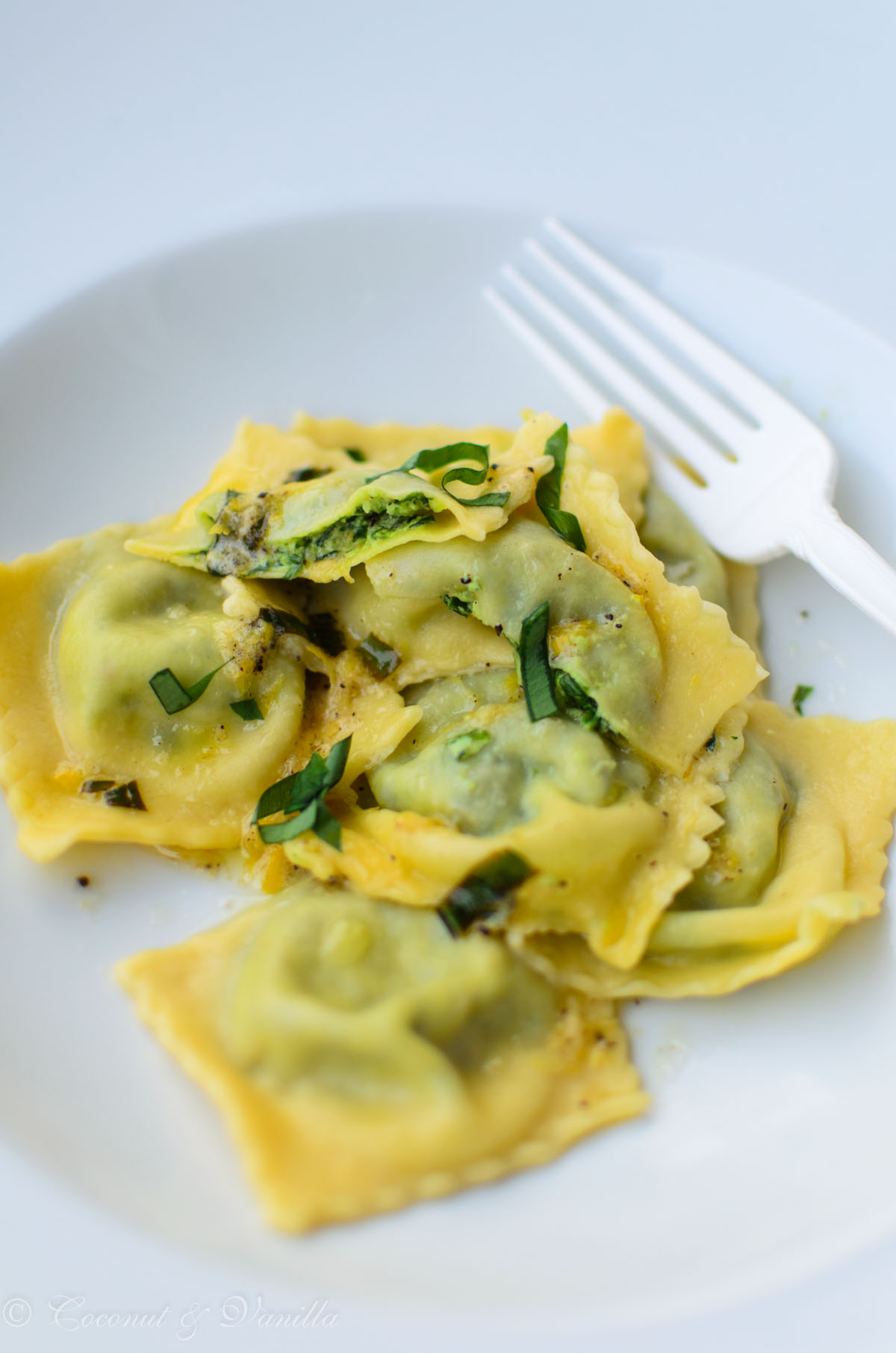 But together and using a Ravioli Board they were quickly made. Although I am not really satisfied with the ravioli board, because it's actually quite unmanageable to separate the ravioli with the attached mini rolling pin. So I skip that part and just use my pastry wheel, which is quicker, anyway. But every time I face this fact again, I'm getting a bit annoyed over it. But on the positive side you get 12 equal ravioli in little time.
The wild garlic really shines in the warm filling and the lemon butter fits very well without being overwhelming. As I didn't thought of buying a tube of ricotta the day before, I just made my own! You only have to plan in 1,5 hours for that. But you only need ingredients you've mostly at home and while the pasta dough rests, the ricotta can be drained. Perfect time management!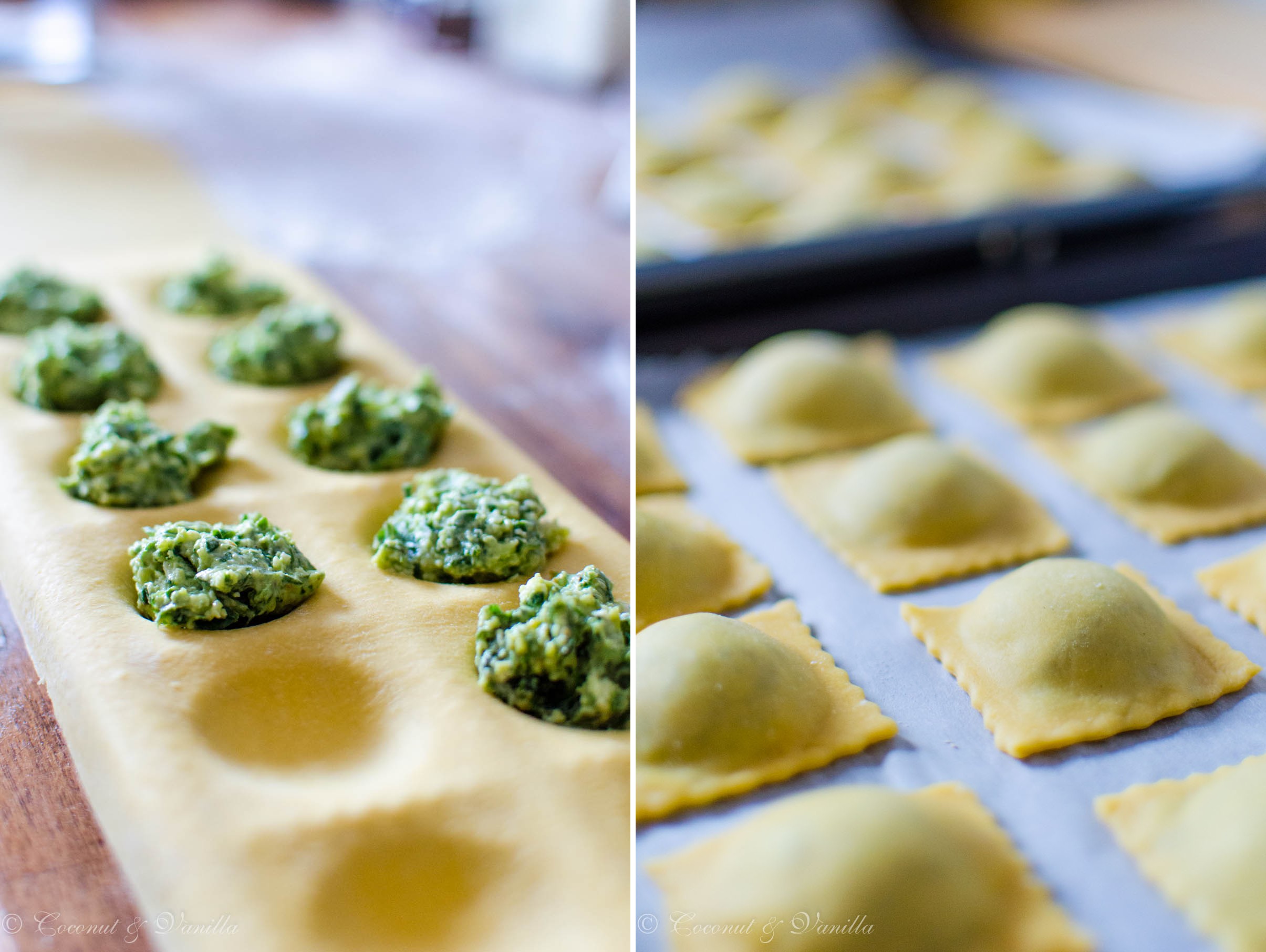 One year ago: crêpes with marinated green asparagus and smoked salmon
Two years ago: rhubarb streusel tart
Wild Garlic Ravioli with Lemon Butter
adapted from Küchengötter
yields: 3-4 servings
Ingredients:
300 g wheat flour (even better: Italian tipo 00)
3 eggs
salt
100 g wild garlic
250 g ricotta
2 egg yolks
50 g parmesan, finely grated
2 Tbsp breadcrumbs
salt, pepper
100 g butter
2 Tbsp lemon juice
zest of 1 organic lemon
Knead the flour, eggs and 1 tsp salt until you have a smooth dough. Add a small splash of water if necessary. Wrap in plastic foil and place in the fridge for 1 hour. 
Rinse the wild garlic and spin it dry. Cut off the stalks and put two leaves aside. Chop the other leaves finely and stir in the ricotta, egg yolks, parmesan, breadcrumbs and season generously with salt and pepper.
Prepare two baking sheets lined with parchment paper. Lightly flour the counter. Quarter the pasta dough and roll out with a pasta machine (level 7 of 9), therefore lightly flour the dough so it doesn't tear. Wrap the rest of the dough in foil again so it doesn't dry.
Using a ravioli board: Place one pasta sheet on the board, slightly pressing the sheet in the moulds. Place 1 heaped teaspoon filling in every mould and brush the space between with water. Place another pasta sheet onto it and press it onto it, from on side to the other to release the air. Either using the mini rolling pin to separate the ravioli or flip the board and separate them with a pastry wheel.
Without a ravioli board: Half the pasta sheet lengthwise and place 1 heaped teaspoon of filling with 5 cm space in between on it. Brush the pasta sheet with water and place the other sheet on it. Press it to seal it while releasing the air out of the pockets. Separate each ravioli using a pastry wheel.
Place the ravioli on the baking sheets. Leftover dough can be pressed together and rolled out another time.
Slice the two wild garlic leaves thinly.
Cook the ravioli in a large pot with boiling salted water until they are al dente, 4-5 minutes. Meanwhile melt the butter in a skillet, add the lemon juice and zest and bring it to the boil. Season with salt and pepper.
Drain the ravioli and serve with the lemon butter. Garnish with the wild garlic stripes.