Überraschenderweise erhielt ich vor ein paar Tagen eine E-mail von dm, dass meine Leckerbissen Box abholbereit wäre. Damit hatte ich nun gar nicht gerechnet, ich dachte die nächste bekomme ich im Januar.
Und schon hoffte ich wieder auf eine Weihnachtsbox… war es aber (leider) nicht. Trotzdem ist es bisher meine favorisierte Box aus allen dreien. Es dreht sich nämlich alles um Schokolade und Naschen. Neben Schokolade, Pralinen und Trüffel, gab es Nüsse und Beeren in Schokolade, sowie Tee und Macadamia-Creme. Bisher kannte ich nur den Tee und die Creme. Ich bin kein großer Käufer von Süßem, aber wenn dann tatsächlich Schokolade, denn die lässt sich so schlecht selbst herstellen ;). Außerdem kann ich mir einige Produkte auch gut als potenzielle Geschenke vorstellen.
Wie man sieht habe ich die Schokolade schon probiert. Aber auch das ganze andere Schokogedöns wurde von uns gleich verkostet. Deshalb kann ich Euch auch gleich eine Rückmeldung geben, ob die Sachen gut sind.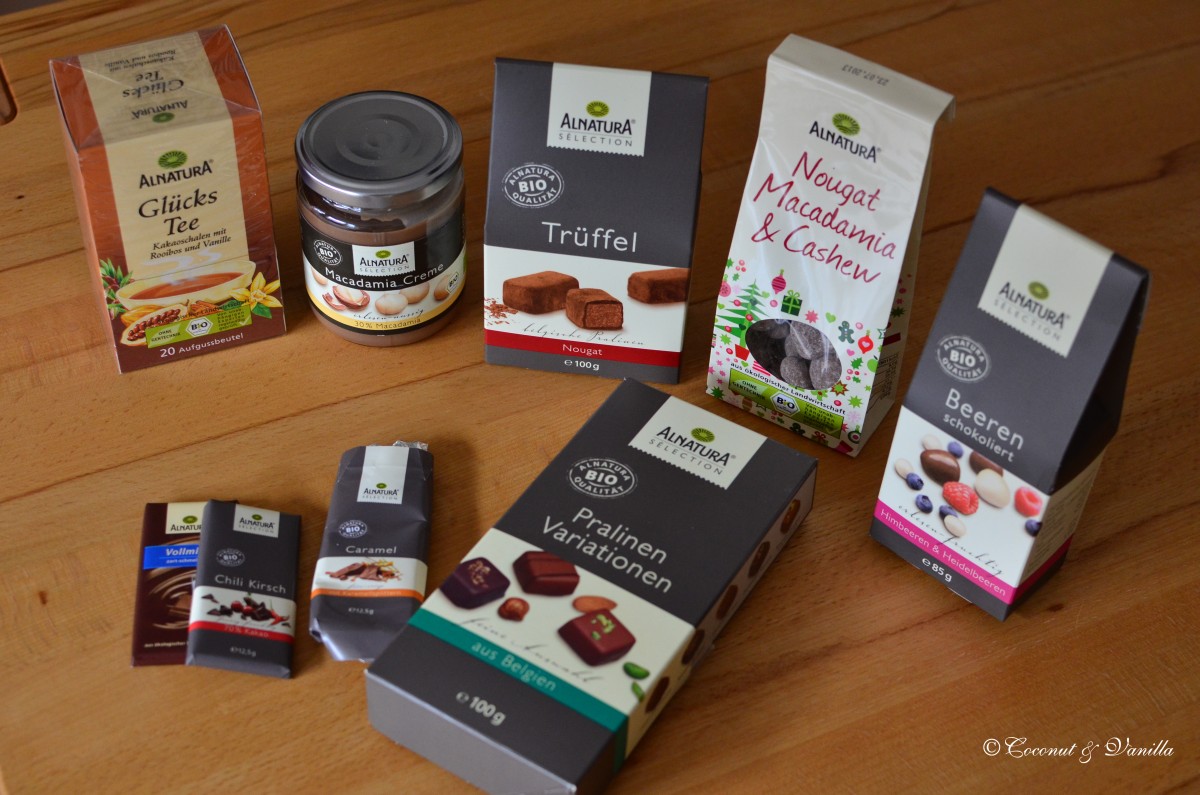 Der Tee (Glückstee mit Kakaoschalen, Roiboos und Vanille) … ja den mag ich so gar nicht. Ich kenne ihn schon aus der Teeselektion aus der 1. Box und aus dem Teeadventskalender aus vergangen Jahren und finde ihn grausig. Tee der nach Kakao schmeckt, uah. Kakao hat für mich etwas gehaltvolles und besteht aus Milch und Schokolade und nicht aus Tee und Wasser. Naja, ich schätze der Tee hat trotzdem eine große Anhängerschaft, sonst wäre er nicht mehr im Sortiment.
Die Macadamiacreme habe ich früher schon mal probiert, kann mich nicht mehr genau an den Geschmack erinnern, aber ich weiß noch, dass sie mir geschmeckt hat. Ich freue mich über das Glas!
Wir haben zuerst die Pralinen probiert und ich fände den Preis von 3,95 Euro in Ordnung, wenn nicht sogar günstig, wären sie denn gut. Denn die Pralinen kann ich leider gar nicht empfehlen. Es sind 5 Sorten, 2 davon Zartbitter, 3 Vollmilch. Die Zartbitter sind furchtbar, die Schokolade schmeckt wie Fettglasur und nicht wie Schokolade. Die anderen sind ok, aber unter Pralinen stelle ich mir was anderes vor und Schokolade sollte nach Schokolade schmecken und Schmelz haben, das fehlt dieser hier leider auch. Es kommt noch hinzu, dass die Pralinen unten drin eine richtig dicke Delle haben, somit steckt viel weniger in einer Praline drin, als man vermutet und hübsch aussehen tun sie dann auch nicht mehr. Kommt mir wie eine ziemliche Mogelpackung vor.
Anschließend haben wir die schokolierten Beeren (Him- und Heidelbeeren) probiert. Vom Bild her bin ich von weißer und Vollmilchschokolade ausgegangen, beim Kosten habe ich gemerkt die weiße ist Joghurtschokolade! Gar nicht mein Ding, vor allem weil der Joghurtgeschmack den Geschmack der Beeren, insbesondere der kleinen Heidelbeeren überdeckt. Sowieso bin ich kein Freund von Joghurtschokolade. Die gefriergetrockneten Beeren innendrin sind aber sehr lecker! Wer also Joghurtschokolade mag, dem kann ich diese süßen Teilchen nur ans Herz legen (2,95 Euro pro Packung).
Nach den Pralinen standen wir den Trüffeln skeptisch gegenüber. Sie sahen auch eher schwer und gehaltvoll aus. Wir wurden positiv überrascht! Die Trüffel sind sehr lecker und mit einer leichten Nougatfüllung gefüllt! Eine Packung kostet 3,75 Euro, ein fairer Preis wie ich finde.
Die Caramelschokolade hatte mich gleich angemacht und so musste ich sie auch noch probieren. Sehr lecker! Die anderen zwei habe ich noch nicht probiert, aber ich habe ja eine große Abneigung gegen Scharfes in Schokolade, Kirsche hingegen finde ich interessant.
Zuletzt die Macadamia und Cashewnüsse in Nougatschokolade: Auch diese sind sehr lecker, vor allem die Cashews haben es mir angetan. Außerdem liebe ich Nougat über alles! Das einzige nicht-Sélections Produkt, es ist aus der Weihnachtsserie. Den Preis von 1,95 Euro finde ich mehr als in Ordnung.
Für mich gab es also Produkte zu testen, die ich in Teilen auch nachkaufen würde und die mich richtig gereitzt haben. Am Geschmack der Pralinen sollte Alnatura aber dringend arbeiten, ist ja nicht so als gäbe es nicht genügend Konkurrenzprodukte. Schön fände ich es, wenn Alnatura mehr auf fairtrade und nicht nur auf bio achten würde. Gerade auch bei Schokolade ein wichtiges Thema!
Few days ago I was suprised as I received an email from dm, that I could fetch my Leckerbissen Box. I didn't expected that, since I thought I'll receive the next box in January.
Again I hoped for a Christmas box… but again (unfortunately) not. Nonetheless this is my favourite box so far. That's because, it's all about chocolate and sweet treats. Besides chocolate it contained nuts and berries covered in chocolate, as well as tea and a macadamia nut spread. Since then I only knew the tea and the spread. I don't buy sweets that often, but when I buy somethings it's mostly chocolate (since it's so difficult to make at home 😉 ). Besides, a lot of these items can be potential gifts..