Da Google in Zukunft Google Friend Connect komplett einstellen wird, werde ich in Zukunft auf dieses Feature in der Sidebar verzichten. Im Laufe der Woche werde ich es entfernen.
Aktualisiert: Das ist nicht korrekt. Google Friend Connect wird nur für Leute nicht mehr nutzbar sein, die nicht die googleeigene Plattform Blogspot benutzen. Ich habe mich daher (auch auf Nachfrage von Euch) dazu entschlossen das Feature wieder einzubauen.  Ihr findet es wieder wie früher in der Seitenleiste.
Es gibt aber natürlich noch viele andere Möglichkeiten diesem Blog zu folgen: der klassische Feed bzw. das E-mail Abonnement, in das ihr Euch rechts eintragen könnt.
Natürlich würde ich mich freuen, wenn ihr meinem Blog auf Facebook folgt, dort wird auch mal so über Rezepte geplaudert, ihr erfahrt was gerade in der Mache ist und ich empfehle auch den ein oder anderen Link.
Möchtet ihr unabhängig von Facebook bleiben, aber trotzdem einen Dienst beanspruchen, empfehle ich Euch Bloglovin', damit könnt ihr meinen Blog (so wie viele andere) verfolgen.
Meinen Twitteraccount gibt es auch noch, ich zwitschere Euch also immer wenn es was Neues auf den Blog gibt, bin ansonsten dort aber eher still, da mir das doch zu zeitaufwendig ist.
Seit einiger Zeit könnt ihr mich auch bei Pinterest finden und meine Pins dort verfolgen, wenn ihr möchtet.
Die Buttons in der Sidebar führen Euch zu den entsprechenden Diensten. Jeden Blogeintrag könnt ihr unter diesem auch liken, twittern, bei Bloglovin' mögen und was es sonst noch alles so gibt.
Nun zu meinem neuen "Projekt". Ich habe Euch ja bereits hier gezeigt was wir wo einkaufen. Ich habe schon länger darüber nachgedacht, Euch zu zeigen was wir immer so Samstags auf dem Wochenmarkt einkaufen. Nun habe ich endlich mal ein Bild gemacht. So seht Ihr wie wir saisonal und regional einkaufen und was es hier so gibt. Für den Markt habe ich übrigens selten eine Einkaufsliste. Ich kaufe was es gibt und was mich anmacht, und die Sachen werden dann die Woche über verkocht. Das funktioniert sehr gut, wenn man etwas Fantasie hat und etwas flexibel ist.
Ich hoffe Euch gefällt die neue Serie und ihr werdet davon inspiriert. Schön fände ich es natürlich, wenn ihr Euch dadurch animiert fühlt auch auf den Wochenmarkt zu gehen, falls ihr das nicht sowieso schon macht (vorausgesetzt bei Euch gibt es einen vernünftigen – ich habe selber schon in Gegenden gewohnt, da waren die Wochenmärkte grausig).
Möchtet ihr wissen was ich aus einem bestimmten Produkt zubereite? Lasst es mich wissen, dann steht es vielleicht demnächst hier im Blog!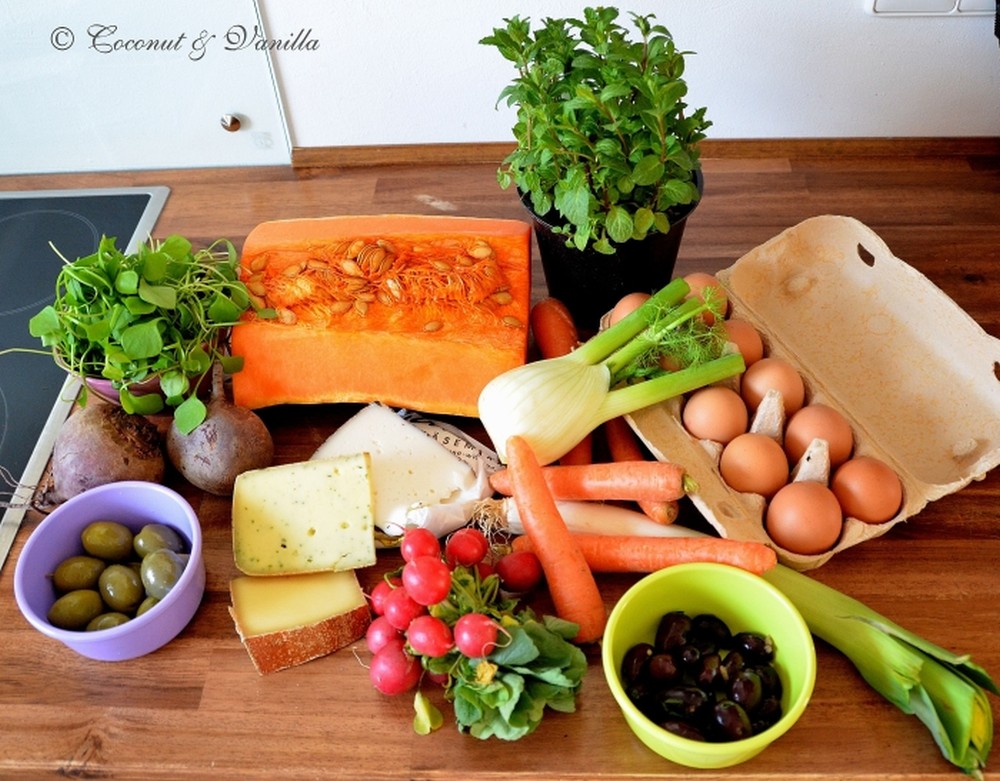 Der Markteinkauf besteht diese Woche aus:
Portulak, ein Stück Muskatkürbis, Rote Beete, Minze, Fenchel, Karotten, Lauch, Radieschen, Eier, Käse, grüne Mammut-Oliven und schwarzen Kalamataoliven.
Obst habe ich diese Woche nicht gekauft, da wir noch Äpfel, Birnen, Orangen und Zitronen zu Hause haben.
 Google is going to shut down Google Friend Connect. As a consequence I will remove the feature in the sidebar in the upcoming week.
Update: This wasn't correct. Google Friend Connect is just available anymore for users of the Google-owned platform Blogspot. Therefore I've decided to put the feature up again (some of you asked for it, too). You find it again in the side bar like before.
But there are a lot of other  possibilities for following my blog: the classic feed or the e-mail subscription, to which you can subscribe in the sidebar.
Of course I would be happy if you follow me on Facebook. There you'll find the newest information about the blog, as well chatting with me about recipes or what I'm doing in my kitchen.
If you would like to be independent from Facebook, but using a service as well, I recommend you Bloglovin'. There you can follow my blog, as well as many others, too.
I have still my twitter account, where I twitter about my newest blog posts, but not much more, since it's too time-consuming for me.
For some time you also find me on Pinterest and if you're interested you can follow my pins there.
The buttons in the sidebar will lead you to the corresponding services. Underneath every blog post it's possible to like it, twitter it and so on.
Now to my new "project". I've already showed you here where we buy what. For quite some time I thought about showing you what we purchase every Saturday on the market.  Today I just began. So you see how we buy seasonal and regional and what's available here.
Rarely I have a shopping list for the market. I buy what is available and what I like. With these things I cook the whole week, mostly without knowing on Saturday what too cook with it. That works really good, when you have some fantasy and a bit of flexibility.
I hope you like the new series and you will be inspired by it. I would be happy, if you feel animated to go to the market yourself, if you're not already doing that already and a nice market is available (I lived in areas myself, where the market was not recommendable).
Do you want to know what I make with a special product? Let me know, and maybe you see the recipe here soon!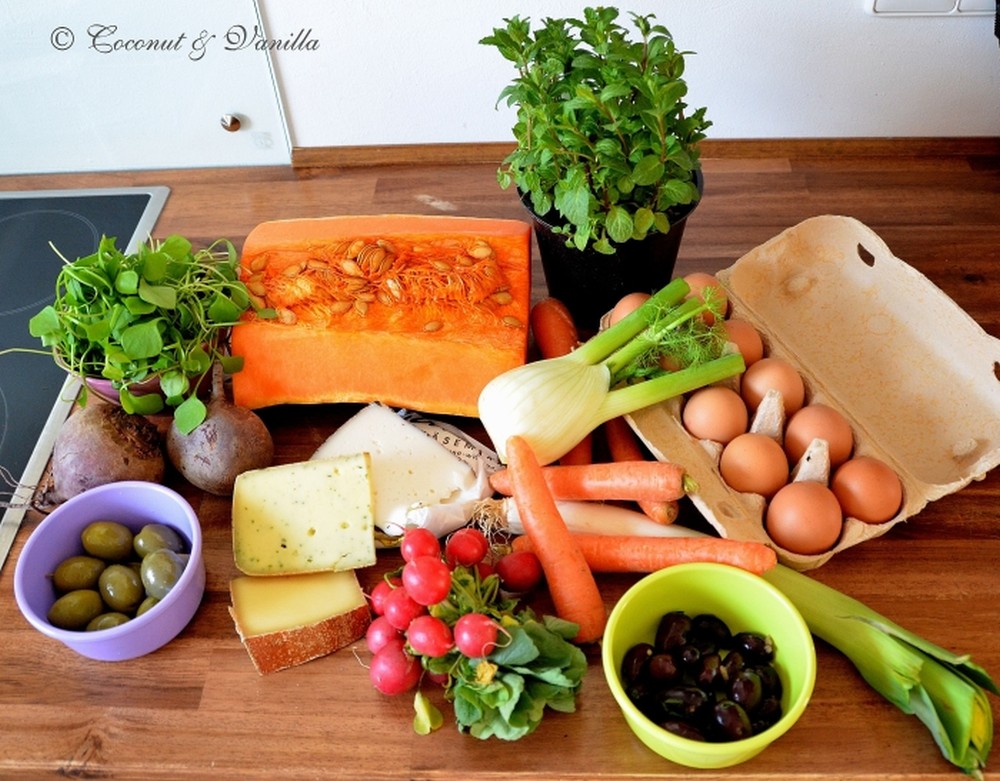 This week I bought that on the market: Purslane, a piece of pumpkin, red beets, mint, fennel, carrots, leek, eggs, radishes, cheese, green mammoth olives and black kalamata olives. I didn't bought any fruits today, since we still have some apples, pears, oranges and lemons at home.