Wir sind ja große Fans von Waffeln, Pancakes, Crêpes oder ähnlichen Leckereien zum Frühstück. Lange war ich auf der Suche nach dem perfekten Waffelrezept. Es gibt ja auch nicht wenige!
Waffeln müssen saftig sein, nicht zu trocken, nicht zu dick, nicht zu stopfend. Schwierig, da das richtige Rezept zu auszumachen.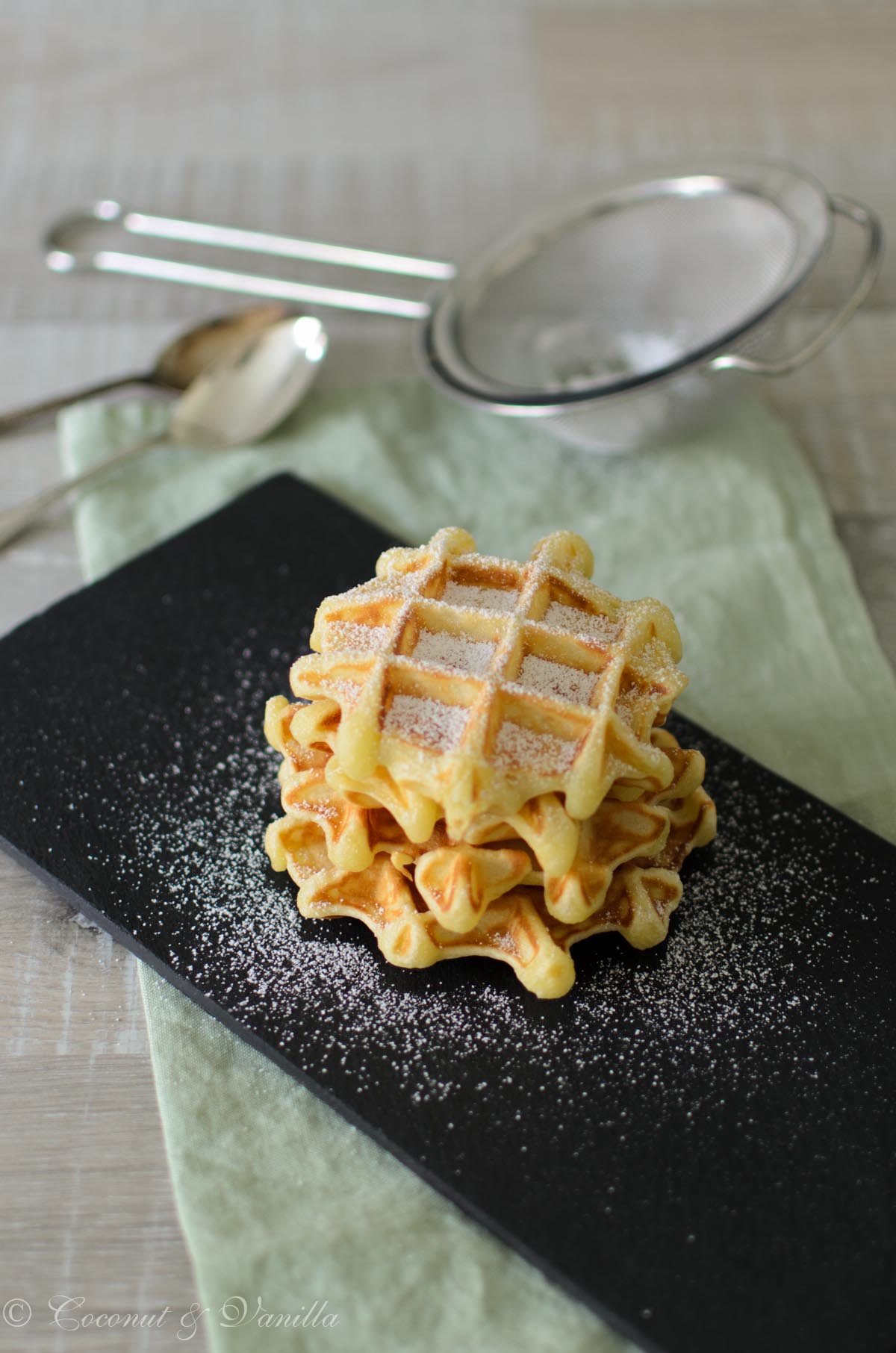 Aber dieses hier ist perfekt! Diese Waffeln sind samtig weich, ohne zu weich zu sein und soo saftig. Sie sind locker dank der Hefe und der seperat untergehobenen aufgeschlagenen Eiweiße. Die Butter macht sie besonders köstlich und saftig.
Herzhaft kann man sie auch gut verzehren und zum Einfrieren sind sie auch geeignet. Dann einfach wieder im Toaster aufbacken und sie sind wieder genauso saftig und fast so gut wie frisch gebacken!
Übrigens müssen sie nur 20 Minuten gehen, trotz Hefe! Sie sind also ratz-fatz fertig.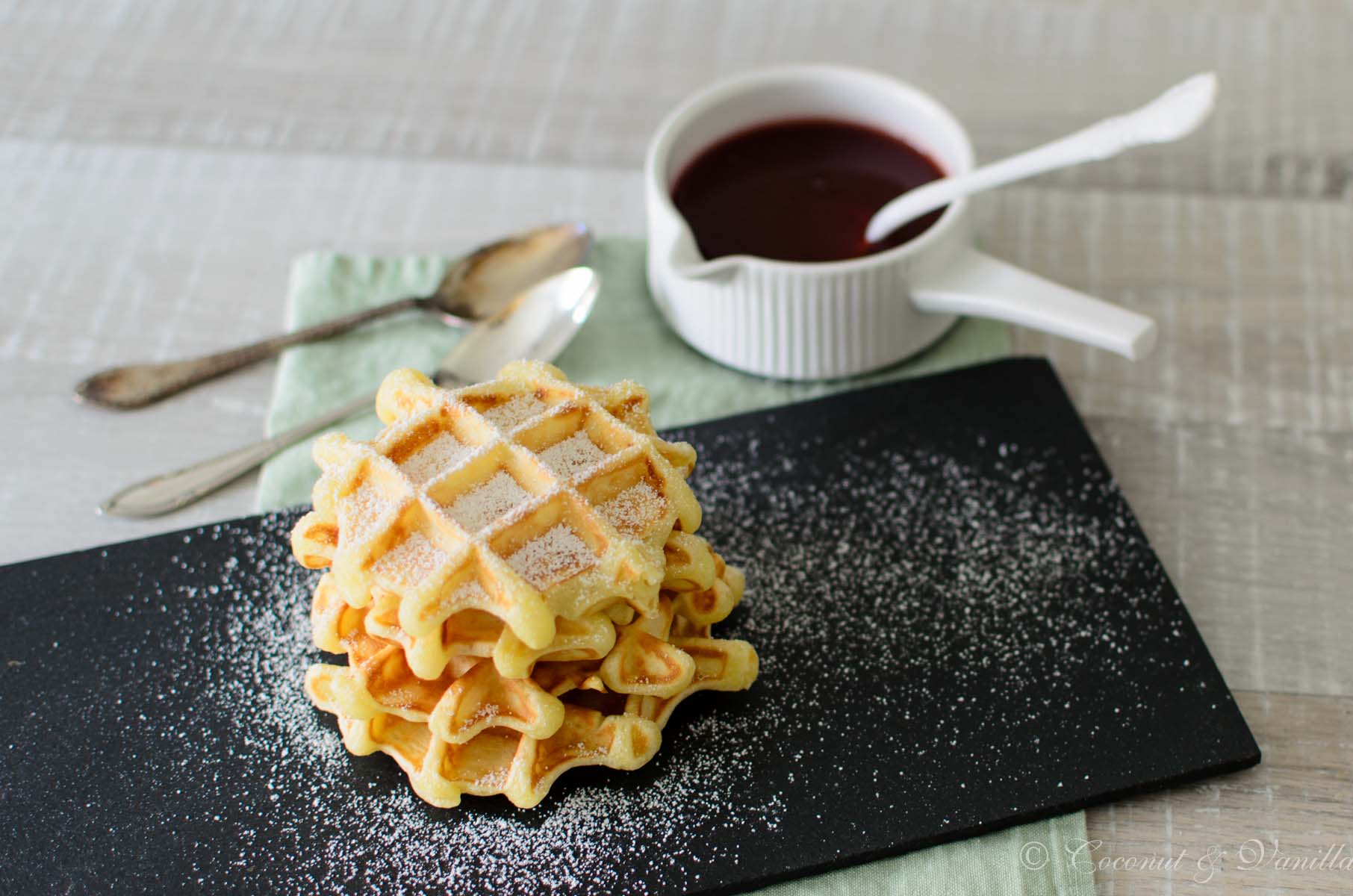 Vor einem Jahr: Crêpes mit mariniertem grünem Spargel und Räucherlachs
Vor zwei Jahren: Cantucchini
Saftige Hefewaffeln
aus Noch ein Stück von Leila Lindholm
für 4 Personen
Zutaten:
2 Eier
125 g Butter
250 ml Milch
200 ml Wasser
12 g frische Hefe oder 4 g Trockenhefe
400 g Weizenmehl Type 405
60 g Zucker
2 TL Vanillezucker
1 Prise Salz
 Eier trennen.
Die Butter schmelzen, Wasser und Milch dazugeben und lauwarm erwärmen. Die Hefe hineinbröckeln und darin auflösen.
Mehl, Zucker, Vanillezucker und Salz mischen. Die Hefemilch unterrühren, dann die Eigelbe zufügen und zu einem glatten Teig verrühren.
Die Eiweiße steif schlagen und unter den Teig heben. 20 Minuten gehen lassen.
Den Ofen auf 80° C vorheizen.
Das Waffeleisen erhitzen (am besten für Brüsseler Waffeln) und die Waffeln darin goldgelb ausbacken. Für kleine Waffeln nehme ich 1 EL Teig, für große Waffeln 2 EL Teig pro Seite.
 Die Waffeln im Ofen warmhalten bis alle ausgebacken sind.
We are indeed huge lovers of waffles, pancakes, crêpes or similar deliciousness for breakfast. For a long time I was searching for the perfect waffle recipe. Cause there are a lot!
Waffles have to be luscious and mellow, not dry, not too thick, not too stuffing. It's not easy finding the perfect recipe.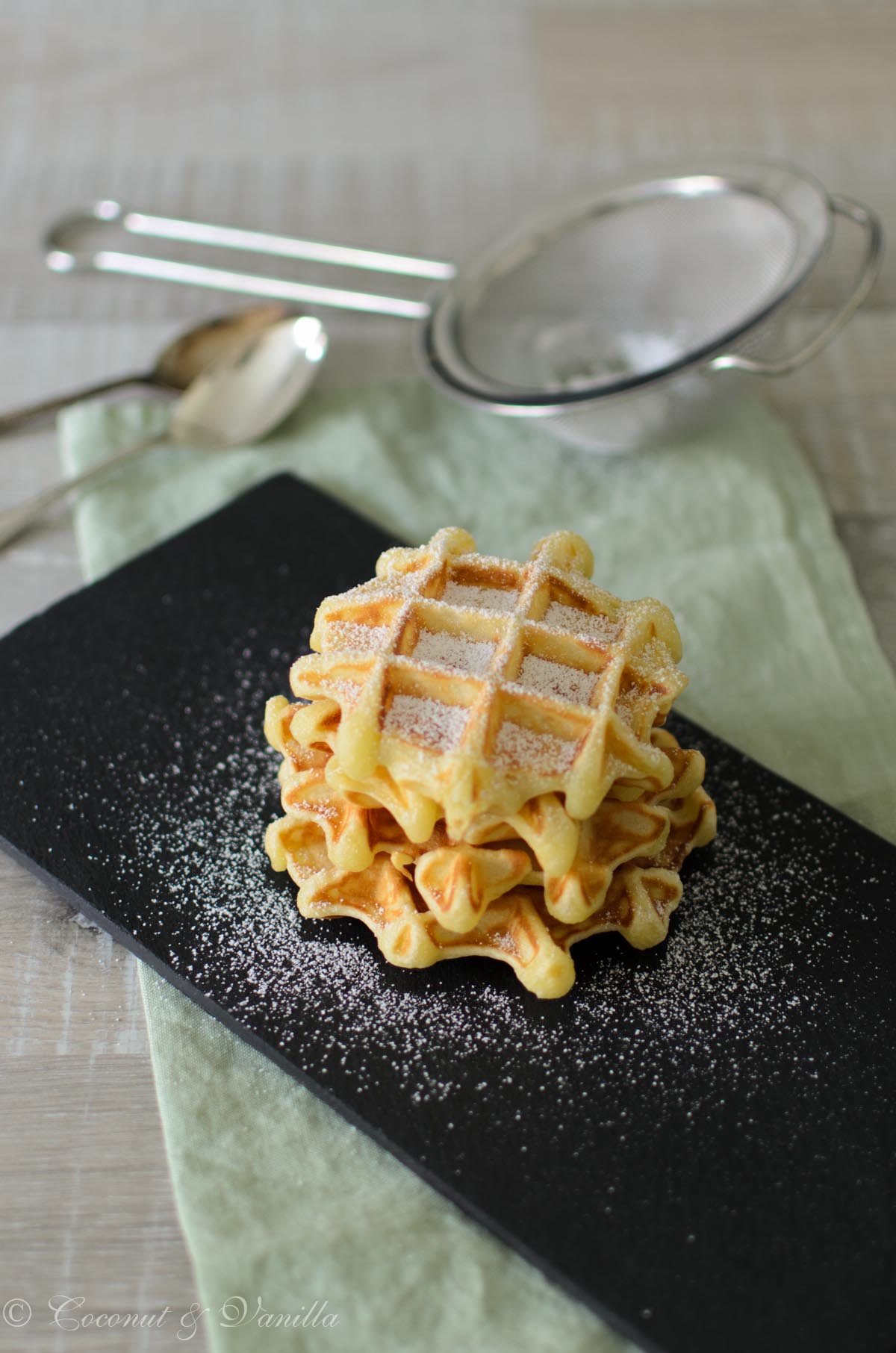 But here it is! These waffles are velvety, without being too soft and so luscious. They are fluffy, because of the yeast and the in folded beaten egg whites. The butter makes them oh so delicious and mellow.
They can be also eaten savoury and are freezer friendly, too. Just reheat them in the toaster and they are almost as good as freshly baked!
Although using yeast in these waffles, they only need 20 minutes resting, so they are stirred together in no time at all!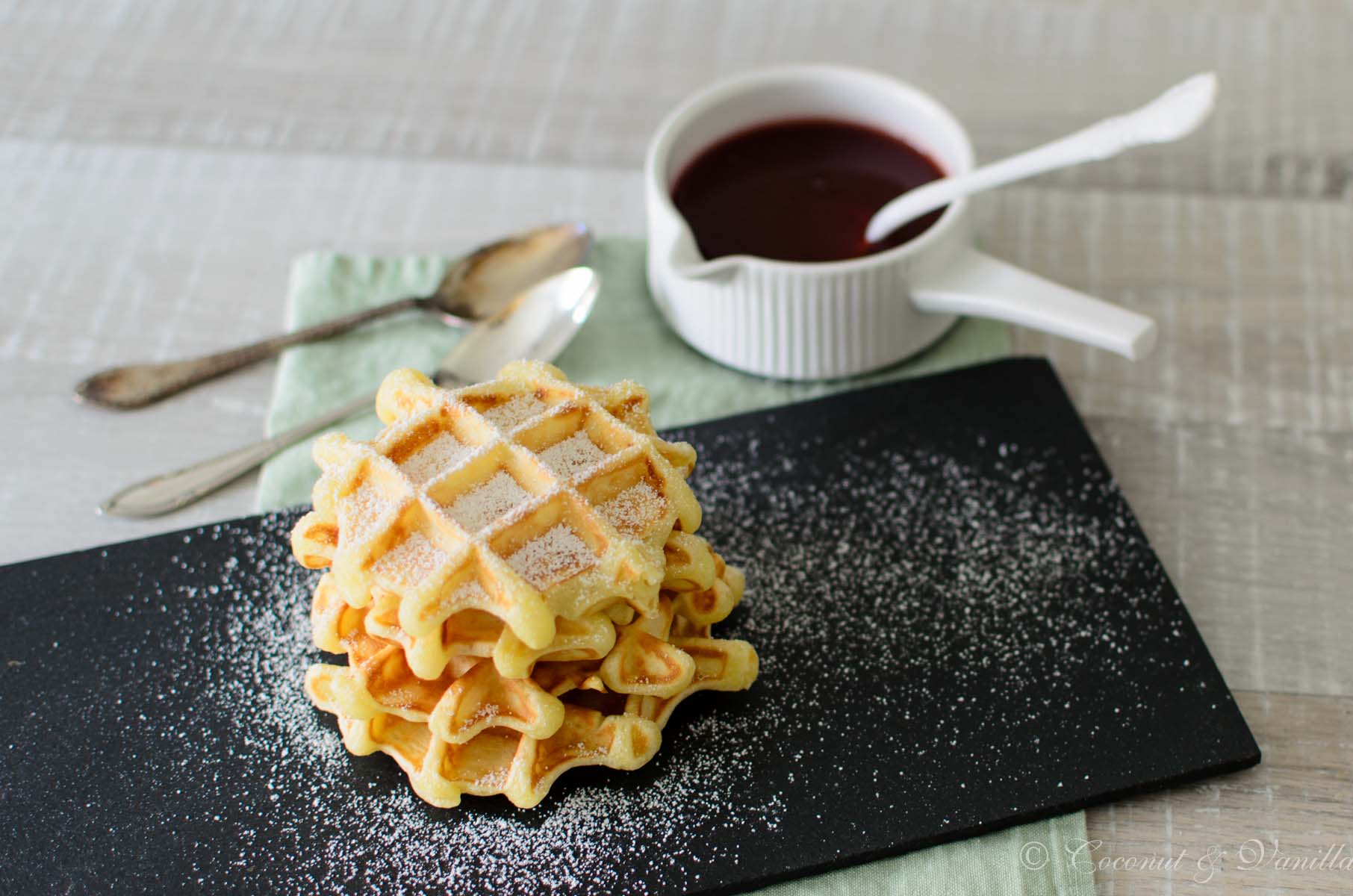 One year ago: crêpes with marinated green asparagus and smoked salmon
Two years ago: cantucchini
Luscious Yeast Waffles
adapted from One More Slice by Leila Lindholm
feeds 4
Ingredients:
2 eggs
125 g butter
250 ml milk
200 ml water
12 g fresh yeast or 4 g active dried yeast
400 g wheat flour
60 g sugar
2 tsp vanilla sugar
pinch of salt
Separate the eggs.
Melt the butter in a saucepan, add the milk and water and heat until lukewarm, remove from the heat. Crumble the fresh yeast into the milk and dissolve.
Whisk together the flour, sugar, vanilla sugar and salt. Stir in the yeasted milk, then add the egg yolks. Stir until you have a smooth dough.
Beat the egg whites until stiff peaks form, fold into the dough. Let the dough rest for 20 minutes.
Preheat the oven to 80° C.
Heat the waffle iron (best for Brussels waffles) and bake the waffles until golden brown. I use to take 1 Tbsp for small waffles, and 2 Tbsp per side for large waffles.
Place the waffles in the oven to keep them warm, until you've baked them all.