[:de]Im September war ich von den kulinarischen Walnüssen nach Stuttgart eingeladen. Heiko Antoniewicz war auch vor Ort und kochte und buk mit kalifornischen Walnüssen. Als ich Heikos Namen las war es eigentlich schon um mich geschehen, wie sich herausstellte zu Recht!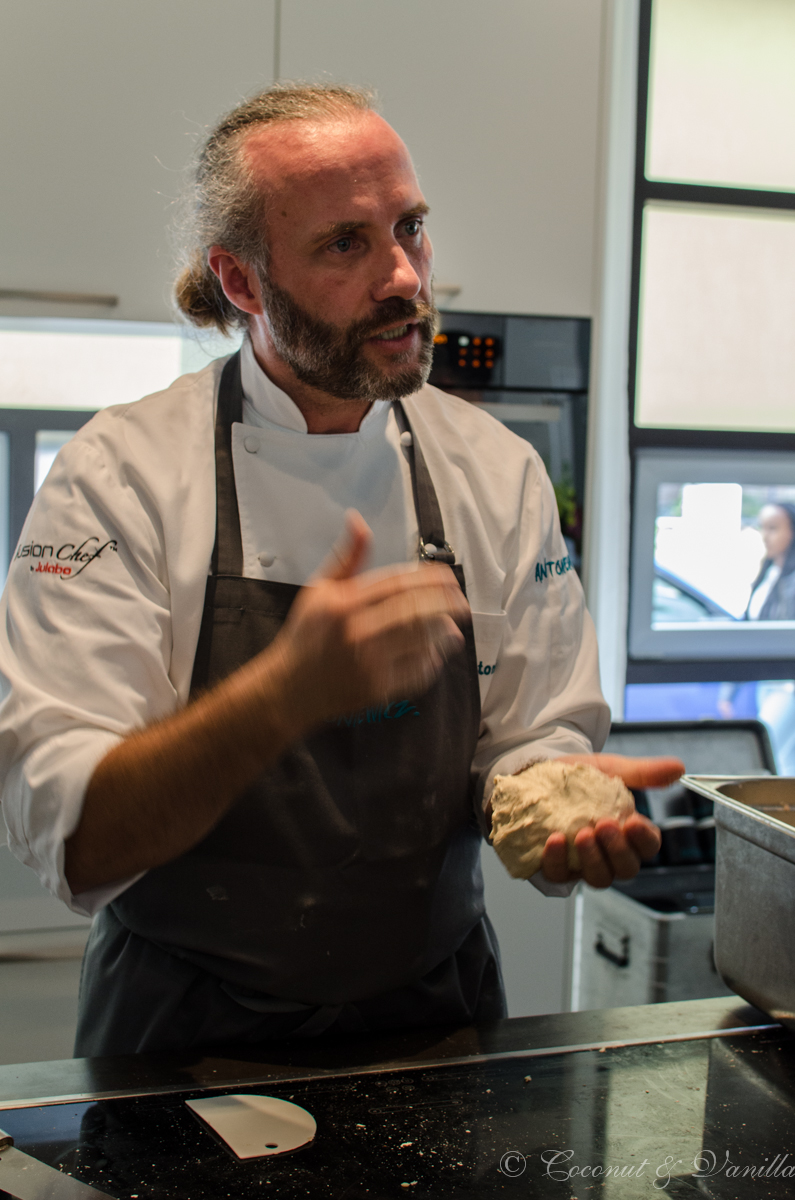 Ich wusste nicht was mich erwartete. Jedenfalls erwartete ich nicht selbst zu backen. Getäuscht! Die Walnüsse hatten für uns eine "kleine" Backchallenge geplant. Uh, oh! Auf Anhieb kreativ sein? Ich war skeptisch. Am Ende sprudelten jedoch die Ideen nur so!
Zuvor gab es aber schon mal reichlich Essen von Heiko. Vor unseren Augen bereitete er verschiedene Köstlichkeiten mit Walnüssen zu und bereicherte uns mit seinem unfangreichem Walnusswissen. Ich hätte nie gedacht was man alles mit Walnüssen anstellen kann, der Wahnsinn! Man kann z.B. die Schale abreiben und verwenden, aus den ganzen Walnüssen einen Sud kochen und die Walnusskerne in Öl rösten!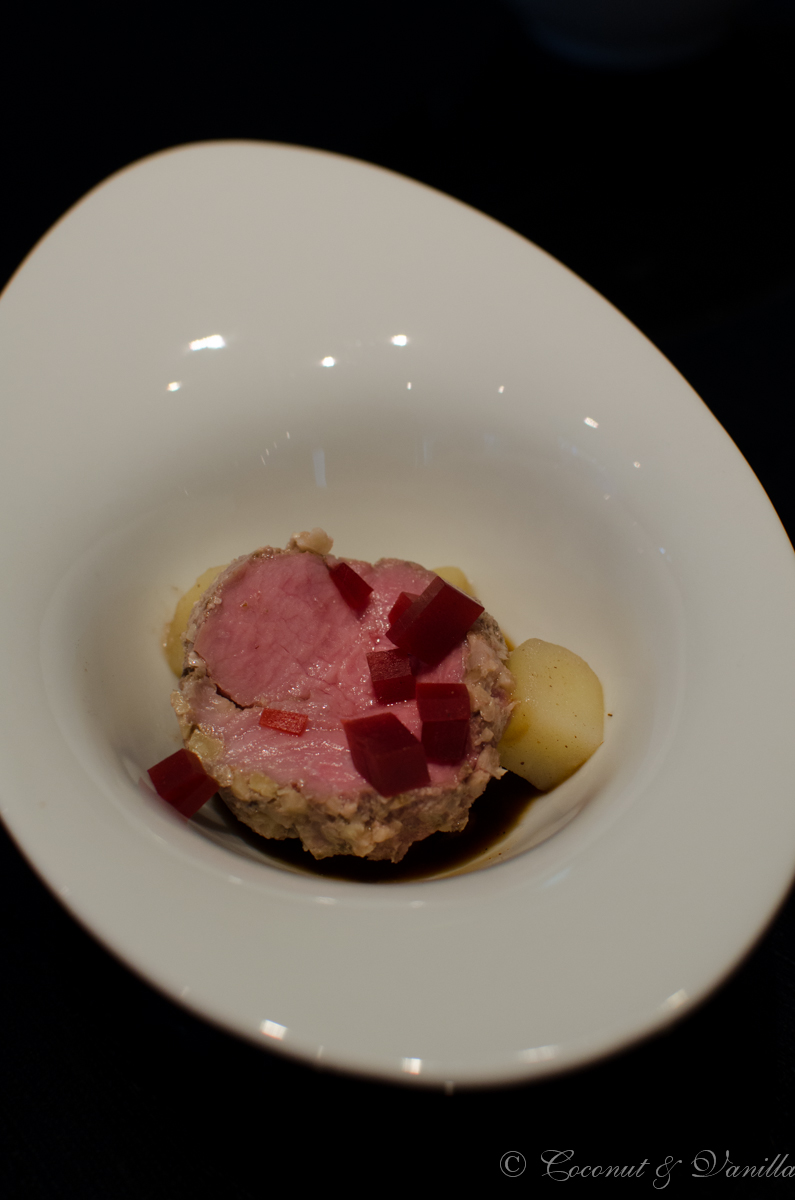 Die Nüsse (ohne Schale) in Öl rösten war sowieso DER Tipp des Tages. Die Nüsse müssen komplett mit neutralem Öl bedeckt sein und bei kleiner Hitze gegart werden.So brauchen sie nur wenige Minuten bis sie rundherum geröstet sind. Auf diese Weise kann man auch "kurvige" Nüsse gleichmäßig rösten! Das Ergebnis ist unvergleich genial! Heiko macht das natürlich mit allen Nusssorten.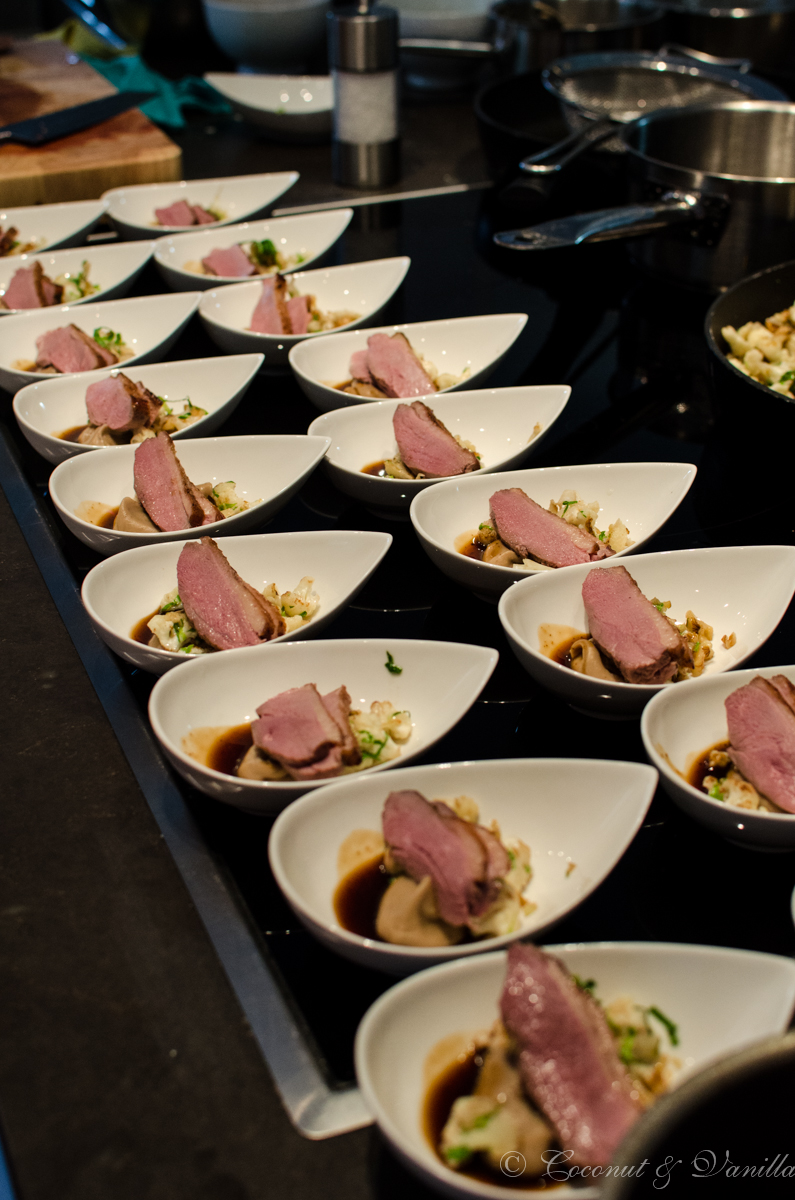 Dann ging es zur Backchallenge. Drei Gruppen á 4 Personen sollten sich ein herzhaftes Gericht überlegen, das man bäckt. Ich hatte die Ehre mit Natalie von Holunderweg 18, Elena von heute gibt es und Katja von Schönste Bastelzeit in einer Gruppe zu sein. Das hat viel Spaß gemacht und wir waren alle auf einer Wellenlänge, so dass die Zubereitung wirklich gut funktioniert hat. Wir wussten ziemlich schnell, dass wir genügend Zeit haben würden und so planten wir ein zweites Gericht (die anderen Gruppen hatten übrigens die gleiche Idee).
Am Ende haben wir die Gerichte der Walnussjury vorgelegt. Zorra, Sandra, Simone und Heiko bewerteten mit strengen Blicken.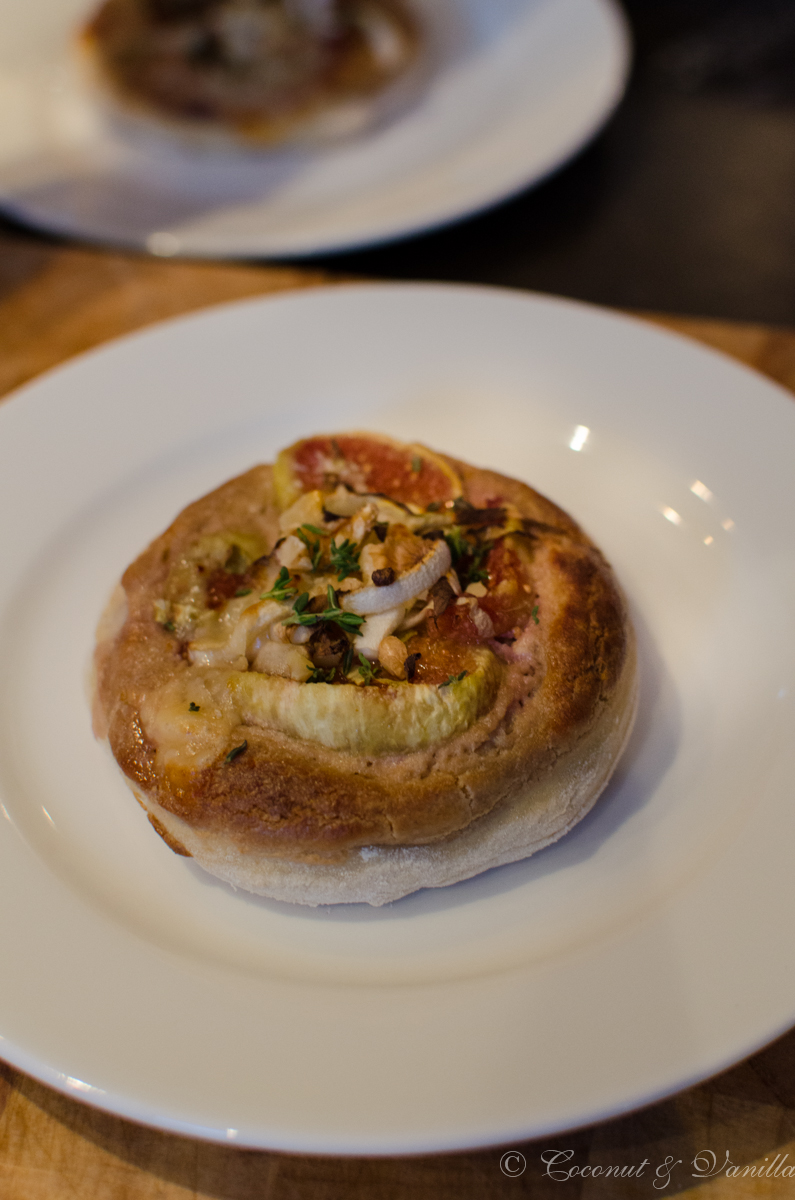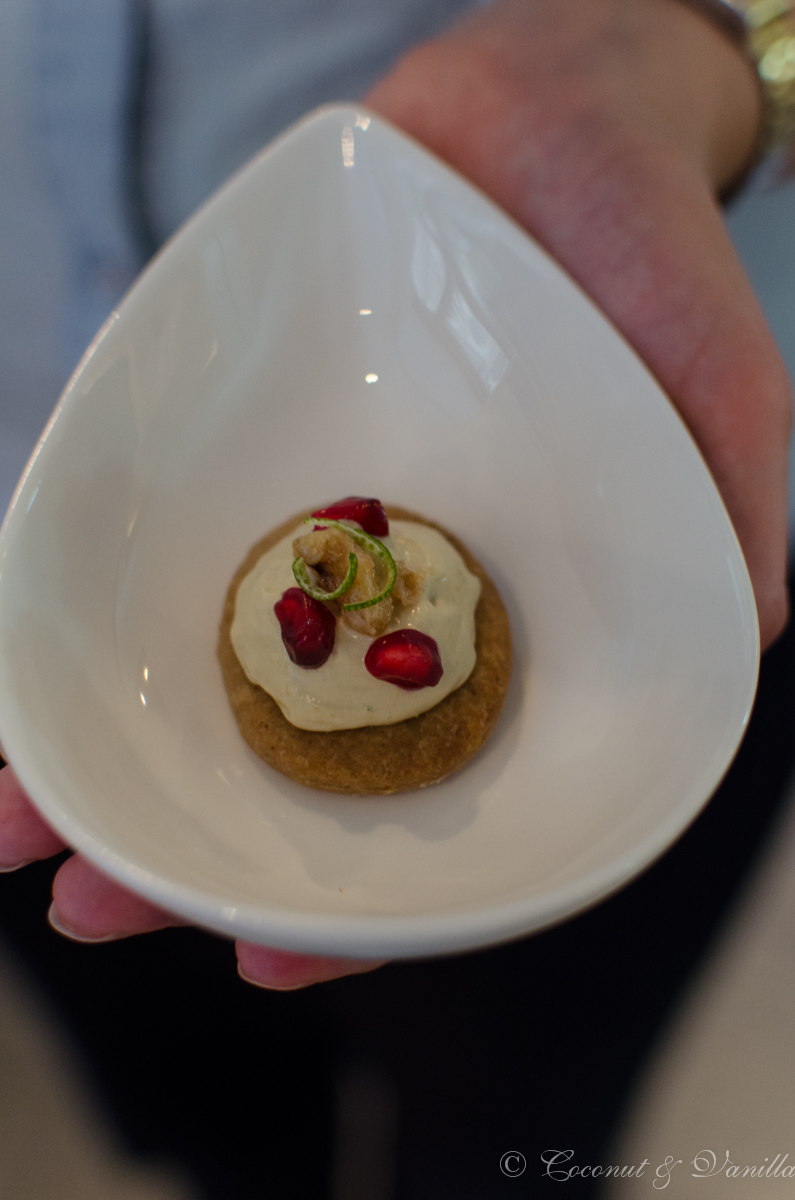 Wir präsentierten Minipizzen mit Walnusscreme, Chicorée, Feigen, Walnüssen und frischem Thymian. Außerdem gab es kleine herzhafte Mürbeteigkekse mit einem Limetten-Kürbisöl-Espuma, Granatapfel und karamellisierten Walnüssen.
Damit räumten wir überraschenderweise den ersten Platz ab! Ich glaube wir waren ziemlich geplättet.
Wir hatten gemunkelt es könnte einen Jahresvorrat an Walnüssen zu gewinnen geben, aber es gab Heikos neues Brotbackbuch mit persönlicher Widmung <3.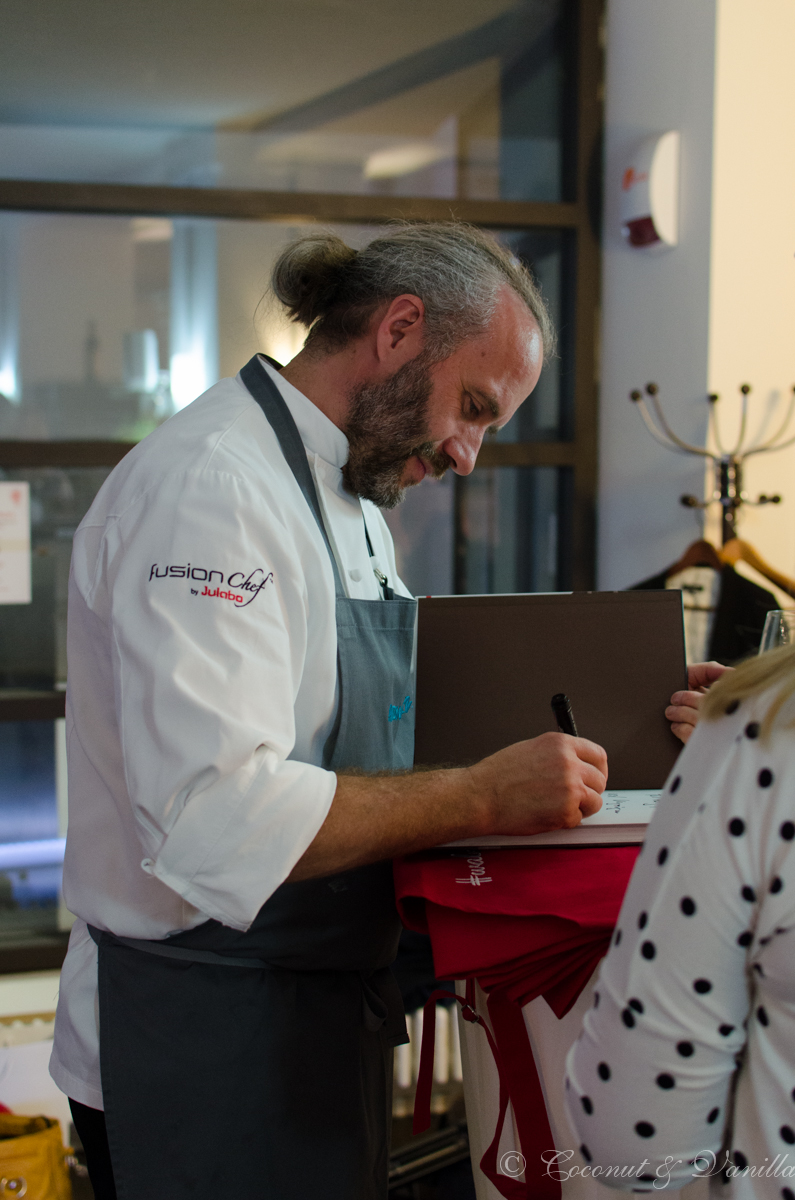 Anschließend gab es nochmals Essen, dabei waren wir schon so dermaßend übersättigt.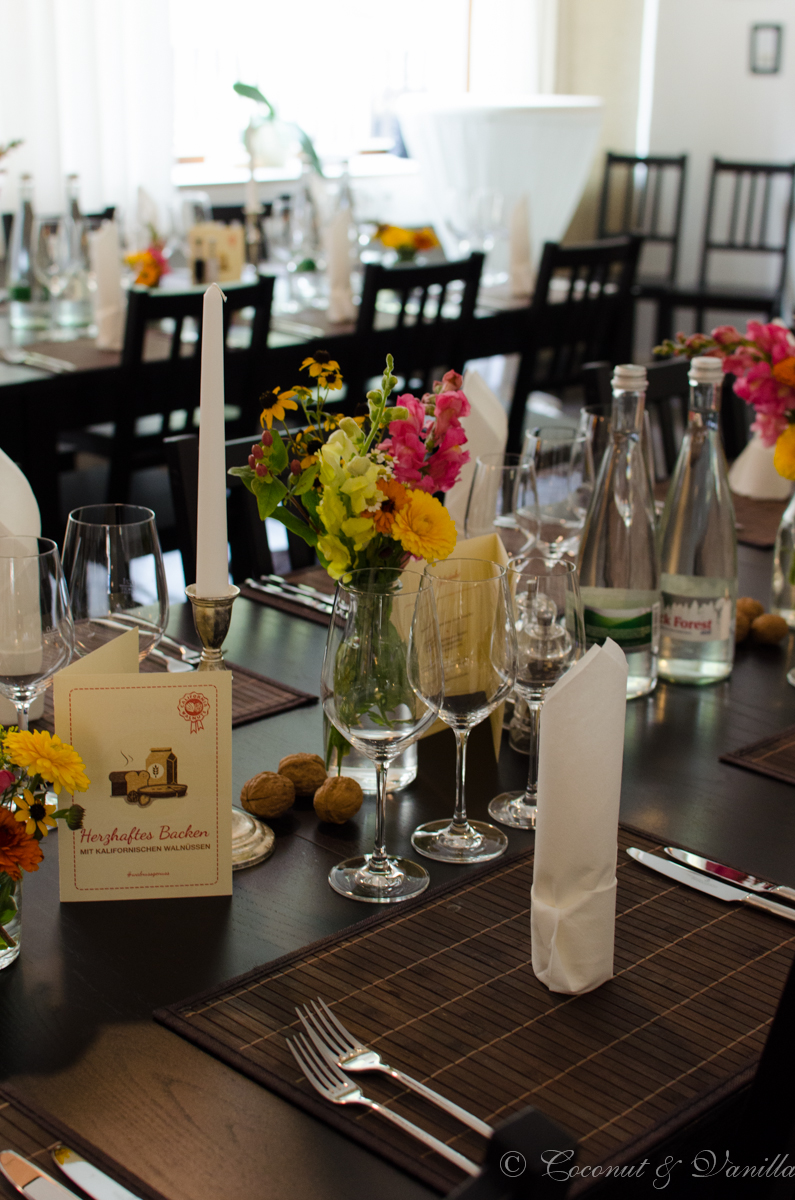 Es war ein tolles Event, auch wenn ich gehofft hatte ich kann mich vom Kochen etwas ausruhen ;). Stattdessen gab es die volle Backaction! Es hat viel Spaß gemacht mit den Mädels und vor allem mit Heiko, der einem immer mit Rat und Tat zur Seite stand und uns ermutigte etwas zu riskieren.

[:en]In September I was invited by the Californian Walnuts to Stuttgart. Heiko Antoniewicz was also there and baked with walnuts. But I just had to read Heikos name and I was in! Which was a very good decision!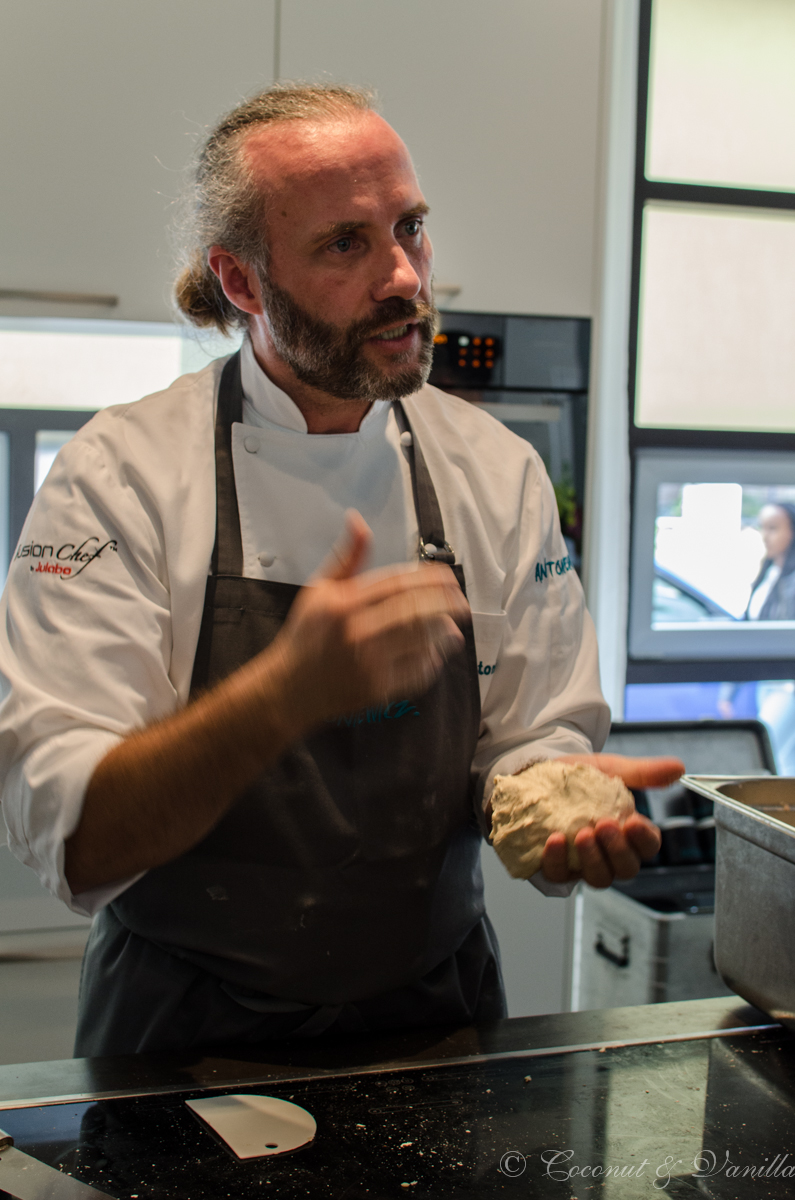 I didn't know what to expect, but for sure not that we had to bake ourselves. Fooled I was! The walnuts planned a "little" baking challenge. Uh,uh! To be creative in an instant? I was sceptical. But in the end ideas were bubbling away!
But before Heiko made a lot of food for us. In front of our eyes he cooked and baked different dishes with walnuts and enhanced our knowledge about walnuts enormously. I would have never thought what is possible with walnuts, amazing! For example, you can grate the nut shells and use this for spicing, cook a broth from whole walnuts and roast the whole nutmeat in oil!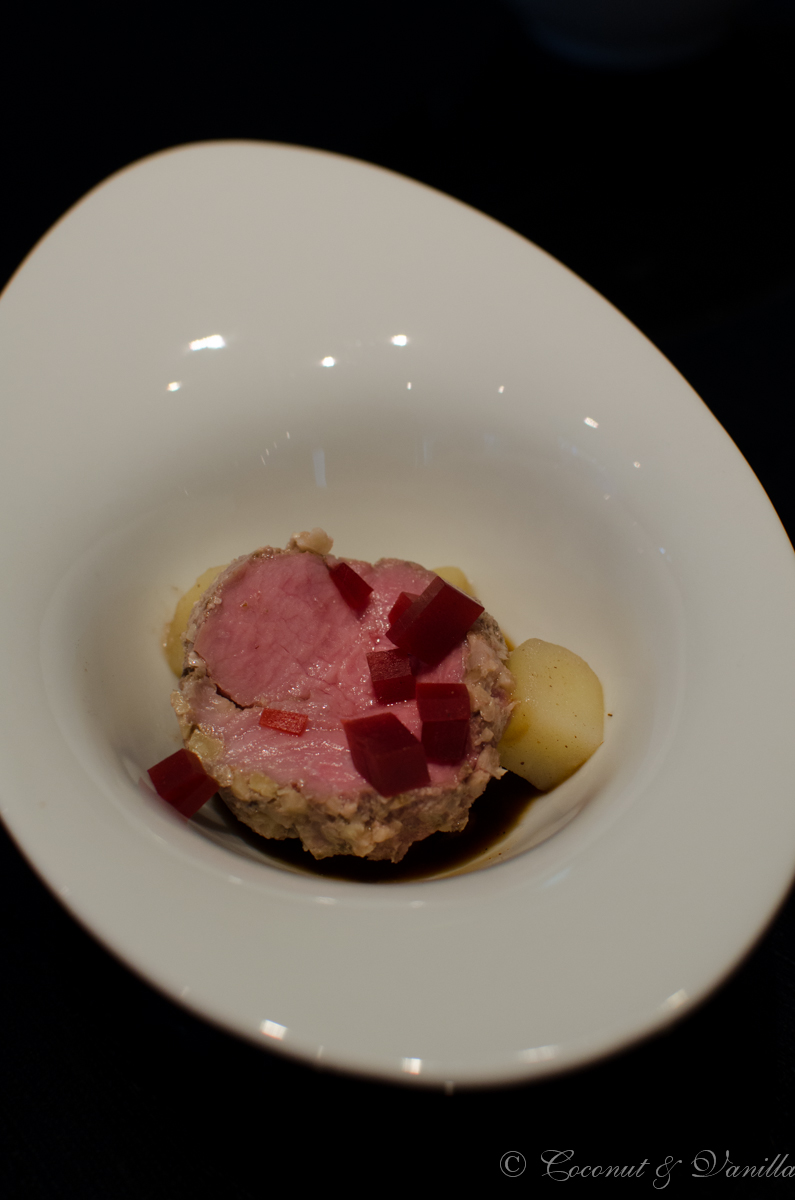 Roasting the nuts in oil was THE tip of the day. Therefore the nuts (without shell) need to be covered completely in neutral oil and cooked. They need only few minutes to be roasted in all crevices and cracks. Like this, one can roast also "curvy" nuts evenly! The result is stunning! Of course, Heiko does this with all kind of nuts.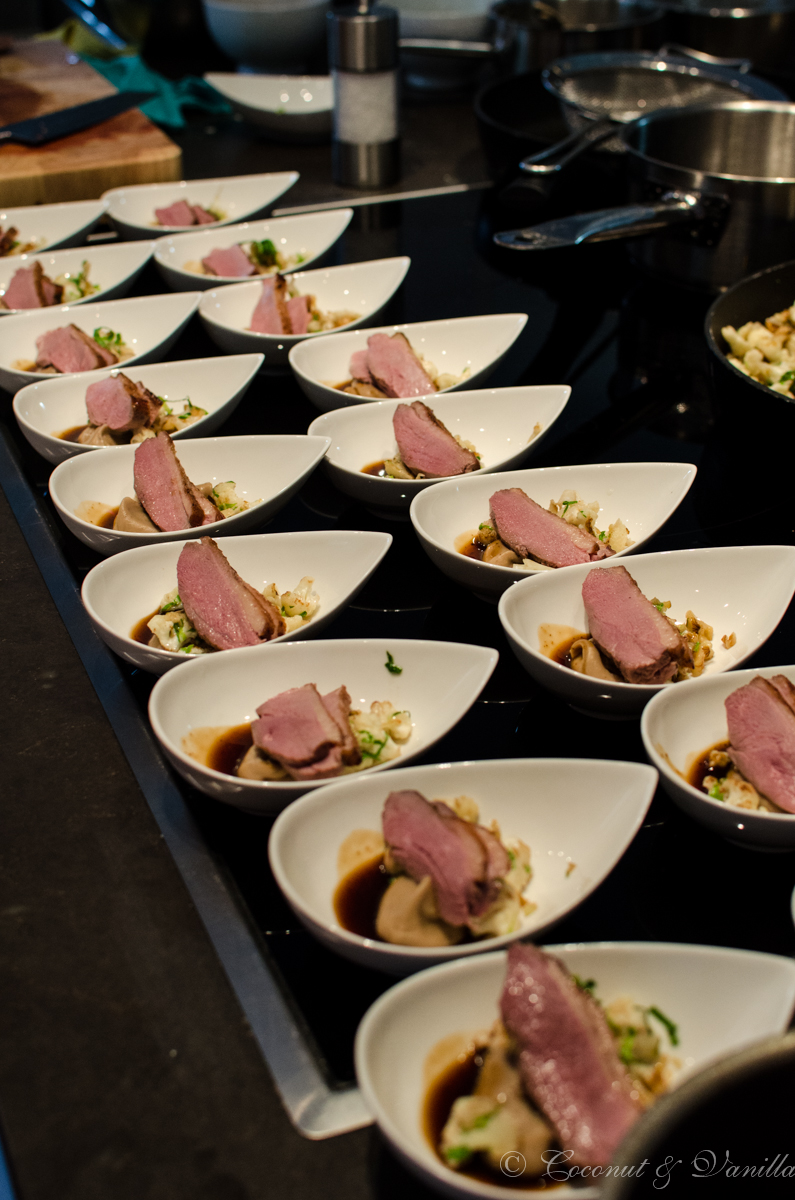 After that we started with the challenge. Three groups á 4 persons should create a savoury dish to bake. I had the honour to be in a group with Nathalie of Holunderweg 18, Elena of heute gibt es and Katja of Schönste Bastelzeit. This was already a lot of fun and we had a positive vibe, which made it easy to prepare the dishes together. We knew quite quickly, that we would have a lot of time and planned a second dish (the other groups had the same idea, by the way).
In the end we had to present our dishes the walnut jury: Zorra, Sandra, Simone und Heiko were tough judges.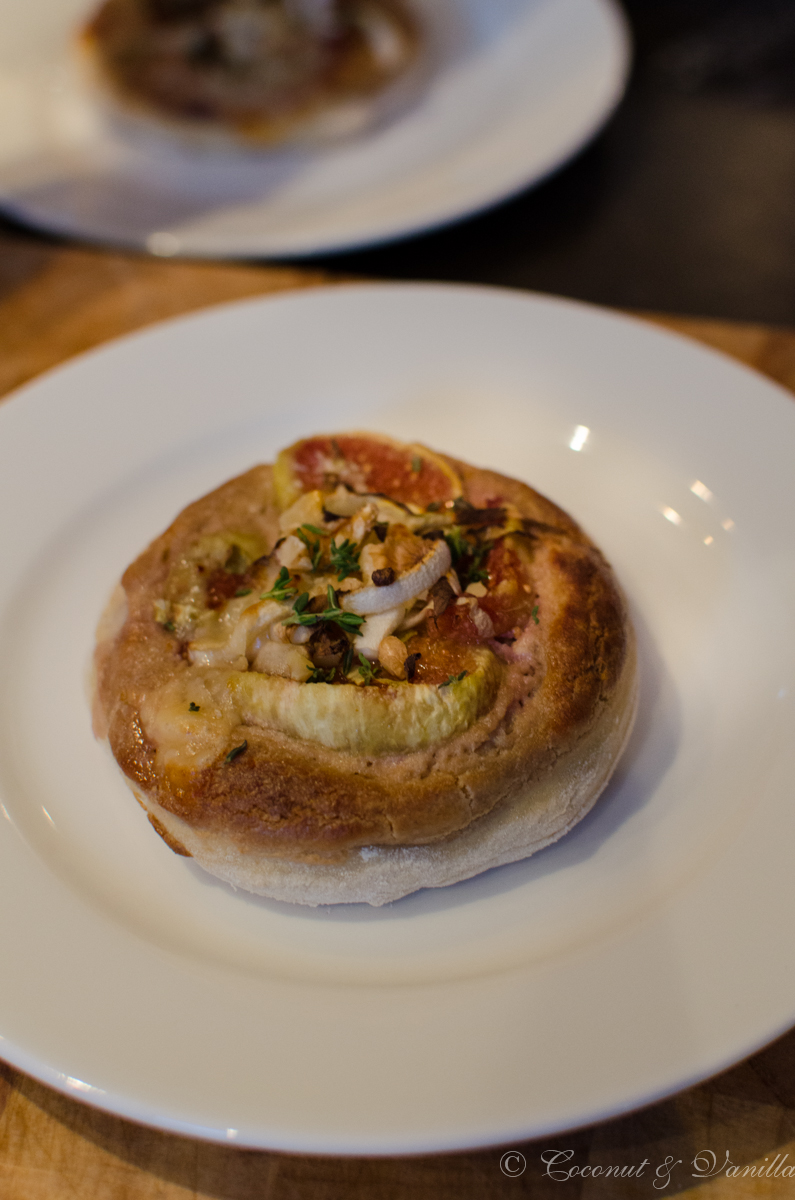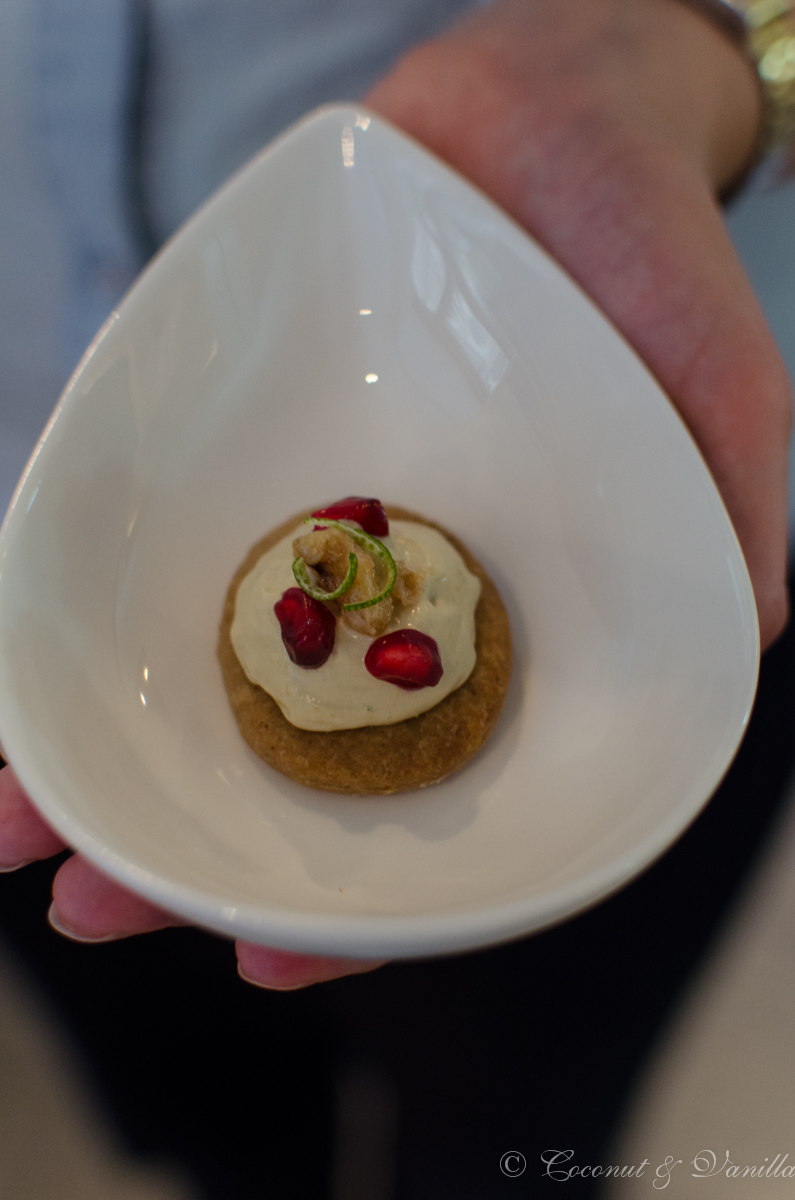 We presented mini pizzas with walnut cream, chicorée, figs, walnuts and fresh thyme. Also we made small savoury cookies with a lime espuma, pomegranate and caramelised walnuts.
We were very suprised as they told us that we won the first prize! We would have never guessed!
Rumour was that we might win a walnut supply for one year, but we were lucky and won Heikos new bread book with personal dedication, instead.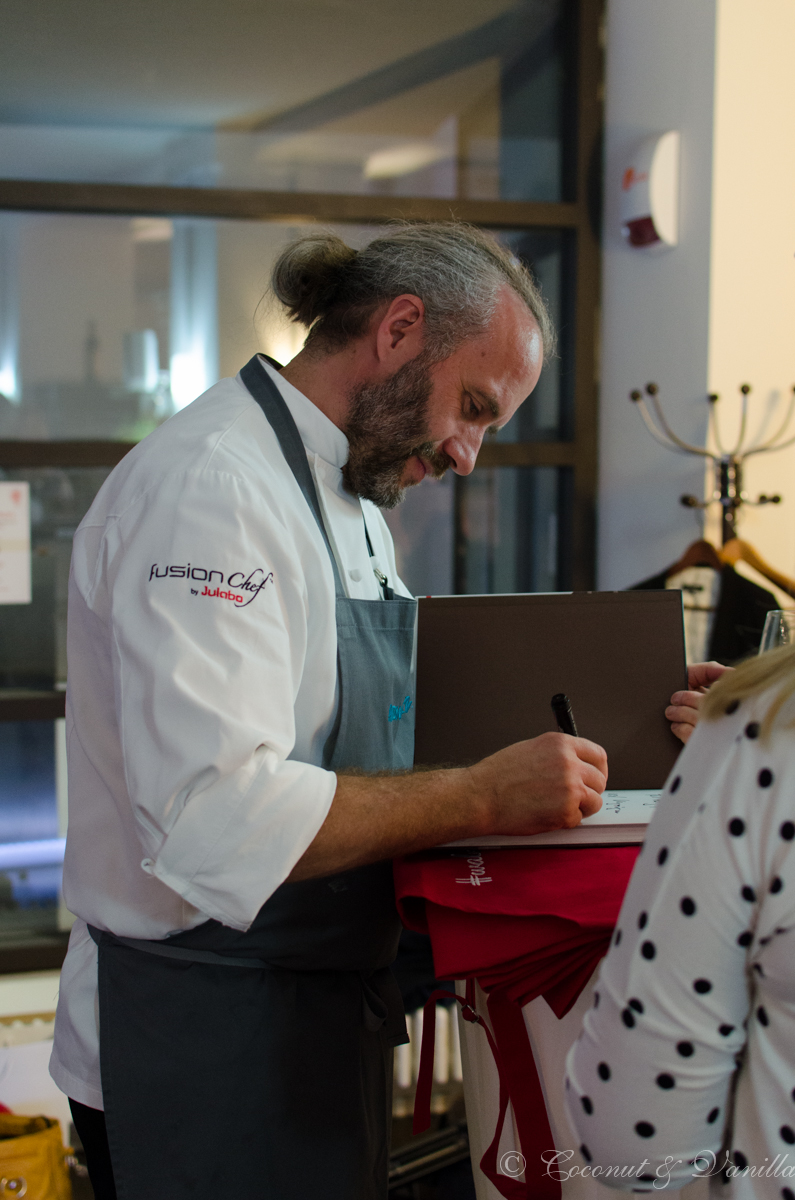 After that there was even more food cooked and baked by Heiko, but we were already so full.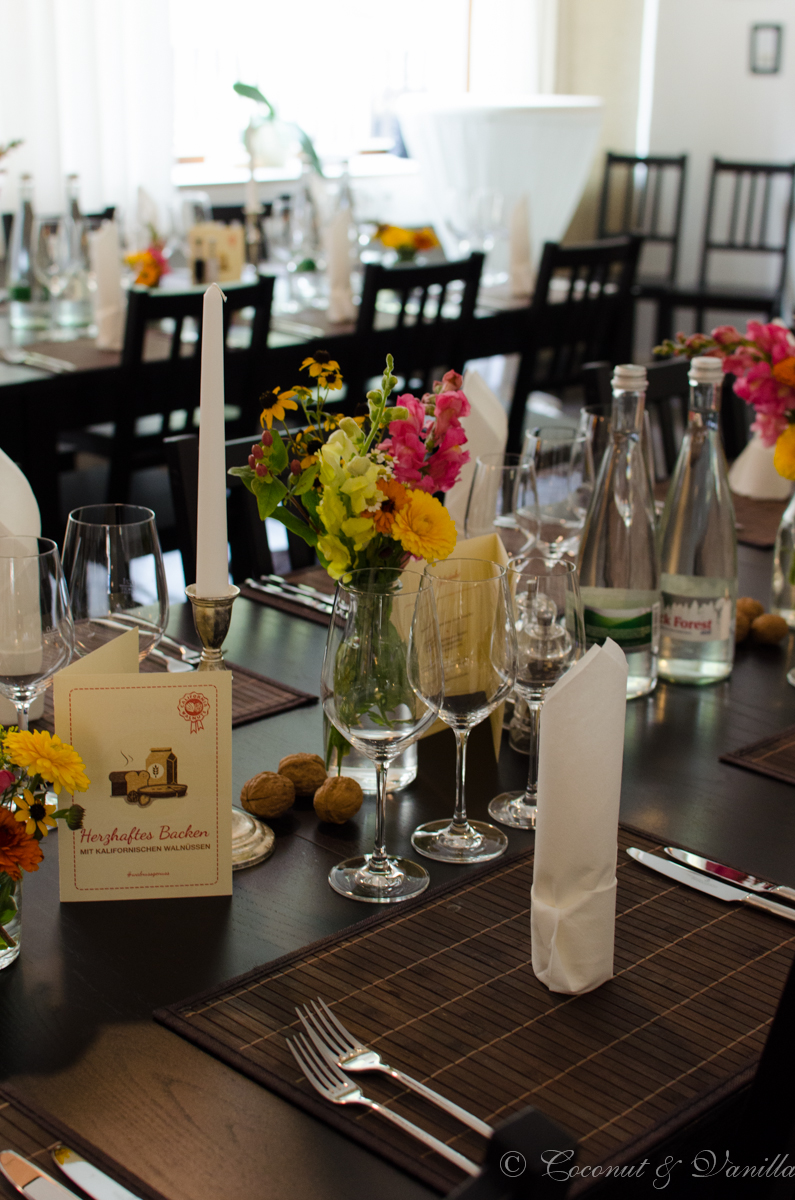 It was a great event, although I hoped to rest a bit from cooking ;).
Instead we experienced extreme baking action! It was a lot if fun with the girls and especially with Heiko, who is a cool guy, helping where he can and encouraging us to take a risk.
[:]