[:de]
Ich liebe mexikanisches Essen und alles wird sowieso besser mit Käse! Somit sind Quesadillas wohl mein Leibgericht der mexikanischen Küche ;). Bisher dachte ich immer, dass Quesadillas unheimlich aufwendig wären. Bis ich vor Kurzem selbst welche gemacht habe und gemerkt habe wie einfach das ist! Außerdem kann man wunderbarerweise viele unterschiedliche Zutaten reinpacken, einfach alles was der Kühlschrank so hergibt.
Die Quesadilla würden natürlich noch besser werden, wenn man die Tortillas selbst herstellt. Jaha, das geht. Jedenfalls Weizentortillas sind unglaublich einfach zu machen und kommen ohne großartig viel Zutaten aus (vor allem ohne diese ganzen E-Nummern der gekauften *grusel*). Aber im Bioladen gibt es auch Weizentortillas die man mit gutem Gewissen kaufen kann.
Heute gibt es aber erstmal das großartige und einfache Rezepte für diese Quesadillas mit Zucchini und frischem Mais, demnächst dürft ihr Euch dann im Rollen von Tortillas üben!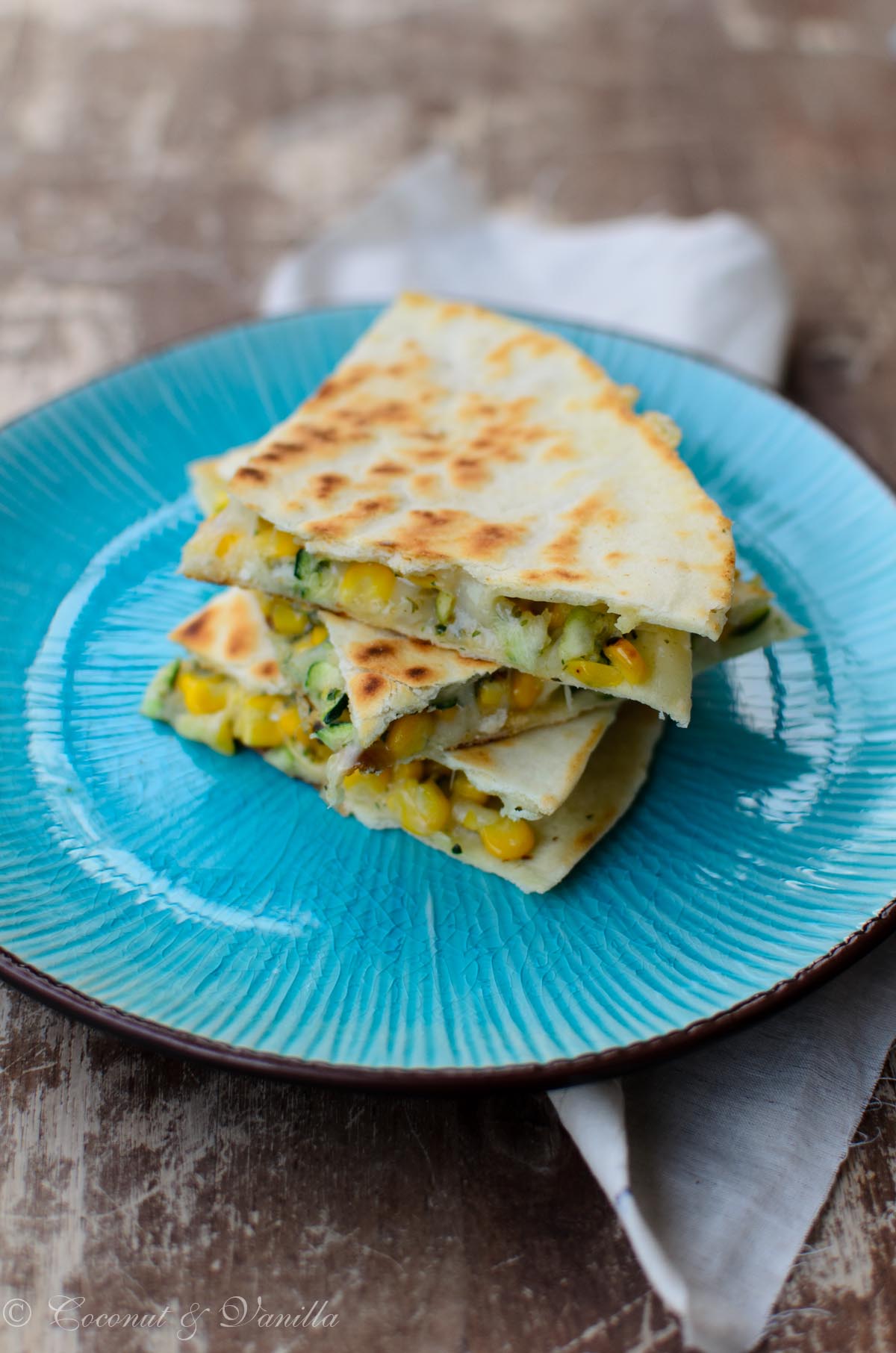 Vor einem Jahr: Brombeer-Schokoladen-Pie
Vor drei Jahren: Pflaumen Galettes
Quesadillas mit Zucchini und frischem Mais
nach einem Rezept von Closet Cooking
ergibt: 2 Quesadillas, geteilt in je 4 Viertel
Zutaten:
2 kleine oder 1 großer Kolben Mais
2 kleine Zucchini
1 kleine Zwiebel
1 kleine Handvoll vietnamesischer Korianderblätter (alternativ: normaler Koriander oder Petersilie oder auch Basilikum)
1 TL Kreuzkümmel
1 Prise scharfes Chilipulver
2 TL Limettensaft
4 Tortillas
4 kleine Hände geriebener kräftiger Gouda
Butter
Eventuell den Ofen auf 100° C vorheizen um die Quesadilla warmzuhalten.
Den Mais auf dem Grill oder in einer Grillpfanne rundherum grillen. Die Kerne abschneiden.
Die Zucchini grob raspeln und in einem Tuch auspressen. Die Zwiebel schälen, halbieren und in Streifen schneiden.
Mais, Zucchini, Zwiebel, Koriander, Kreuzkümmel, Chilipulver und Limettensaft verrühren.
Ein wenig Butter in einer Pfanne schmelzen und eine Tortilla hineinlegen.
Ein Viertel Käse auf der Tortilla verteilen, dann etwa die Hälfte der Zucchini-Mais-Mischung und dann noch ein Viertel Käse auf der Gemüsemischung verteilen. Mit einer weiteren Tortilla bedecken. Backen bis die Tortilla unten goldbraun ist dann die Tortilla wenden und backen bis auch die andere Seite goldbraun ist und der Käse geschmolzen. Um die Tortilla zu wenden einen großen Teller auf die Pfanne legen und beides gleichzeitig umdrehen, dann die Quesadilla vom Teller wieder in die Pfanne gleiten lassen.
Für die zweite Quesadilla wiederholen.
[:en]
I love mexican food! And in my opinion everything is better with cheese! So quesadillas must be my favourite dish of all mexican food ;). Until recently I thought quesadillas are a lot of work, until I made them myself and realized they are so easy! And you can pack a lot of leftovers from the fridge in them! That's awesome, too!
Of course, those quesadillas would be even better, if you would make the tortillas from scratch. Yes, that's a thing! Wheat tortillas are very easy to make and don't need a lot of ingredients (moreover you omit all those creepy e numbers from the bought ones). Of course, you can also buy some organic wheat tortillas in whole food stores, too, without having a guilty conscience.
But today is just about these great and easy quesadillas with fresh corn and zucchini, perfect in season! Soon you'll can practise yourself in rolling tortillas!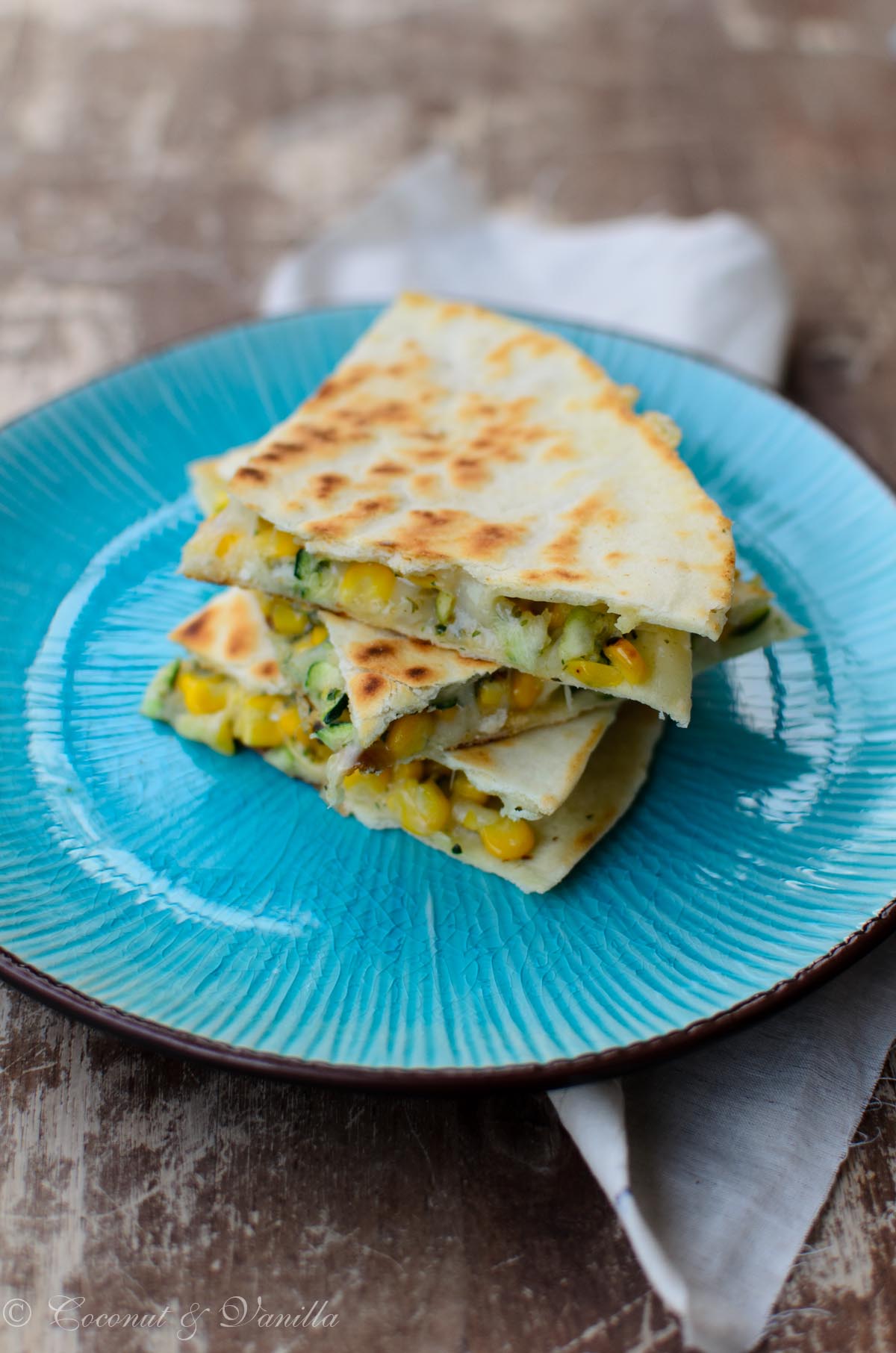 One year ago: blackberry chocolate pie
Three years ago: rustic plum galettes
Quesadillas with Zucchini and fresh Corn
adapted from Closet Cooking
yields: 2 quesadillas, each quartered
Ingredients:
2 small ears or 1 large corn
2 small zucchini
1 small onion
1 small handful vietnamese cilantro (or normal cilantro, parsley or even basil)
1 tsp cumin
1 pinch hot chili powder
2 tsp lime juice
4 tortillas
4 small handful gouda or cheddar, grated
butter
Preheat the oven to 100° C to keep the quesadilla warm.
Grill the corn on a grill or a griddle pan. Cut the kernels from the cob.
Grate the zucchini and using a cheese cloth squeeze out as much water as possible. Half the onion and slice.
Mix the corn, zucchini, onion, cumin, cilantro, chili powder and lime juice in a small bowl.
Melt a bit of butter in a pan. Place one tortilla in the pan.
Sprinkle one quarter of cheese on the tortilla, add about half the zucchini and corn mixture, sprinkle another quarter of the cheese on the vegetables. Top with another tortilla. Bake until golden brown, then flip and bake until golden brown, too and the cheese is melted. To flip the tortilla place a plate onto the pan and flip both, slide the quesadilla back into the pan.
Repeat for the second quesadilla.
[:]