Vor ein paar Monaten bloggte Heidi auf 101 cookbooks diesen Salat. Im Original "the greenest salad". Grüner geht es auch wirklich nicht, denn dieser Salat vereinbart grünes Gemüse, Obst (Avodados sind Beeren!) und Nüsse zu einem Gericht, dass durch seine verschiedenen Konsistenzen und Aromen besticht. Er ist daher viel mehr als ein einfacher grüner Salat, er ist grüner als grün.
Wer seine Probleme hat Brokkoli adequat zu verarbeiten, hat bei diesem Salat die Gelegenheit! Ich mag Brokkoli sehr gerne und in diesem Gericht passt er perfekt, denn er trägt zur Konsistenzvielfalt bei.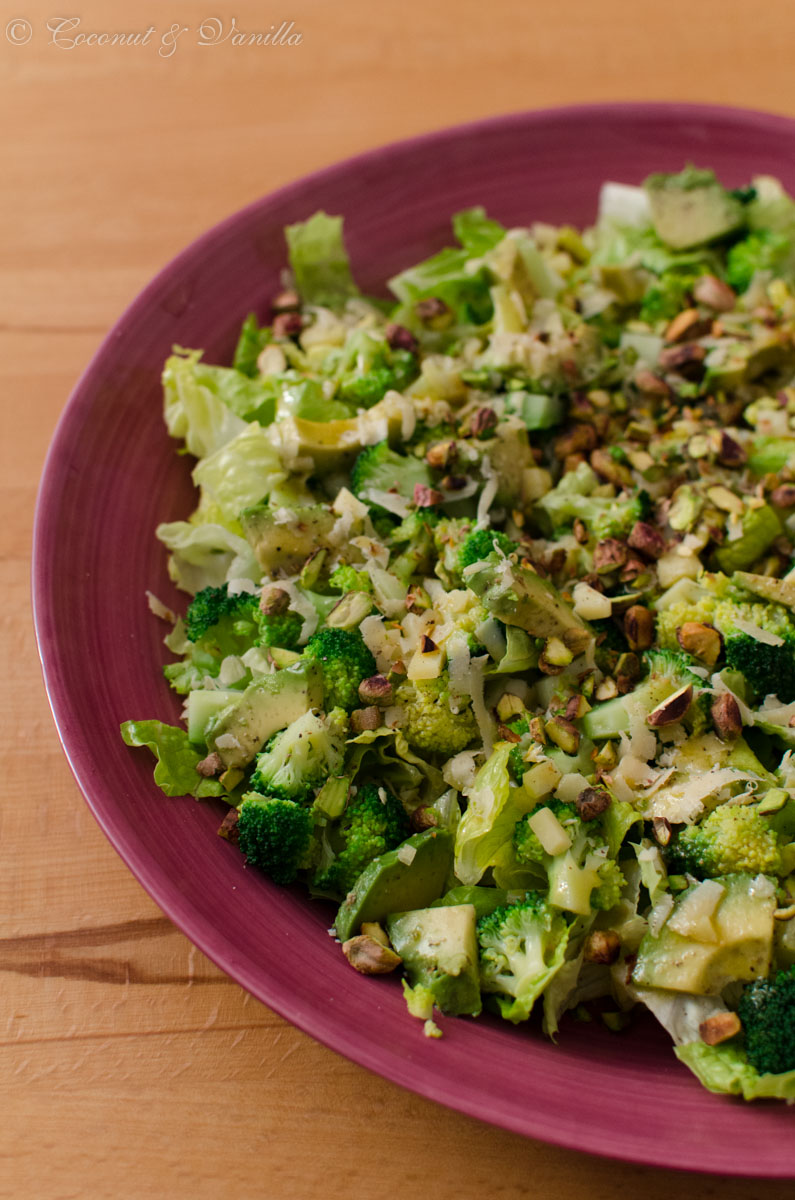 Vor einem Jahr: glutenfreier Orangen-Polenta-Kuchen
Vor zwei Jahren: Hackbraten à la Jamie
Vor drei Jahren: Überbackene Tofunocken mit Tomatensauce
Brokkoli-Avocado-Salat
nach einem Rezept von 101 cookbooks
für 2 – 4 Personen (je nachdem, ob zur Brotzeit oder als Beilage)
Zutaten:
1 Römersalatherz
1 kleiner Brokkoli
1 Avocado
30 g Pistazienkerne
20-30 g Parmesan, grob gehobelt
Salz, Pfeffer
6 EL Olivenöl
2 EL Holunderblütenessig (alternativ: weißer Balsamico oder Weißweinessig)
1 TL Honig
1 TL Dijonsenf
Den Brokkolistiel schälen und in 1 cm große Würfel schneiden. Den Rest in kleine Röschen teilen. Alles waschen und abtropfen lassen. 
Einen mittelgroßen Topf mit Wasser aufsetzen und zum Kochen bringen. Das Wasser salzen und den Brokkoli 1 Minute darin garen. Er soll noch schön knackig sein und leuchtend grün bleiben. Abgießen, unter kaltem Wasser abkühlen und abtropfen lassen.
Den Boden vom Salat abschneiden, dann längs vierteln. Die Viertel quer in 1,5 cm breite Streifen schneiden. Waschen und trocken schleudern.
Die Avocado halbieren und den Kern entfernen. Die Hälften halbieren und aus der Schale lösen, dann quer in Scheiben schneiden.
Die Pistazien in einer Pfanne bei mittlerer Hitze rösten, bis sie anfangen zu duften. Abkühlen lassen und grob hacken.
Für das Dressing, Öl, Essig, Honig und Senf in ein Schraubglas geben, verschließen und kräftig schütteln.
Auf einer großen Platte erst den Salat, darauf den Brokkoli und die Avocadoscheiben verteilen. Mit den gehackten Pistazienkernen bestreuen (wer mag kann auch alles in einer Schüssel mischen, ich mag es lieber auf einer Platte). Alles mit frischgemahlenem Pfeffer und Salz würzen und das Dressing gleichmäßig über den Salat geben. Zum Schluss mit dem grob geriebenen Parmesan bestreuen.
Some months ago Heidi blogged this wonderful salad on 101 cookbooks. Originally named the greenest salad, because you can't make it any greener than this. This salad combines vegetables, fruits (yes, avocados are berries!) and nuts for a dish which sticks out for its different aromas and textures. Therefore it's just more than a green salad, it's greener than green, the greenest salad it is.
If you are struggling to make something nice with broccoli, this salad is your opportunity to let it shine! I love broccoli and it's just perfect for this dish, since it makes a great texture component here.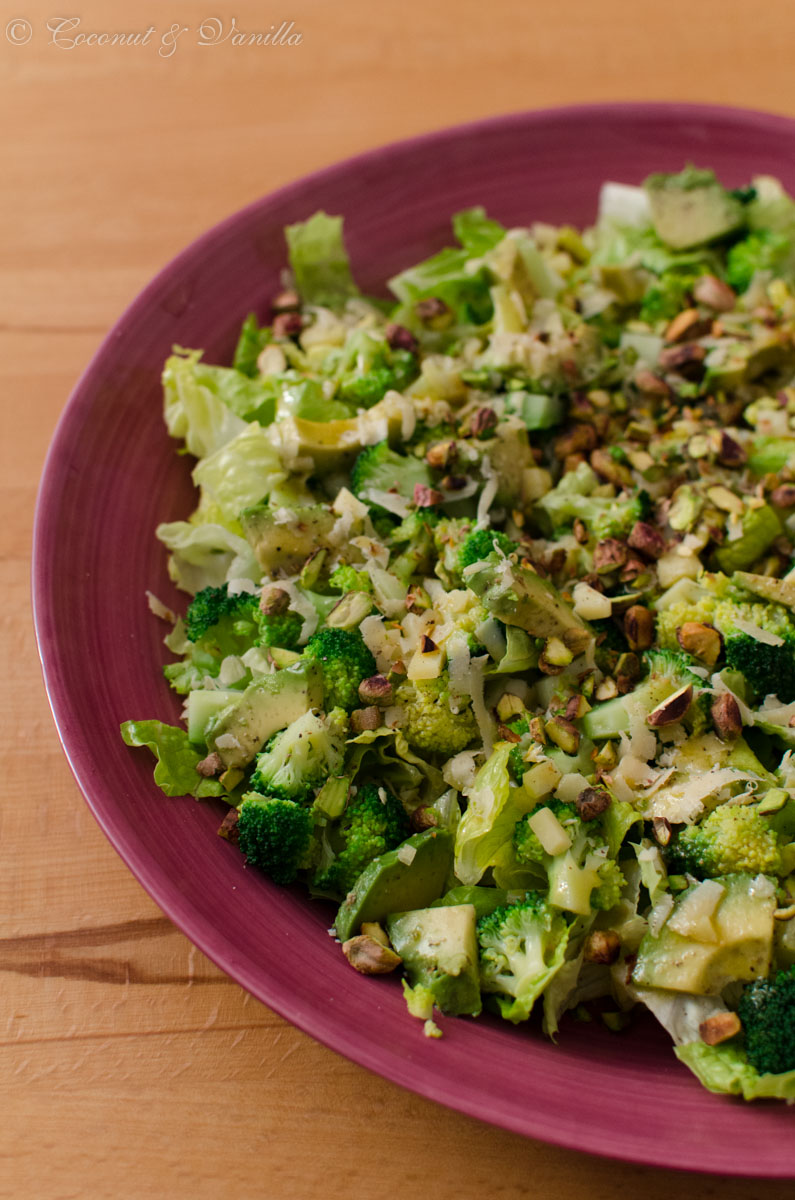 One year ago: gluten-free orange polenta cake
Two years ago: meatloaf à la Jamie
Three years ago: tofu balls with tomato sauce
Broccoli Avocado Salad
adapted from 101 cookbooks
yields: 2-4 servings (depending on serving it as a side dish or just with some bread, butter and cheese)
Ingredients:
1 baby romaine lettuce
1 small broccoli
1 avocado
30 g pistachios, toasted and coarsely chopped
20-30 g parmesan, coarsely grated
salt, pepper
6 Tbsp olive oil
2 Tbsp elderflower vinegar (or white balsamico, apple cider vinegar)
1 tsp honey
1 tsp dijon mustard
Peel the broccoli stem and dice it into 1 cm pieces. Cut the florets into bite-sized pieces. Bring a medium pot of water to boil, salt and add the broccoli. Cook for 1 minute, then drain and run under cold water. The broccoli should be still crisp and bright in colour.
Cut off the base of the lettuce and quarter it lenghtwise. Slice the quarters crosswise into 1,5 cm strips. Wash and spin dry.
Half the avocado, remove the pit and half the halves again. Peel it and slice it crosswise.
Combine oil, vinegar, honey and mustard in a screw top jar. Seal and shake vigorously.
Place the lettuce on a large platter, then add the broccoli and the avocado slices. Sprinkle with pistachios and season with salt and pepper (you can also toss everything in bowl, but I prefer it arranged on a platter). Drizzle with dressing and sprinkle with the grated parmesan.