Rosa von Schnuppensuppe organisierte diesen November den 7. (!) Päckchentausch. Als ich davon erfuhr, hab ich mich gleich angemeldet. Ich freu mich ja immer über Essen und wenn es dann noch von gleichgesinnten kommt, kann dabei nur Gutes herauskommen.
Am Freitag konnte ich mein Päckchen vom Päckchentausch, kurz (D)FssgF (deutsche Foodblogs schicken sich gegenseitig Fresspakete) in den Händen halten. Ich musste es etwas abgelegen abholen, da ich am Donnerstag nicht da war. Also fiel mein Blick als erstes auf den Absender und ich erkannte gleich, es kommt von Petra von Brot und Rosen. Juhu!
Zu Hause das Paket geöffnet und noch vor dem liebevollen Brief von Petra, hielt ich ein wunderschönes geräuchertes Karpfenfilet in den Händen (es war natürlich vakuumiert). Ich liebe Karpfen! Und habe noch nie geräucherten probiert. Anschließend las ich ihren Brief, der mir alles erläuterte was sie mir eingepackt hatte.
Neben dem Karpfenfilet gab es ein leckeres Kellerbier (aus der Nähe Würzburgs), ganz feinen Meerrettich, getrocknete Sauerkirschen, Nürnberger Lebkuchengewürz, Nikolaustee (sehr lecker!), Saftgummibärchen und wundervolle gefärbte Nudeln. Ich war ganz überwältigt von diesem Paket. Hoch erfreut war ich aber auch, weil das Paket aus Mittelfranken und sowieso von ganz nahe meiner Heimat (Nürnberg) kam. Viele Sachen erinnerten mich so an meine schöne Heimat. Das war ein klasse Zufall.
Auf diesem Wege nochmal vielen vielen herzlichen Dank, Petra!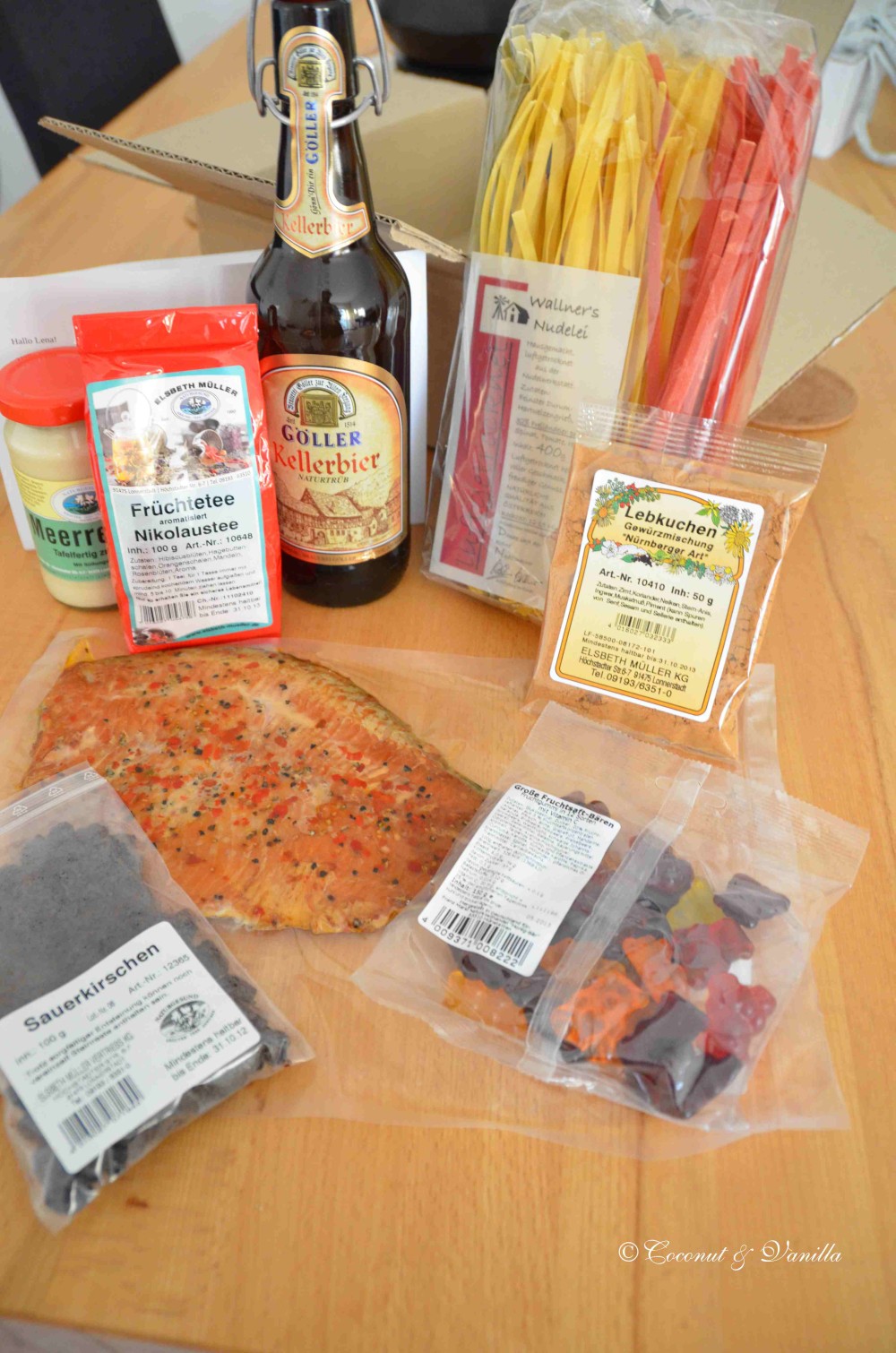 Rosa from Schnuppensuppe organized another exchange of parcels, filled with food by food bloggers. It's already the seventh event! Can you imagine?! As I first read of it, I immediately applied for it. I'm always happy about gifted with food. And what can be better than be gifted with food by a foodie?
After chasing my parcel, because I wasn't at home at Thursday, I finally had it in my hands on Friday. I instantly looked at the addresser and I was thrilled to see it was from Petra from Brot und Rosen.
At home I opened my parcel and the first thing I fetched, even before her lovely letter, was a beautiful smoked carpfillet. I love carp and I never tasted a smoked one. After that I read her letter, in which she gave me instructions about everything she packed.
Above you see a picture of all the goodies. Besides the fillet, there where a delicious beer ( from near Würzburg), very fine horseradish, dried sour cherries, gingerbread spice, a very delicious Santa Claus tea, gummy bears and beautiful colored pasta. I was totally overwhelmed with this parcel. I was even more delighted, because it was a parcel from near my hometown, filled with things, that remind me of it. That was a great coincident.