Dieses Gericht ist genau das Richtige für düstere Herbst- und Wintertage. Ich liebe es und deswegen ist es schon seit Jahren in meinem Standardrepertoire für diese Saison. Es ist immer schwierig neue leckere Rezepte für Kohl zu finden, egal ob Weiß-, Rot-, Spitzkohl oder Wirsing. Und wenn man saisonal kochen möchte, ist man eben auch auf Kohl angewiesen. Und schließlich kann der auch sehr sehr lecker sein, wie dieses Rezept zeigt.
Hier verbindet sich der Rotkohl mit der Fruchtigkeit der Orangen – in Saft und Fruchtstücken – mit der Cremigkeit und der Herzhaftigkeit des Gorgonzola. Versucht es mal, auch wenn ihr es euch erst mal gar nicht vorstellen könnt. Ein ganz tolles vegetarisches Hauptgericht.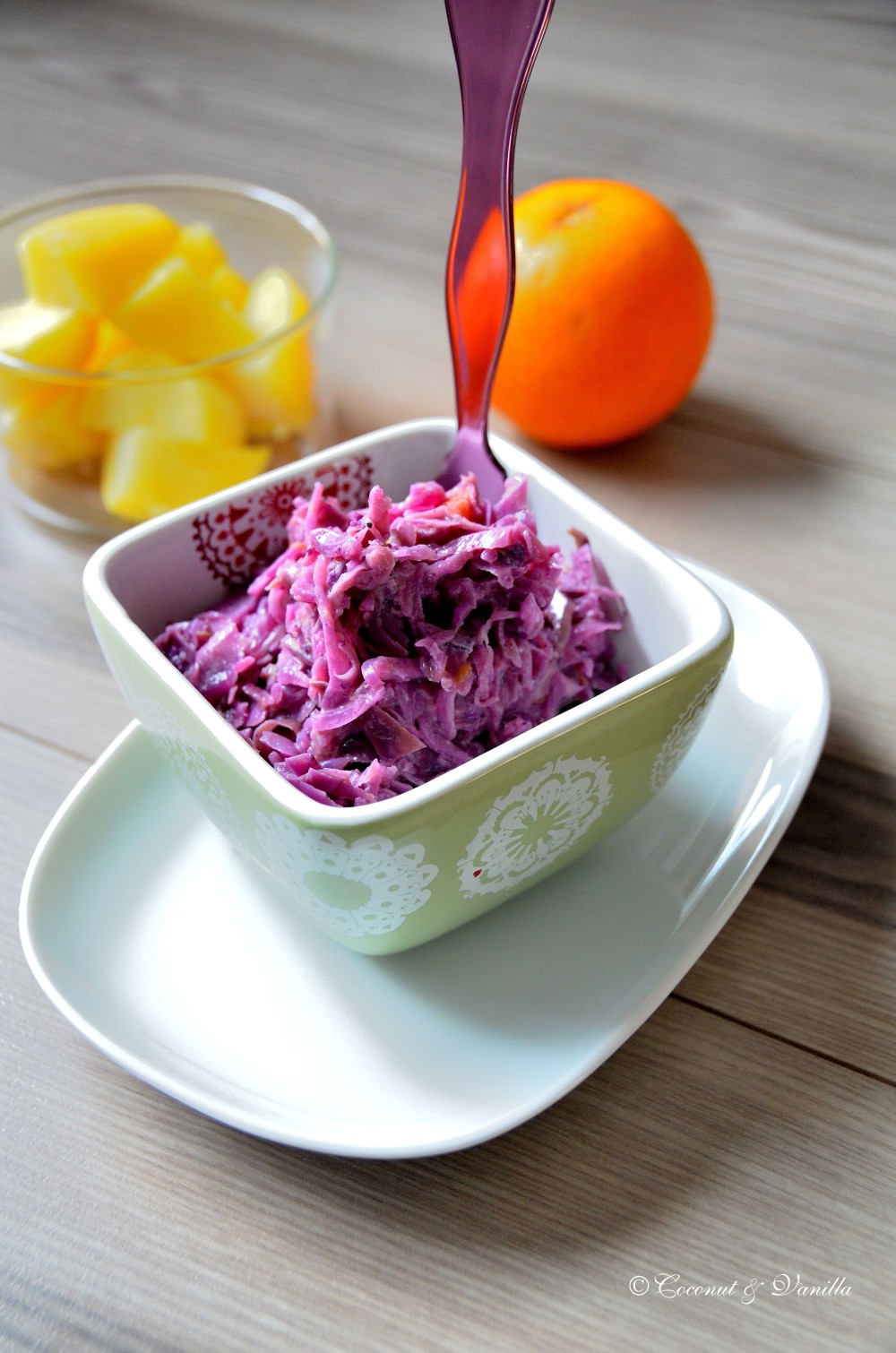 Dazu passen am besten Salzkartoffeln oder auch Kartoffelbrei. Aber auch mit langer Pasta, z.B. Tagliatelle kann man dieses Gericht gut kombinieren, auf Grund der langen schmalen Stücke des Rotkohls und des cremigen Gorgonzolas.
Ich mache davon immer eine größere Portion, die für etwa 4-6 Personen reicht als vegetarisches Hauptgericht. Das liegt einfach daran, dass ich immer einen ganzen kleinen bis mittleren Rotkohl (keinen großen!) verarbeite. Ich will einfach keinen halben Rotkohl im Kühlschrank rumliegen haben, mit dem ich dann nicht mehr weiß was ich in der gleichen Woche anfangen soll. Der Rest lässt sich dann super einfrieren.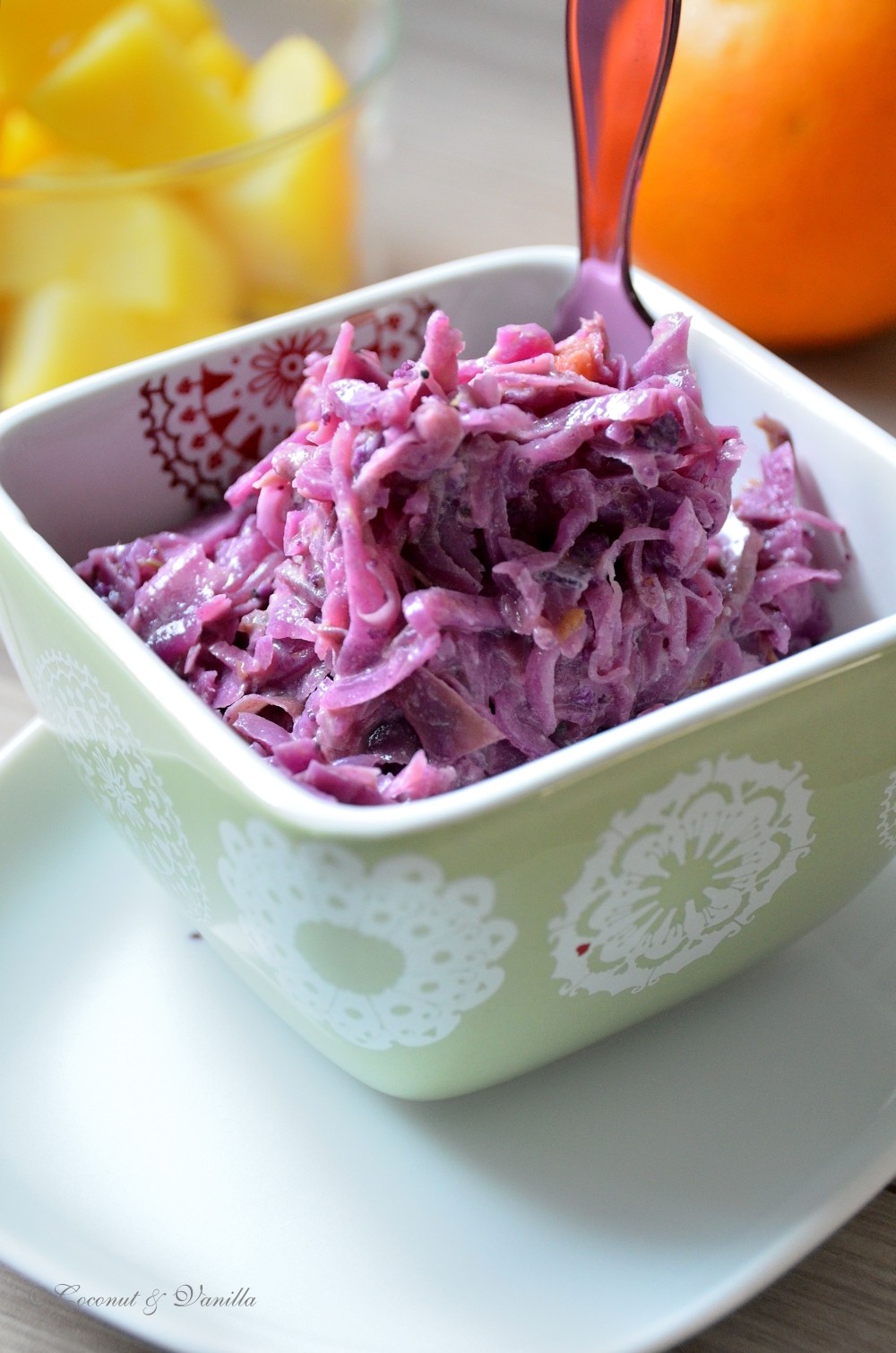 Orangen-Rotkohl mit Gorgonzola
für 4-6 Personen
Zutaten:
ein kleiner bis mittelgroßer Rotkohl
150-200 ml Orangensaft (mehr mag frischgepresst), evtl. mehr wer mehr Sauce mag
2 EL Weißweinessig
Salz, Pfeffer
1 Zwiebel
etwa 200 g Gorgonzola
1 EL Butterschmalz
3 Bio-Orangen
100 g Sahne
Den Rotkohl putzen, vierteln und sehr fein hobeln. Falls man eine Küchenmaschine verwendet zum Hobeln, muss man ihn eventuell achteln. Den Rotkohl mit dem Orangensaft, dem Essig und Salz und Pfeffer mischen. 20 Minuten marinieren lassen.
Die Zwiebel klein hacken. Die Orangen filetieren und die Filets würfeln. Den Rotkohl in einem Sieb abtropfen lassen und den Sud auffangen.
Das Schmalz erhitzen und den Rotkohl portionsweise anbraten. Ich empfehle es wirklich portionsweise zu machen, da der Kohl zwar zusammenfällt wenn man ihn anbrät, das aber wesentlich länger dauert, wenn man alles gleich in den Topf gibt. Zudem braucht man dann einen entsprechend großen Topf. Die Zwiebeln und den Sud hinzufügen und 10-15 Minuten schmoren lassen. Der Rotkohl sollte bissfest sein.
In der Zwischenzeit den Gorgonzola in Stücke schneiden (die Rinde kann dranbleiben). Sahne und die Orangenfilets unterheben. Den Gorgonzola unterziehen, schmelzen lassen und mit Salz und Pfeffer abschmecken. Wer mag kann auch noch etwas Orangensaft hinzufügen, wenn man etwas mehr Sauce möchte.
Mit Salzkartoffen oder Kartoffelbrei servieren.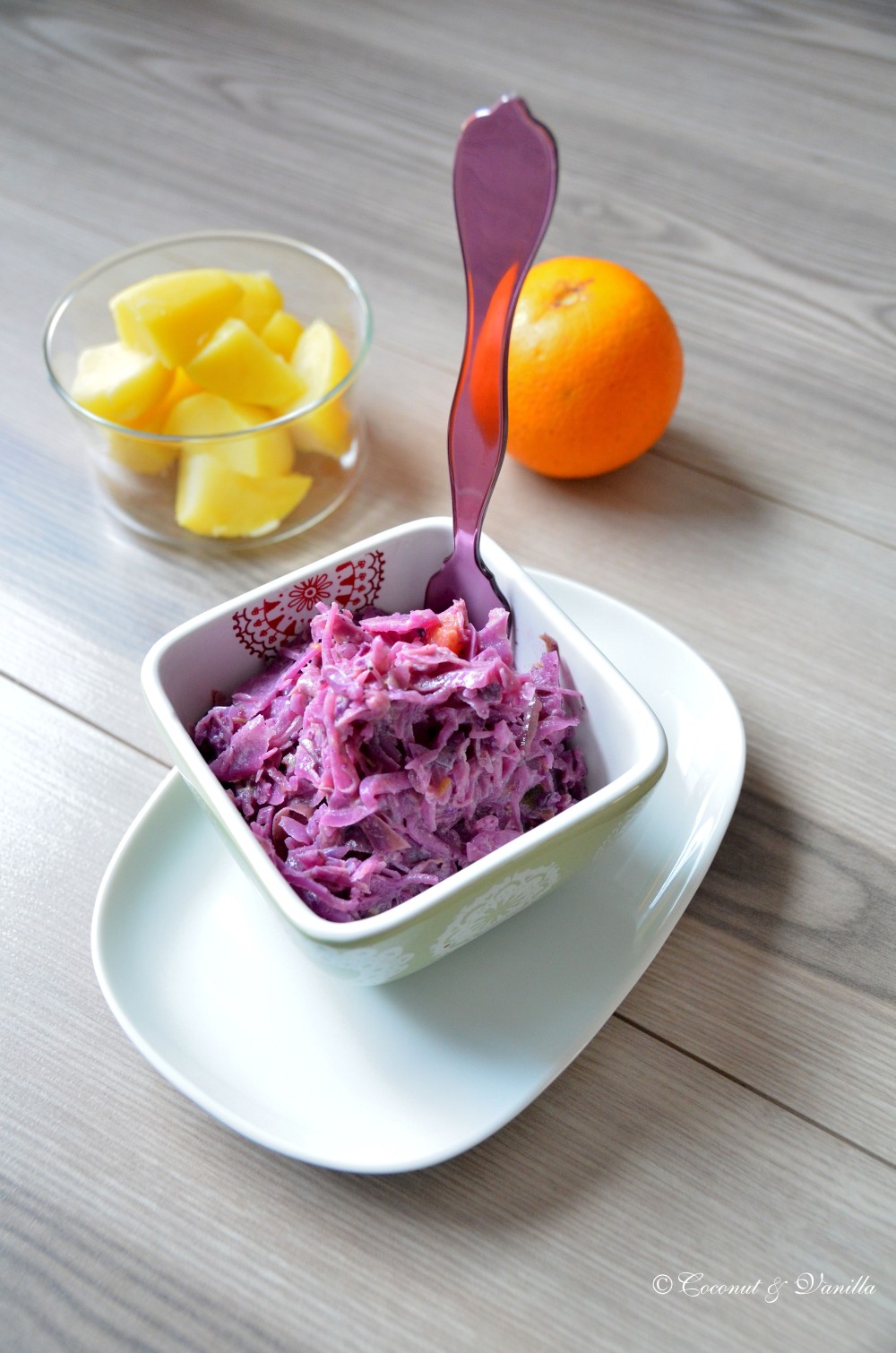 This is a heart warming dish, that I like to make again every year. It's not the traditional way to make red cabbage, but as the available seasonal food in autumn/winter is limited new recipes are welcome. I'm always looking for new recipes with cabbage, no matter if it's with red, white, pointed or savoy cabbage.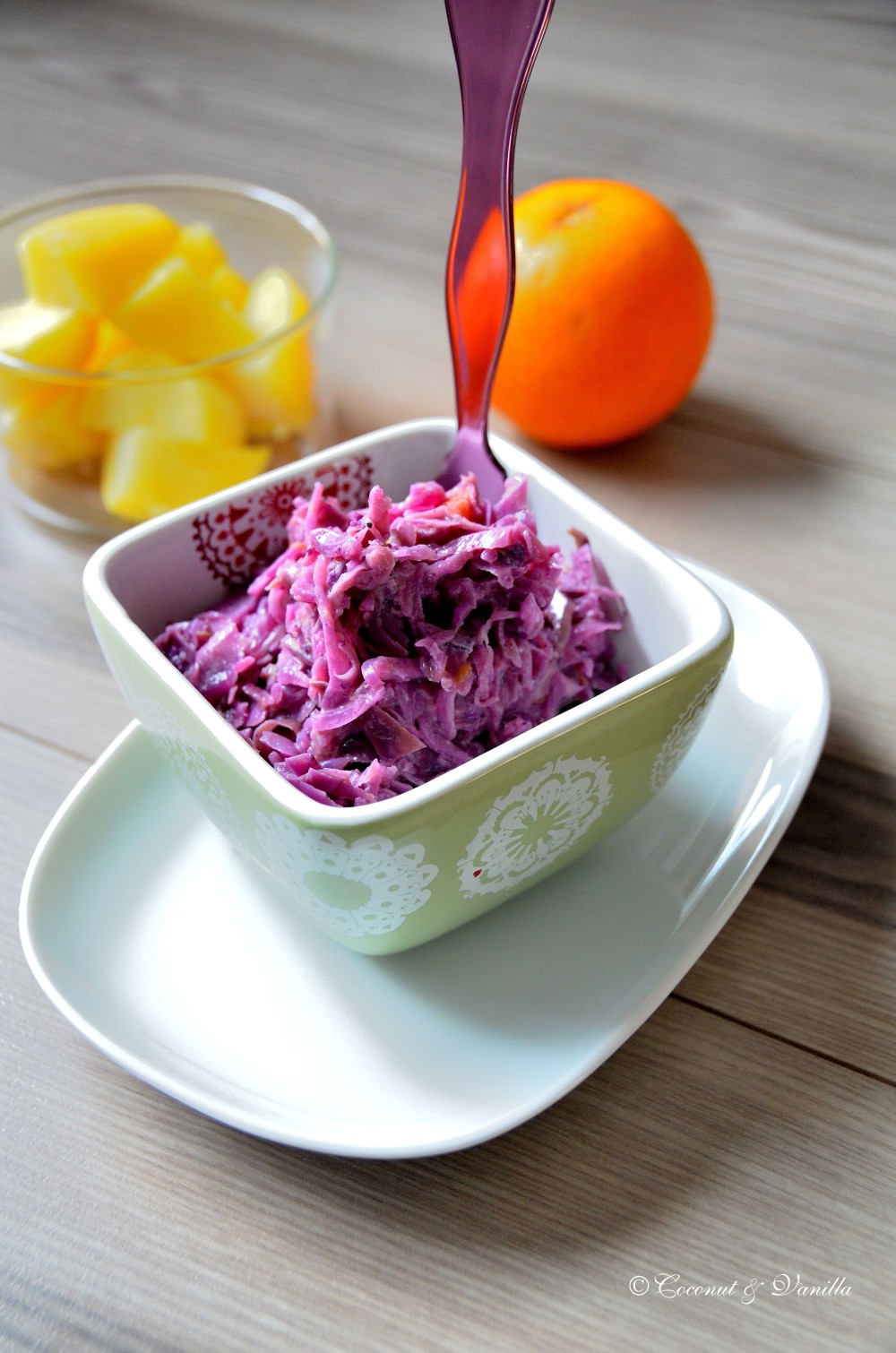 This one surprises with the fruity flavour of the oranges – added in juice and flesh – and the creaminess and heartiness of the gorgonzola. Give it a try, even if you can't imagine this combination. It's a wonderful vegetarian dish.
As accompaniment boiled or mashed potatoes are perfect. But even with long pasta, like tagliatelle, it works great, because of the gorgonzola and the texture of the cabbage.
I always make a huge batch, that would last for 4-6 persons in a vegetarian main dish. That's because, I use a whole red cabbage (just a small to medium one, not a huge one!). I don't want to have a half red cabbage sneaking around in my fridge, which I don't know what to do with. And the leftovers freeze very well.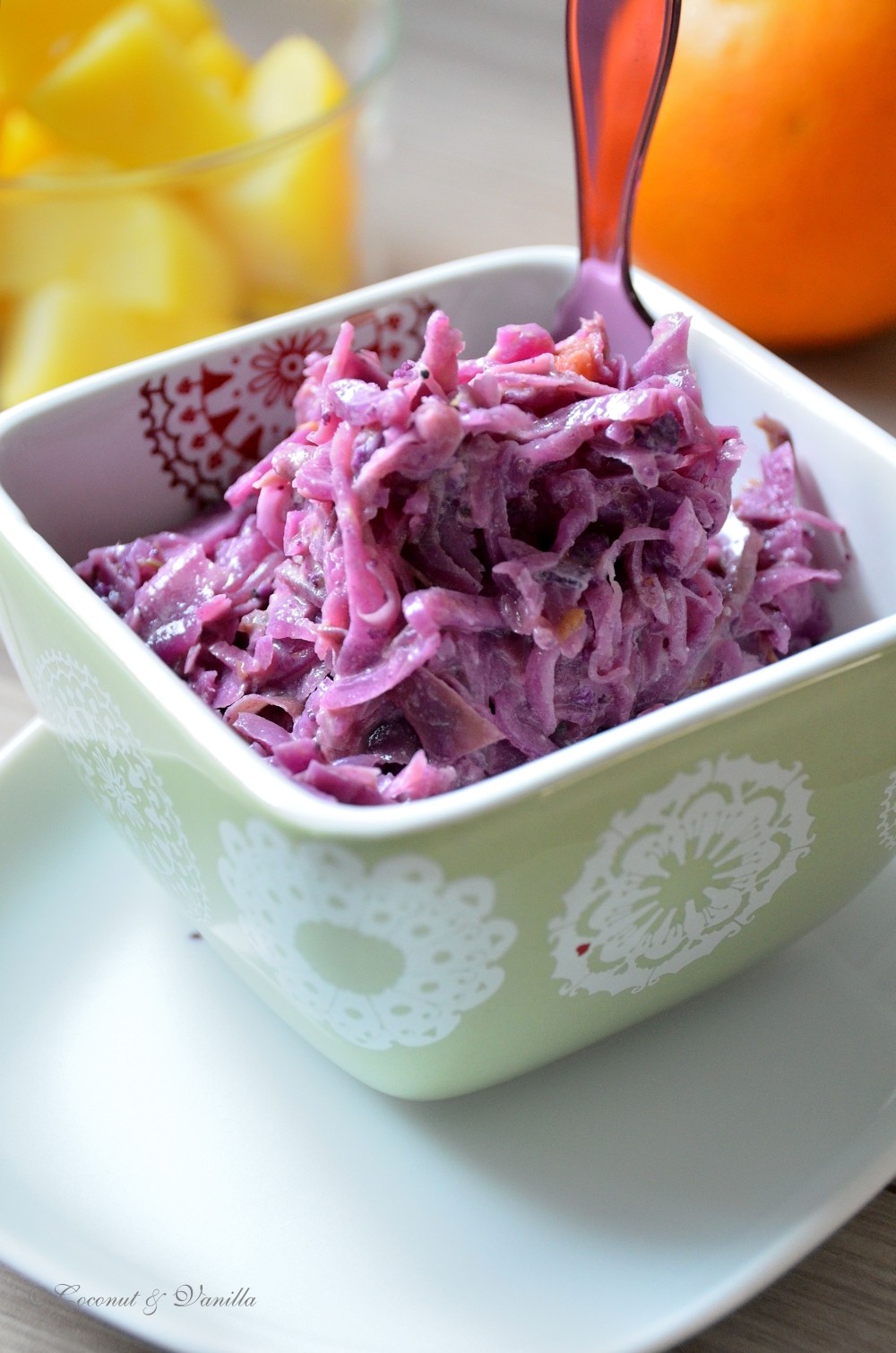 Red cabbage with Orange & Gorgonzola
yield: for 4-6 persons
Ingredients:
one small to medium red cabbage
150 – 200 ml orange juice (freshly squeezed, if you like), more if you want more sauce
2 Tbsp white wine vinegar
salt, pepper
1 onion
about 200 g gorgonzola
1 Tbsp clarified butter (or sunflower oil)
3 organic oranges
100 g cream
Clean the cabbage, cut it in quarters (or even in eights, if using a stand mixer attachment)  and slice thinly. Mix the cabbage with the orange juice, the vinegar and salt and pepper. Marinate for 20 minutes.
Chop the onion finely.
Fillet the oranges and cut the filets in pieces.
Let the red cabbage drain in a sieve and keep the liquid. Heat the clarified butter and sauté the cabbage in portions. Add the onion and the marinade and braise it for 10-15 minutes. The cabbage should be still firm to the bite.
In the meantime, cut the gorgonzola into pieces (the rind can also be eaten). Fold in the cream and the orange filets, as well as the gorgonzola. Let it melt. Season with salt and pepper. If you prefer a bit more sauce, add some orange juice.
Serve with boiled or mashed potatoes.