Thursday, 29th October 2015
Oldie, but goldie!
I'm baking these waffles for many years now and every time I'm so happy when I make them!
Even while writing these words my mouth is watering. The waffles are super delicious for dinner. Yes, I make waffles for dinner! Of course, you can also eat them for breakfast. And lunch! They are perfect every time of day.
Due to the potatoes the waffles are very luscious, but not on the heavy side. This is such a delicious treat, which can be eaten all year long!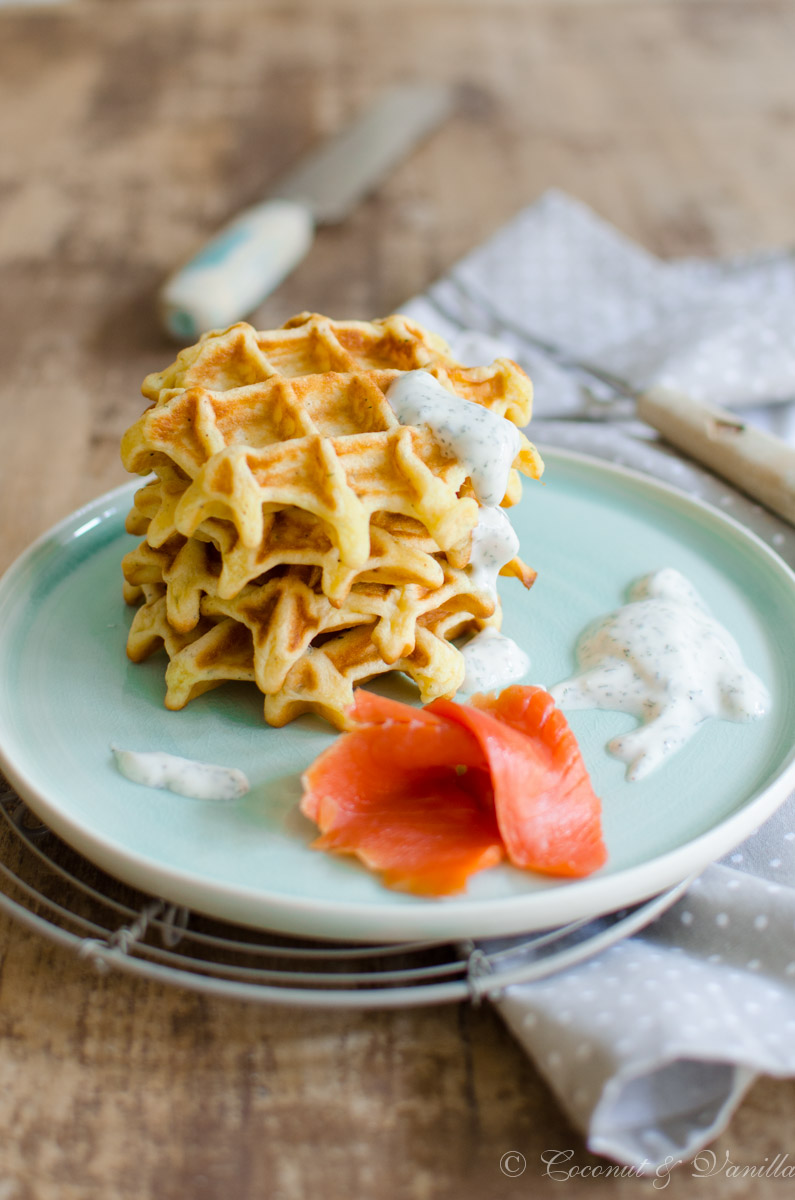 Four years ago: apple & vanilla madeleines with brown butter
Five years ago: churros
Six years ago: cinnamon and anise macarons
Potato Waffles with smoked salmon and dill dip

adapted from Kleiner Kuriositätenladen
yields: 3 – 4 portions
Ingredients:
400 g boiled potatoes, cooled
130 g butter, at room temperature
5 eggs
1 tsp sea salt
1/2 tsp black pepper, freshly ground
200 g flour
3/4 tsp baking powder
200 g crème fraîche, sour cream or yogurt (no low fat!)
200 g greek yogurt
200g plain yogurt
1/2 bunch fresh dill, finely chopped or 2 tbsp dill, frozen
sea salt
black pepper, freshly ground
300 g smoked salmon, in slices
Press the potatoes through a potato ricer or squash them with a fork. Stir in the butter and eggs evenly. Stir in the salt, pepper, flour and baking powder. Add the crème fraîche and stir evenly.
Whisk together the greek and plain yogurt with the dill. Season with salt and pepper.
Preheat the oven to 80° C
Preheat the waffle iron and bake the waffles one after another. Adjust the amount of waffle dough to your waffle iron. I need about 3 tbsp dough for 2 Belgian waffles.
Keep the waffles warm in the oven until you baked all of them.
Enjoy with the yogurt dip and smoked salmon!