Thursday, 23rd July 2015
I have never thought this would happen, but I fell a bit in love with Prague. Maybe a lot.
Over my birthday this year I was in Prague for the first time. A 3,5 hour drive is not far for a short trip and quicker and more uncomplicated than to go by plane to London or Paris. Maybe Prague is also quite near to your location?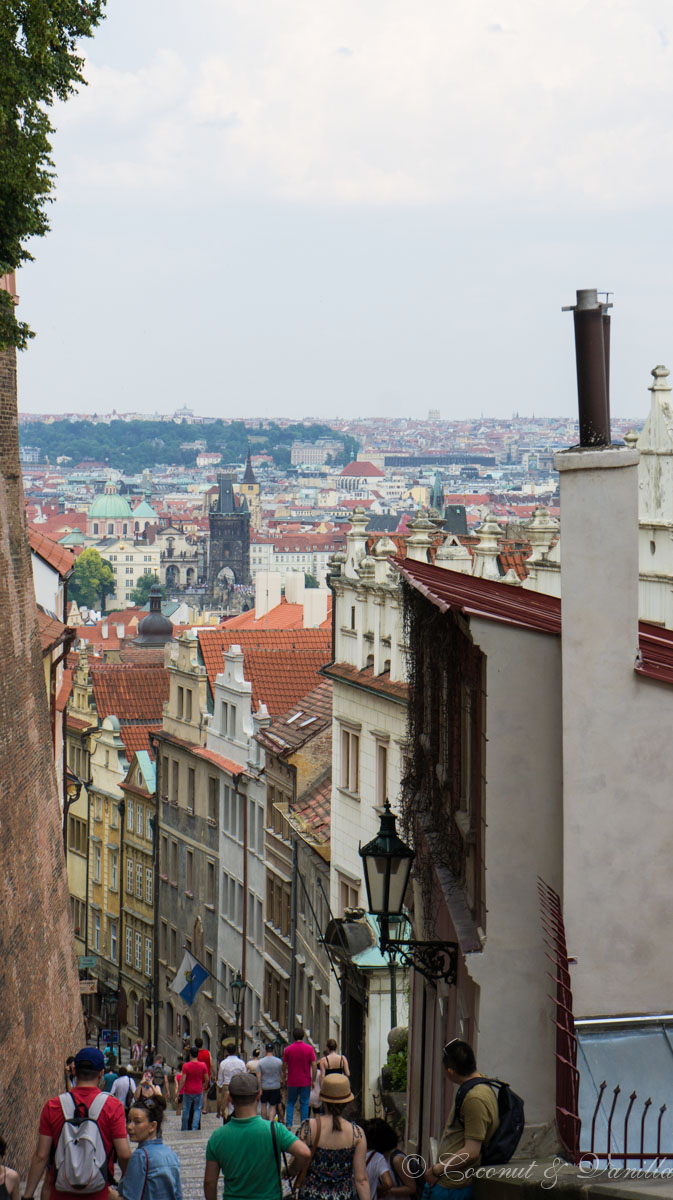 Of course (of course!), I made some research where to eat good and where to stay best. I think it's all about good food and service on vacation. In fact Prague made me realize that food is one of the most important things on vacation (who would have guessed?) and not sightseeing. Our aim in Prague was to have no aim at all. We just wanted to go with the flow and not to run from every sightseeing spot to the next.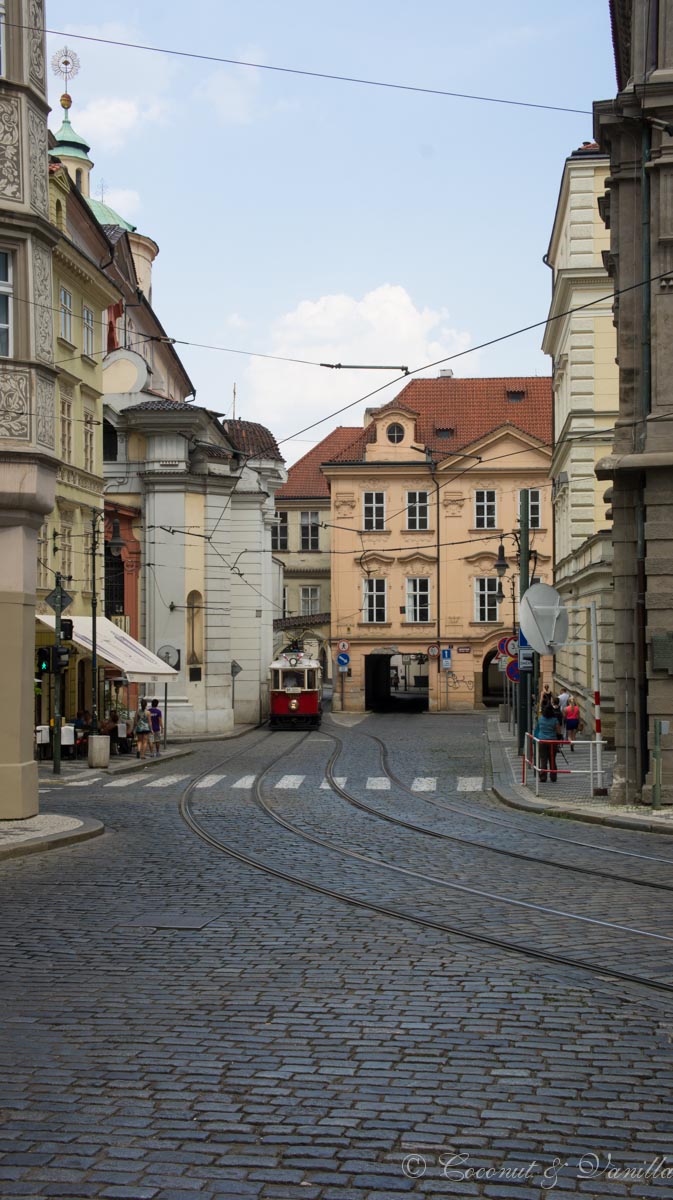 What I liked so much about Prague is, that in the streets and alleys, in the quarters off the beaten tourist tracks it was so quiet. Not so many cars, but instead the trams convey the feeling of nostalgia. I could not stop looking a every house, because they are so beautiful! Take a look at the rooftops, you'll find the most funky constructions there. And then the doors and the entry halls!
A lot of times it reminds me of Berlin. Some neighbourhoods look quite similar, because of the houses, the streets and the many trees in the streets.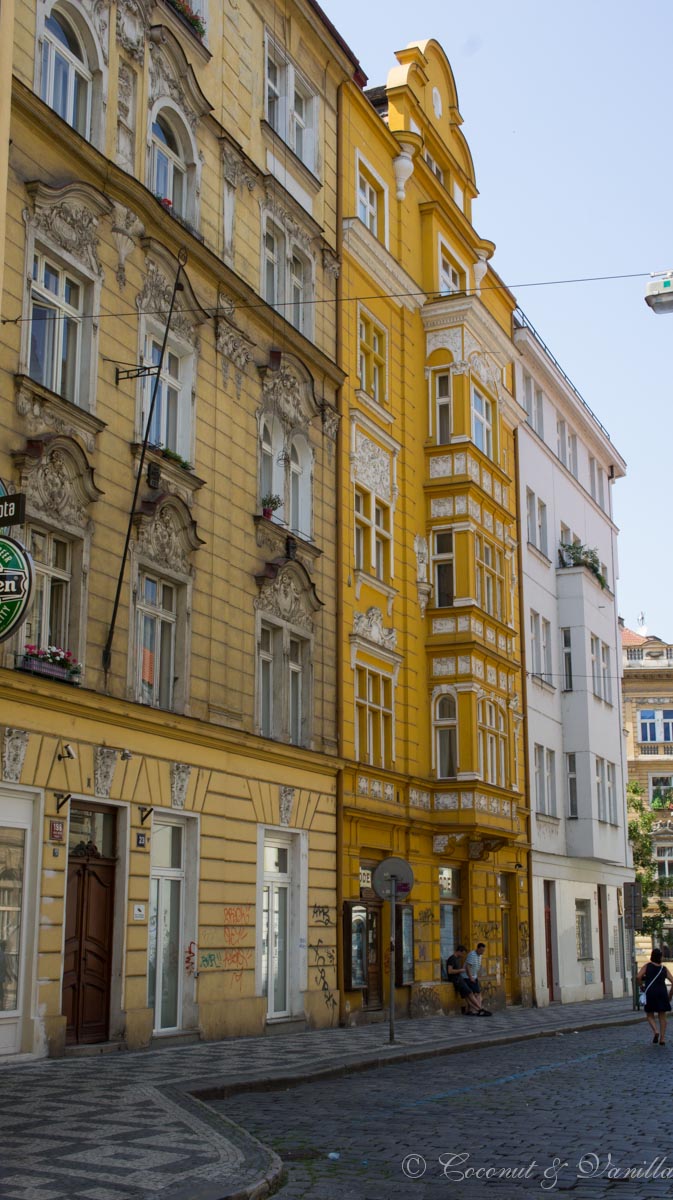 I was surprised how many young people could speak a very good English and how friendly everyone was. We found a lot of local food and also organic. The restaurants we visited paid attention to that, too and a lot was homemade and of a very high quality. All of that for very reasonable prices, which I left me flabbergasted. Everywhere we where provided with a English menu without asking.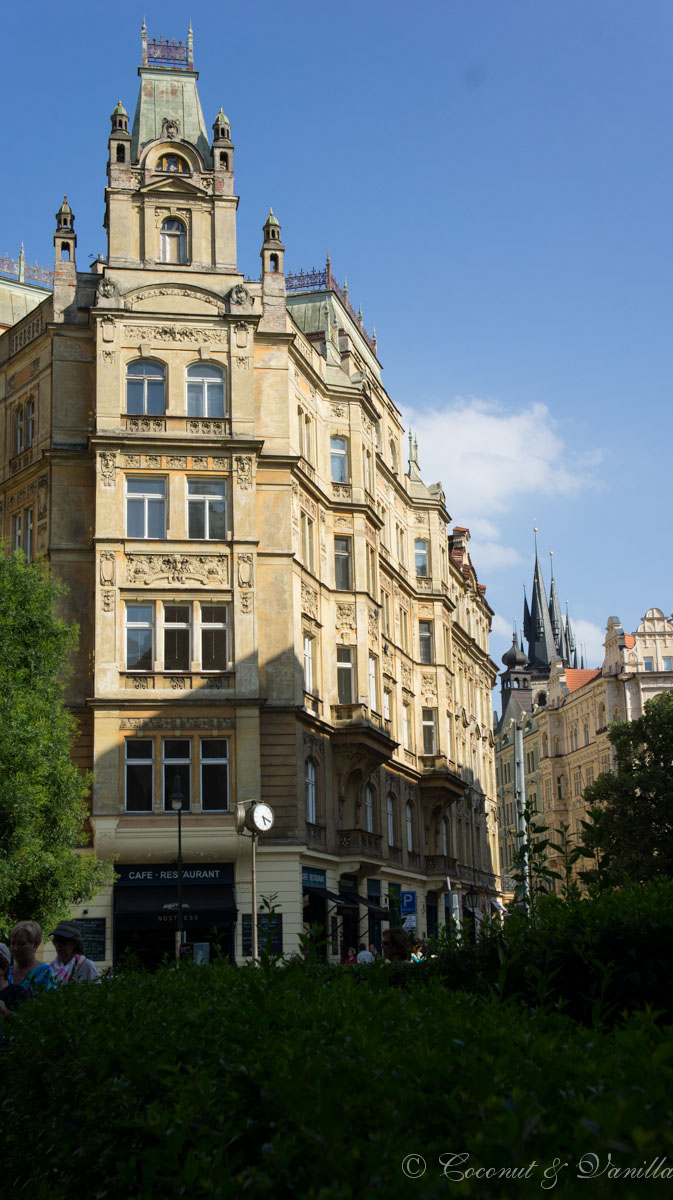 I found many tips on the great blog  Taste of Prague by Zuzi and! They also offer foodie tours around Prague, but I rather made my own own ;).
Via them I also found out which quarters are lively and so we rent a cosy apartement via Air BnB in Letna. A very good decision, because Letna is quiet, but still has a lot of shops and restaurants. The apartment was cosy, but renovated and quiet situated to the backyard. We only walked 5 minutes to the tram and then it took us 10-15 minutes to the old town. You could have easily walked, but we walked so much that we granted us some rest.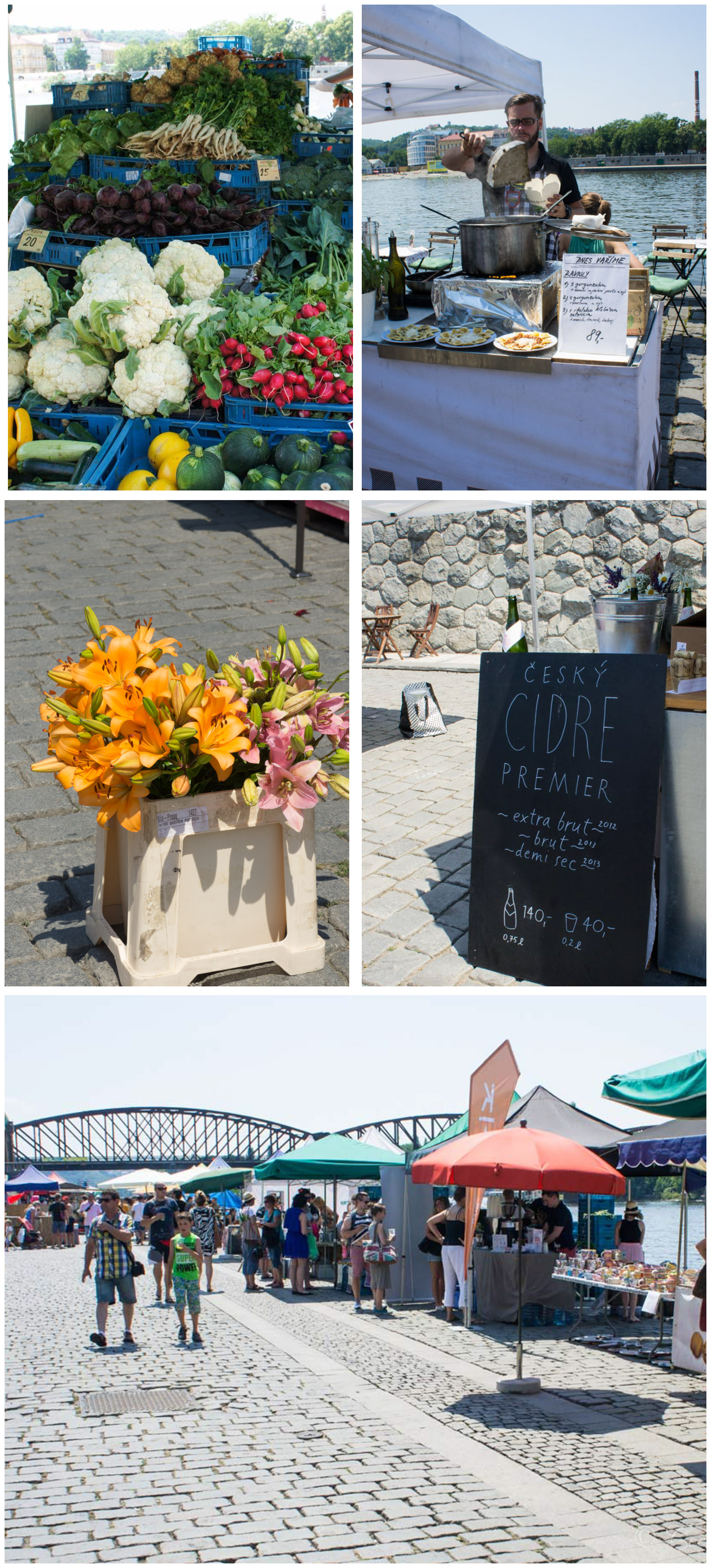 I heartly recommend you the farmers market at Náplavka at the river. Therefore you take the tram or Metro until karlovo náměstí, walk to the Moldova from there and take a turn left, go down the ramp to the riverside where the farmers market is. It's there every Saturday from 8 am to 2 pm and you can perfectily brunch or have lunch there. The offer is terrific, everything local and homemade.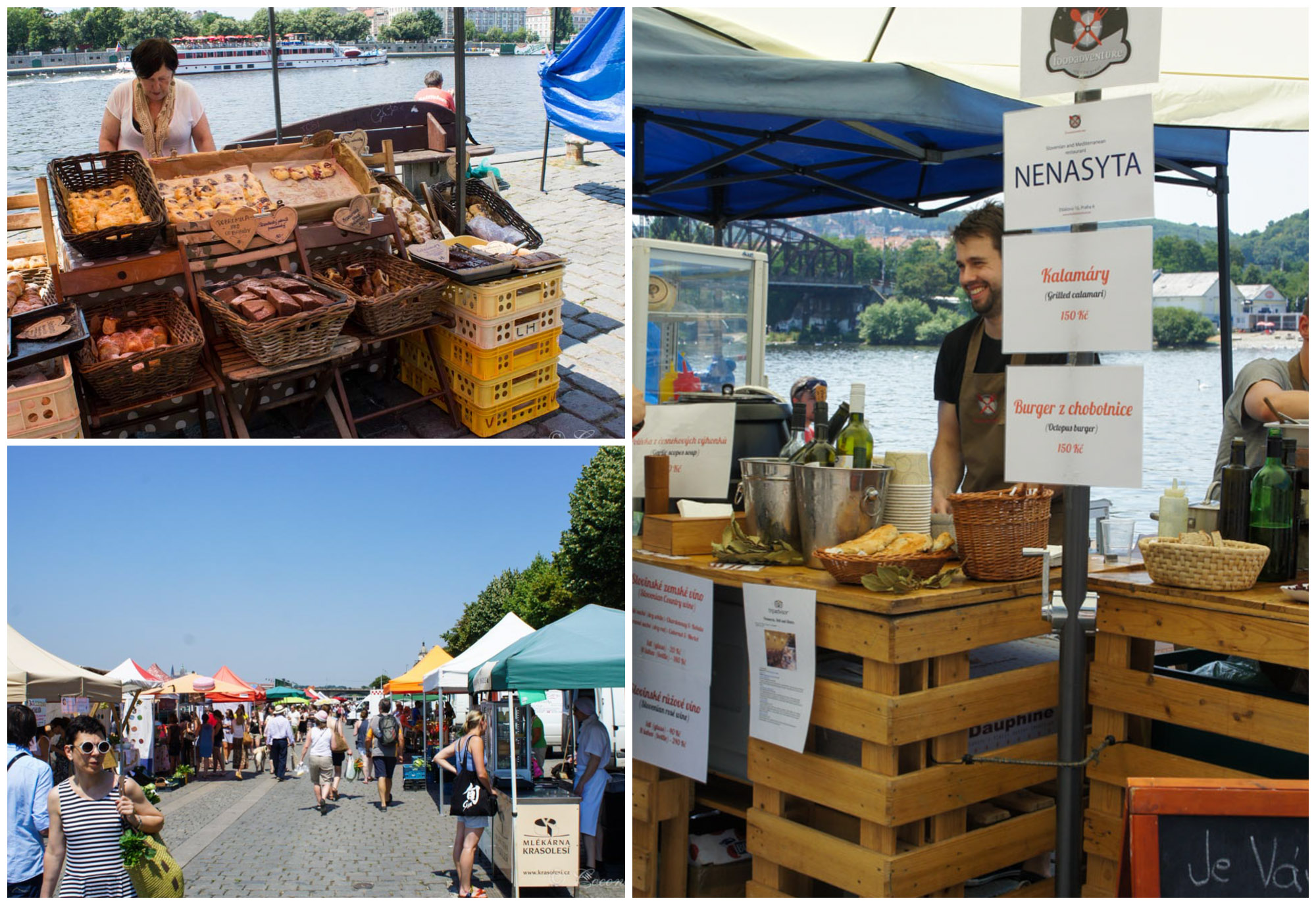 I recommend the bahn mí and the octopus burger from Nenasyta with a glass of cidre and some fresh juice. Also the mussels looked very scrumptious! After that indulge in some sweet pastries, fresh local fruit or a homemade sorbet.
If you like to cook at your apartment buy some beautiful vegetables and fruit and buy a gorgeous boquet of lilys or peonies! I would have bought them all, if it wouldn't have been so hot.
Very often you get homemade lemonade and it's worth trying, because they are no sugar bombs, but fresh sparkling water with berries, cucumber or herbs. Delicious!
We didn't make the effort to cook at home. We went for breakfast every day. Czech love egg dishes apparently, which is not my breakfast habit at all. But nonetheless we almost found something good and I'll tell you what is best.
Breakfast
Můj šálek kávy, Křižíkova 105, Prague 8 (tram Urxova, Metro "B" Křižíkova) is my recommendation number one for breakfast, lunch or cake and coffee. The small café has some tables on the sidewalk and it's highly recommended to make a reservation for breakfast. Very friendly service, especially one of the waiters :).
The whole wheat pancakes are big and heavy and I didn't manage to eat the whole portion (I never thought I ever have to write this), but good. Very good are the eggs benedict and the iced latte. It's lovely to sit outside in this very nice and quiet quarter.
Café Savoy, Vítězná 124/5, Prague 5 (tram Újezd or Národní divadlo, if you cross the Moldova) is like an old Vienna coffee house and very impressing. Downstairs you can watch the bakers and patissiers while making breads and cakes.
I chose the healthy breakfast, which was very good, I only would have chosen the normal bread instead of the grain bread, but it was healty ;). The poached eggs on baked ham bread with gruyère were also very good. The french toast with fruit on the neighbours table looked sensational, but also a lot! You have to try the raspberry lemonade with rosemary, it's so good! The breakfast is far more expensive than elsewhere and they also have a lot egg dishes, but the atmosphere is more exklusive. All the service staff were very friendly and spoke perfect English, of course.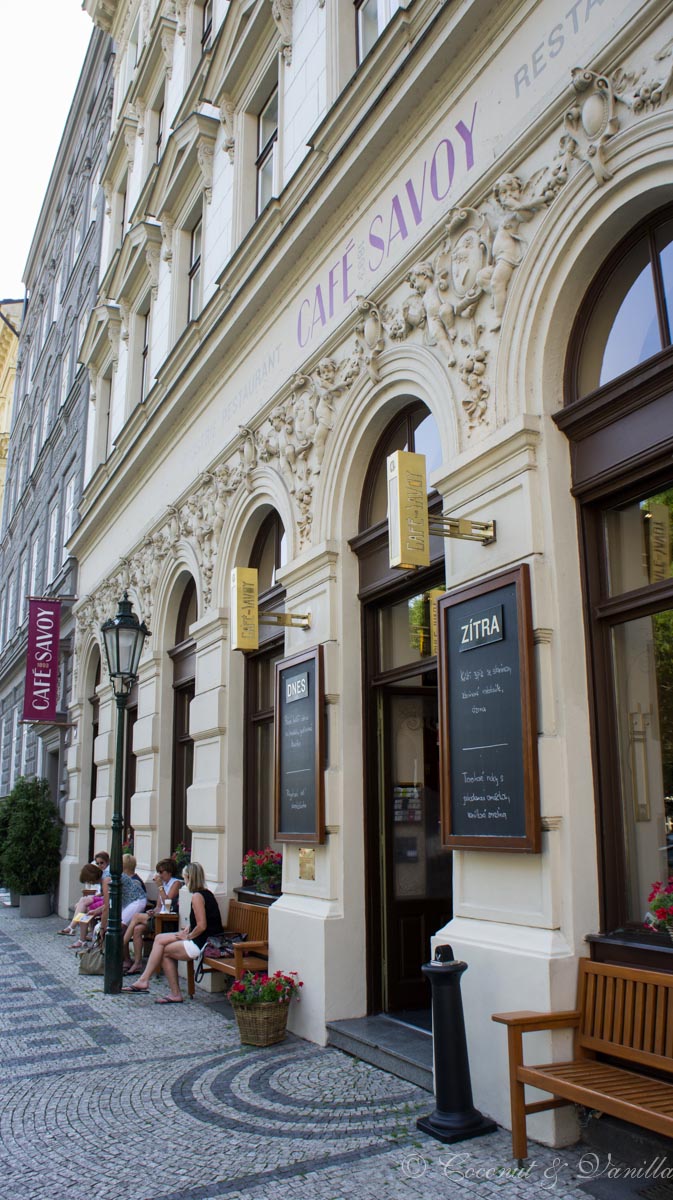 Home Kitchen Holešovice, Jankovcova 14a Prague 7 (tram Ortenovo náměstí) is a café in Holešovice with a open kitchen and a small breakfast menu. The neighbourhood of Holešovice is strangely deserted. But on the terrace behind the new building you can sit quite nice.
They also offer a lot of egg dishes. But really exceptional is their homemade bread! Just order anything with bread and butter and enjoy! Be cautious, when ordering "(fruit) pie", which is a normal cake and has nothing to do with fruit pie you might know. This is a wrong translation and only a part of the staff could speak English (but they offer a English menu). The cake slices are huge and heavy, which is apparently a czech habit, since we saw those gigantic cake slices also at Cafè Savoy.
They also serve lunch, but I wouldn't do the trip there for that.
Invigorated by breakfast you can now take a walk through the quarters or hop onto the next tram.
Cafés and Ice Cream
Below the castle is a small quarter, which is very beautiful and deserted. A walk there is worth it and there you can relax in the small café Kavárna Nový Svět (Nový Svět 2, Prague 1, tram Brusnice, Thu – Tue 11 am -7 pm ). Order a homemade lemonade or an iced latte while sitting on the balcony with view in the garden. The cheesecale is a dream, so I ate two slices!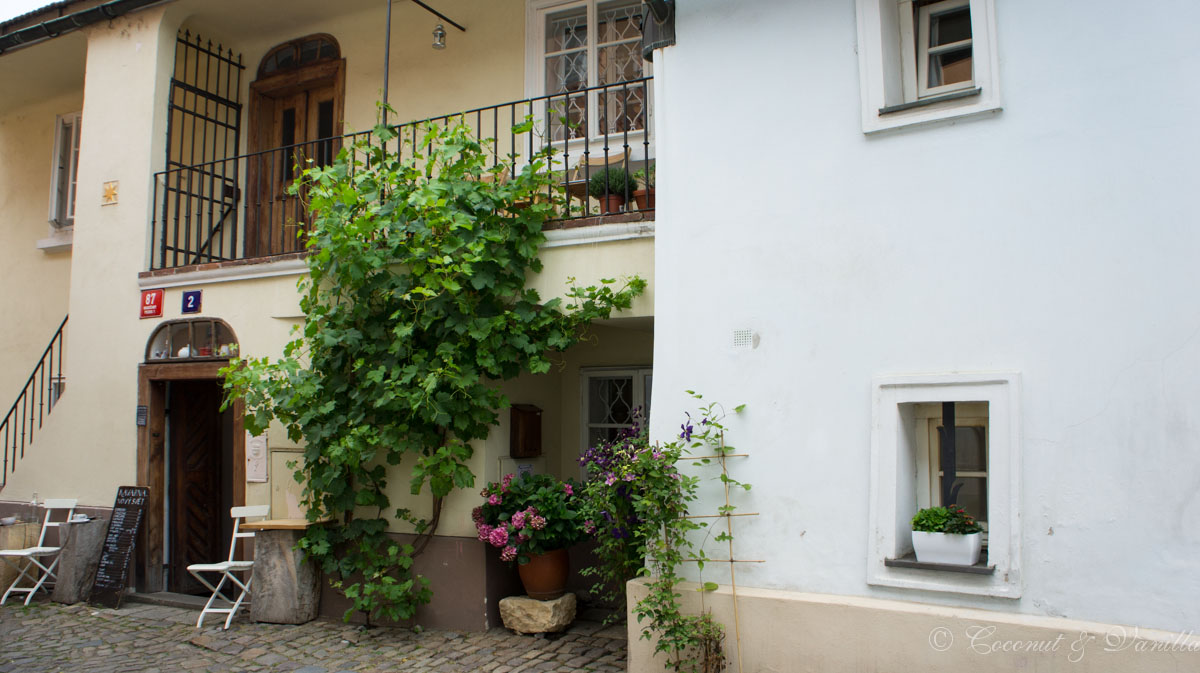 Take a trip to the other side away from the full old town Near the Café Savoy and the small park Kampa and the modern museum Kampa you'll find a neat café with delicious creamy ice cream, the Angelato (Újezd 425/24 Prague 1, tram Újezd). Angelato also has a branch near Mustek, but we didn't where there (Rytířská 27, Prague 1, Metro Mustek).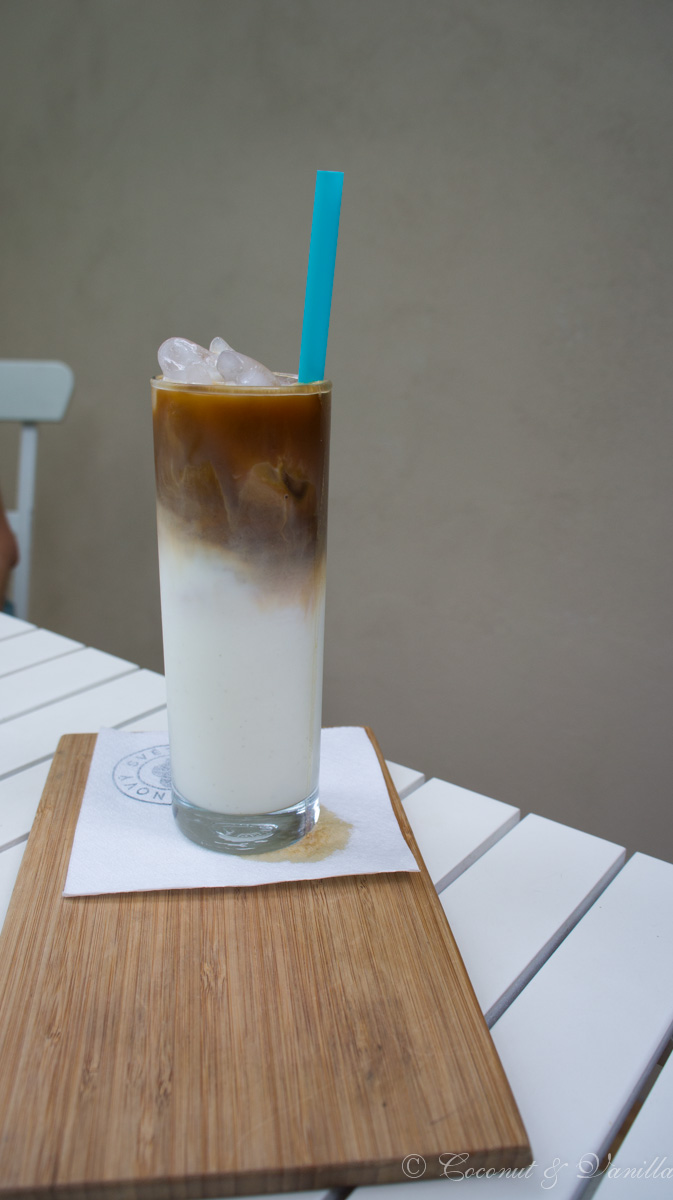 In the midst of the shopping area in the old town you find the Styl a Interier (Vodickova 35, Prague 1, tram václavské náměstí, Metro Mustek) in a backyard with a quite garde and a shop with nice stuff. Take a rest and eat a slice of cake or quiche. Unfortunately it's mostly fully seated in the garden.

Okay, after breakfast and cake or ice cream (or both?), you are again hungry from all the walking and just want to sit down and have some dinner, right? I thougth so! So I listed my tips for dinner (or a hearty lunch, if you prefer). After that I'll send you to the most sublime cocktail bars, so stay tuned!
Dinner
We go back into the pretty neighbourhood of Karlín and to Krystal Mozaika Bistro, Sokolovská 101/99, Prague 8 (Metro B und tram Křižíkova) with a crossover kitchen between czech and french. The restaurant isn't so nice situated outside (very cool inside, but it had 35° C!), but it convinced me that much that it is my number one recommendation! That's because of:
1. The service was really nice, communicative and informative (That their English was superb goes without saying, right?).
2. The food was great! We had beef tongue, which was prepared for 17 hours (exceptional good!) and duck confit with herb dumplings (both awesome, the meat fell apart when touched by the fork). The portions were big. We also indulged in some beef tartar as an appetizer, which was also very good (you should try some beef tartar in Prague, since it's a specialty there). And as they preached their dessert we also ordered the strawberry dumpling after a pause. Yummy!
3. The beer! We were quite disappointed that everywhere you go, you only get Urquell. Boring. Krystal Mozaika Bistro finally served different beer, which also tasted much better. I liked the Bernard, my boyfriend liked the Matuška, which is from a small micro brewery and small liked peaches.
First I wasn't convinced, when I read the dishes online and we only went there, because everything I favored more was closed on a bank holiday. But in the end I was so glad we did! We enjoyed it there and rolled ourselves out of the restaurant.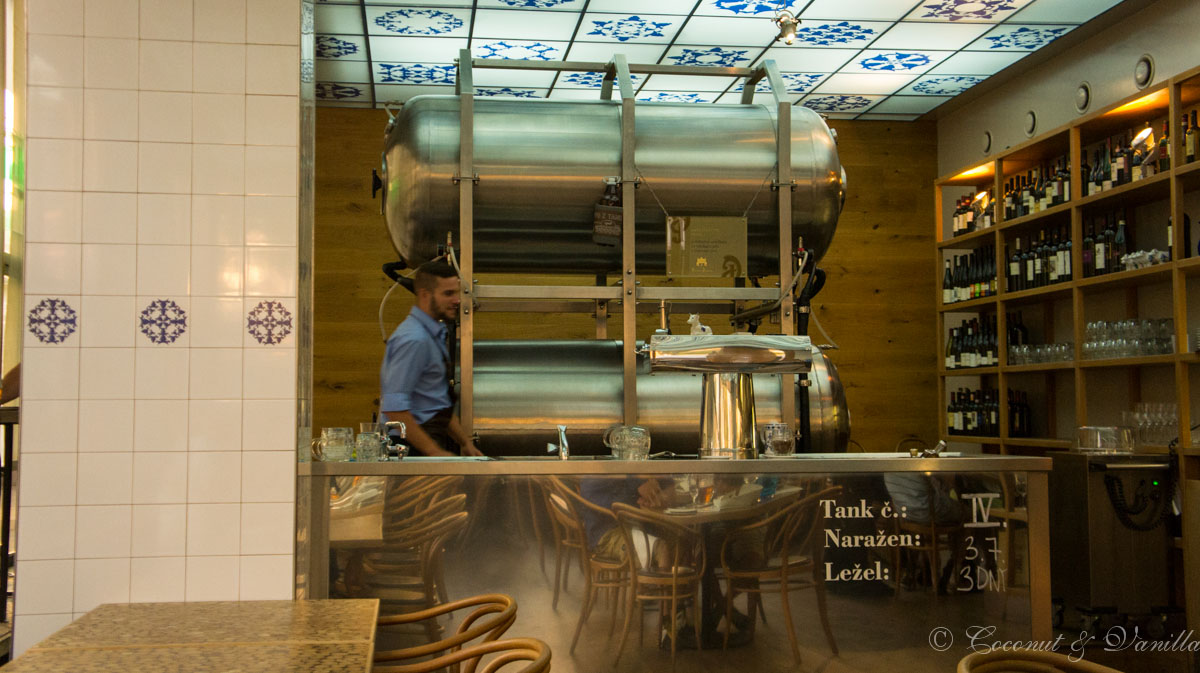 You are keen on meat? Ok, it's not that you have a choice, you're in the Czech Republik ;). At Čestr (Legerova 75/57, Prague 1, Metro A Muzeum, the restaurant is situated in the ugly communism building, which is the new national musuem) you get real good meat, which is local and reasonable priced, too! Čestr is already well known and although it is quite large it is very full (Reservation! Outside they only have beer tables and it's situated at a large street, so this is not recommended). At Čestr they serve meat from every part of the beef, although unfortunately giblets are not used. The parts are numbered and with a key you always know which part is used in every dish. Nice touch! You can eat as much steak as you like here and compare different meat parts to each other. As a sidedish I recommend the dumplings, which were very good.
I even found the starters more interesting and so I highly recommend the beef sashimi with apple jelly, mirin and ginger. Divine! Also we had little schnitzel from boiled meat from the head, which was takes a little getting used to it and you should avoid to peek under the coating.
Try the homemade beer ice cream for dessert! 
As we arrived in Letna it was too late to drive around the city looking for something to eat and we were also too exhausted. Luckily the have a pub there called  Lokál nad Stromovkou, Nad Královskou oborou 232/31, Prague 7. At Lokál we had our first encounter with a nice, english speaking waiter and down-to-earth homemade czech food made of local ingredients and good beer. The waiter wasn't "sweet", but in his gruff-friendly manner suitable for a beer pub. We enjoyed ourselves there. The food was good (only the bread dumplings were a bit dry and flavourless), as was the beer. I also recommend the fruit beer with raspberries for example. This is not exactly a sweet bar, but a fruity one.
Luckily Lokál also exists in other quarters.
I do not feel obliged to party anymore. But I like to sit genuinely in a cocktail bar. But my imagination of a cocktail bar and the reality mostly drift apart. In Germany cocktails are quite expensive, especially in a nice bar. In Prague prices are still reasonable for fancy cockails and great locations, which honor the classic bar.
Cocktail Bars
At Hemingway Bar (Karolíny Světlé 26,, Prague 1, tram karlovy lázně) mixing  cocktails is done since ages and the bar is well known and always full. It's nice that they have a smoking and a non-smoking section (I needed to get used to it that normally it's legal to smoke everywhere in Czechia). We were lucky and snatched a place at the bar. Normally I'm not so keen to sit on the bar, but it's very recommended here! The bar is so wonderfully vintage! At Hemingway Bar no standard cocktails are mixed, only their own creations. My tip: Cardamom Horse's Neck. But be prepared, you don't want to leave before you haven't sampled all their cocktails!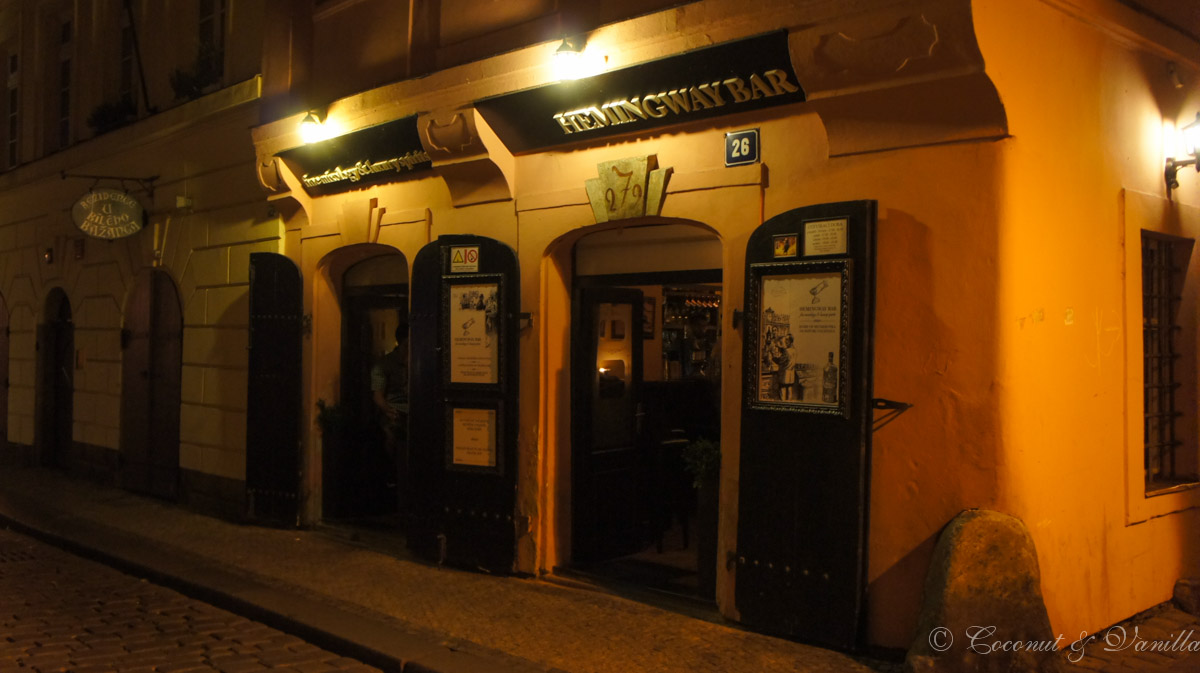 Around the corner Cash Only Bar (Liliová 218/3, Prague 1, tram karlovy lázně), a spin-out of Hemingway Bar, can be found. This means you can literally only pay cash. The bar looks small, until they show you the basement, where it is even cozier. As Cash Only Bar is a spin-out of Hemingway it is obligated hat the people know their business. They have a changing menu and you can tell the barkeeper what you like/dislike and he mixes a cocktail according to it. Nice! I felt very comfortable, the waiter and the barkeeper were super nice and communicative and the cocktails were awesome!
The atmosphere is also more casual and aims for younger people. They also have some nice punches, which I spotted on other tables and interesting cocktails with Absinth (if you like anis). Best to ask!
The whole bar is a non-smoking area, by the way.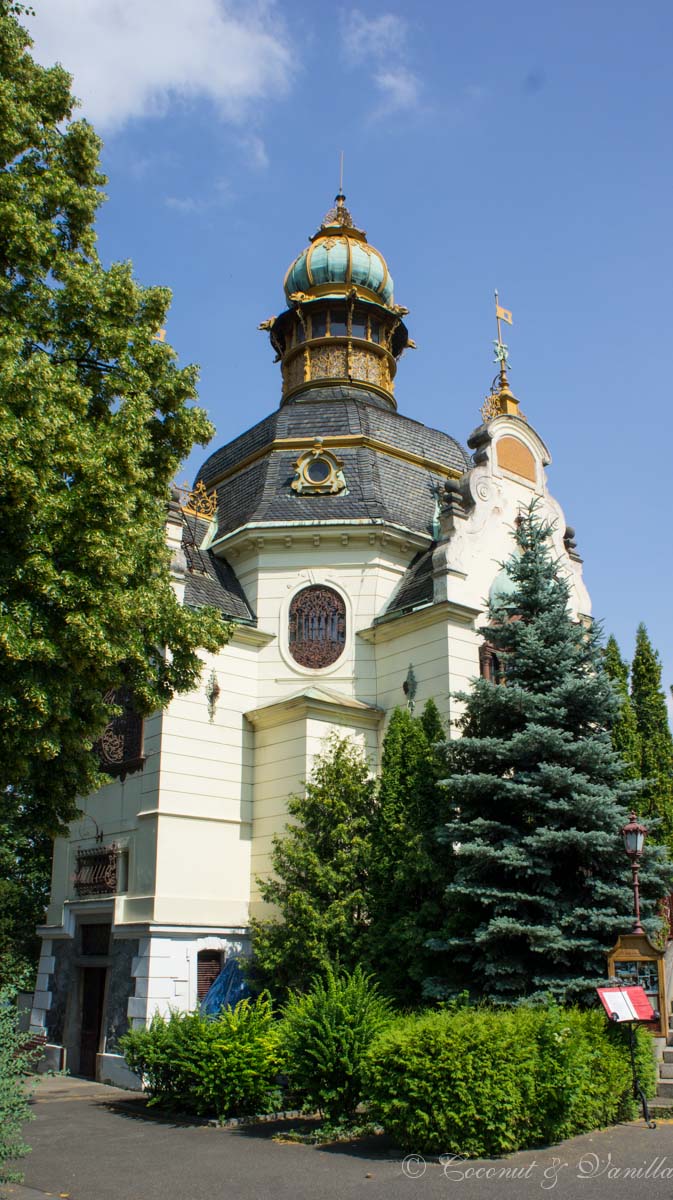 In the end I'll give you a tip how to see Prague without many tourists and tired feet, but with a lot of fun! Book a private segway tour! We loved it!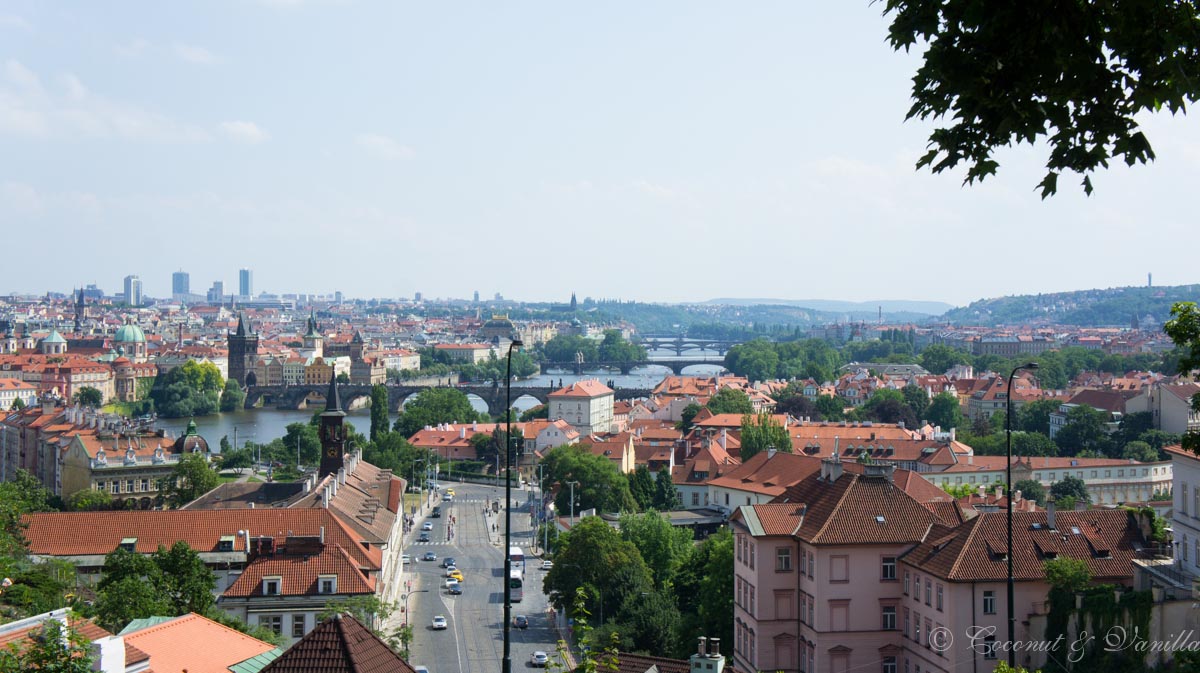 Have you already been to Prague? How did you like it?
I have a still some spots I want to try and as I liked it so much we surely will come back! I would love to hear your best tips in Prague! Write it down in the comments! The more good tips, the better the vacation!