Tuesday, 17th March 2015
Nicole Stichs new cookbook called Reisehunger* (lust for traveling) is out since February! First I was a bit sceptical as I had it in my hands first, but as I looked at so many delicious recipes I was blown away!
Mostly my own lust for traveling seduces me to like this book ;). I'm also that kind of woman who links vacations with culinary reminiscences.
The first and best chai latte in Santa Barbara, 14 years ago! The first real steaks in the same US vacation somewhere on the west coast in a steak house (never seen so much meat on my plate before!). Reindeer meat in Finland, which wasn't good. But the marvelous creme brûlée on cloudberry jelly in a restaurant in Turku. Wraps and fresh juice at Leons in London, as well as fresh chinese dumplings in Chinatown and huge fresh oysters at Borough market.Spicy green papaya salad in Vietnam. The most opulent breakfast buffet at Bali with smoothies made to your choice and everything else imaginable! Delicious wine and very fine multi-course dinners in the Alsace, an extremly good cheese fondue in Straßbourg. Fresh airy ensaimadas, which powder you face with its powdered sugar on Mallorca. Tapas in Andalucia and Madrid, how I love boquerones fritos! The best and largest Wiener Schnitzel in Wien.
I think you got an impression on how I connect with Nicole Stich and this book of hers ;).
The book is divided in geographical chapters like Greece, Italy, USA, France, Turkey, Portugal, Singapur and Dubai.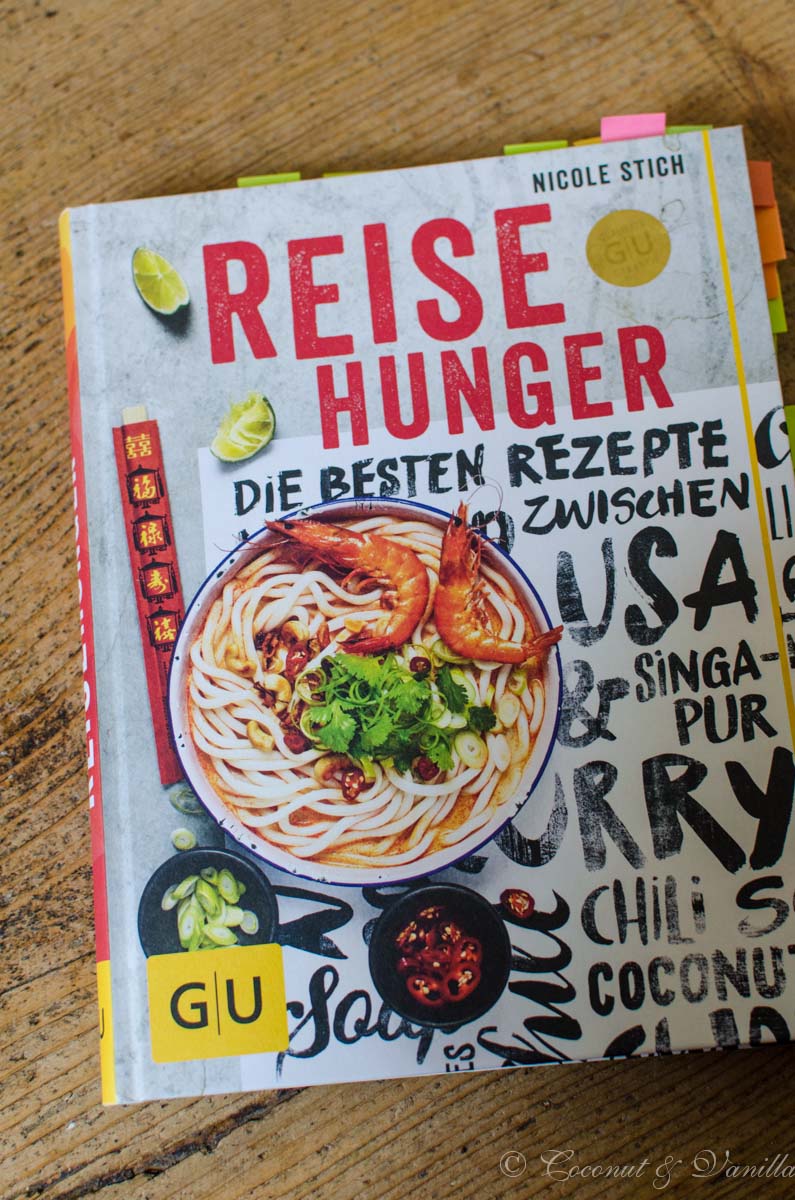 I made the frittata di spaghetti, which is baked quickly and is surely perfect for a brunch or buffet. It's a very simple dish, so next time I would add some cabanossi or something to jazz it up a bit. Children might love this dish!
As I got hold on some lamb meat I immediately cooked the lamb ragout with orzo pasta. It's so very delicious! I love the oriental spices and will add more next time. Because of the pasta the dish needed a lot of salt, even more after reheating the leftovers. Because of the orzo in the dish it is not so suitable for reheating, because they are cooking again and tend to get quite mushy.
I picked up the idea of the mango salad, because I love those kind of asian salads a lot! As it wasn't possible to get all the herbs in this season I omitted them. I added glass noodles instead, so the salad is more filling and therefore I also made more dressing. I liked it!
Next dish on the table from this book was the greek pasta with minced meat. Very good and very good spiced! The special part is the butter with mint and chopped pine nuts, which serves as an extra topping. It's the cherry on top, just perfect!
The chickpea fritters should be alike falafel but without frying. Indeed they are tasting like falafel and are very crispy on the outside thanks to the coating! For accompanyment I made the bulgur salad which I made with dates instead of cranberries. With some extra lemon juice to balance the sweetness of the dates, the salad was a dream!
Reisehunger* does not only offer a lot of reliable recipes which Nicky picked up in every corner of the world, but also stories and memories linked to those dishes. This is what makes this book so lovable and special! I didn't liked the layout at first, it was too much for me, but got used to it very quickly and I think now that it is suitable for that kind of book!
The recipes convinced me and only sometimes I missed the icing on the cake, other recipes were just entirely consistent. 4,5 of 5 stars from me for this book!
* amazon affiliate link