Saturday, 1st November 2014
Recently I visited the second Foodlbloggerbarcamp with 80 other food bloggers in Berlin!
I was excited as I have never been to a barcamp before and also the idea was quite new to me. Of course, it is always a pleasure to get to know the virtual contacts in reality!
At a barcamp knowledge is passend on the participants from the participants in 45 minutes sessions. Topics are created very spontaneously and you can choose from a lot of sessions. A lot of blogger offered many interesting sessions and so I could only participate in a few. I overcame myself to offer a session with Denise on the second day on te topic of foodstyling! I was quite nervous, but the feedback was very positive and the questions afterwards made me happy, too!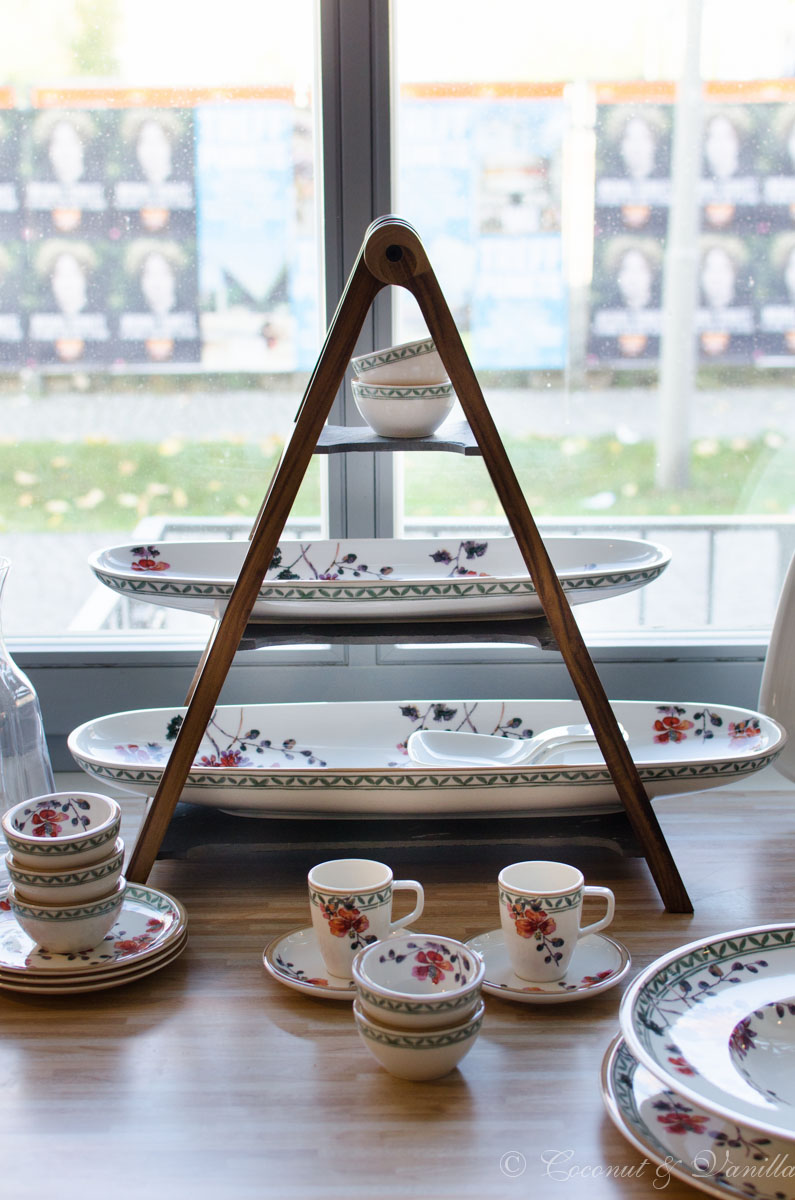 Villeroy & Boch was also there as a sponsor and I instantly checked out "my" etagere! I discoverd this beautiful wooden etagere with slate slabs some weeks ago in Nuremberg and there it was! At least I took a picture. The etagere isn't expensive itself, but what is expensive are the fitting plates. So it will stay a dream for the moment. Too bad Villeroy & Boch didn't bring some white dishes, but those colourful ones in some country style, which is not my style at all. 
The barcamp made me try green smoothies for the first time! Although it won't change my life forever ;), I'm happy that I could make that experience. It's too elaborate for me to have so much leafy greens and fruit at home all the time and I couldn't gulp it down in the morning ;).
Nicole was more or less forced to give a sketchnote session, which was awesome! I would love to draw more sketchnotes at work, but I also liked the idea to sketch recipes. I'm only waiting for the moment when 40 food blogger will sketch their recipes in the future ;), I would like to see a session for "sketchnotes in meetings".
Julia Graff by Haedecke Verlag introduced us to cookbook development / making /publishing, which so so fascinating! The dream of an own cookbook hunts a lot of food blogger I guess, me too. Therefore I was thrilled about this session Julia was offering, who is by the way a really cool woman! She delivers the message really good and it was very amusing, too. 
Under guidance of Viola Wüsthof and Arne Schulenberg of Wüsthof I sharpened some of my knifes. Viola was so kind to sharpen my small santoku knife, which had two notches already. Now it's like new :D. I lost my scruples for the grindsteone, so I really need to get to it and sharpen my other knifes. If you don't have an idea of sharpening knifes with a grindstone I can really recommend you this video (in German) and this page (in German), which is also more detailed than the session at the barcamp ;).
We had a explosive discussion about making money with the blog and sponsored posts. Unfortunately a lot of companies are still thinking they can use bloggers. On the other side a lot of food bloggers are thrown in the same pot as test bloggers! Companies should see the difference! If companies employ with a blogger and its blog before judging and then writing a mail it's helpful for anyone! This is true not only in blogging business!
On the second day I was impressed of the session of Peggy of Multikulinarisch and Markus of Der Küchenphilosoph about gathering and using edible wild food. This topic is so interesting to me and since about a year I'm more engaged in what is growing beneath the trail, although I already have worked with elder, wild garlic and sloe. Some months ago I also recommended you a very good cookbook about that topic!
Except for lunch everything was well organised. I would pay 20 Euro more to get a good lunch by a caterer. I admit I'm not enjoying it to cook outside my own kitchen with a lot of people. When I'm somewhere else it's like vacation for me and then I don't want to cook (I cook everyday, I'm happy when I sometimes do not have to). Of course other people cook, but I always have a bad conscience then. And that is something I don't want to have, too. Surely it would have been more relaxed, if we wouldn't have need to spend that much time in the kitchen for lunch. Moreover I thought the break was very long. I rather would have had another session in that time. 
Thanks a lot to Mella and Jan for the perfect organization and the constant effort to please everyone!
Thanks to the sponsors who made it possible that we had a lot of groceries to cook and bake want we wanted and to take a great goodie bag at home in the end!
I was very impressed of Ralf of Pilzpaket with his mushroom packages ;). He introduced us to his product, with which you can grow three different mushrooms on coffee grounds! Forever with one batch! We also cooked with the mushrooms, they were delicious!
Mari brought japanese cakes and cookies, which I would have never tasted. Very exciting! I loved the yuzu cookies!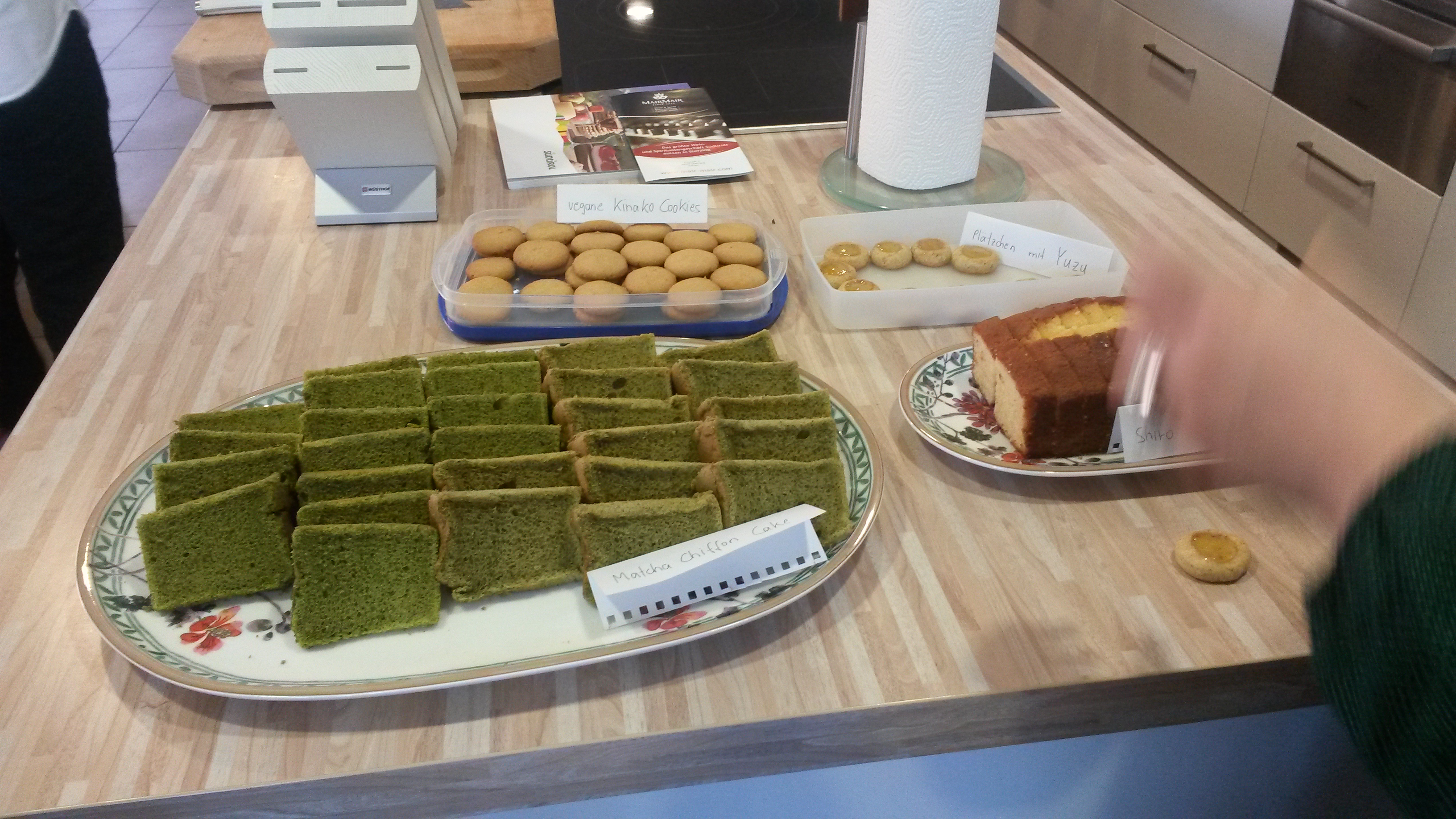 There was a lot to learn, but I would have been interested in topics more suitable for advanced bloggers. I experienced that after 5 years of food blogging I already know a lot of stuff, more than I thought! Therefore the barcamp wasn't the right place and I will see where I can satisfy my curiosity. But it was great to get to know a lot of people with the same interest: food! Everything has it's benefits and disadvantages!
I'm very happy to got to know Lars, Jana, Jens, Nicole, Tobias, Denise, Franziska, Karin and a lot of more!
These were the sponsors: