Tuesday, 15th July 2014
The Wald- und Wiesen-Kochbuch by GU provides recipes for cooking with wild herbs, fruit or mushrooms. Also it contains some hints and tips for collecting them. Every season some wild groceries are selected, which are then highlighted. Some with pictures, others just with recipes.
I was thrilled when first browsing through the pages! This book totally suits my taste. I love the design and the great natural photos! But also a lot of recipes addressed me. I would try almost everything in the book. The recipes are rich in variety and the book is spiked with new ideas!
It's getting tricky to get all the ingredients. Ok, wild garlic is an easy one, but for all the other stuff you have to go outside into the nature. If you have a garden you might be lucky, because you might have goutweed in it, mostly known as a weed. But it is edible! And after eating all the goutweed, go on and harvest some stinging nettle!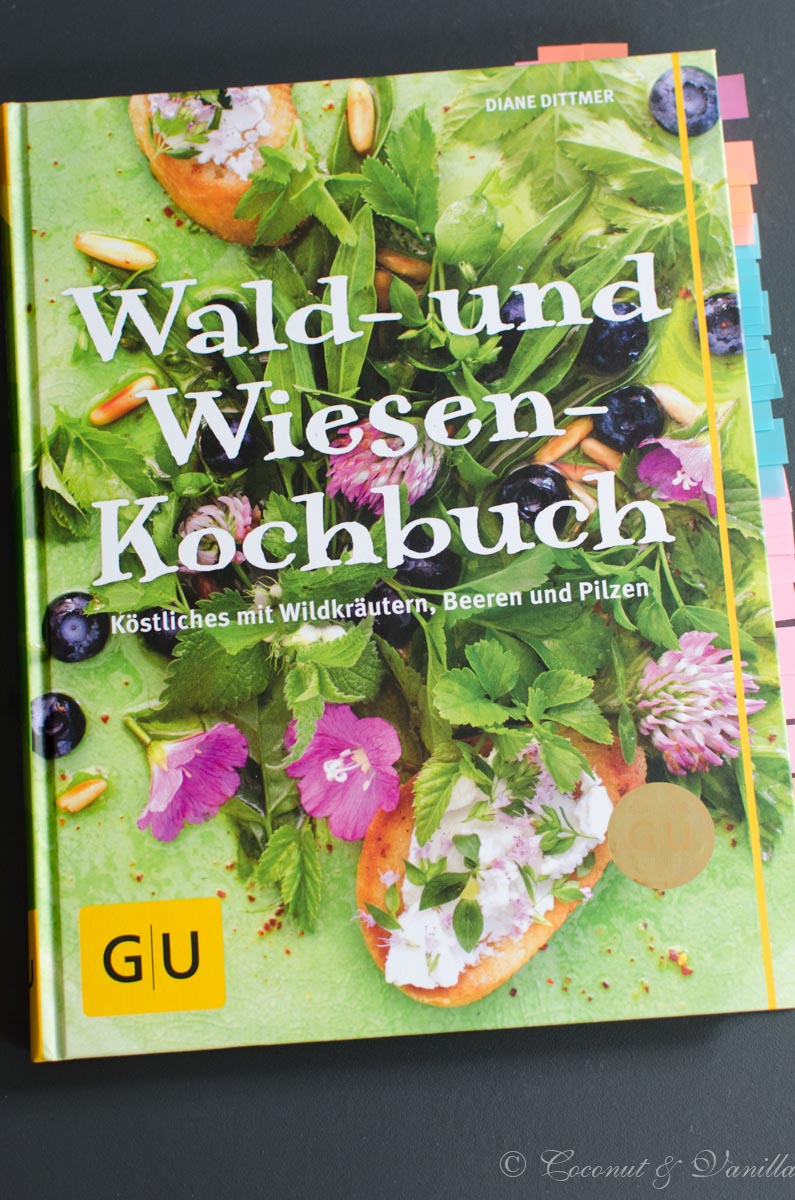 Without a garden you'll have to go outside for a little herb hunt! And not only the right wild herbs, but also a dog-free area is necessary. As you never know, sometimes it's necessary to turn a blind eye.
I know stinging nettles, but after that it's not so easy anymore. But I want to pick some woodruff! Unfortunately this book only provides recipes, no tips for picking the woodruff. So I turn to the internet, because I don't own an identification book, yet. After sorting some plants I find something which fits the descriptions. I pick it and hope. It's easier to recognize the woodruff by its flowers, but it's recommended to pick it before it blooms. Quite unconvenient for this year!
The only thing missing in this book are some hints and tips for collecting the ingredients. If you buy a book like this, you don't know the ingredients, I guss and you don't want to buy another book, yet (although I'm hooked and I will definitely buy an identification book). So some location tips and detailed pictures of the plants and mushrooms would be useful. Also a hint that there might be similar (or even toxic) plants out there would make sense. Special caution should be payed when collecting mushrooms and I want to have detailed instructions for that!
Nonetheless this is a great book, which I can recommend a lot! I want to use everything I can, so the idea to eat "weeds" is great, as well as using plants I would have never known to be edible and tasty!
The Wald- und Wiesen-Kochbuch by Diane Dittmer gets 4,5 of  5 points.
This book was kindly provided by the GU Verlag.