Thursday, 5th September 2013
I love mexican food! And in my opinion everything is better with cheese! So quesadillas must be my favourite dish of all mexican food ;). Until recently I thought quesadillas are a lot of work, until I made them myself and realized they are so easy! And you can pack a lot of leftovers from the fridge in them! That's awesome, too!
Of course, those quesadillas would be even better, if you would make the tortillas from scratch. Yes, that's a thing! Wheat tortillas are very easy to make and don't need a lot of ingredients (moreover you omit all those creepy e numbers from the bought ones). Of course, you can also buy some organic wheat tortillas in whole food stores, too, without having a guilty conscience.
But today is just about these great and easy quesadillas with fresh corn and zucchini, perfect in season! Soon you'll can practise yourself in rolling tortillas!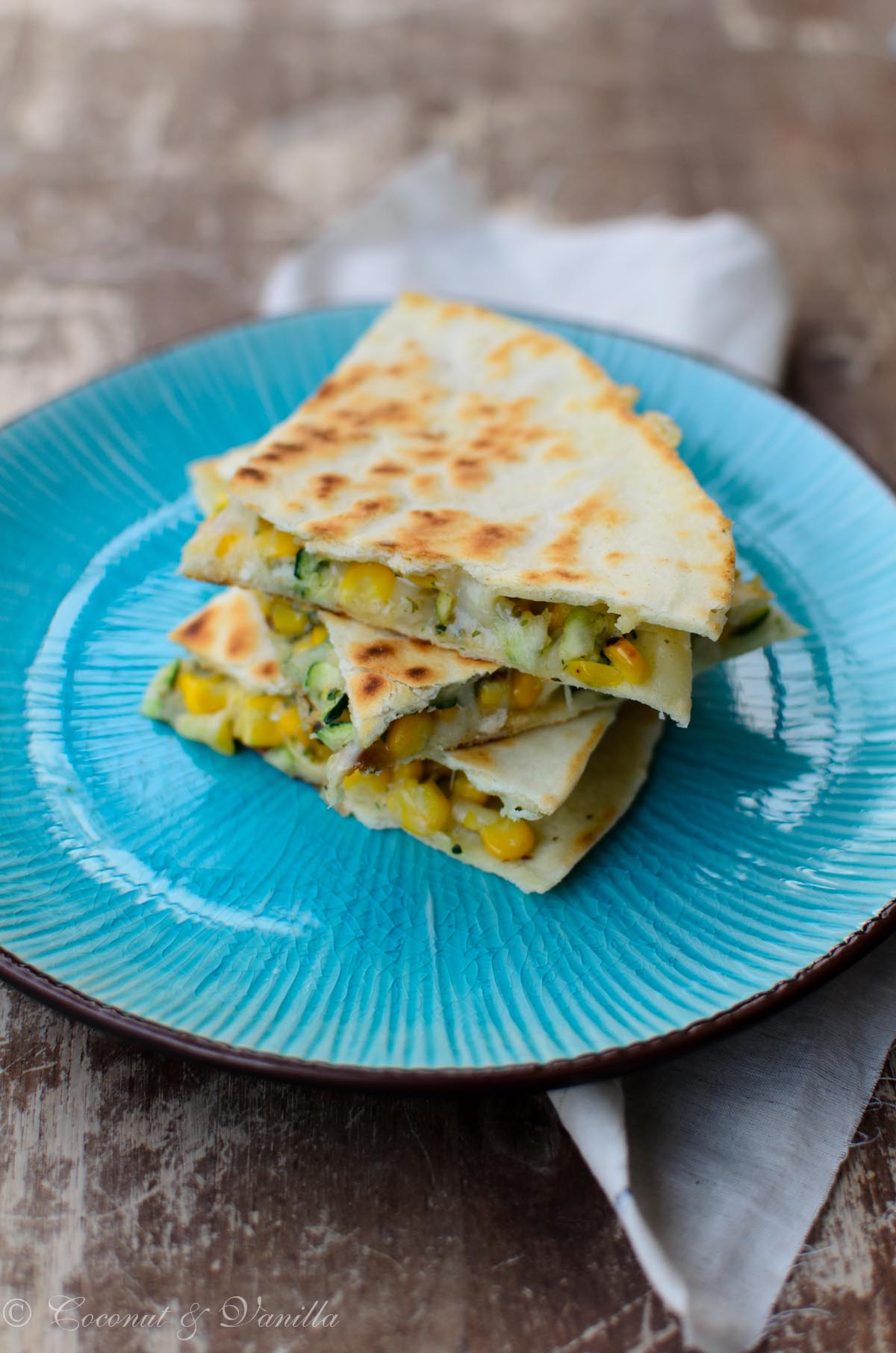 One year ago: blackberry chocolate pie
Three years ago: rustic plum galettes
Quesadillas with Zucchini and fresh Corn
adapted from Closet Cooking
yields: 2 quesadillas, each quartered
Ingredients:
2 small ears or 1 large corn
2 small zucchini
1 small onion
1 small handful vietnamese cilantro (or normal cilantro, parsley or even basil)
1 tsp cumin
1 pinch hot chili powder
2 tsp lime juice
4 tortillas
4 small handful gouda or cheddar, grated
butter
Preheat the oven to 100° C to keep the quesadilla warm.
Grill the corn on a grill or a griddle pan. Cut the kernels from the cob.
Grate the zucchini and using a cheese cloth squeeze out as much water as possible. Half the onion and slice.
Mix the corn, zucchini, onion, cumin, cilantro, chili powder and lime juice in a small bowl.
Melt a bit of butter in a pan. Place one tortilla in the pan.
Sprinkle one quarter of cheese on the tortilla, add about half the zucchini and corn mixture, sprinkle another quarter of the cheese on the vegetables. Top with another tortilla. Bake until golden brown, then flip and bake until golden brown, too and the cheese is melted. To flip the tortilla place a plate onto the pan and flip both, slide the quesadilla back into the pan.
Repeat for the second quesadilla.