Donnerstag, 5. Mai 2011
Update: Für das deutsche Rezept nach unten scrollen!
Another rhubarb recipe, yes! Because you have to use rhubarb, as long as you get it.
And this recipe is a hit! The recipe itself doesn't read like one, but as soon as you've taken the first bite you'll be convinced.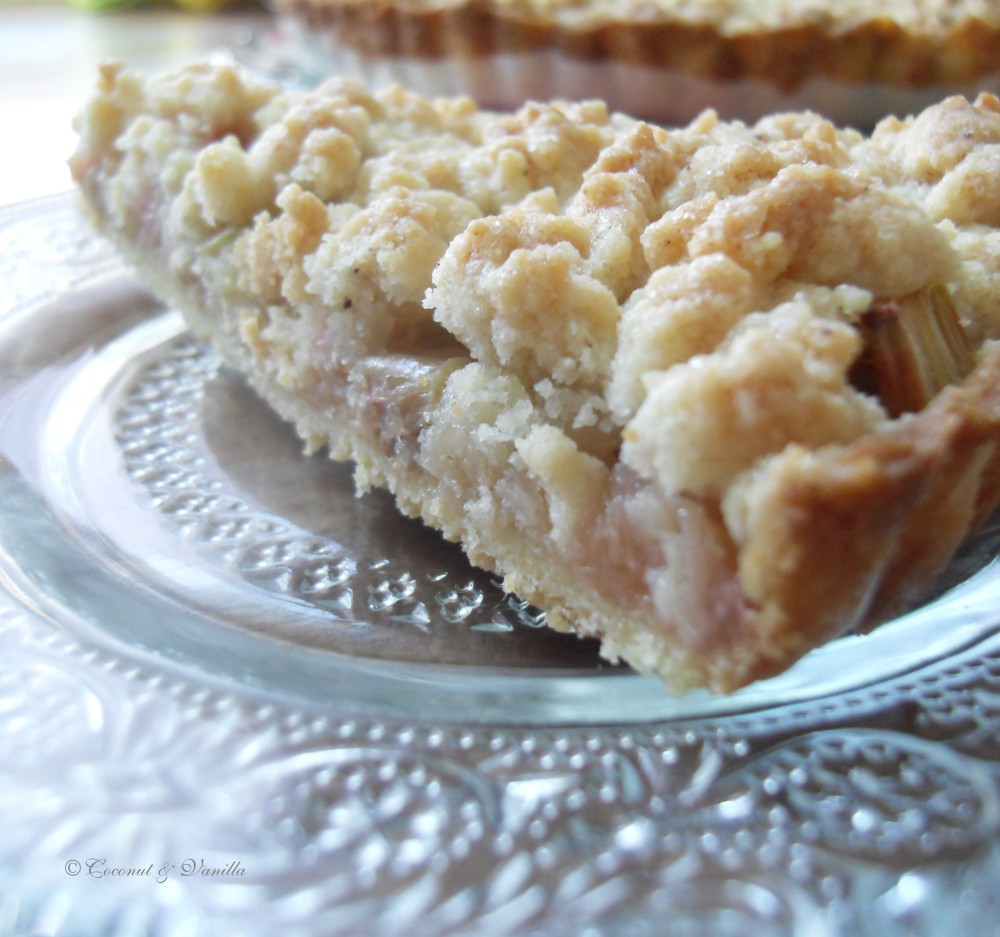 A flaky, buttery crust with tart, mellow rhubarb and all this topped with crispy, spicy streusel! I mean, how should it become even better?
The crust is really thin when rolled out, but don't worry it won't break when baked. I've used a tart pan, which was really fully loaded. But it worked! You can also use a spring-form pan.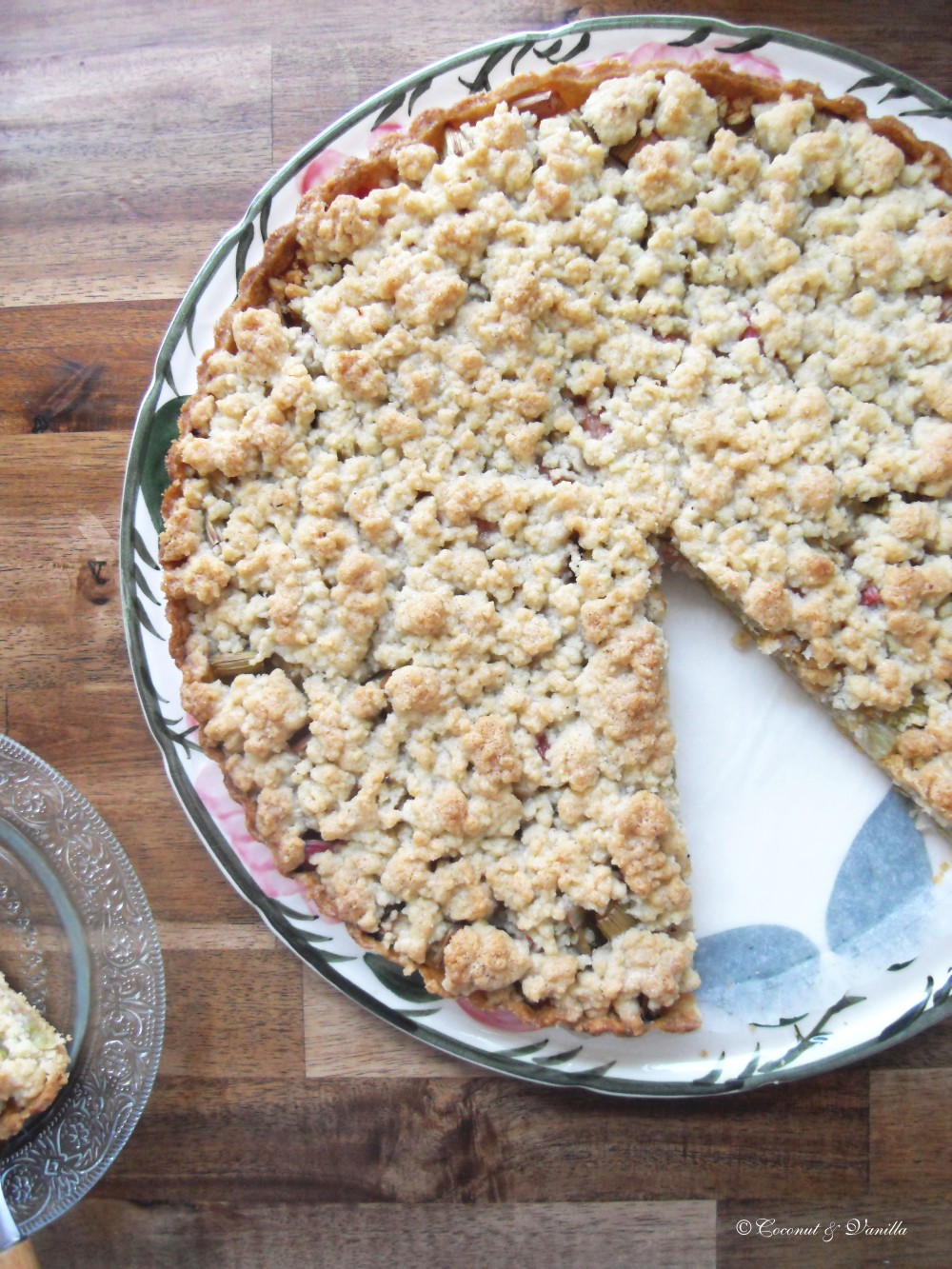 As it is rhubarb season, rhubarb recipes are all over the internet. And so a question arises: Peeling or not? Some peel it all way long, some never. I was not only confused, but I always didn't liked the idea of peeling off the bright red skin of the rhubarb. I mean, that's one of the great characteristics of rhubarb, isn't it? So I searched the internet. Summarized: modern rhubarb varieties have less strings so there is no need to peel. Just chop the ends, and if there are any strings coming off, peel them. So this is my way in the future, forever.
I also heard of some rhubarb varieties, that are red inside, too. It's called strawberry rhubarb and looks really beautiful. Look at that from a post from Nicky. Unfortunately I've never seen it here.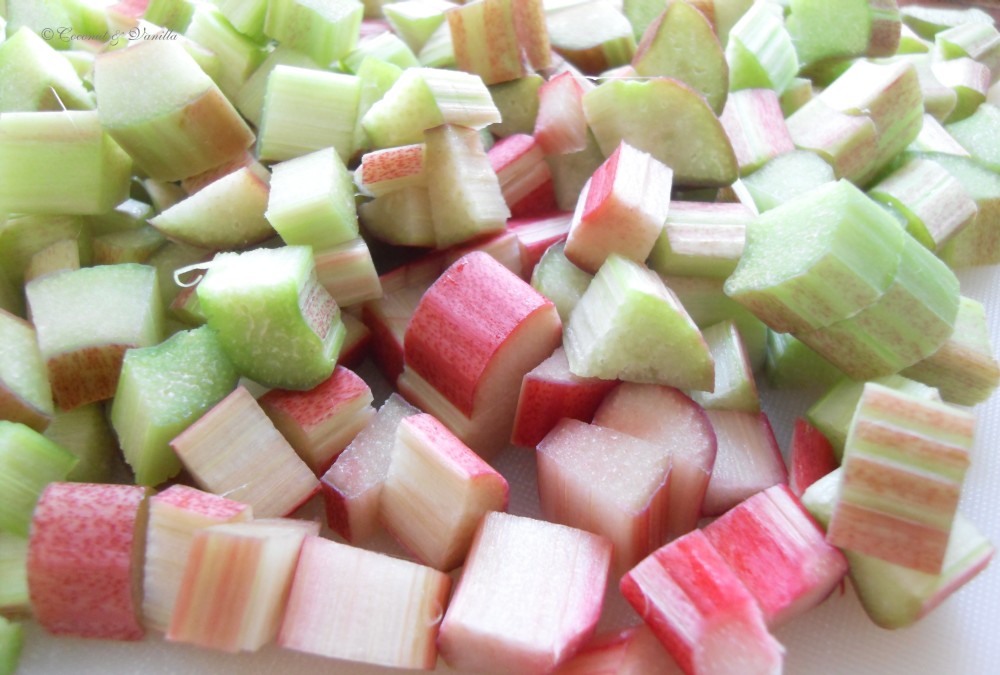 We have been offered a lot rhubarb from a friend, who cannot work it up anymore. So do you have any suggestions, what to do with a lot rhubarb? I knew we could make jam, but I am not such a big fan of (strawberry-) rhubarb jam. So I will be thankful for any tips.
Vor einem Jahr: Rhabarber-Streusel-Kuchen
Rhabarber Streusel Tarte
ergibt: eine 28 cm Tarte
Zutaten:
350 g Mehl

210 g Zucker

1 Eigelb

225 g weiche Butter

1 Prise Salz

70 g Löffelbiskuits

500 g Rhabarber

1/4 TL  Muskatnuss

1/4 TL Zimt
150 g Mehl, 50 g Zucker, das Eigelb, 75 g Butter und das Salz mit einem Esslöffel kaltem Wasser verkneten bis man einen glatten Teig erhält. Zu einer Scheibe formen und in Frischhaltefolie gewickelt 30 Minuten kalt stellen.
Die Löffelbiskuits im Blitzhacker zerkleinern. Alternativ die Löffelbiskuits in einen großen Gefrierbeutel geben, verschließen und mit einem Nudelholz darüberrollen, bis die Kekse zermahlen sind.
The Rhabarber putzen, die Enden abschneiden und in 1 cm kurze Stücke schneiden.
200 g Mehl, 100 g Zucker, Muskat, Zimt und 150 g Butter in Stücken verkneten, bis man Streusel erhält. Kalt stellen.
Den Ofen auf 180° C vorheizen.
Die Tarteform ausbuttern oder den Boden mit Backpapier auslegen und nur den Rand buttern, so wie ich.
Den Teig ausrollen und die Form damit auskleiden. Die Löffelbiskuitkrümel darauf verteilen. Den Rhabarber gleichmäßig darauf verteilen. Wenn der Rhabarber sehr sauer ist, 60 g Zucker darauf streuen. Ich hab das weggelassen und ich fand es gut so (aber das ist natürlich abhängig vom jeweiligen Rhabarber). Die Streusel oben drauf verteilen.
Die Tarte 45-50 Minuten backen.
Abkühlen lassen oder lauwarm mit einer Kugel Eis genießen.