Montag, 26. Juli 2010
Update: Für das deutsche Rezept nach unten scrollen!
As I'm writing this, I'm looking out the window, watching the rain. And it's nice. Last week was so hot, that we couldn't imagine turning on the oven or making a hot meal. Over the weekend the weather cooled down to about 20°C and rain, now and then.
It's refreshing in another way. And it's comfortable. It's also comfortable to cozy up a bit in between the heat and cook and bake again. It's time for some real comfort food.
This is my ultimate comfort food. I could dig in it, that good it is.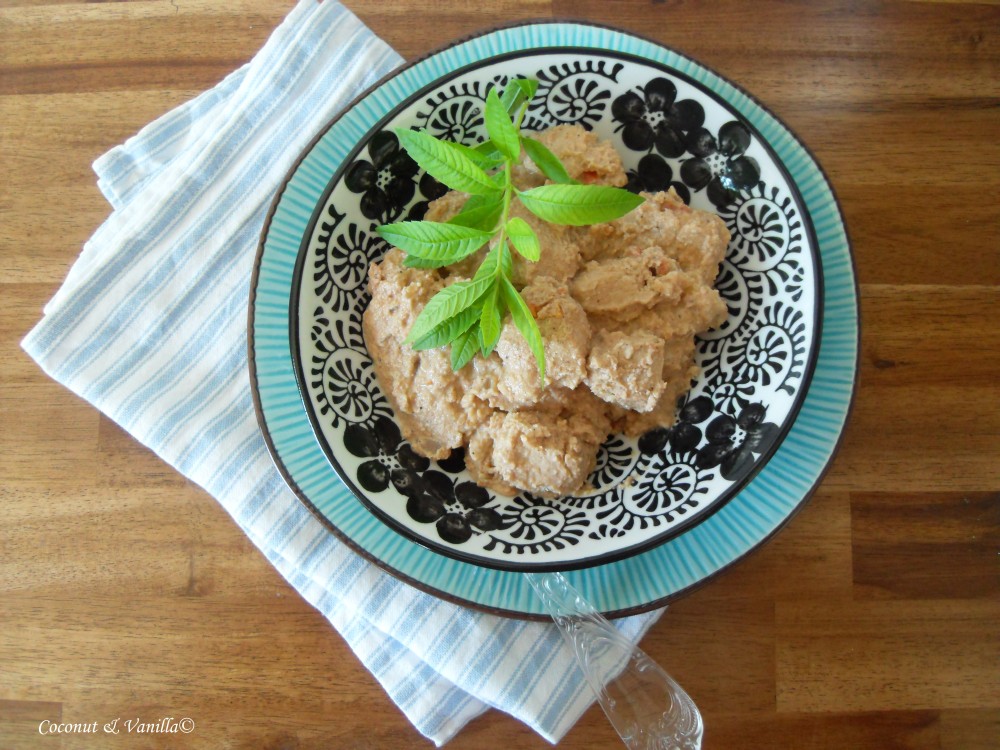 This are chicken pieces, which have marinated at least 6 hours in yoghurt, tomato puree and lots of spices. After that you cook it about 1,5 hours. The chicken will be tender and you have an unbelievable sauce! You can serve it with rice, if you want it easy (cause this meal IS easy). But if you want it be best, make some Batura. It's an indian yeast flat-bread, which is deep-fried. In one of my upcoming posts, I will write about Batura, too. It's so good, I want to dig in that, too.
Now you can imagine, what that meal does to me…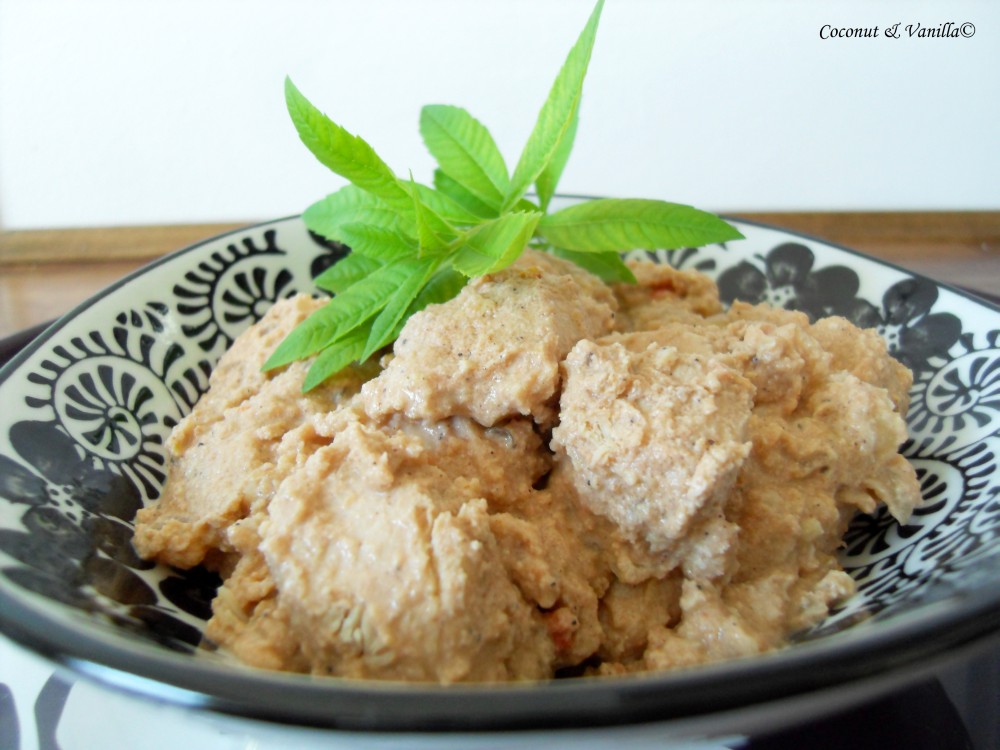 So, hurry up, marinate some chicken, you won't regret it tonight! Oh, and it wouldn't be a fault to make the double amount. It freezes wonderful (and still tastes wonderful after thawing). And another night, when you're too lazy to cook, you already have a dinner.
Indisches Mandelhühnchen
nach einem Rezept aus Indisch kochen von Tanja Dusy
für 4 Personen
4 Hähnchenbrüste
5 EL gemahlene Mandeln
3 grüne Kardamonkapseln
1/2 TL Chilipulver
1/2 TL Zimt
1/2 TL gem. Nelke
1,5 TL Garam Masala
125 g Joghurt
2 Knoblauchzehen
200g passierte Tomaten
Salz
1 Zwiebel
Ghee oder Butterschmalz
100 g Sahne
Das Fleisch in Stücke schneiden (etwa 5 cm).
Die Mandeln in eine kleine Schüssel geben, 6 Esslöffel kochendes Wasser dazugeben und verrühren. Die Kardamonkapseln in einem Mörser mahlen. Die Mandeln mit dem Joghurt und den Gewürzen verrühren. Den Knoblauch fein hacken und mit dem Tomatenpüree und einem 1/2 Teelöffel Salz unter den Joghurt rühren. Das Fleisch unterheben und abgedeckt mindestens 6 Stunden im Kühlschrank marinieren.
Die Zwiebel schälen und fein hacken. Butterschmalz/Ghee in einem großen Topf erhitzen und die Zwiebel anrösten. Hühnchen mit der Marinade zugeben, ebenso die Sahne. Rühren bis es kocht. Dann auf kleiner Hitze etwa 1,5 Stunden köcheln lassen. Ab und zu umrühren. In den 30 Minuten den Deckel entfernen, damit die Sauce eindickt, dafür eventuell die Hitze erhöhen.
Mit Reis, Batura oder Naan servieren.