Sunday, 27th March 2016
You might already heard of the phrase one pot pasta. Either positive or negative. I always wanted to try it, since I saw it the first time on the blog of Lottie and Doof. Unexplicably, I've never managed to try it.
Over the winter I wasn't eager to cook at all. But something warm to eat every now and then would be nice. And then the new book One Pot Pasta by Marianne Zunner caught my eye!
I found a lot of interesting combinations when I first browsed through. But as I had nothing at home I tried the basic version with tomatoes and basil. The miserable basil remaints found a good death, too. After that I was hooked!
I think it is a great achievement to create recipes, which tells you only to throw everything in a pot and the end result is a delicious meal, without overcooked pasta nor a watery sauce! It worked like a charm!
Which could have been a conincidence.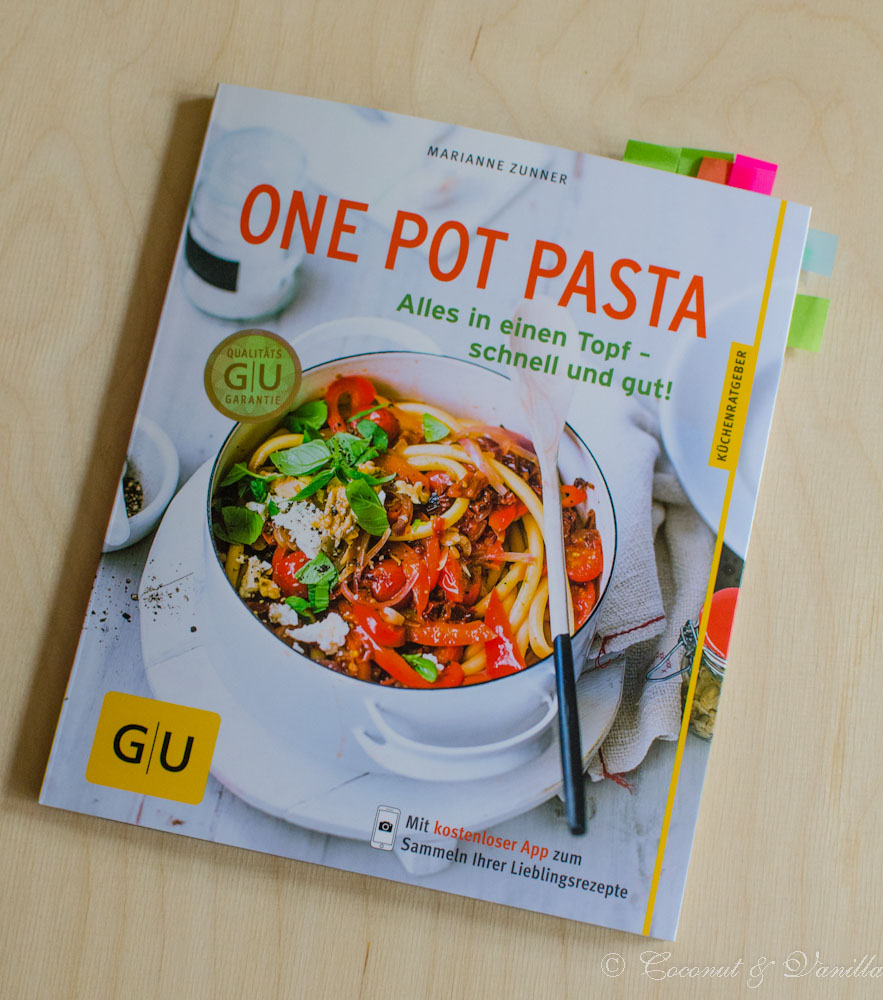 But it wasn't. Next time I tried the pasta with spinach and gorgonzola. Really really good! Next time I cooked pasta with walnuts, bell peppers and feta. Delicious! The measurements are pointed out very well. I use 100 ml less water for the spinach pasta to get a thicker sauce, but this is also depending on your taste. On the other hand I always add the cheese with the rest, because it doesn't make a difference and I do not forget it in the end. The pasta with creamy salmon sauce is – of course- also a delight, and works both with smoked or fresh salmon. If I use fresh salmon I add it just when the dish is ready, so the salmon will not get dry and is still raw in the middle.
The cooking time of the noodles is always stated. I do not care about that and take the pasta I have at home and adjust the cooking time. I won't start to buy the pasta with a suitable cooking time. In my experience the pasta takes about 2 minutes longer that stated on the package. For the rest of the ingredients that doesn't matter at all.
I also tried cooking the double amount in a larger pot. This worked just fine and was no problem at all.
The book does not only offer classic dishes, but also some with an asian touch and gluten-free pasta which is combined with ingredients that fit with the pasta perfectly. These are interesting combinations, if you like to try something new. But you could also swap the gluten-free pasta with normal pasta.
Every dish is on the table in roughly 30 minutes, including preparation and cooking. Some even less.
I am very enthusiastic about One Pot Pasta by Marianne Zunner from Gräfe and Unzer and can only recommend it to everyone who loves pasta, but does want to cook quickly! Just take care that you won't overeat on pasta, because everything is so easily prepared ;). You really notice that the author has tested the recipes extensively and how much water is necessary for every dish.
This book is great in every aspect, as well as the price!
5 of 5 stars!