[:de]
One Pot Pasta, den Begriff haben sicherlich schon viele von euch gelesen. Positives und negatives. Ich wollte die One Pot Pasta immer ausprobieren, seidem ich sie das erste mal bei Lottie und Doof vor 3 Jahren gesehen hatte. Aus unerfindlichen Gründen habe ich sie aber nie gemacht.
Nun hat mich die pure Unlust zum Kochen erfasst, etwas Warmes sollte aber doch ab und zu auf den Tisch kommen. Da kam mir das neue Buch One Pot Pasta von Marianne Zunner von Gräfe und Unzer gerade recht.
Beim Durchblättern habe ich bereits viele interessante Kombinationen gefunden. Da ich aber nichts im Hause hatte, habe ich mich erstmal an der Grundvariante mit Tomaten und Basilikum (die kläglichen Reste auf der Fensterbank fanden so auch noch einen guten Tod) versucht. Und was soll ich sagen? Ich war angefixt!
Eine große Leistung: Alle Zutaten zusammenwerfen und dabei am Ende ein richtiges schmackhaftes Gericht herauszubekommen, das weder verkochte Nudeln aufweist, noch eine zu wässerige Sauce! Es hat gleich auf Anhieb super funktioniert!
Könnte natürlich Zufall sein.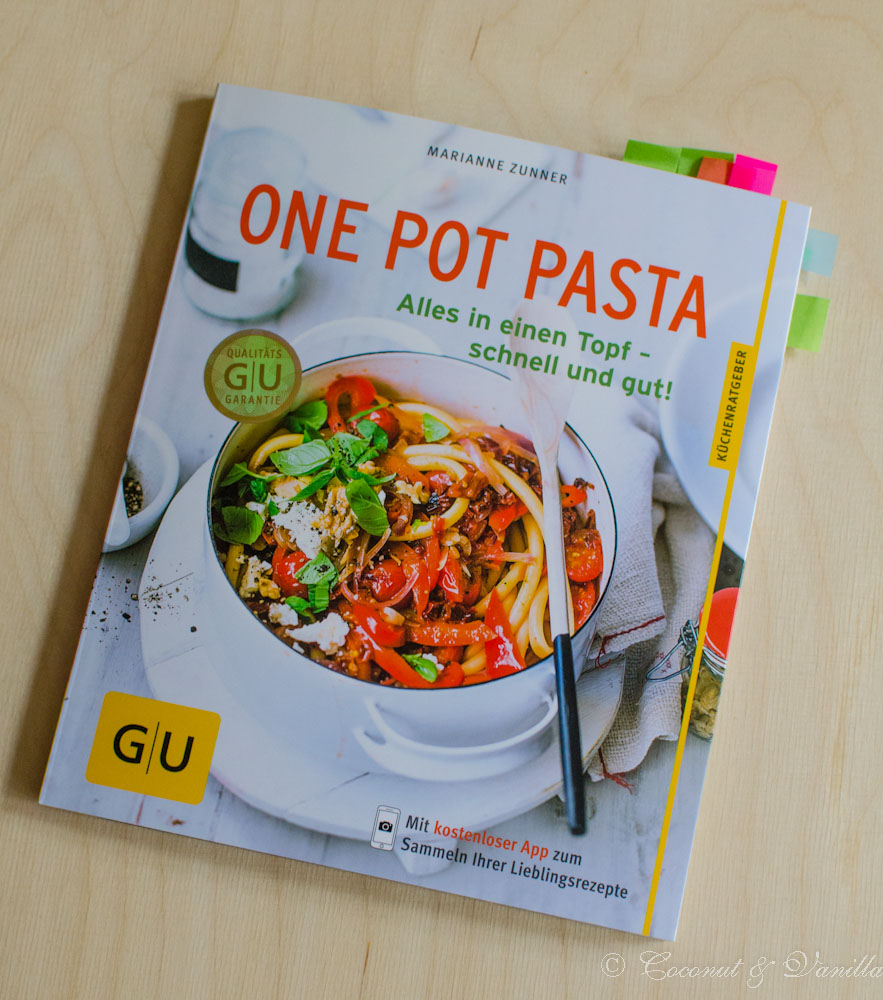 War es aber nicht. Als nächstes habe ich die Pasta mit Blattspinat und Gorgonzola versucht. Top! Einfach nur lecker! Als nächstes gab es Pasta mit Walnüssen, Paprika und Feta. Mmmh, lecker! Dabei stimmten die Mengenangaben wirklich gut. Bei der Spinatpasta würde ich es mit 100 ml weniger Wasser versuchen um eine noch sämigere Sauce zu erhalten, aber das ist auch Geschmackssache. Dafür werfe ich den Käse immer gleich mithinein, es macht schließlich keinen Unterschied und ich kann ihn so am Ende nicht vergessen. Die Pasta mit Lachs-Sahnesauce ist – natürlich – auch ein Genuss, und mit Räucherlachs oder frischem Lachs lecker. Den frischen Lachs ziehe ich am Ende der Garzeit kurz unter, so wird er nicht trocken und ist noch rosa in der Mitte.
Die Garzeit der Nudeln ist immer angegeben. Ich richte mich nicht danach und nehme was ich da habe (ich fange deshalb nicht an die Nudeln mit den passenden Garzeiten zu kaufen) und passe einfach die Kochzeit dementsprechend an. Erfahrungsgemäß benötigen die Nudeln etwa 2 Minuten länger als wie es auf der Packung angegeben ist. Für die restlichen Komponenten im Topf macht das sowieso keinen Unterschied.
Ich habe es übrigens auch ausprobiert die doppelte Menge in einem großen Topf zu kochen, das war überhaupt kein Problem.
Das Buch bietet nicht nur "klassische" Gerichte, sondern auch asiatisch angehauchte und Spezialpasta, die glutenfrei ist und mit geschmacklich passenden Zutaten kombiniert wurde. Hier gibt es interessante Kombinationen, wenn man mal was Neues ausprobieren möchte. Wer aber nicht glutenfrei essen muss, kann diese Rezepte natürlich auch einfach mit normalen Nudeln zubereiten.
Geschätzt hat man jedes Gericht innerhalb von etwa 30 Minuten auf dem Tisch stehen, inklusive Schnippeln und Kochen.
Ich bin wirklich begeistert von One Pot Pasta von Marianne Zunner aus dem GU Verlag und kann es allen Pastaliebhabern empfehlen bei denen es schnell gehen muss! Man muss nur aufpassen, dass man sich nicht an Pasta überisst, weil es so einfach ist diese zuzubereiten ;).
Man merkt, dass die Autorin die Rezepte ausführlich ausprobiert hat und getestet wie viel Wasser jedes Gericht benötigt. Bei diesem Buch stimmt einfach alles, auch der Preis!
5 von 5 Sternen!
[:en]
You might already heard of the phrase one pot pasta. Either positive or negative. I always wanted to try it, since I saw it the first time on the blog of Lottie and Doof. Unexplicably, I've never managed to try it.
Over the winter I wasn't eager to cook at all. But something warm to eat every now and then would be nice. And then the new book One Pot Pasta by Marianne Zunner caught my eye!
I found a lot of interesting combinations when I first browsed through. But as I had nothing at home I tried the basic version with tomatoes and basil. The miserable basil remaints found a good death, too. After that I was hooked!
I think it is a great achievement to create recipes, which tells you only to throw everything in a pot and the end result is a delicious meal, without overcooked pasta nor a watery sauce! It worked like a charm!
Which could have been a conincidence.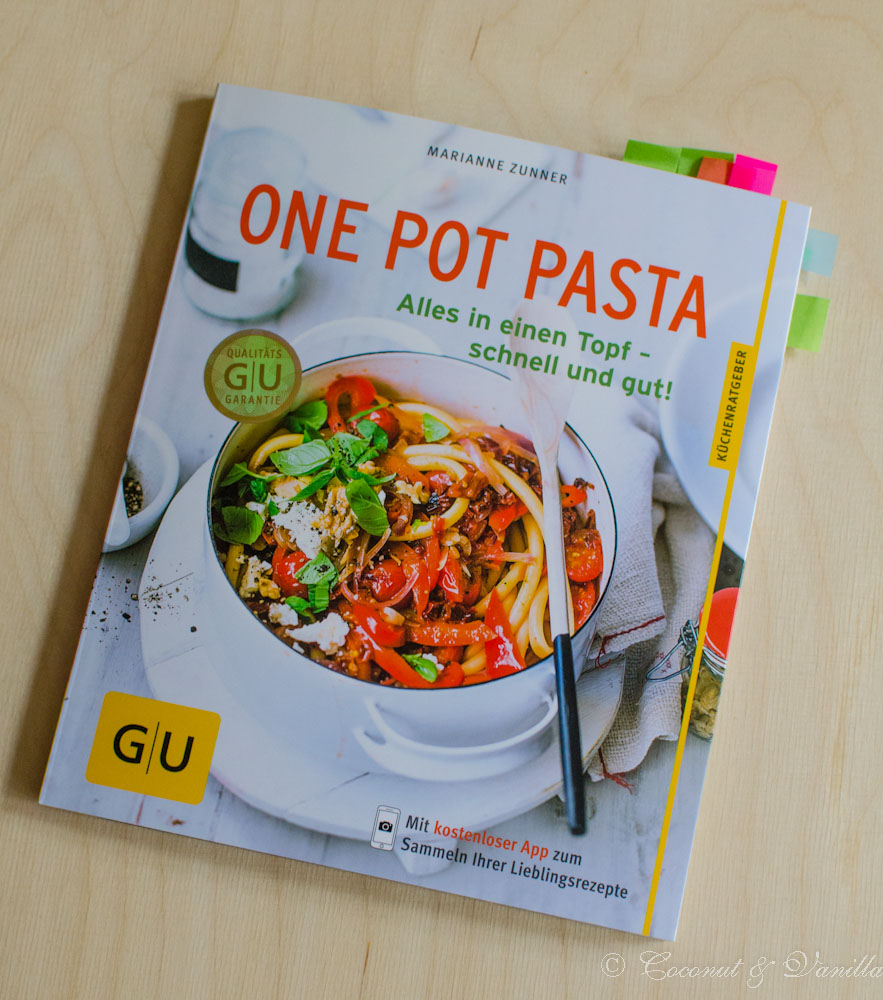 But it wasn't. Next time I tried the pasta with spinach and gorgonzola. Really really good! Next time I cooked pasta with walnuts, bell peppers and feta. Delicious! The measurements are pointed out very well. I use 100 ml less water for the spinach pasta to get a thicker sauce, but this is also depending on your taste. On the other hand I always add the cheese with the rest, because it doesn't make a difference and I do not forget it in the end. The pasta with creamy salmon sauce is – of course- also a delight, and works both with smoked or fresh salmon. If I use fresh salmon I add it just when the dish is ready, so the salmon will not get dry and is still raw in the middle.
The cooking time of the noodles is always stated. I do not care about that and take the pasta I have at home and adjust the cooking time. I won't start to buy the pasta with a suitable cooking time. In my experience the pasta takes about 2 minutes longer that stated on the package. For the rest of the ingredients that doesn't matter at all.
I also tried cooking the double amount in a larger pot. This worked just fine and was no problem at all.
The book does not only offer classic dishes, but also some with an asian touch and gluten-free pasta which is combined with ingredients that fit with the pasta perfectly. These are interesting combinations, if you like to try something new. But you could also swap the gluten-free pasta with normal pasta.
Every dish is on the table in roughly 30 minutes, including preparation and cooking. Some even less.
I am very enthusiastic about One Pot Pasta by Marianne Zunner from Gräfe and Unzer and can only recommend it to everyone who loves pasta, but does want to cook quickly! Just take care that you won't overeat on pasta, because everything is so easily prepared ;). You really notice that the author has tested the recipes extensively and how much water is necessary for every dish.
This book is great in every aspect, as well as the price!
5 of 5 stars![:]