Thursday, 6th August 2015
Bangkok, I really enjoyed you this time!
We decided for a hotel in Chinatown, the Shanghai Mansion, which includes all the typical aspects of Chinatown in the rooms, as well as at the breakfast. It's quite special, but we found it charming.
They had a large buffet which mostly warm asian dishes and american breakfast, as well as an egg station, fruit and a bit of toast. The service was very friendly everywhere.
At arrival we were provided with cold, damp towels and tea. The concierge was always helpful and helped us with the taxis when we needed one. The bar at the entrance is quite nice and they have good live music every night. Unfortunately the cocktails and drinks are totally overpriced and not worth the money. Also it's the only bar nearby.
It's 10 minutes to the metro and 15-20 minutes to the pier (but boats are operating only until around 8 pm). Mostly it's best to take a cab (with taximeter!), it is so convenient and cheap (except in the rush hour!).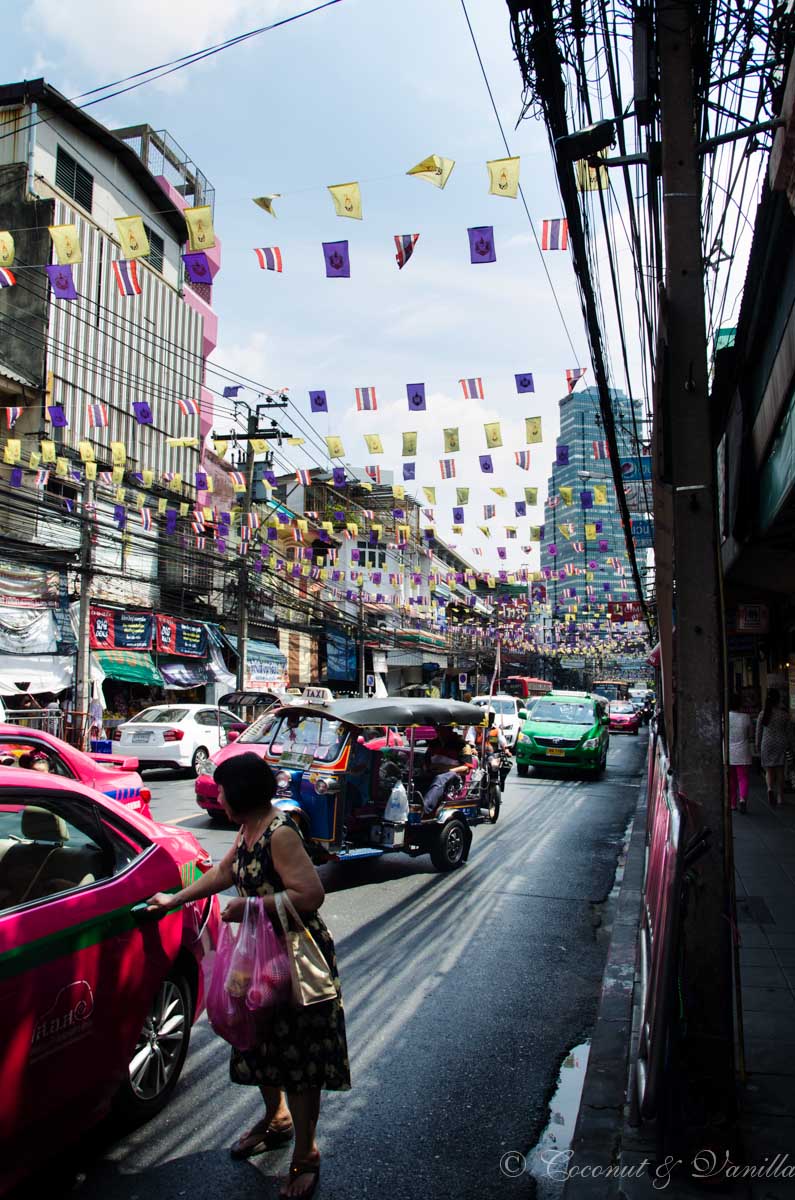 The awesome thing was that when we entered the street from the hotel in the early evening a huge streetfood market was evolving right in front of our eyes (Yaowarat Road)! This streetfood market is not only huge it is also cheap and with a large variety of food! The food is influenced by the Chinese, because of course we are in Chinatown. But the thai influence cannot be neglected. So the first thing you see leaving the hotel is a stall with wonderful cold and fresh coconuts. Get one and just a few meters further you find the best mango sticky rice we tried!
Unfotunately I didn't took any photos of the streetfood market on Yaowarat Road. But all photos were taken in Bangkok.
On the next corner on the right you find a great seafood "restaurant" T&K Seafood (corner Yaowarat Road/Phadung Dao Road). You can see the fresh catch on ice and get some inspiration what you want to eat on your neighbours plates. Eat crabs and some large prawns! On fridays and on weekends it can be very full!
Tip: You can also sit on the balconies!
Going further the main street you find in another street on the left a "restaurant" with plastic stools and a grill before it (I believe it was Yaowarat Road 23). There you get New Zealand mussles and the most amazing scallops with an asian dressing, both from the grill! Order the large set, it doesn't last long!
After that look out for a small wagon, looking a bit more professional (but really small). I saw it on Yaowarat Road on thursday and on the weekend in the side street near the hotel (Plaeng Nam Road or Phadung Dao Road) and the seafood restaurant. An adorable woman sells fingerlicking black sticky rice! It's like heaven! But they also have other promising varieties, which I didn't get the chance to try.
This is the best streetfood market in our opinion! That alone is the best reason to stay in Chinatown.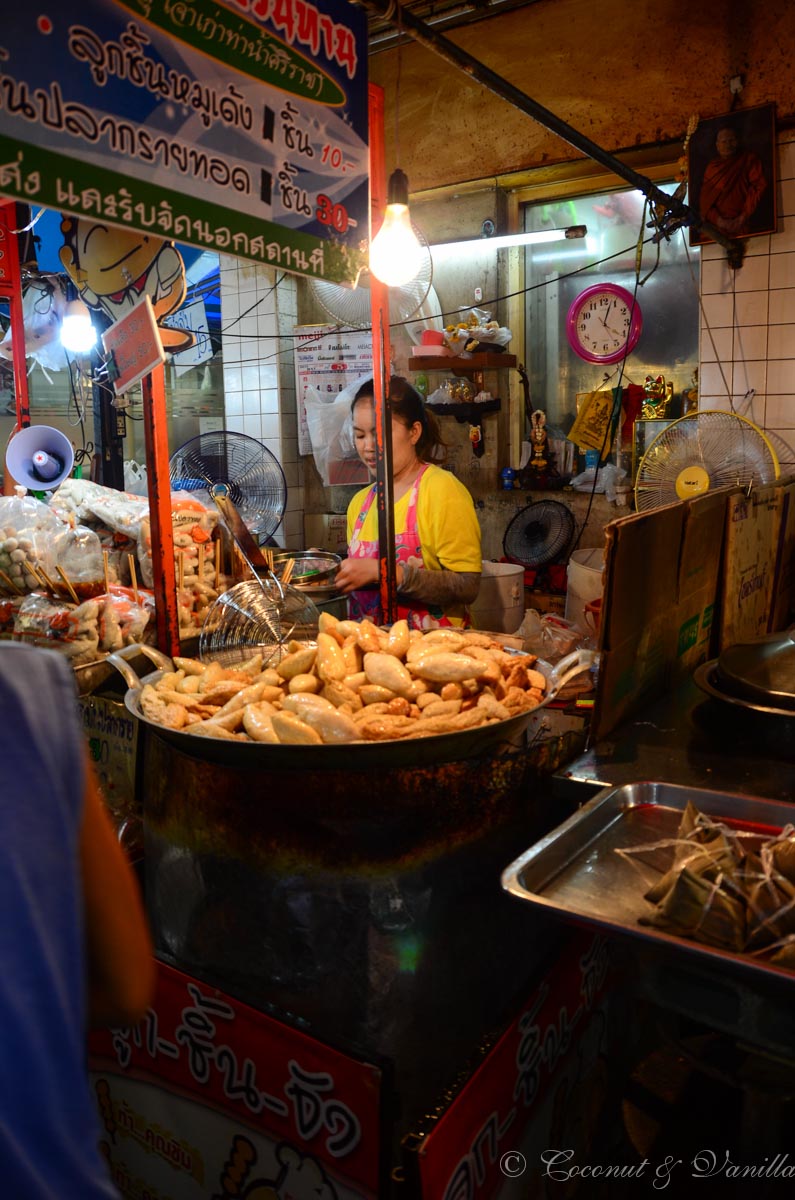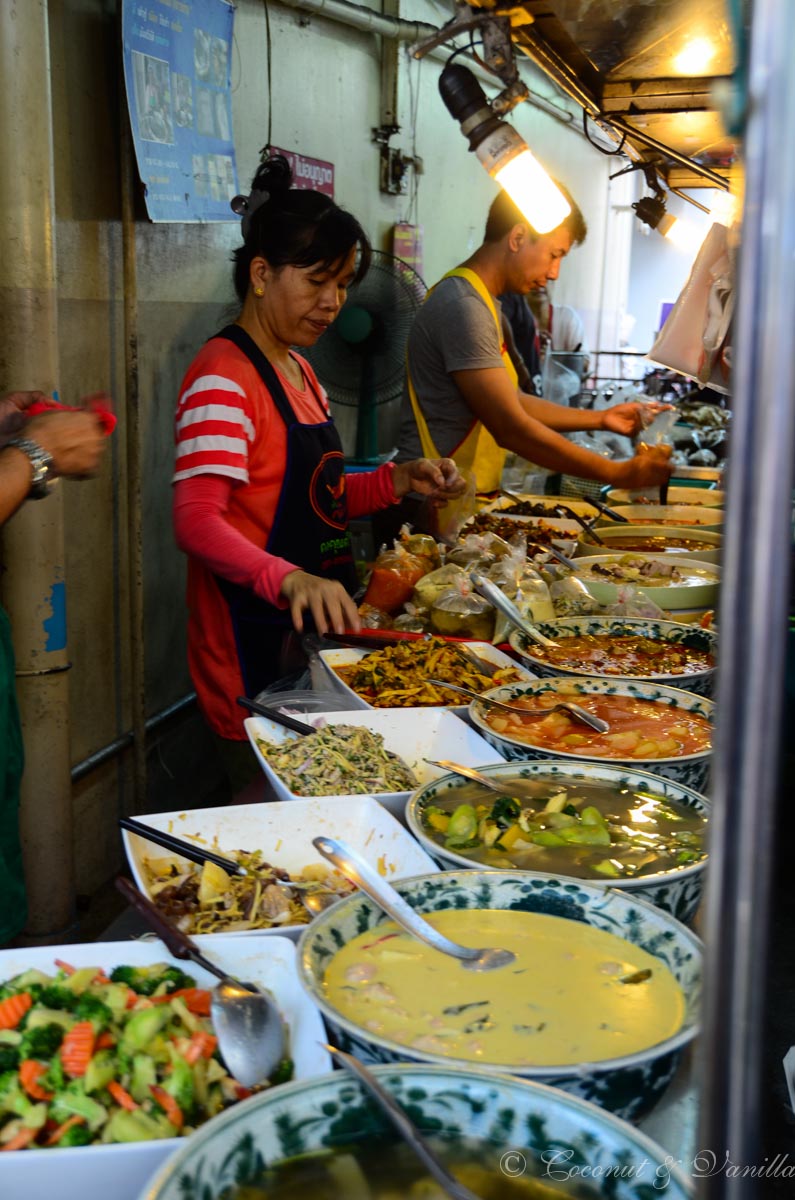 I heard that on Sukhumvit Soi 38/55 is the best streetfood night market, so we intentionally took the metro to get there. We were very disappointed. There was nothing in soi 55 and in soi 38 quite little. We were not appealed by the food offered and what we chose wasn't worth to mention.
I liked the skewers at the beginning of soi 38 (right side), which were very good. Really amazing was the roti with cashews and I think banana (?), which was the best roti of the whole journey (and we sampled a few!)! Flaky and thin, a dream come true! By all means watch her making the roti, it's amazing!
I read beforehand that you get the best mango sticky rice here (next to the roti stall), but we didn't liked it that much and agree that the one in Chinatown is way bettter!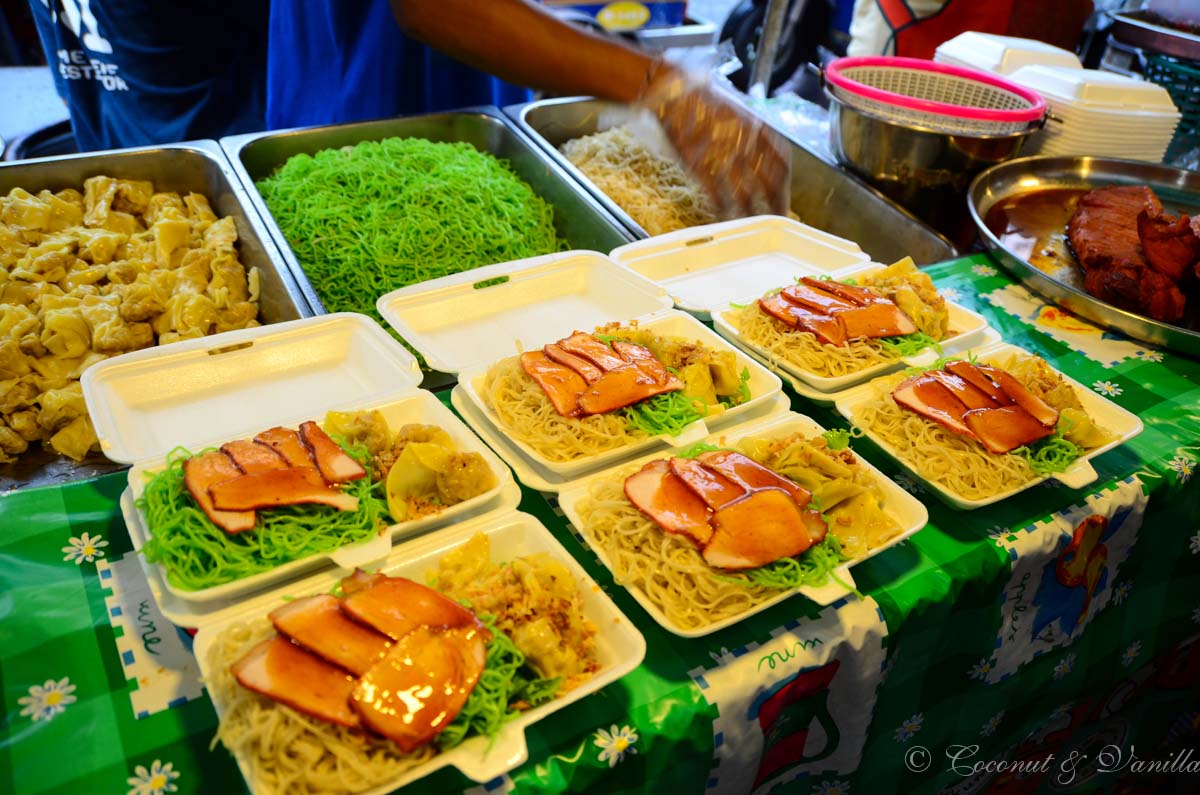 I had a delicious crispy and tender pork in a very good sauce and rice near the flower market, but unfortunately I can't tell you where exactly it is and everything was only stated in thai ;). Our guide guided us there on one day.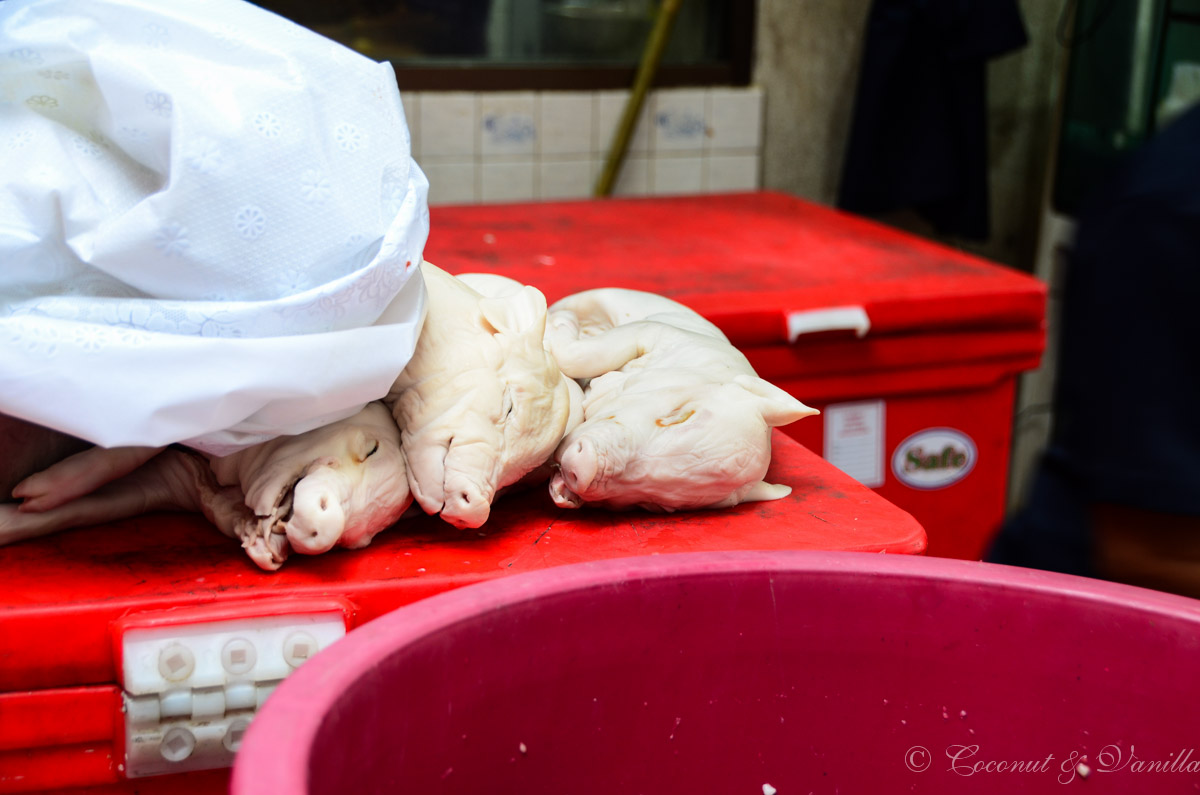 We had a nice evening at Asiatique – the Riverfront. A bunch of old warehouses, situated near the river Chao Phraya have been recently renovated and now provide a nice shopping experience, a big wheel, which is very expensive, but provides a nice view over Bangkok and a streetfood market (in the evening at least). Also they have a lot of nice restaurants where you can eat internationally.
Asiatique is made very beautiful and has a wonderful atmosphere.
They offer free shuttle boats from Taksin pier. You can get to Taksin by fast boat (tourist boat) or MRT, easily or you take a cab.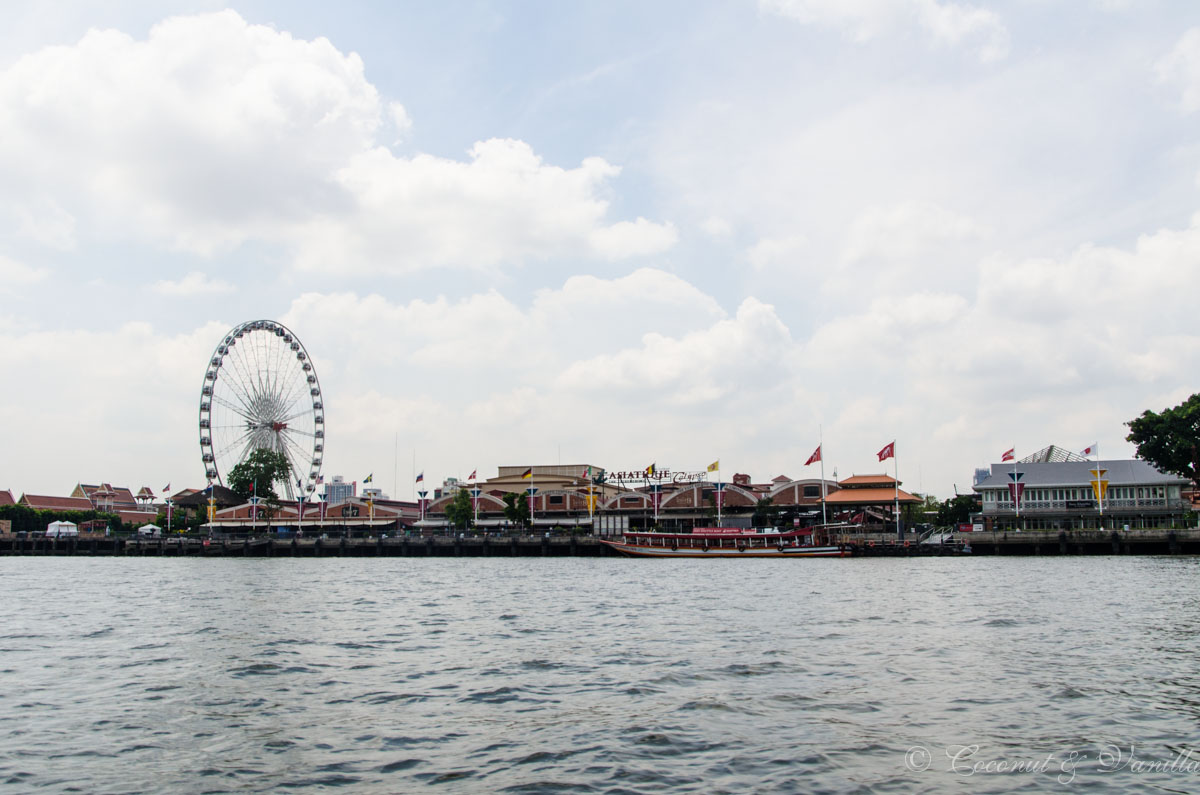 We enjoyed a very good dinner at the Mandarin Oriental restaurant Sala Rim Naam. You should make a reservation to make sure you get a table in the first row to the river. The restaurant is located on the other side of the river and you cross the Chao Phraya with the hotel owned boats. Very cool!
Then you sit quietly on a large terrace directly at the river and when you arrive early enough you can enjoy a beautiful sunset!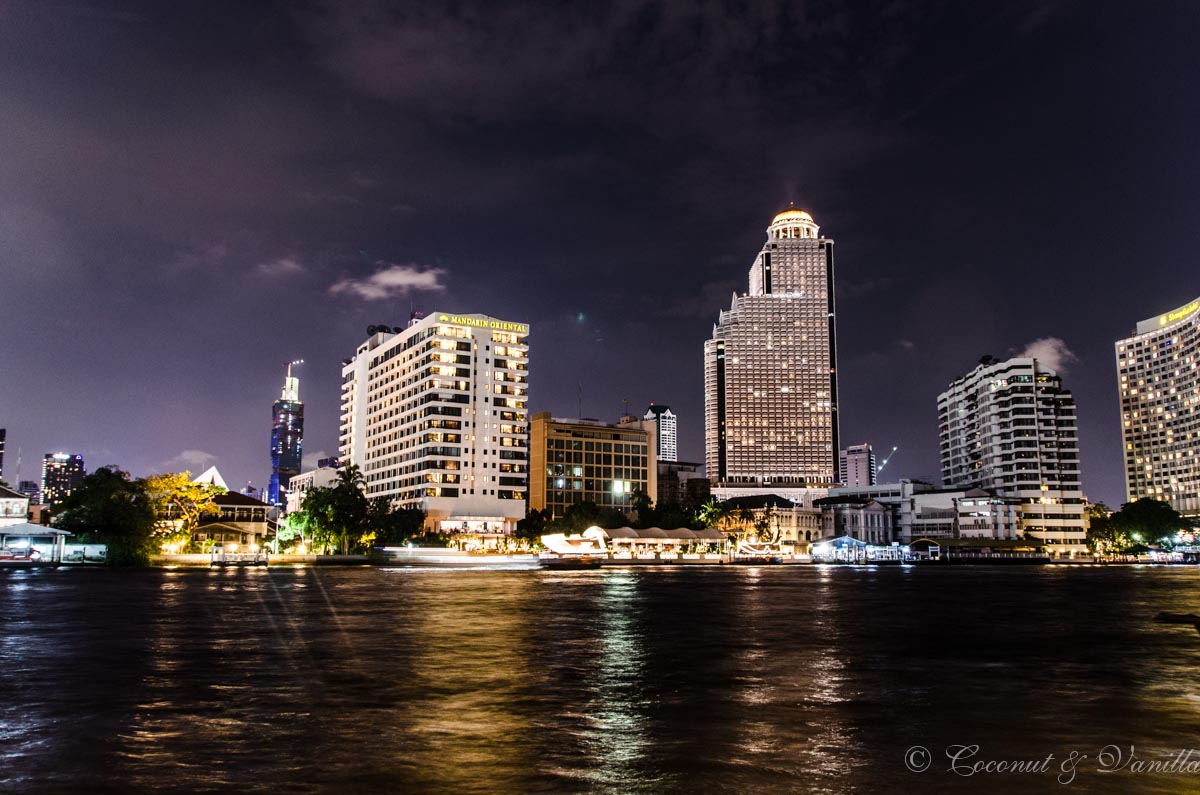 I recommend to choose the dishes seperately instead of choosing a set menu. The set menu was a bit uninspired and some dishes came together, which was just too much. I was very happy with my seperately chosen appetizer, main dish and dessert!
The only thing we didn't enjoy was that they first offered us their free drinking water after we spend a lot of money on expensive drinking water! But this was the only deficit (ok, and that they didn't let us use their Wireless, because we weren't staying at their hotel!). I loved the food and the atmosphere and I would definitely go there again! Thanks to Dani of flowers on my plate for the tipp!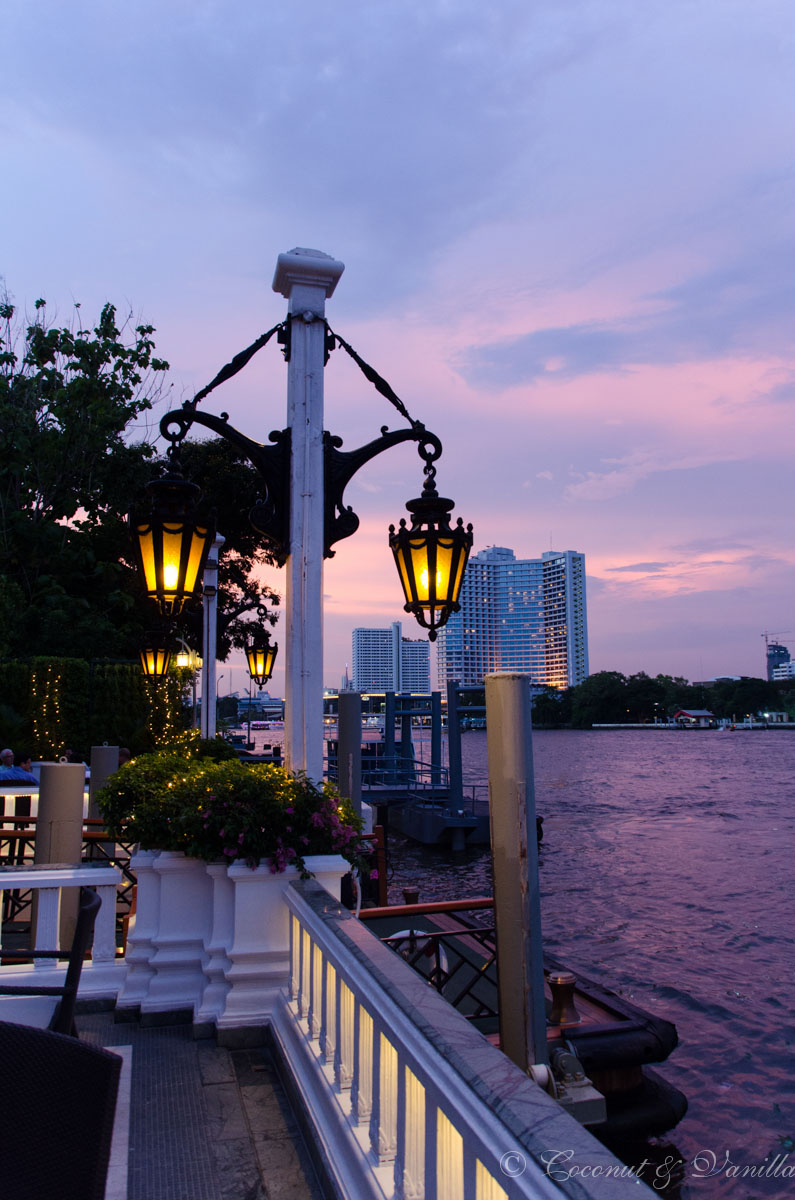 I know there a lot of people being sceptical about streetfood. I didn't had any problems and ate a lot of streetfood! Also eat all the salad and the raw vegetables and fruits (if it does look good!). I drink fruit shakes with ice. But I also cannot tolerate everything, which I know from experience (have been to Asia before!). Nevertheless streetfood is mostly very safe, if you look for some rules:
Freshly peeled fruits are safe.
Juice is safe until lunch, because they do not clean the juicer (if otherwise, you are safe). But we also didn't had any problems later.
Fruits for shakes are normally prepared freshly (but you see that in advance) and they buy the ice fresh, too. Thais like to put extra sugar syrup in the shakes, if you don't like that just say "no sugar".
Everything served hot is safe, like soup, grilled food or from the wok. Also fresh deep-fried food is okay (if it smells rancid you know what to do!).
Pay attention that the food is lying around in the sun for a long time already.
A lot of people are there to eat? Sounds like a good sign! So food cannot get old there.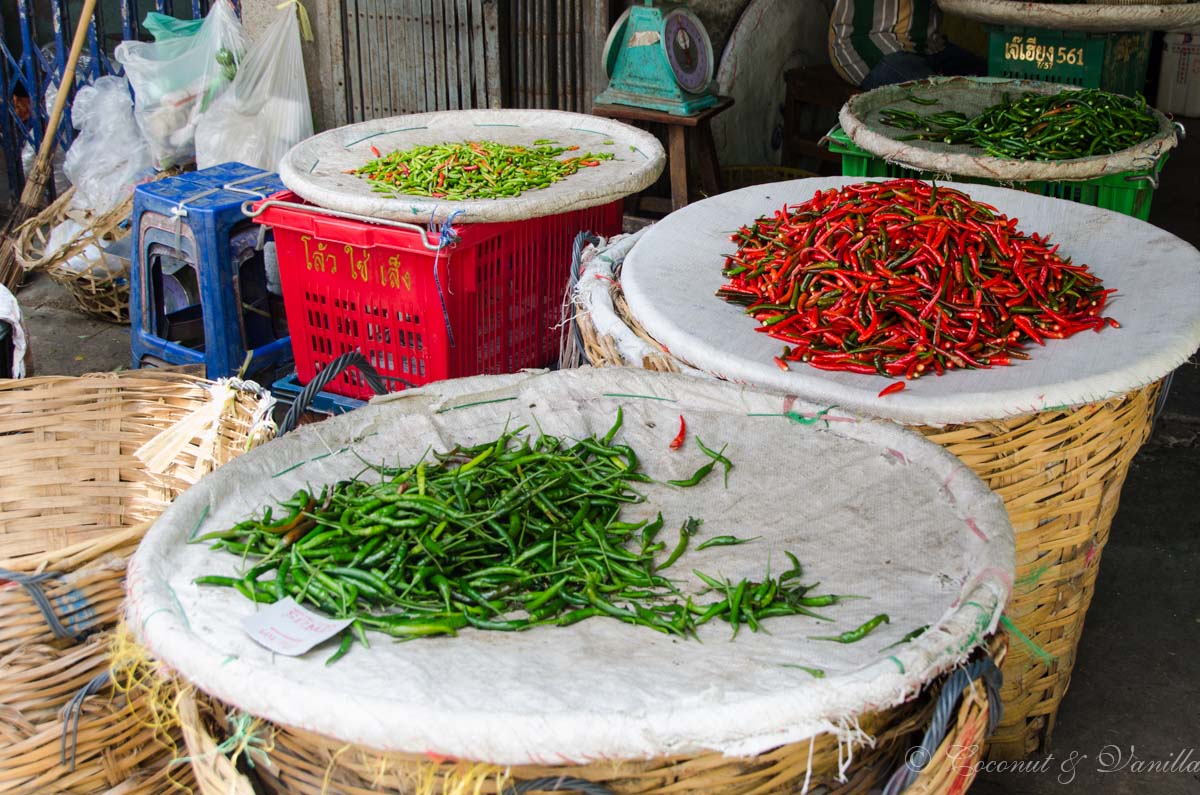 I loved all the streetfood and I wasn't bored with thai food until the last week when there was no streetfood available :D.
My best tip for Bangkok: a lot of time and keep it slow! Soon I will give you more of my best tips for traveling in Thailand and I take you further in the north!