Tuesday, 27th January 2015
After the gluttony of Christmas and New Years Eve people want to concentrate on healthy, light food. Ok, some people. It's not that I don't like salads. I love salads that have a lot of going on in texture and where only little leavy greens are involved. The big problem with salad is that they are cold. Not good for someone like me who is freezing a lot. The good thing about this brussel sprout salad with pear and cinnamon: it's warm! The downside: you have to pluck the leaves of the brussel sprouts!
Yes, you heard right! No, I'm not insane!
Brussel sprouts are not my favourite vegetable, which is funny, as I liked eating it as a child (normally it is the other way round). But as soon you are done with the sisyphus work of plucking the leaves of, the salad is extremly good!
I love this salad, because it tastes so incredibly good, I cannot describe how good! The pear is essential here. When it melts in the pan it coats the brussel sprouts and leaves a wonderful aromatic sweetness. The cinnamon warms, too and spices things up! All this combines very well with the slightly earthy taste of the brussel sprouts.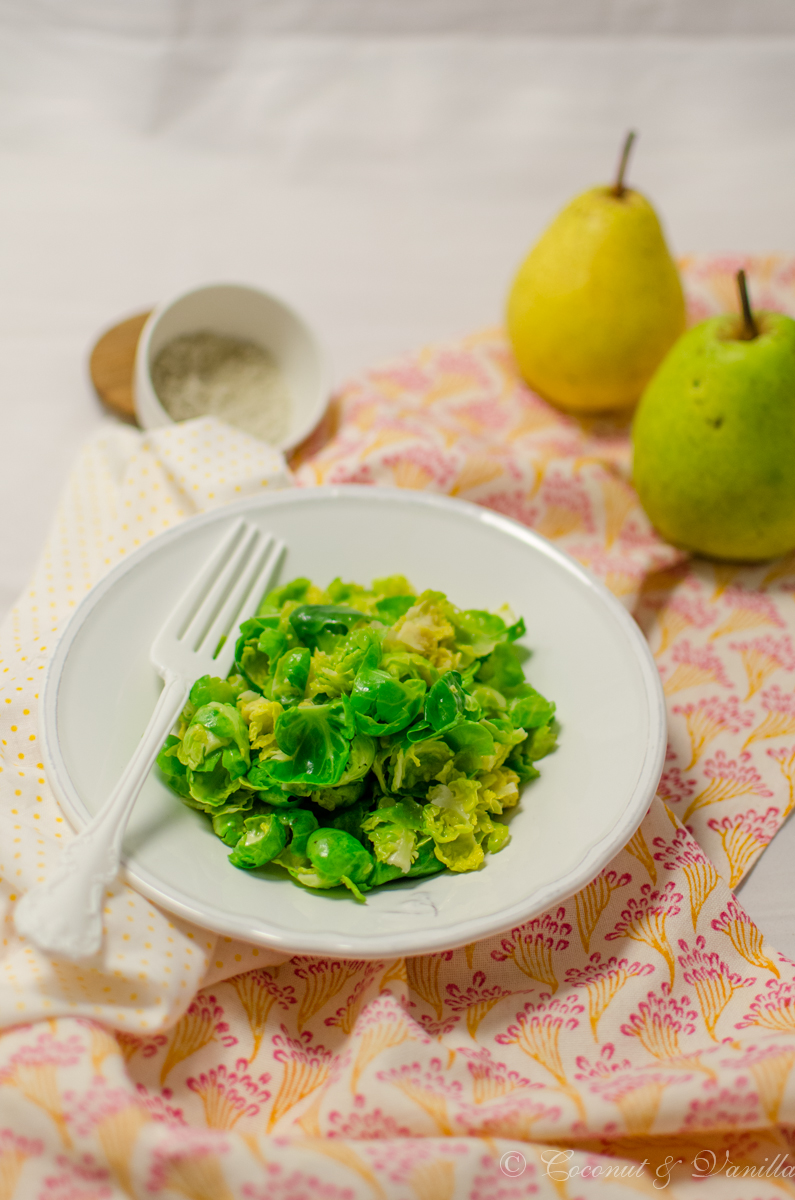 Two years ago: dulce de leche cheesecake with fleur de sel
Five years ago: gluten-free nanaimo bars
Brussel Sprout Salad with Pear and Cinnamon
adapted from a recipe by Tim Mälzer
yields: 2 large portions
Ingredients
500 g brussel sprouts, rinsed and drained
1 ripe aromatic pear, like Abate, Williams-Christ
butter
1 Tbsp brown sugar
1/4 – 1/2 tsp cinnamon
100 ml vegetable broth
sea salt, freshly ground black pepper
lime juice
Pluck the leaves from the brussel sprouts. Discard the outer ones when they are in bad shape. It is easier, if you cut of a bit of the stem from time to time. Hire an assistant for that job, so it's only half the work ;).
Peel the pear, quarter it and remove the core. Halve the pear across and slice thinly.
Preheat the plates in the oven (60° C) to prevent the salad getting cold in an instant after serving it.
Caramelize the sugar in a large pan. Add the butter. Sauté the brussel sprout leaves shortly. Add the cinnamon and broth and bring to a boil. Reduce the heat to low and let it simmer for 5 minutes with lid on. Season with sea salt, black pepper and a dash of lime juice.
Serve instantly on the warm plates.