Schon lange wollte ich zeigen wie ich Fonds bzw. Brühen herstelle. Inzwischen kaufe ich gar keine gekörnten Brühen mehr und mache Gemüse-, Hühner-, Rinder- und Wildfond selbst. So vermeide ich diese ganzen Zusatzstoffe, die ich nicht in meinem Essen möchte. Das beste ist aber, dass die selbstgemachten Fonds richtig gute Saucen machen und Gerichte so viel besser schmecken lassen. Das erste Risotto mit selbstgemachter Hühnerbrühe war eine Offenbarung! Aus einem Bratensatz mit Fond eine schnelle Sauce ziehen? Dafür lohnt es sich einfach den Fond selbstzumachen!
Die Fonds mache ich alle in Gläser ein. Ich habe es zwar auch schon mal mit einfrieren versucht, aber das mochte ich gar nicht. Erstens braucht man dafür sehr viel Platz im TK, dann braucht man viele gefriergeeignete Gefäße oder Plastiktüten (Verschwendung) und es dauert einfach viel länger mit dem Auftauen, als einfach ein Glas zu öffnen.
Praktischerweise bin ich dazu übergegangen die Fonds in 250 ml Gläser und 500 ml Flaschen einzumachen, da das die Menge ist die man am häufigsten benötigt. Reste halten sich auch noch ne Weile wunderbar im Kühlschrank, ich verwende sie dann bei einer folgenden Mahlzeit. Die Gläser und Flaschen habe ich wieder von Gläser und Flaschen, dort gibt es genau die passenden Größen und es klappt auch immer alles ganz wunderbar.
Meine Gläser markiere ich übrigens nicht mehr mit Etiketten, da es mir zu aufwendig ist diese auszudrucken, aufzukleben und vor allem wieder abzulösen. Ich habe mir verschieden farbige Klebepunkte besorgt und markiere die Deckelgläser damit. Grün steht für Gemüse, gelb für Huhn, schwarz für Rinderfond.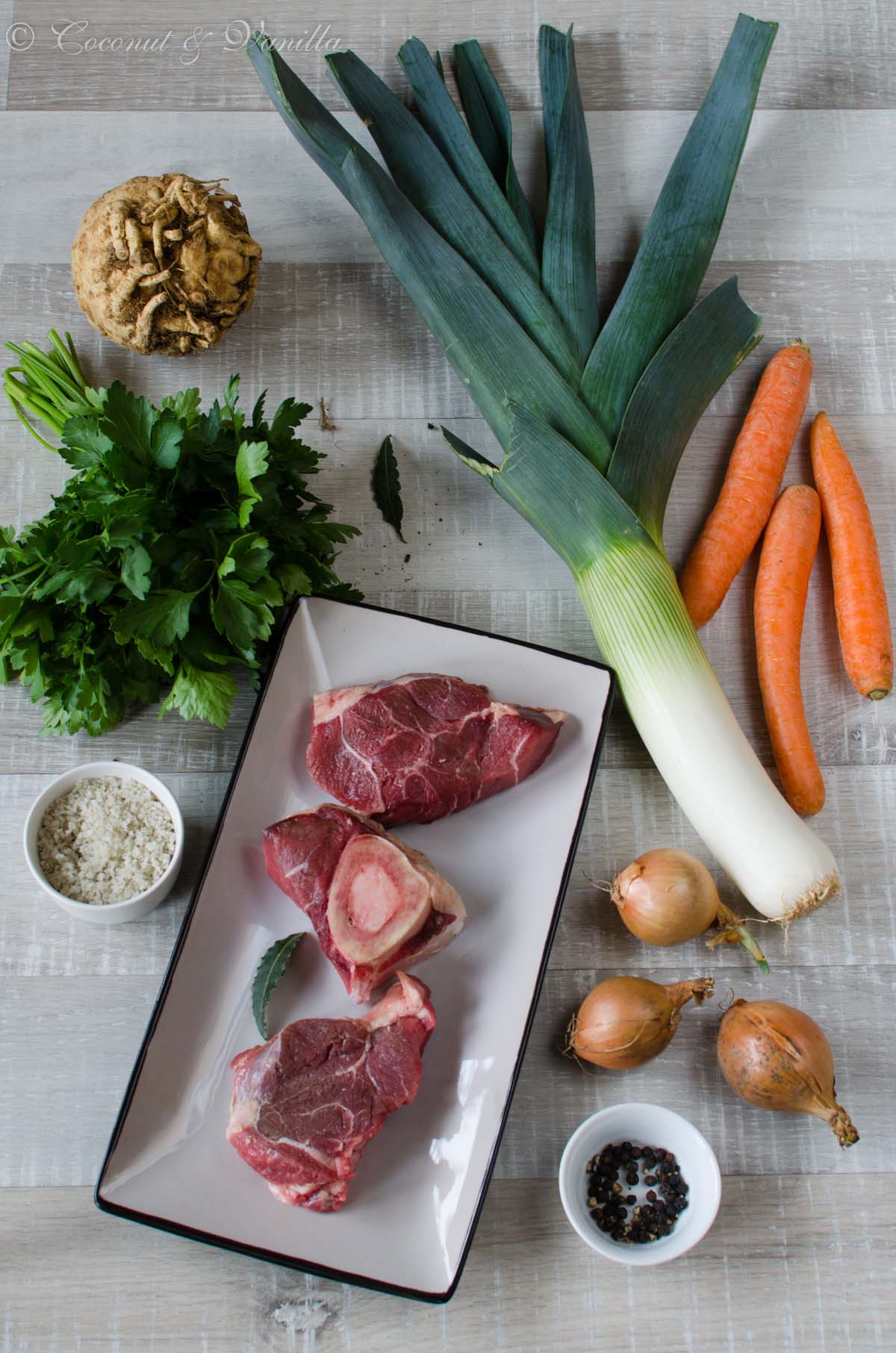 Als erstes starte ich heute mit Rinderfond (wobei es den Wildfond bereits auf dem Blog gibt), aus dem einfachen Grund "ich habe endlich Bilder dazu" ;). Meistens sind die Zutaten schon im Topf, bevor ich drandenke auch mal ein Bild davon zu machen. Und Flüssigkeit in Gläsern ist nicht so wirklich aufschlussreich.
Den Fond einzumachen ist wirklich pipifax einfach und nach dem Einmachen hat man für viele Wochen oder sogar Monate vorgesorgt. Ein richtig schönes Gefühl!
Ein endgültiges Rezept gibt es übrigens nicht! Ihr könnt nach Lust und Laune Zutaten variieren und die Kochzeit auch etwas verkürzen oder verlängern. Nur keine Angst!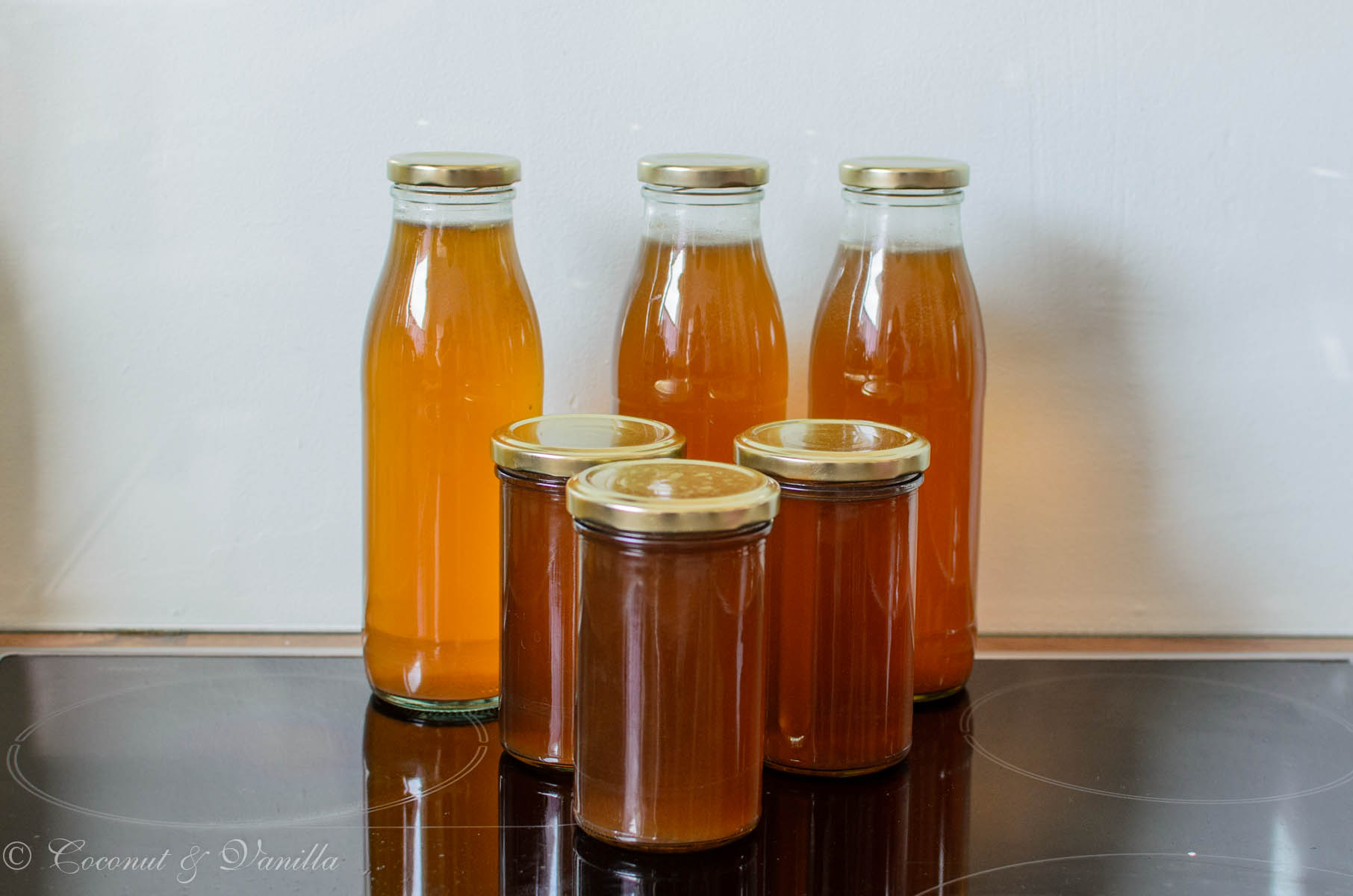 Vor einem Jahr: Holunderblütengelee
Vor zwei Jahren: Erdbeerlikör, Basilikum-Olivenöl & Holunderblütenessig
Vor drei Jahren: Zitronen-Rosmarin-Kekse
Rinderfond
ergibt: 4-5 Liter
Zutaten:
Butterschmalz
2 sehr große Beinscheiben vom Rind (1,2 – 1,5 kg), vom Metzger zerkleinern lassen, damit die Fläche zum Anbraten größer ist und das Fleisch leichter in den Topf passt
1 Stange Lauch
3 Möhren
4 Zwiebeln
1 kleiner Knollensellerie
1 Bund Petersilie, nur die Stiele
1 Lorbeerblatt
1 TL schwarze Pfefferkörner
2-3 Thymian- oder Rosmarinzweige (optional)
0,75 l trockener Rotwein
Meersalz
Das Gemüse waschen und Möhren (ihr könnt die Schale auch dranlassen, wenn ihr Euch der Herkunft sicher seid z.B. eigener Garten) und Sellerie schälen. Sellerie in Würfel schneiden, Möhen in Scheiben oder Halbmonde. Den Lauch halbieren und in Scheiben schneiden. Die Zwiebeln nicht schälen, aber waschen und halbieren.
Einen großen Topf nehmen (meiner fasst 8 l) und Butterschmalz auf großer Hitze schmelzen. Das Fleisch von allen Seiten kräftig anbraten (Röstaromen!). Anschließend herausnehmen und im restlichen Fett (ansonsten neues dazugeben) die Zwiebeln mit der Schnittseiten nach unten einlegen und kräftig anbraten. Dann das restliche Gemüse zugeben und ebenfalls anbraten. Das Fleisch wieder zugeben und alles mit ca. 250 ml Rotwein ablöschen. Einkochen lassen, dann wieder 250 ml Rotwein zugeben, einkochen und nochmal das Ganze.
Die Petersilienstiele, Kräuter und die Gewürze (außer Salz) zugeben und den Topf mit Wasser auffüllen. Bei mir sind das 5 – 6 l die noch in den Topf passen. Den Topfinhalt aufkochen, dann die Hitze zurückdrehen, so dass der Fond nur noch simmert. Den Fond 6 Stunden simmern lassen.
Den Fond etwas abkühlen lassen, dann durch ein Sieb gießen. Ich hole die großen Gemüse- und Fleischstücke vorher mit einer Zange bzw. Schaumkelle heraus, damit es nicht so spritzt. Den Topf kurz ausspülen und das (geleerte) Sieb mit einem Mulltuch auslegen und den Fond nochmal durchseihen. Den Fond komplett auskühlen lassen, so kann man dann das Fett einfach von der Oberfläche abnehmen (ich lasse ihn am liebsten über Nacht auskühlen).
Den Fond nochmal erwärmen und mit Salz abschmecken. Den Fond in sterilisierte Gläser füllen, verschließen und die Gläser in die Fettpfanne im Ofen stellen. 1 – 2 cm Wasser in die Fettpfanne füllen (kaltes Wasser bei kaltem Glasinhalt, warmes bei warmen, heißes bei heißem) und den Ofen auf 180° C stellen. Beginnt der Glasinhalt zu perlen, den Ofen ausschalten, aber nicht öffen! 30 Minuten im Ofen stehen lassen. Dann mit einem Glasheber die Gläser herausholen und auf ein Geschirrtuch stellen. Abkühlen lassen.
Die abgekühlten Gläser und Flaschen auf Vakuum untersuchen, der Deckel muss nach innen gewölbt sein. Gläser ohne Vakuum im Kühlschrank aufbewahren und in den nächsten 2 Wochen verbrauchen.
Der eingekochte Fond ist mindestens 1 Jahr haltbar.
For a long time I wanted to show how I make my stocks and broths. I don't buy granulated broths anymore. I make vegetable, chicken, beef and game stock myself. So I avoid all these additives, which I don't want in my food. The best thing about homemade broths is, that you can make delicious sauces and gravies and dishes taste so much better. The first risotto I used homemade chicken broth was a revelation! 
I preserve the fond in jars. I already tried freezing it, but I didn't liked it at all. Things that speak against freezing broths: you need a lot of space in the freezer, you need a lot of plastic containers suitable for freezing or plastic bags (waste!) and it takes much more time to defrost the broth than to open a jar.
I use 250 ml jars and 500 ml bottles, which is the amount you need mostly for recipes, so it's very convenient. Leftovers can easily be stored in the fridge for a while and I use them for one of our next meals. I ordered my jars and bottles from Gläser und Flaschen, because they have just the right sizes and it works perfectly every time.
I don't use labels for my jars, anymore, since it's too elaborate for me to print, glue and especially dissolve them again. I bought coloured dot stickers and mark the lids with it: green for vegetable broth, yellow for chicken and black for beef.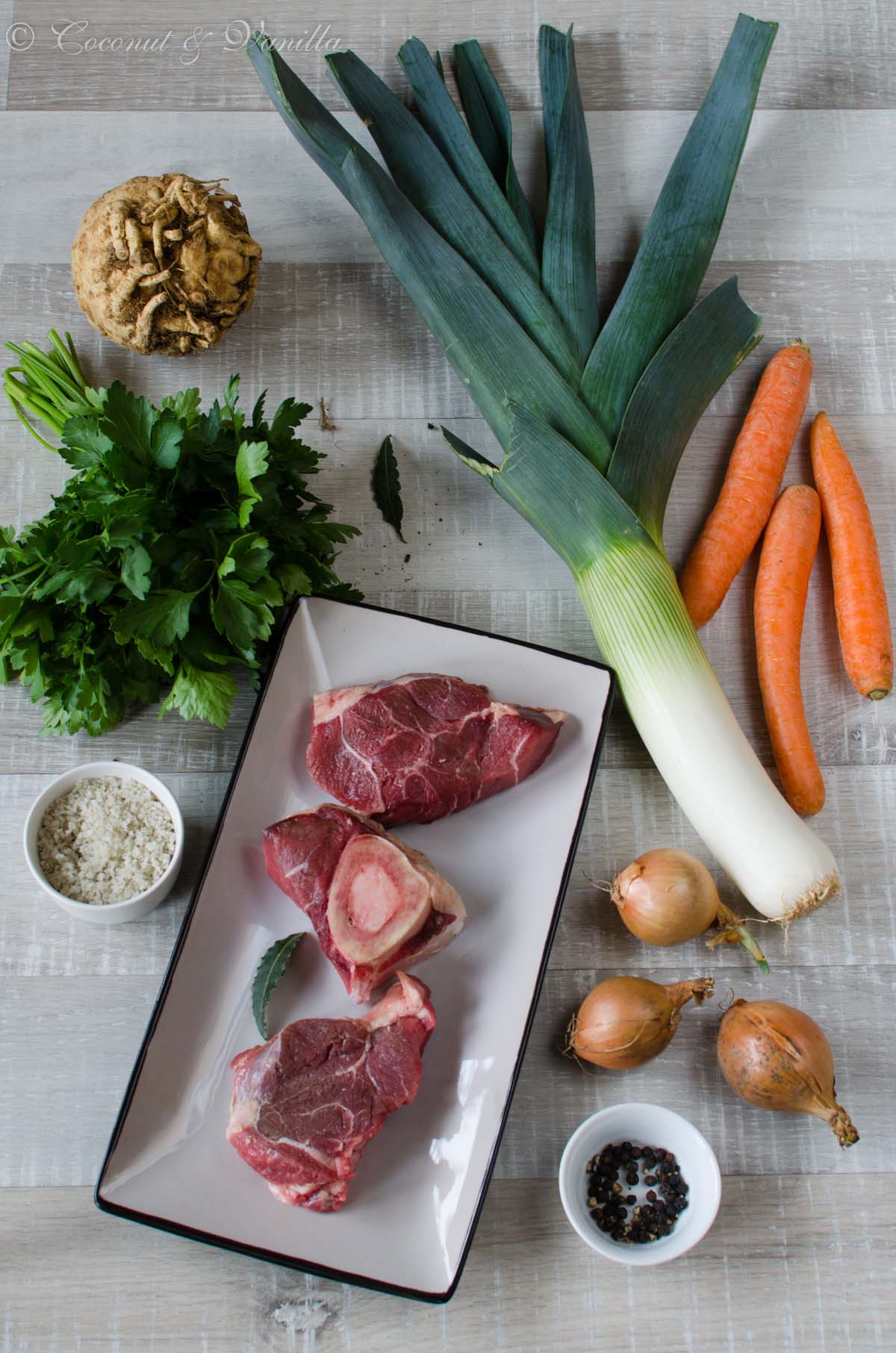 I start with beef broth today (although game stock is already present on the blog), because I have shot the pictures for it already ;). Mostly they are already in the pot before I think about taking some pics. And liquid in jars isn't that illuminating.
Making stock is really easy and after doing so, you are prepared for weeks or even months. Which is such a great feeling!
There isn't a definite recipe, by the way! You can vary with the ingredients and the cooking time. Don't be afraid!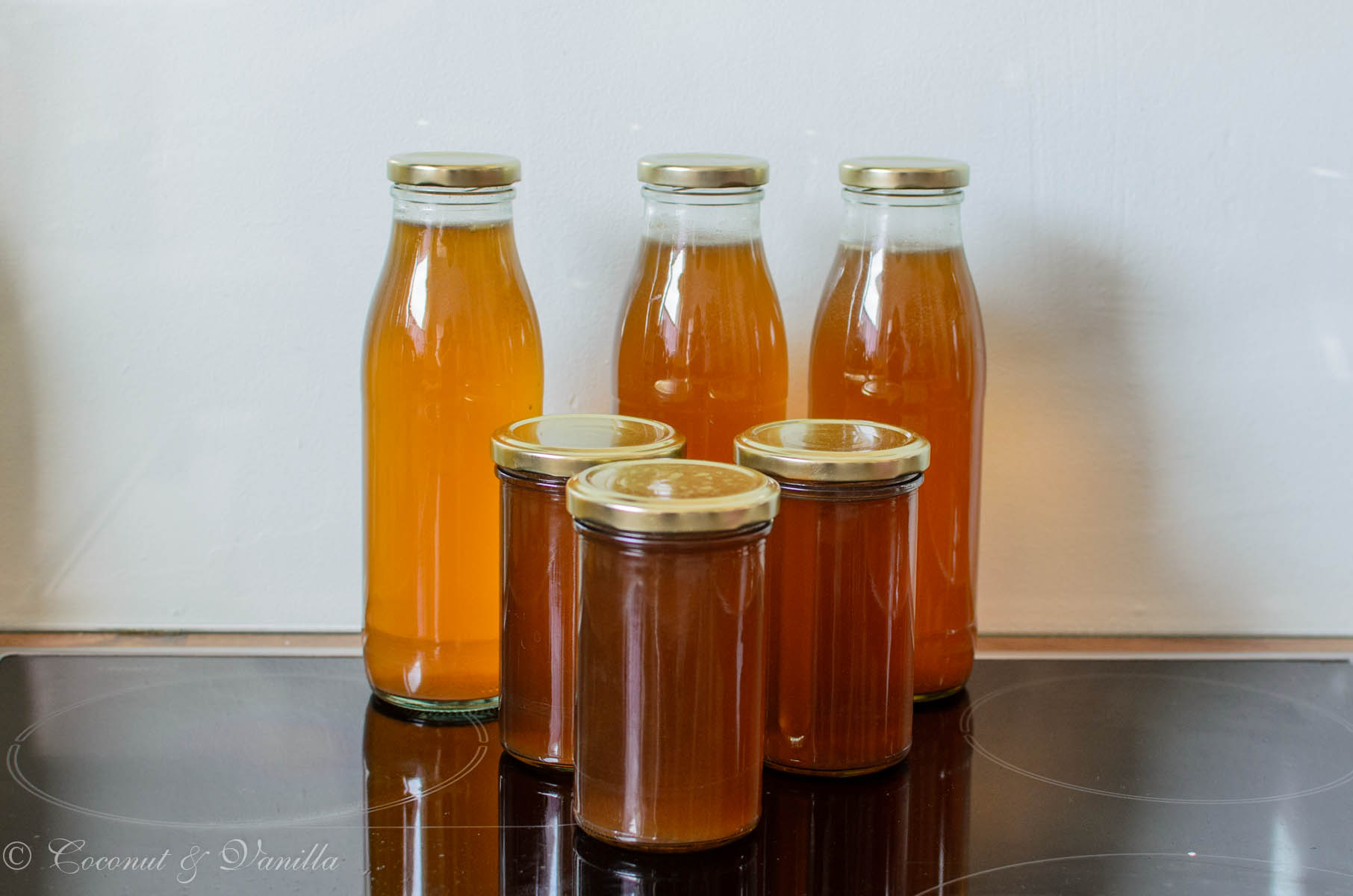 One year ago: elderflower jelly
Two years ago: strawberry liquor, basil olive oil & elderflower vinegar
Three years ago: lemon rosemary cookies
Beef Stock

yields: 4 – 5 litres
Ingredients:
clarified butter or sunflower oil
2 very large beef shanks (1,2 – 1,5 kg), let your butcher cut it into smaller pieces so you have more surface for browning and it fits easier in the pot
1 leek
3 carrots
4 onions
1 small celeriac
1 bunch parsley, stems only
1 bay leaf
1 tsp black peppercorns
2-3 sprigs of thyme or rosemary (optional)
0,75 l dry red wine
sea salt
Rinse the vegetables and peel the carrots (there's no need to peel if you are sure where your vegetables come from, like your garden) and celeriac. Dice the celeriac and slice the carrots. Halve the leek and slice, too. No need to peel the onions, just rinse and halve them.
Take a large pot (mine's a 8 litre pot) and melt the clarified butter on high heat. Sear the meat on all sides, remove it and place the onions in the leftover butter (if there's no leftover butter add more) with the cut surface down and sear, too. Add the vegetables and brown. Add the meat and 250 ml wine. Let it cook down, then add another 250 ml, repeat for another time.
Add the parsley stems, herbs and spices (not the salt) and fill up with water. That are 5 – 6 litres for me. Bring to a boil, then turn down the heat and let the stock simmer for 6 hours.
Let the stock cool out a bit, pour through a mesh strainer. I use to remove large chunks of vegetables and meat with tongs or a slotted spoon beforehand, so it doesn't splatter that much. Rinse the pot, place the mesh strainer lined with a cheese cloth over it and strain again. Cool the stock completely (I prefer to do it over night). When cooled remove the fat from the surface.
Rewarm the stock and season generously with salt. Fill sterilized jars with the stock and place them in a deep baking tray in the oven. Add 1 – 2 cm water (cold water for cold stock, warm for warm, hot for hot) and heat the oven to 180° C. When the stock starts fizzing in the jars, turn off the oven, but do not open it! Keep the jars for 30 minutes in the hot oven. Remove the jars with tongs and place them on dish towels. Let them cool.
Check the cooled jars and bottles for vacuums, the lids should be concave. Jars without vacuum seals should be stored in the fridge and used in the next 2 weeks.
The preserved stock is best before 12 months.